This carousel displays a list of buttons that updates the main product image when a button is clicked
Light & Motion
Taz 1200 Light
Item # LTM0082
Free Shipping on orders over $50
Item #

LTM0082
Description
If you've ever participated in an epic, all-night endurance race like the 24 Hours of Moab, you're certainly no stranger to having once been relegated to lugging around a heavy battery pack which powered an extremely expensive headlight that was no more powerful than a car headlamp on its lowest output. Thankfully, those days are long gone, as the elegant Taz 1200 Light from Light & Motion is the next evolution in portable cycling illumination at a fraction of the cost.
Few cycling lights come with the pedigree of those from Light & Motion -- a company who has been designing lights for over 20 years. But, not always bicycle lights. In fact, the small Monterey, California company cut its teeth making ocean-proof diving lights that adhered to some of the most stringent safety standards in consumer products. The DNA for safe, highly visible and weatherproof lights for cycling was already in place, and thus, we have the Taz 1200.
For the sake of comparison, a traditional car headlamp puts out around 700 or 800 lumens -- and as its name implies, the Taz 1200 puts out an impressive 1200 lumens in a self-contained package that tips the scales at just over 200 grams. In case you haven't checked in with light technology in a year or so, that means no more battery pack in your jersey pocket or swinging to and fro on your top tube. This concentrated beam illuminates not only what lies ahead on the trail, but everything in a wide 45 degree arc relative to your movement. This puts in clear view any major direction changes of the trail, or any sleepy wildlife considering crossing in your path. The Taz light sits at the top of Light & Motion's 'crossover' range, meaning it's also designed for touring or commuting use, and as 1200 lumens might blind an oncoming driver or cyclist, you can dial the light's output with the medium or low flash settings reducing its output to 600 and 300 lumens, respectively.
The Light and Motion Taz 1200 Light will run for a full hour and a half on the highest, 1200 lumen setting and for 3 hours on medium. Both of these settings should be more than enough to get you through your leg on a 24-hour relay, or a long, darkened stretch of your commute. One of the coolest features of the Taz 1200 is its Race Mode, which cycles between only the high and medium brightness modes, letting you quickly change modes as the trail opens up without demanding too much of your hands' attention. The lowest flash setting stretches the battery life out to an impressive 18 hours, and once it's dead a complete charge by means of the included USB-Micro charge cable requires around 5 hours. It's designed to be mounted onto your handlebars and comes with a rubberized, tool-free strap that secures the light in an instant.
Powerful handlebar light for commuting or trail riding
1200 lumen output via high-powered CREE LED bulbs
Optics provide a wide beam close up & penetrating beam further out
Regulated voltage ensures consistent, non-fading light
Race mode for convenient toggling between high and medium output
Power button lights up to show remaining battery life
Optional amber side lighting helps you be seen on the road
Waterproof design provides all-weather reliability
Warning
California Proposition 65
Warning:
View more Headlights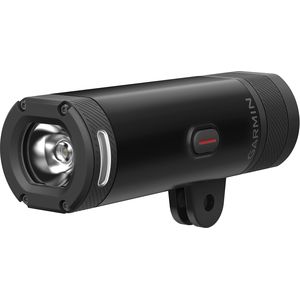 Garmin
Varia UT800 Smart Headlight
5 out of 5 stars from 2 reviews
5
2
(2)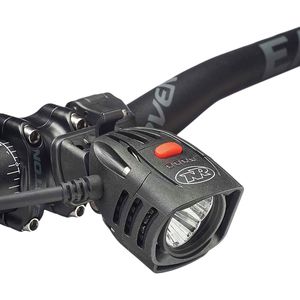 NiteRider
Pro 2200 Race Headlight
5 out of 5 stars from 1 reviews
5
1
(1)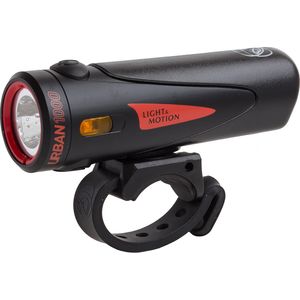 Light & Motion
Urban 1000 Headlight
5 out of 5 stars from 1 reviews
5
1
(1)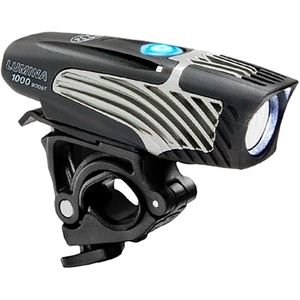 NiteRider
Lumina 1000 Boost Headlight
5 out of 5 stars from 2 reviews
5
2
(2)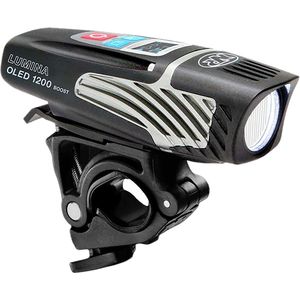 NiteRider
Lumina OLED 1200 Boost Headlight
3.5 out of 5 stars from 3 reviews
5
3
(3)
What do you think about this product?
>Rating:
December 14, 2019
Does this have a gopro style mount adapter? My current system uses one and any upgrade/back up device would need one too. Thank you.
Chris Crowder
>Rating: 1
September 6, 2019
Worst Bike Light I've EVER Owned
Familiarity:

I've used it several times
I've only been able to use this a dozen or so times before it just stopped working for some reason unbeknownst to me. An since Backcountry.com has changed their return policy to anything over 30 days (Unless item is in new condition and has it's original packaging) this doesn't fall in those parameters and therefore, not eligible for any warranty. I'm just disappointed in such a faulty product. I literally have bike lights that still work perfectly from 2006. They're on my kids bikes and get used frequently.
JP L.
>Rating: 4
January 5, 2019
SO BRIGHT
Familiarity:

I've put it through the wringer
Seriously this light on high is nuts. For commuting all I ever need to do is turn it on low, or flashing. This helps keep the battery going a little while longer, but still maybe not as long as I would like. For night mtb rides the high setting does an incredible job lighting up the trail.
Craig L
>Rating: 5
October 29, 2018
Great light
I've used this light on several mid-morning and evening rides and have been impressed with the light. It has great brightness and is sturdy on the handlebars and is exactly what i was looking for.
Joe Guttenplan
>Rating: 5
October 20, 2018
Looking Good
Familiarity:

I've used it once or twice and have initial impressions
This thing feels super strong and built to last. Crazy bright too. Unfortunately I haven't been able to use this on a night ride just yet, but I have the feeling that it's going to surpass my expectations. I've bought from this brand before and have never been disappointed.
taylor
>Rating: 5
January 12, 2018
Arrives in Lock Out Mode
It may seem like the light does not work when you first get it, it does, it's just in lock out mode. Per L&M Instructions: "Travel lockout mode is a way to lock your light off so that it will not accidentally turn on in your bag. This will help to preserve battery life. The lockout mode is crucial with the Taz because of the high lumen output. If the light accidentally turns on in your bag, it can generate enough heat to melt the lens. To unlock press and hold the power button and secondary button down at the same time until the indicator light blinks green 3 times. Now your light is ready to be powered on. The indicator light is located in the power button."
Jon J
>Rating: 3
December 30, 2016
Bright, hot and short
Familiarity:

I've used it once or twice and have initial impressions
I wanted to like this light but had to return it, as it just didn't work long enough at it's brightest (max 1.5 hours) for mountain biking. I think it would be great for a commuter or for someone who just doesn't ride in the dark for very long. This being said, the light is brilliant and has an excellent spread. The light does become extremely (can burn to the touch) hot.
William G.
Well made!
Familiarity:

I've used it once or twice and have initial impressions
This light screams " Made to last" It has an aluminum housing that tells me it will take a drop from the bars or two in the years ahead. It is plenty bright for my commuting and although I have not used it yet on the trail... I am thinking it should be all I need to get home on a late fall ride this year. It is easy to use and charges with a USB [it does take a few hours if completely out of battery life] but not a big deal . Happy at O'dark thirty!
Kent Reynolds
I LOVE THIS LIGHT VERY BRIGHT
Familiarity:

I've used it several times
I RIDE MY CRUISER AT NIGHT AND IT IS VERY DARK WHERE I LIVE NOT A LOT OF STREET LIGHTS I CAN SEE EVERYTHING AND FEEL VERY SAFE I KNOW IT IS FOR TECHNICAL NIGHT RIDING TOO BUT I USE IT FOR URBAN RIDING AND IT IS WONDERFUL GREAT BANG FOR THE PRICE.
Kent Reynolds
Balance Of Brightness & Price
I've been wanting to get into more night biking and this is the perfect addition to help me do so in conjunction with the 275 lumen head lamp I also bought. This model was a great balance of brightness and price for my budget. I particularly like the variety of settings and the ability to recharge it with a micro USB.
Than Volk
Super visibility!
Familiarity:

I've used it several times
This light is extremely bright. Whenever I take it out on the road I always have to either use the medium or low settings because the high setting is way too bright. It is easy to get on and off and fits very securely on the handle bars.
Kevin D.
>Rating:
November 1, 2015
I've had this for a couple years and like it, but the strap mount is a pain, so I likely wouldn't buy again or recommend this. Maybe there's a way to adapt the strap mount to some sort of quick release mount (twist action like a quad lock)? If anyone know of a way to do this please let me know.
Luke Humphrey
Luke Humphrey
November 5, 2015
Problem solved. Tested this quadlock adhesive system and it holds firm so far and makes taking the light off / putting it on a .5s, frustration-free operation. Rode down a bunch of stairs and it holds fine.
Revolutionized my riding.
Familiarity:

I've put it through the wringer
This light has enabled me to ride more and thereby makes my life better :) I have kids so my evenings are busy. I tend to get everyone tucked into bed around 8:30 so I didn't usually have enough daylight left in the day to get a ride in. I was reluctant to spend the money on a light like this, but I am so glad I did. After my first ride with it I couldn't stop talking about how my life had just been revolutionized. I can ride whenever I want now. I go about three or four evenings per week now and have gotten a few friends to get lights and join me on a weekly Wednesday night ride. The light itself is really impressive. I thought about getting the Taz1500 but opted for this slightly cheaper version. It does not disappoint. The light is sufficient to ride as fast as I want. The race mode is very convenient. You push and hold the power button until the light comes on. Then when you ride you can toggle between high and medium without having to cycle through the low and flash modes. It is very solidly built. I went over the handle bars a couple weeks ago, oops, and the light come out unscathed. It mounts to the handle bars very securely. I adhered the included padded strap to my handlebar and just leave it on even when I don't use the light. It keeps the light totally secure without any movement or slippage. It is also worth noting that I use only this light mounted to my handlebar. I do not use a helmet mounted light or any other type of light. This thing is plenty bright to use as a stand alone light.
Brandon R.
Bright!!!
Familiarity:

I've used it several times
Night riding is sweet! This light is what you need. It really feels like daylight (of course I like a head light in addition). This light will not disappoint. I highly recommend it.
Dave Cichone
>Rating:
January 17, 2015
Will this mount to Smith's Forefront helmet?
Jason O.
>Rating: 4
September 19, 2014
Versatile ride for all-around lighting
Familiarity:

I've put it through the wringer
I've started doing 200-mile rides, and riding in the dark is almost inescapable. I've been using the Cygolite Expilion 300 before -- it does the job, but I wanted something a little bit better. The Light & Motion lights were highly recommended so I decided to give it a shot. The Taz 1200 is *blindingly bright* at its strongest setting, especially towards oncoming traffic. For urban riding, it may be a little bit much, but it certainly attracts attention. The medium (600-lumens) and low (300-lumens) are pretty sufficient for most cases. There are other modes (flashing, pulsing) that's useful mostly in urban riding to "be seen", not so much "for seeing." The side lights are also nice to have but I don't really see myself using it much. What I like about the L&M lights is how they "spread" the beam in front of it. It's a little bit wider so it covers more of the ground and makes it easier to see the road ahead. There's less of a concentrated halo of light in the center where the light is aimed which other lights tend to have. This makes it less fatiguing on the eyes, in my opinion. Battery life is on par with manufacturer's claims. I can get about a little over 3 hours in the medium setting, and truthfully that's where I hope I could get a little bit more. For all-day-and-night riding, you'll have to make compromises with how much light is being used ? stronger light == less run-time. The low (300-lumens) mode is a little bit on the dimmer side than I'd want to in a pitch-black environment. The strap/attachment is a mixed bag. I like it because it's universal and works with almost handlebar, but it comes at the cost of being inconvenient when you frequently attach/detach the light. On more bumpy roads, you'll want to use the appropriate adhesive material to prevent it from moving out of place. Overall a great light ? only thing I'd want more is a longer battery life. It's great for use on trails, urban settings, and even out in the middle of nowhere.
Gino Ledesma
will this come back in stock?
will this come back in stock?
Alex Dietrich
>Rating:
December 29, 2013
Best 1200 Lumen Bike Lights - 2014 Mtbr
by mtbrvideos. They test the Taz and several others in the category. This is a good comparison to look at when shopping.
Cameron
>Rating:
December 27, 2013
Taz 1200 Unboxing and First Impressions
By Road Bike Review
Cameron