This carousel displays a list of buttons that updates the main product image when a button is clicked
Factor Bike
O2
O2 Disc Road Frameset
Temporarily Out Of Stock
Item # FCB0009
Don't get too bummed. This item is on the way and will be available for purchase as soon as it rolls into the warehouse.
Can't wait? Consider one of the other Custom Road Bikes & Frames we have in stock.
View Similar Products
Description
Factor Bikes is a relative newcomer to the industry, but its work with team AG2R La Mondiale—and the palmarès the partnership has already achieved—put the brand among cycling's elite. Frames like the innovative One-S prove that Factor isn't afraid to push the boundaries of traditional frame designs in the quest of building the best road frames available; however, the O2 Disc Road Frameset forgoes many of those aerodynamic features, which helps the frame drop weight and improves the ride quality for terrain that's figuratively rough (hors catégorie climbs of July) or literally rough (the brutal pavé of spring).
Those are lofty claims, of course, but the proof is in the pedaling. We've seen evidence of the O2's climbing pedigree under AG2R's grand tour captain, Bardet, and no less an authority than Factor co-founder and green jersey winner Baden Cooke tells us the O2 is the machine he'd want while jockeying for position in the lead-up to the Arenberg. "For Roubaix," Cooke said, "I would start on the One. I would ride that to 5k before the first secteur, and that's where I'd have my O2 with 28mm tires. I would switch then. Go with the O2."
The O2 doesn't have the OTIS head tube/fork construction of the One or the Twin Vane down tube of the One-S, but it does feature the same fastidious layup and carbon fiber selection that yields an uncompromising ride and a featherweight 750g frame. Low weight is fanatic, but not if it comes at the expense of drivespine efficiency or handling. Thankfully, the O2 disc has stiffness in spades, so you can get on the gas after the last turn of a crit without hesitation or descend a sinuous canyon road at speed with total confidence. Amazingly, Factor pulls this off with a ride that is far less punishing than most ultra-lightweight climbing bikes. it's befitting a GC leader on a 3-week stage race or—as mentioned above—a green jersey winner confronting the Hell of the North.
Factor's collaboration with big names in the cycling and automotive industries helped foster the development of such leading edge designs seen on the firm's frames. The project was started by bf1systems, a motorsport firm that dabbled in cycling with the revolutionary Factor 001 and Vis Vires framesets. A group of two-wheeled visionaries, including Cooke, recognized the potential of bf1systems' designs, grabbed the Factor name and technology, and used it to produce class-leading bikes and ultimately sponsor a World Tour team.
Aerodynamics are not the sole aim of the O2 disc; however, the designers didn't completely ignore drag altogether. The tube shapes describe a rounded face profile and a truncated trailing edge, a shape seen on many newer bike designs because it effectively tricks the wind into believing the tube is deeper than it is, resulting in airflow that remains attached longer versus immediately becoming turbulent after passing over the tube. This helps reduce the negative vacuum of trailing drag and prevents crosswinds from blowing the bike across the road, keeping you in control.
The creative tube shapes responsible for the subtle aerodynamics are also responsible for the excellent ride quality. Most lightweight climbing bikes are sketchy over rough pavement, and the chassis skips over imperfections rather than rolling through and absorbing them. To combat this tendency, the O2's EM2 RGicarbon construction involves three carbon fibers that balance the vibration damping and durable compliance of lower and middle moduli with the unyielding stiffness of the exotic High Pitch Fiber. High Pitch is as rare as it is expensive, and Factor goes to great lengths to incorporate this material for maximum benefit. Despite the cost and difficulty of working with it, Factor uses it because High Pitch fiber helps give its bikes low weight while maintaining stiffness and a signature ride quality.
Factor found further aerodynamic benefits with the hidden seatpost clamp, super skinny seatstays, internal cable routing, and the included integrated stem and bar. These wind-cheating features are welcome and unique on a frame that is more focused on summiting climbs and gobbling cobbles versus high-speed efficiency.
In addition to the fork and seatpost, Factor packages the O2 with a Ceramic Speed bottom bracket and headset, a compression plug, headset spacers, a spare derailleur hanger, bar tape, and the above-mentioned bar/stem combo. The O2 disc enjoys generous clearance, allowing Cooke's preferred 28mm tires so this rocket can dabble in areas that previously were unthinkable for a pure climbing race bike.
Factor's disc brake road rocket for pavé and HC climbs
Carbon lay-up for low weight and snappy responsiveness
One-piece carbon bar and stem keep the cockpit aerodynamic
Black Inc. carbon seatpost and integrated clamp
Includes CeramicSpeed bottom bracket and headset
Internal routing is electronic ready
Generous tire clearance for up to 28mm tires
Slight aero designs help the bike keep speed in the valleys
Not compatible with mechanical groupsets
More O2 builds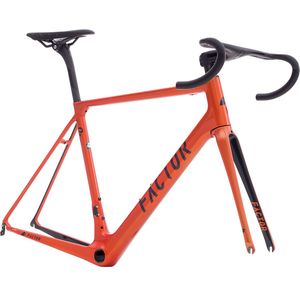 Factor Bike
O2 Road Frameset - 2018
$2,899.00

-

$3,499.00
Sale
42%
Off
5 out of 5 stars from 4 reviews
5
4
(4)
View more Custom Road Bikes & Frames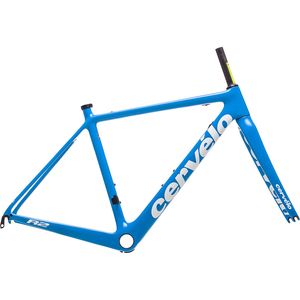 Cervelo
R2 Road Frameset
Current price:

$999.00
Original price:

$2,000.00
Sale
50%
Off
5 out of 5 stars from 1 reviews
5
1
(1)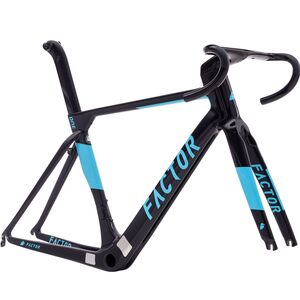 Factor Bike
ONE Road Frameset - 2019
Current price:

$3,449.00
Original price:

$5,299.00
Sale
35%
Off
4 out of 5 stars from 1 reviews
5
1
(1)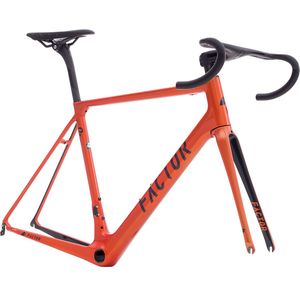 Factor Bike
O2 Road Frameset - 2018
$2,899.00

-

$3,499.00
Sale
42%
Off
5 out of 5 stars from 4 reviews
5
4
(4)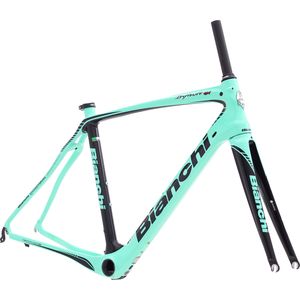 Bianchi
Infinito CV Road Frameset - 2019
Current price:

$2,625.00
Original price:

$3,500.00
Sale
25%
Off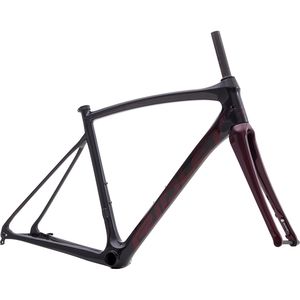 Ridley
Fenix SLX Disc Limited Edition Frameset
Current price:

$1,599.00
Original price:

$3,499.00
Sale
54%
Off
What do you think about this product?
What is the length of the stem and width of handle bars for the 49 cm frame?
MJMascarenhas
>Rating:
September 11, 2019
What is the maximum tire width that will fit between the chainstays on this frame?
Arnim P.
Will a Sram Red 22 BB30 crankset fit the frame if I want to stay with 11 speed?
Yong Hui O.
Kyle Br
September 17, 2019
Yes that will fit.
>Rating: 5
August 21, 2019
Flyin up the hills
Familiarity:

I've used it several times
Factor hit the nail on the head when it comes to the O2. A stiff, light, bike that will get you up the hill quick and feel super stable on the descent. Being a slightly bigger guy than the average cyclist, I look for great stiffness in the frame when coming out of the saddle to put down the power on a climb or sprint. Immediately I noticed the great stiffness, and power transfer on the O2. You step on it, and the bike responds immediately. Once on the descent I felt super stable leaning this bike over on the turns, and letting it fly on the straights. While descending I don't want to think about the bike underneath me, and this absolutely did the job. I would put this bike in the category with any other climbing oriented super bike on the market. Love it.
Colin Maxfield
Do you ship to Malaysia and if yes, how much is the shipping cost? Much appreciate, Faez
Faez
Just do it!
This is an outstanding frameset and the disc setup is a must with todays bikes. The bars and stem setup does not feel very stiff but they are very light. I built it up with Enve Wheels and Dura Ace Di2 and it works great.
Justin L.
>Rating: 5
October 2, 2018
Fantastic
The Factor O2 doesn't quite fit in with the usual crop of superbikes. If you shop around the $10k price range, you'll see a few repeating themes. Bold frame designs, cutting edge tech, whole webpages dedicated to the 500 year history of the brand, etc. Factor is different. They just want to make the best bikes, and the O2 demonstrates this with perfect clarity. At 750 grams, the O2 is really, really, light. As a fairly large rider I can also tell you that it's incredibly stiff. Its got the 'magic-carpet' ride quality of a well engineered carbon frame, and this build even features SRAM's top end eTap HRD wireless disc groupset and top-of-the-line 404 NSW wheels. Critically though, it's fast. Insanely fast. IThe O2 will provide speed with aplomb anywhere. It'll make you feel like Bardet on the climbs, and Dillier on the cobbles. After riding it for a week, I can say confidently that this is the best all-around superbike you can buy. And yes, the Burnt Orange paint looks as good in person as it does online. This particular package is unique because we can change anything you want! Feel free to reach out to me at jdraper@backcountry.com if you have any questions!
Joe Draper
What are the angle of the stem and reach/drop of the handlebar? Also, does the handlebar flare out in the drop, if so, how much?
cp
>Rating:
December 4, 2017
Does the 750g claimed frame weight include both frame and fork? Thanks
Anonymous8888
Tommy Liao
December 4, 2017
That weight only includes the frame, the fork is about 280g on top of that.