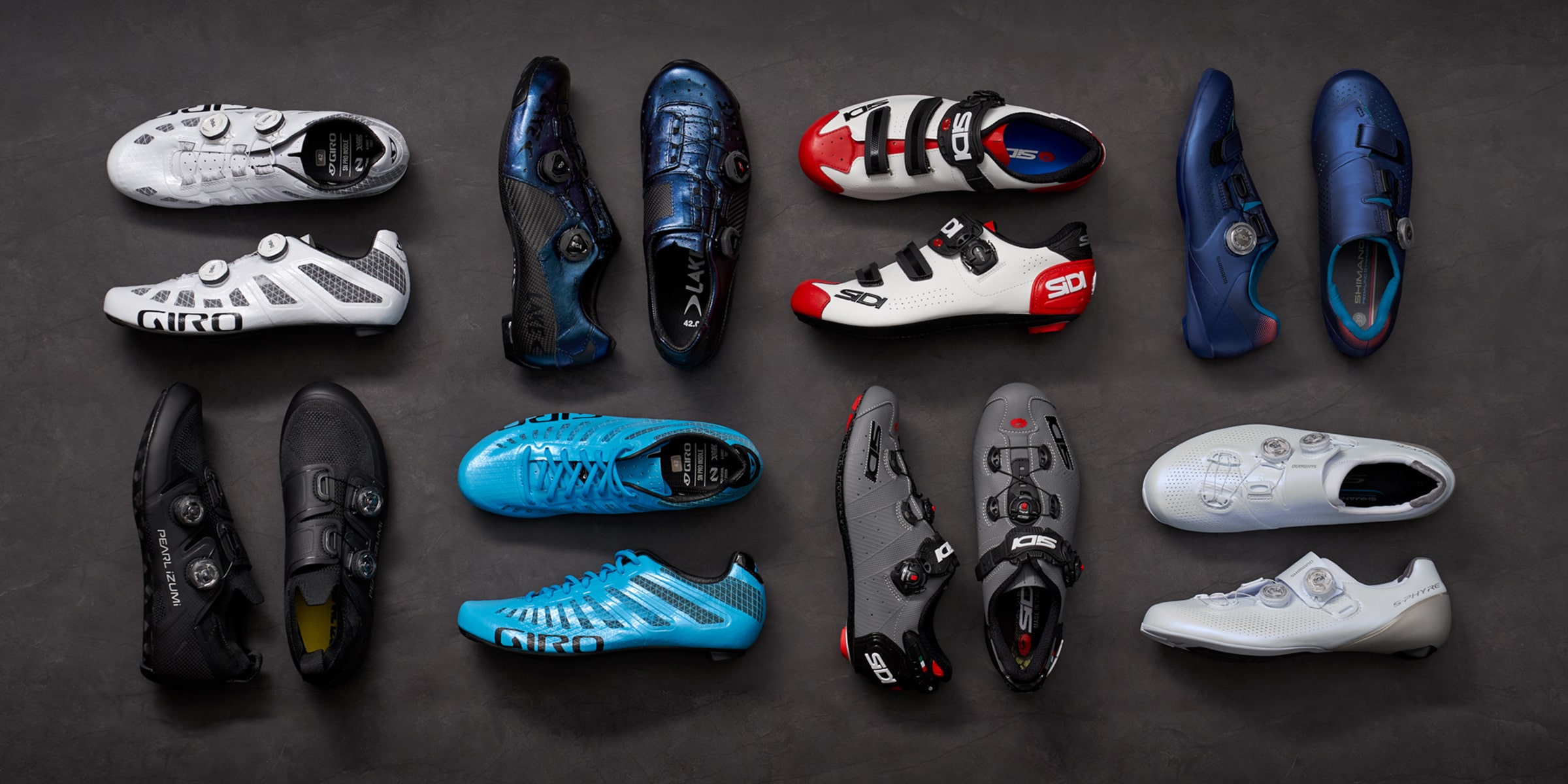 The Road Footwear Guide
Choosing the right shoe depends entirely on your personal needs. This guide outlines what you need to know to identify your best options, then presents a few of our picks for this year's standouts.
Categories
Race
Racers and high-mileage riders should seek out what we'd consider a premium Race shoe, which packs plenty of tech into a comfortable package that's easy to wear all day.
Lightweight
For hot conditions and/or the gram-conscious among us, the Lightweight category has exploded with a number of minimalist options pushing the boundaries of what we expect from cycling footwear.
Performance
We'd recommend the shoes in our Performance category to cyclists of any stripe, as these options offer fantastic durability and comfort.
Recreational
We've also assembled a few of our favorite Recreational-level shoes, which are very impressive in their own right, even before considering their approachable asking prices.

Sizing and Fit
The width of your foot is the primary consideration, and the need for a narrow, regular, or wide shoe will help you zero in on brands most likely to work for your feet. Keep in mind that many brands known for narrow fit, like Sidi and Giro, also offer dedicated wide versions of their most popular shoes.
Look for a fit that's snug, not tight, and keep in mind that any pressure points will quickly turn into hot spots. Leather uppers are more forgiving in this regard, as they break in over the course of a few rides. If your shoe has a synthetic upper, be especially mindful of pressure points when you're trying them on.
If your rides regularly exceed three hours, consider sizing up a half size. The additional room will accommodate the inevitable swelling that occurs when the miles add up.

Sole Construction
Carbon Fiber
For those seeking maximum power transfer, Carbon Fiber soles offer unsurpassed efficiency, making them the natural choice for most brands' high end shoes.
Ventilated
In sweltering summer weather, Ventilated soles drive additional airflow, helping to regulate body temperature.
Carbon Composite
Found on lower priced offerings, Carbon Composite soles offer stiffness with a bit of added flex that many riders find more comfortable on longer rides.

Technical Details
Dial
If you need on-the-fly adjustability, go for a shoe with a Dial retention system. Many shoes use the BOA system, while Sidi uses its proprietary Tecno 3 Dial System, both of which allow you to easily tweak your shoes while in the saddle.
Traditional Laces
For those wanting a customized fit, Traditional Laces offer maximum comfort, at the price of being a less secure closure than the alternatives.
Ratcheting Buckles with Hook and Loop Straps
Tried-and-true Ratcheting Buckles with Hook and Loop Straps are still widely trusted as a reliable and comfortable option.
This is only a slice of the available options, which is why we've selected just a handful of our favorite shoes below.
Ventilated Uppers
If you're after long term durability, a leather upper remains your best choice. However, if you're after a lightweight, quick drying shoe, a synthetic upper will be a better choice.
For warmer climates and summer riding, you may appreciate a shoe with enhanced ventilation.