Imperial Cycling Shoe - Men's
---
Why We Like The Imperial Cycling Shoe
Never one to kick back and rest on its laurels, Giro is back with some all-new flagship road kicks otherwise known as the Imperial Cycling Shoe. Here in the office, we've been big fans of its Empire model, bringing a resurgence to lace up shoes that reduce pressure points and improve fit thanks to its multiple anchor points throughout the shoe. As an added bonus, the design is lightweight and looks pretty cool. Our only complaint is not being able to adjust them on the fly, like right before a sprint. That all changes with the Imperial and its move to a dual BOA system.
Giro is able to keep an incredibly minimal design by constructing the Imperial of its own ultralight, monofilament, one-piece Synchwire mesh upper. It easily conforms to your foot and fits and feels like a second skin. Additionally, it's extremely well ventilated and breathable for incredible airflow so it keeps your feet cooler during warmer conditions. Synchwire's construction is stitchless and its advanced composites are what allows Giro to build the Imperials to such a high level. The thermo-bonded film provides overall durability, a non-woven internal sheet distributes the force from the BOA dials for direct power transfer, and the mono-filament mesh provides the ventilation. Additionally, thermal-welded Teijin TPU adds structural support to the upper where it's needed.
Details
Giro's flagship road shoe, now even easier to adjust
One-piece Synchwire upper design is soft, light, and supportive
Teijin welded SL monofilament mesh boosts ventilation
Twin BOA Fit System IP1 dials reel +/- 1 mm of cable and have a macro release
Easton's most advanced carbon sole is stiff and featherweight
Replaceable heel pads keep the shoes going season after season
SuperNatural Fit Kit has adjustable arch supports for custom fitting right out of the box
Runs small, so we recommend sizing up for ideal fit
Item #GIR00ML
Upper Material

one-piece Synchwire, Teijin welded SL monofilament mesh

Closure

dual BOA® Fit System IP-1

Footbed

SuperNatural fir kit with adjustable arch support

Sole

Easton EC90 SLX2 high-modulus carbon

Cleat Compatibility

3-bolt road

Claimed Weight

[single, size 42.5] 7.6oz (215g)

Activity

road cycling

Manufacturer Warranty

1 year
Reviews
Q&A
Overall Rating
3.5 based on 7 ratings
Fits True To Size
Screen reader users: the following list provides a visual scale to illustrate the product fit. Please refer to the heading above for the fit type in text.
Runs small
True to size
Runs large
What do you think about this product?
View
Selecting an option will reload the available reviews on the page
5 out of 5 stars
March 17, 2023
Worth every penny
Familiarity:

I've put it through the wringer

Size Bought:

46

Weight:

175
Shoes seem to be a very personal bit of cycling gear, like saddles. What's perfect for everyone tends to vary, and sometimes by a lot. I've had my original pair of imperials almost 4 years now (about 20k miles). I've had many other good shoes but always some flaw that made me keep looking. Most of my cycling is to try and stay race fit: shorter interval rides plus one 3-5hr ride per week. Mostly road but some mixed terrain and gravel/fire roads. Some shoes felt great for racing crits but got miserable on longer and/or bumpy rides. Others were great all day but didn't have that locked-in feeling I want in hard interval training or racing. These imperials excel at both. They also excel in a variety of weather conditions: I've ridden these in temps down to high 30's, all the way up to a 110 degree roaster: feet are always comfortable. Yes feet get wet quick in rain, but they dry quick. I've never had a pair of shoes that didn't turn into sloshy messes after 5min of rain, so quick drying is priority. Also, after a messy rainy muddy ride these wipe down and clean up super easy, even in white! Its worth noting a few things that other commenters have noted here too: First, may be a little extra room if you use stock insoles and have normal or narrow width feet such that when you fully tighten the front boa dial the material at the top of the toe box will visually buckle: doesn't effect the fit but its unsightly. My custom insoles take up that extra space so it disappears. If not using thicker insoles or higher arch support, there are these things called insole shims that are very cheap and can fill up the extra 2-3mm of space and completely eliminate this visual material buckling. I actually appreciate that Giro left some wiggle room to allow for these options in fit. Second: I get toe rub on my front tire and no pair of shoes is immune to this. A little bit of shoe goo as a protective layer on the toe tips and problem solved. Third, boa dial durability. Bottom line is not good: design flaw on Boa's part. My first pair had one Boa dial fail: the screw mount of the part sewn into the shoe broke. Contact Boa and they'll send replacement free. But the replacement is just the dial and not broken part sewn into the shoe. So I contacted Giro and within 24 hours they were on it and had a new pair in the mail to me as warranty replacements. I was astounded. Not only that, but their customer service was absolutely awesome to deal with! This is what makes a company great. This experience I had with the warranty replacement, plus the fact that these are just the best shoes I have ever owned in a cycling career of almost 20 years, gave me the comfort level to buy another pair. And then another. Yep, I own 3 pairs of these now. Crazy? Maybe. A couple more tips on Boa dials in general. First, when pulling the dial out to loosen the lace, make sure you pull straight back and don't wiggle the dial back and forth while pulling: this weakens that already weak plastic post that the dial mounts to. Second, if you do break the Boas you can contact Boa, explain the issue and maybe twist an arm or two, they will also send you free replacement of the part that sews into the shoe. Once you have that piece, any good shoe repair shop can easily remove the old broken one and sew a new one in. I know this because after the warranty replacement I had another Boa dial break. Instead of trying the warranty route again (which I'm sure Giro would've honored) I decided to try this repair route and sure enough a local shoe repair shop took out the old one, sewed a new one in and $25 later the shoe was good as new; another 4k comfy miles on it so far with many more to go. Super easy, inexpensive and much less total waste. Win, win and win. Buy these. Try them. Odds are excellent that you won't be disappointed.
1 out of 5 stars
February 11, 2022
Broken BOA
Familiarity:

I've used it several times

Size Bought:

45

Height:

5' 11"

Weight:

158
I bought the red pair as a back up to the black pair in the same shoe. Love the ventilation. Love the style and adjustability. Love the overall fit, especially for my flat wide feet. But alas, after less than two years and very little use, the left front BOA snapped off. As near as I can tell it's not replaceable as it is sewn into the shoe. I had a pair of Specialized S-works shoes that lasted more than 7 years. I even used the S-works sole in this shoe for better comfort. I expected more for $450.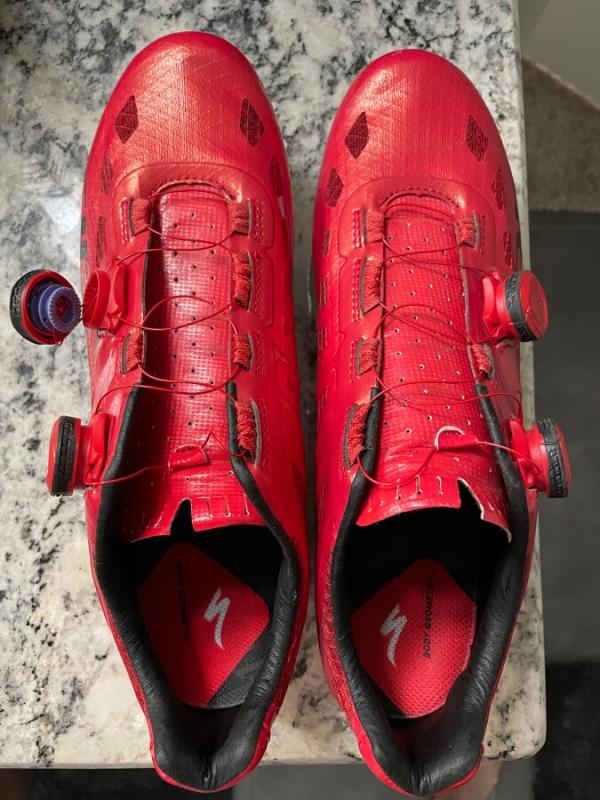 5 out of 5 stars
November 25, 2021
Lasted 2 years
Familiarity:

I've put it through the wringer

Size Bought:

45

Height:

6' 3"

Weight:

173
I rode and raced in these shoes for about 2 years. They are awesome. I had them fitted with my bike fit and had some more supportive inserts put in for my arch support and less foot movement. They were great in hot Texas summer months. Long rides didn't produce heat spots in these shoes as some other shoes had done in the past. Great ventilation probably helps. The obvious downside with the ventilation is that if it rains, your feet are getting wet really quick - even if you have shoe covers. In races, the shoes played their part. They were always stiff, responsive and just didn't make think about shoes at all during a race. I never felt like I had a disadvantage - they were just a great racing shoe. Finally after 2 years of use, the BOA on the right shoe broke. That's expected. I got thousands of miles from this shoe. I was actually thinking about retiring them and getting another pair anyway. Which is what I am doing - getting another pair. Great shoe.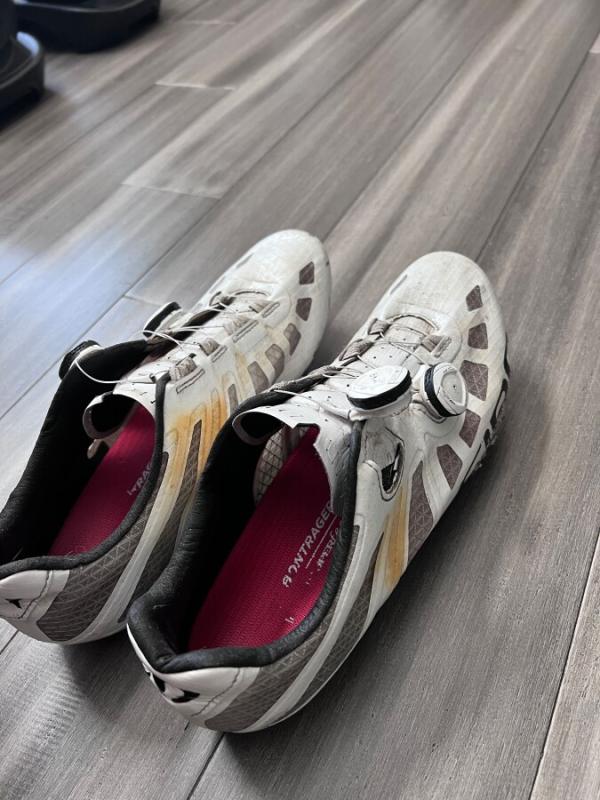 3 out of 5 stars
April 15, 2021
First Impression of the Giro Imperial
Familiarity:

I've used it once or twice and have initial impressions

Size Bought:

45.5

Height:

6' 2"

Weight:

185
I have narrow feet , B width and ordered size 45.5 EUR or 11.5 US - the initial fit felt pretty good but when I tightened the lower BOA dial the toe fabric/material buckled/puckered somewhat which could be due to my narrow feet . I felt that these shoes were a little wide for my feet and returned them ,
1 out of 5 stars
November 24, 2020
Great Shoe...But Didn't Hold Up
Familiarity:

I've put it through the wringer

Weight:

null
This $450 shoe is everything you want in an elite cycling shoe, except the durability. After 1 k miles, the left sole broke at the toe clip during hard braking on a decent, sending me to the ground. However, before this, the shoe has been slowly deteriorating, with the white coating coming off piece by piece. The paper-thin EC90 sole has been very stiff, however, that comes at a huge cost, very disappointed in the longevity of these shoes.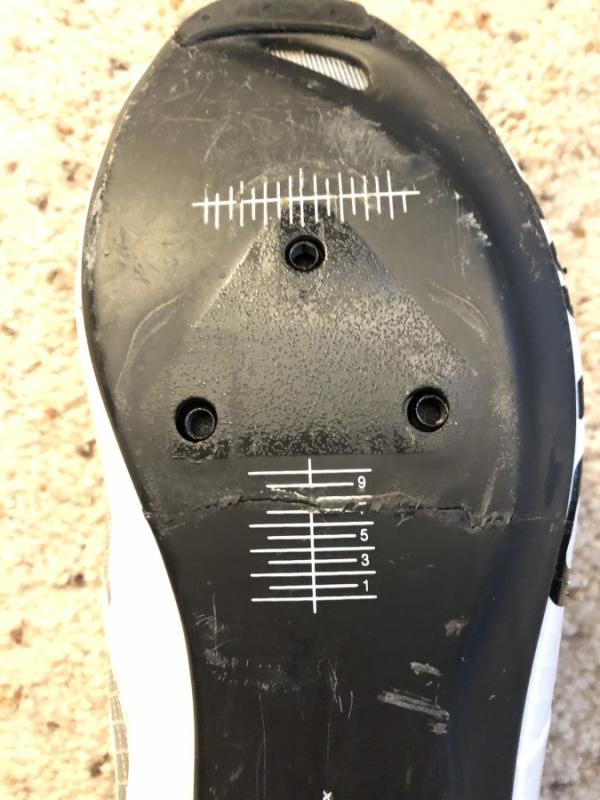 5 out of 5 stars
October 6, 2020
Road shoe for IM
Familiarity:

I've used it once or twice and have initial impressions

Size Bought:

44

Height:

5' 8"

Weight:

150
Great breathability. Awesome sockless. Lightweight. Easy to get your foot in and out of. Excellent hold on heel. Small toe box. May want to consider sizing up a your foot expands over longer distances.
5 out of 5 stars
May 17, 2020
Seamless switch from SiDi
Familiarity:

I've used it several times

Weight:

null
My arches have been falling in my 50s and so after 26 years on SiDi Genius models, I got the Imperials thinking they would have a lower stack height to allow arch-support insoles without messing up my position on the bike. So a few notes on the comparison: SIZING: exactly the same in my size 43. Feels like they are identical, down to the millimeter. WEIGHT: Genius 5 with nylon sole ad SPD-Sl cleats 352g each, the Imperial 262g. STACK HEIGHT: even with the insoles it feels a bit shorter than the old SiDi with no insoles (that stack height was about 10mm). HEEL RETENTION: reviews mentioned this as a mild negative with the Imperial, but I found if anything that it was better than the SiDI when the Boa wires were snug. (I didn't find the wires stuck to the tongue either.) SOLES: the carbon soles here actually seemed to give about as much as the old thick nylon SiDis -- which is to say, a tiny bit, but not much. the CLEAT HOLES seem to be possibly about 1mm further back than the SiDi holes .... All in all, an almost seamless transition. between brands, which was very surprising to me. The arch support inserts are terrific, they sit *under* the liner so they're fairly unobtrusive, and they seem to be helping a lot. My first pair of SiDis lasted 65,000 miles and it does seem like there's absolutely no way the Giros will last as long, the Teijin outer material is thin and it does scrape up pretty easily. BTW the mesh part is see-thru (see photo), so choose your socks well, but the ventilation is terrific in the heat. Comes with a nice zip bag to pack them up in. ... Mild irritations: the red color is far less saturated in daylight than it appears in the product shots. The Boa dials work in opposite directions on the left and right feet, kind of like prewar bathroom sink faucets. ... All in all, a terrific, thoughtfully designed product.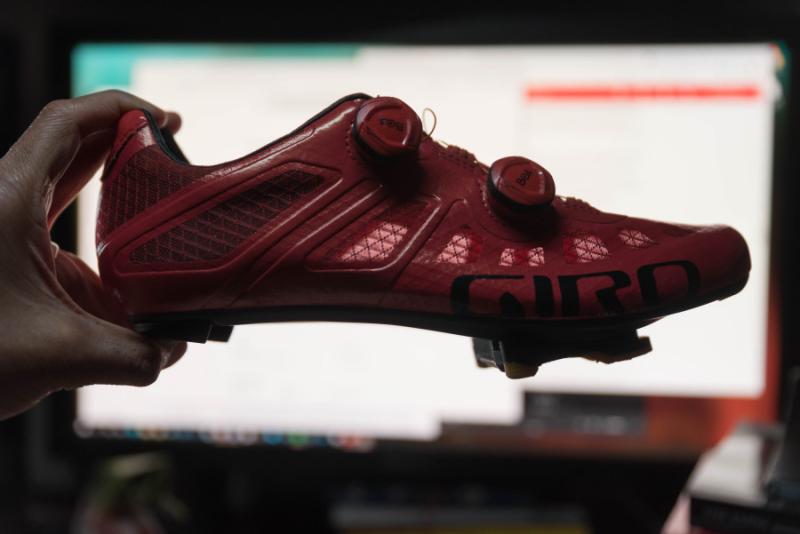 Originally reviewed on Backcountry.com
Need Expert Advice?
Our Gearheads Can Help