Sidi
Shop Sidi by category
New Arrivals
The Newest Arrivals in Gear & Clothing
View all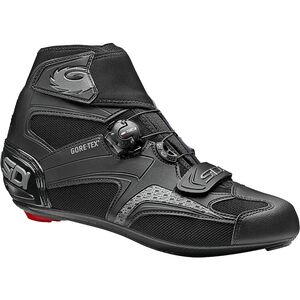 Sidi
Zero GORE-TEX 2 Cycling Shoe - Men's
5 out of 5 stars from 1 reviews
5
1
(1)
About Sidi
Sidi shoes have been coveted by professional and amateur cyclists for decades, and their reputation is no accident. The story begins in 1960, when an Italian shoemaker named Dino Signori began building boots for mountaineering and skiing. It was only a matter of time before Dino, who had been a successful junior bike racer, experimented with cycling footwear.

1970 marked the arrival of the first Sidi cycling shoes and motorcycle boots, but it was three years later, with the launch of the Titanium shoe, that Signori changed cycling forever. His contribution? An adjustable cleat-mounting system that signaled the end of nail-mounted cleats, and ushered in the era of modern cycling shoes. In the following years, a string of innovations followed that ingrained the Sidi brand into the minds of serious cyclists the world over. The '80s saw new materials like nylon soles, which offered stiffness at lower weights, and Velcro straps. The first dedicated mountain bike shoe arrived in 1985, and the first ratchet closure on a cycling shoe in 1989.

Today, advancements in materials make shoes like the Dragon mountain bike shoe and the Wire road shoe a fixture among racers seeking a competitive advantage, including many who are paid to use other equipment. Of course, the same impeccable fit and hand-crafted finish find their way into modern classics like the Dominator mountain bike shoe, and the Five road bike shoe. And then there's the legendary durability; it's not uncommon to see people riding Sidis that have over a decade of hard use. All these factors help to explain why so many cyclists, both pro and amateur, consider their Sidis their favorite piece of cycling equipment.