This carousel displays a list of buttons that updates the main product image when a button is clicked
SRAM
GXP Team Bottom Bracket
Sale
23%
Off
$29.99
$39.00
Item # SRM0378
Select options
Cancel

Select options

One Color, 68/73 ($29.99)

One Color, 70 Italian ($29.99)
Free Shipping on orders over $50
Item #

SRM0378
Description
GXP Team Bottom Bracket
Typically unsung, this SRAM GXP Team Bottom Bracket is what you'll find supporting your SRAM road or Truvativ mountain crankset. It's identical to the bottom brackets used in the Force and X0 groups.
SRAM's bottom brackets, while interchangeable between all SRAM and Truvativ cranksets, are brand specific -- meaning, they can only be installed with SRAM cranks. The key element that makes them different from a Shimano or FSA bottom bracket is that the left side bearing has a smaller diameter to mate with the stepped spindle of the SRAM crank. This design allows the inner race of the left side bearing to be captured between the crankarm and the spindle, effectively locating the crank. The right side bearing "floats" on the spindle handling only radial loads as you pedal. The SRAM design optimizes bearing load, minimizes drag, and gives you durability.
The GXP Team Bottom Bracket has alloy cups, anodized in Dark Silver. It's compatible with all SRAM road and Truvativ mountain cranksets. It comes in English threading only and will fit 68mm or 73mm bottom bracket shells (spacers included for 73).
Compatible with all SRAM road, Truvativ mountain cranksets
Fits 68, 73mm bottom bracket shells (comes with spacers for 73mm)
English threading
View more Road Bottom Brackets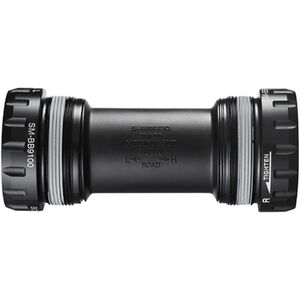 Shimano
Dura-Ace BB-R9100 Bottom Bracket
5 out of 5 stars from 1 reviews
5
1
(1)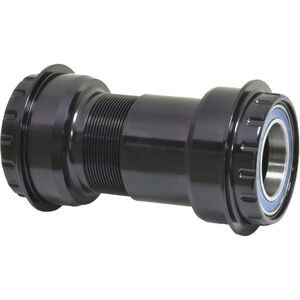 Wheels Mfg
PF30 to Shimano Bottom Bracket + ABEC-3 Bearings
5 out of 5 stars from 9 reviews
5
9
(9)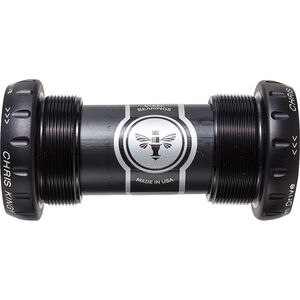 Chris King
ThreadFit 24mm Bottom Bracket
5 out of 5 stars from 10 reviews
5
10
(10)
What do you think about this product?
>Rating: 1
December 22, 2019
SRAM GXP Team Bottom Bracket
Waited for this item as Christmas gift (December 2019). I just came from vacation and unfortunately, received this item damaged.😥 Side sealed bearing came out and noticed a big cracked metal on the side with a hole. Seller should not send this item anymore if it is already damaged and broken. Now, I have to send it back for reform and still need to pay their flat rate UPS Shipping cost of $6.99. COMPETITIVE CYCLIST, why customer like me needs to suffer for this?
Dennis G.
Aaron Bytendorp
December 23, 2019
Hey Dennis, Looks like this is actually not damaged. That dust cover will not stay on unless it is installed on your bike. The hole you see at the top is for a tool.
Does this bottom bracket come with the proper tool to install? I'm assuming not, which comes to my next question of: what is the proper tool to install this. I looked at the options on this website, but there are a lot of variations. Just wanted to make sure I purchased the correct one.
Johnathon J.
Roger
April 7, 2019
Too install Sram BB you will need 1) Parktool BBT-19.2 2) Tube of Parktool PPL-1 Polylube grease or anti-seize grease. 3) Cleaning rages or shop towels 4) Clean out BB housing before applying grease/installing BB 5) Pay "close attention" to the writing on the threads on the BB 6) The left side of the BB is non-drive side (left side) 7) Drive side is front right side (crank/rear gears) is the drive side. 8) You might need the spacers 68/72mm depends on the length of your BB housing. 9) Set torque wrench setting to or between 25/30 newton-meters Then you should be good to go.
>Rating: 4
November 9, 2018
Does the job
Familiarity:

I've put it through the wringer
Cheap, easy to replace, and doesn't fail catastrophically. Use it for six months to a year, throw it out, and buy another.
Nick G.
>Rating: 4
October 23, 2018
Doer of the stuff
Familiarity:

I've put it through the wringer
2nd one in my bike-packing Salsa Fargo. Spins into the frame, lets pedals go around. Been dragged through streams, snow and mud. No complaints - great priced BB. Make putting in into your frame enjoyable with The Abbey Tools BB socket (ABY000F).
Nathan Simpson
>Rating: 5
October 8, 2018
Great product
Familiarity:

I've used it several times
Flawless bottom bracket. No complaints, lightweight, and still heavy duty for my gravel bike.
Courtney Less
>Rating: 5
August 10, 2018
High quality bargain BB
Familiarity:

I've used it several times
Just updated my bike with a 1X11 GX drivetrain. This is the bottom bracket I went with. Great price and outstanding quality. Highly recommend.
JKC
Cheap and Great BB
Familiarity:

I've put it through the wringer
This has been a great buy for me so far. Easy install and looks great. It is very smooth and quiet. Can't beat the price and quality.
Brady McCarthy
Smooth as butter
Familiarity:

I've used it several times
Figured as I was upgrading to the Eagle GX why not change out the bottom bracket as well, make life easy with the installation and compatibility. Great bb so far, spins great, feels solid and super happy with the entire upgrade.
Kyle Laudenslager
Easy Install, Spins Smooth
Familiarity:

I've put it through the wringer
Great BB, no issues to note. Spins smooth with no creaking or other problems.
Craig L
Function!
Familiarity:

I've put it through the wringer
Works well on my 2018 Evil Wreckoning with my Descendant Cranks. Note - this only works with GXP specific crankarms. So keep that in mind.
Sunn Kim
>Rating: 5
February 27, 2018
Solid performance
Familiarity:

I've put it through the wringer
The perfect option for GXP cranksets, this bottom bracket will keep things running smoothly for miles to come.
Fritz Hanseler
>Rating: 5
February 17, 2018
cheap, easy, last a long time
Great BB for sure, cheap, easy to install, lasts years this is my 3rd on my frame I change it around once every 1.5 years, great product! Threaded BBs are just the best.
John Bamford
>Rating: 5
February 10, 2018
Quiet!
Familiarity:

I've put it through the wringer
Super easy to install and no far no creaking sound! I have about 100 miles on it and doesn't seem to be stopping anytime soon. No reason to feel like to should have waited for the new DUB technology since this one is tried and true.
Matt Conn
>Rating: 5
January 24, 2018
right price, good performance
Familiarity:

I've used it several times
Bought this for a GX eagle upgrade. Easy install, spins right after the first couple rides. Can't speak to long-term durability but modern sealed bottom brackets seem nearly bombproof. I tend to move onto a new bike before I wear out a bottom bracket (creaky press fit the odd exception). Comes with spacers but no install instructions. I suspect the spacers take it from a 68mm bottom bracket shell to the mtb 73.
Josh R
>Rating: 5
January 3, 2018
Affordable, durable
Familiarity:

I've put it through the wringer
The Team GXP bottom bracket with steel bearings is a good value. Installation is a cinch and so far the BB has held up well. I had it on my last bike for well over a year and the bearings were still spinning freely when I sold the bike. This is for 68 or 73mm BSA shells and SRAM GXP cranksets.
Brock Price
>Rating: 5
December 17, 2017
Gxp bb
Good product. Keeps me moving.
Adrian G.
>Rating: 5
October 2, 2017
Spins real good.
Familiarity:

I've put it through the wringer
Compatible with Hightower LT and SRAM Descendant Carbon 12-Speed GXP Direct Mount Crankset.
Sunn Kim
>Rating: 5
August 18, 2017
Dependable, inexpensive
These bottom brackets are a great dependable product. Never had a problem with them.
William Krempa II
Works as expected.
Familiarity:

I've used it several times
Great tool for the job. When your old GXP bb wears out, pick this up and you will love how smooth your pedaling becomes. At this great price point it is definitely worth getting a new BB for your bike. Do it!
Mike Campbell
Smooth, quiet, like a new bike!
Familiarity:

I've put it through the wringer
My husband and I both got this bottom bracket as part of the whole SRAM Red eTap Road GXP Groupset. This review is for the entire group. Hubby says: I purchased two SRAM Etap groups to upgrade both my wife's and my road bikes. Both bikes had relatively old drivetrains (hers 10+ year old Ultegra and me 15 year old Campy Record) so we figured it was definitely time for an upgrade and because our bikes have S&S couplers the wireless aspect of Etap made a lot of sense for breaking down the bikes for travel. Installation: Etap was far easier to install than any other build I have done. After removing all the old parts and degreasing the frame and giving it a good scrub, I had everything installed in about an hour and a half, the most time consuming part being the brakes. SRAM has some excellent YouTube videos explaining how to install the parts and after viewing them a couple times, it was pretty straightforward. One thing to watch out for is the braze-on adapter. We have titanium bikes which require this adapter and I tried using the Shimano one that was on my wife's bike from her previous group. With this adapter, adjusting the front derailleur was impossible, but once I switched to the SRAM adapter everything worked normally. I know, it's probably obvious but I just figured there was some cross compatibility between SRAM and Shimano but it appears that's not the case. Minus points for the braze-on adapter being a separate component that we needed to buy to complete the install. Adjustment: this part was surprisingly easy, especially compared to mechanical groups I have worked with in the past. SRAM's video instruction was clear and concise and the front derailleur has little marks on it showing where it needed to be mounted in reference to the large chainring. The rear derailleur was equally easy as well, just use the micro-adjustment buttons on the shifters to line it up with the large and small cogs of the cassette respectively. Once that was done, I fine tuned the adjustment by putting the bike on the trainer and riding it, adjusting as needed with the micro-adjustment buttons on the shifters while shifting into every gear. Riding: The first ride felt like I had a brand new bike. The difference between this and my old group (granted it was pretty old) was a revelation. The first week or so of riding I was getting Strava PRs all over the place and at my age, I ain't getting any faster so it definitely has to be the drivetrain. The new method of shifting (left shifter easier gear, right harder, both change front chainring) took a little getting used to but now that I have, I love it. Shifts are quick and concise with no delays, clicking or grinding, even under heavy pedaling load. The brakes are also nice, with good modulation and stopping power, even on carbon rims. One final point about this setup is it's seriously quiet - almost zero noise out of this drivetrain which is one of my favorite features. I was a bit nervous about dropping so much money on electric shifting but once I had it on the bike those nerves disappeared. The components are high quality (as is the packaging - it seems SRAM has taken a page out of Apple's book), the installation is really easy and the performance of the group is outstanding. I highly recommend this setup for anyone wanting to upgrade their bike.
Kate Cronin