7 Tips to Conquer Your Winter Commute
Gear, Planning & Know-how for Cold-Weather Riding
Winter is the most underutilized season for commuting by bike. From the elements and the darkness to storage challenges, there may seem to be more reasons to avoid this beautiful season than embrace it. But we're breaking down the barriers to help you string together—and actually enjoy—back-to-back days of successful commuting all winter long. 
Our Gearheads Josh McAlister, Lindsay Wetzel Polin, and Daniel Iverson share advice from their winter commutes to the office by bike, how they prepare for the cold, maintain their gear, and keep building fitness mile after mile.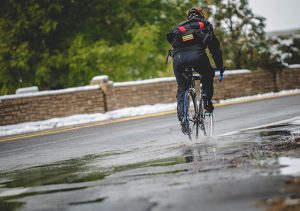 1. Commute Casual: Dress Right for Your Winter Ride In
Gearhead Josh McAlister wins on his winter commutes by specifically preparing for each weather condition and the total distance to the office. He rides by the saying, "There's no such thing as bad weather, just the wrong clothes." Josh recommends looking at your commute distance to determine the best clothes for the ride. 
"My commute is relatively short, so I'll usually wear whatever I have planned for the office that day. If you have a longer ride in, layer up as you would for a winter ride—baselayers with a thermal midlayer, bibtights, and a waterproof shell, if necessary." —Josh M.
But it's not just about your layering system. Gearhead Lindsay P. swears by accessories that add an extra layer of warming confidence, like hand and foot warmers to tuck in your gloves and shoes, and a windproof balaclava for those gnarly headwinds.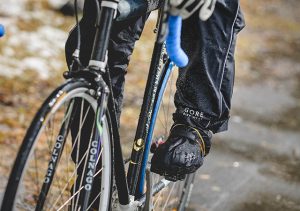 2. Get Water-resistant or Waterproof Gear for Rainy Days
Rain presents its own challenges when you're on the saddle, and getting wet in winter can be a fast way to ending your commute motivation. Avoid soggy clothes by commuting in casual rainwear, but if it's really coming down, pedaling in cycling-specific rain gear helps you maintain comfort to and from the office.
"I'd much rather ride in snow than wintery rain, so to be honest, I usually hop on the train or drive on those days. But if your bike is your sole mode of commuting or you're committed to riding no matter the weather, invest in some good waterproof gear with fully taped seams."  —Lindsay P.
For Josh, rainy days are all about shell layers to keep you and your work clothes dry on arrival to the office. And Daniel keeps spare clothes at his desk to change into if he needs to freshen up or get out of damp cold riding gear.
"I'll often wear my GORE-TEX shell pants and jacket— I treat it like skiing on a bad weather day." —Josh M.
Shop Josh's Picks
GORE® Wear C5 GORE-TEX Paclite® Trail Pant – Men's
GORE® Wear C3 GORE-TEX Paclite® Hooded Jacket – Men's
Gearhead Daniel Iverson brings up another excellent point about the importance of your bike's fenders in keeping puddle wheel-spray from drenching your gear. He recommends investing in fenders that are "full coverage, permanently mounted, and made of aluminum or steel."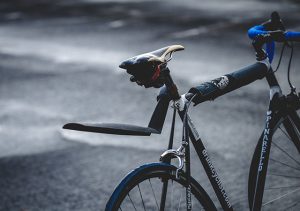 3. "Winterize" Your Ride
Fenders are an easy way to winterize your ride,  but there's more you can do to keep your machine rolling smoothly through wicked winter miles.
Josh recommends using Muc-Off's Nano Tech cleaner after riding in sloppy conditions, as well as brushing down and toweling off your drivetrain daily to avoid grime buildup in hard-to-clean places.
For rides in snowy climates and on salted roads, Daniel's pro-tip is to consider regreasing your bearings in the "hubs, headset, and bottom bracket" every 1-2 months to avoid corrosion and muck buildup.
4. Plan Ahead for Mechanicals & Delays
Whether it's the likely flat tire, a closed road, or simply rerouting your commute to avoid a strong headwind, having a backup plan saves you time and hassle. Have the gear you need for any situation, and if possible, leave a few minutes early in case you need them. 
"I always give myself an extra 15 minutes and always carry a full set of tools and spare tubes so I can take care of punctures quickly. I recommend any commuter be prepared for these situations—a flat kit is cheap and easy to carry. Make sure you've got some lightweight gloves for those situations, so you've still got warmth and dexterity!" —Daniel I.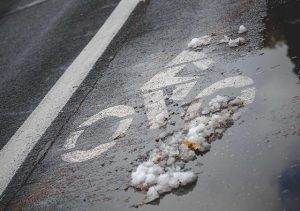 5. A "Beater" Bike is Great, But Not Necessary! 
There's a misconception that when the weather turns foul, your high-dollar gear can't take the punishment. And while you may not be particularly in favor of getting wintery muck on your carbon and high-polished bits, but with proper maintenance, you can take a high-end steed to the winter roads.
"A beater bike is an excellent idea—road salt can take a harsh toll on your frame and parts. And rain, snow, and dirt attack your drivetrain. But don't let lack of a beater stop you from riding—run what ya brung! It's better to enjoy your commute and clean your high-value bike and gear than to drive every day." —Daniel I. 
For Lindsay, it's all about looking at your storage space at work if you're commuting on your high-value training bike.
"You don't need a commute-specific bike! Although you do need to have secure indoor storage if you're commuting on a nice bike—leaving it locked up outside is a good way not to have a bike when you leave work for the day." —Lindsay P.
6. Don't Forget Riding Lights for Safety & Visibility
Commuting in winter is an endless chase of sunsets, and in all likelihood, you'll need at least a blinker light to be seen in the dwindling light at dusk. Lindsay uses "at least one blinky light on the back, and then a bigger light upfront for both vision and visibility to others." 
A bike light on the seat post and then one or two on your backpack or panniers is a great way to boost your visibility to motorists. Josh uses Lezyne's Lite Drive on the front to see the road and the Zecto Drive Tail Light on the back to be seen by passing traffic.
Daniel points out that cold weather presents a significant drain on battery life. "Around the city, I need good battery life. My front light can put out 900 lumens on the low setting lights, which lasts a long time. A bright flashing light on the rear is necessary."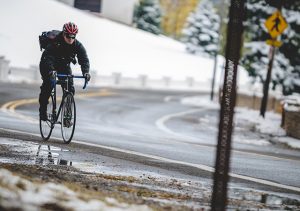 7. Consider Your Commute a Way to Train
Commuting could be your winning ticket for maintaining fitness come winter. It's all about how you approach the time on the bike and what the road conditions have on offer. 
Lindsay sees shorter commutes as time to take it easy and enjoy the ride, but Josh cranks up the watts. "All cycling is training," he says. "You can make commuting as hard or as easy as you'd like, depending on your pace. My ride is only about five miles, so I try to go all out as a mini-interval. If your commute is longer, consider a more balanced pace.
Winter doesn't have to spell the end of your commute. Prepare, plan out your route, and have the backup gear to get you out of a jam. Have fun with this underused and wide-open season to keep riding your bike!
Author Bio: Max is a Competitive Cyclist, copywriter, and photographer. Follow on Instagram @headinthecleods.