ThreadFit T47-30I Bottom Bracket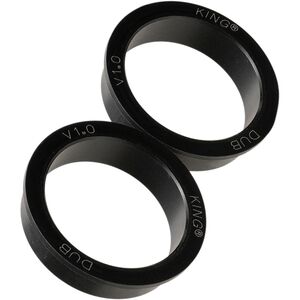 Free Gift With Purchase!
Fit Kit - Bike Build
---
ThreadFit T47-30I Bottom Bracket
We're always a bit weary every time a new bottom bracket standard surfaces, but since Chris King spearheaded this one, and it has, gasp, threads, it gives us a bit more confidence. With the T47 standard King worked with some custom frame builders and heeded their requests of what they felt were important in a bottom bracket and shell, namely a creak-free interface afforded by a precisely aligned, threaded shell, and additional stiffness that comes from the oversized bottom bracket, seat tube, down tube, chainstay junctions. The design also allows for easy compatibility with either 24 or 30mm crank spindles and it allows for robust bearings. This particular version, the ThreadFit T47-30I Bottom Bracket works with frames using the T47 standard and will accommodate cranksets with 30mm spindles with several conversion kits available separately for 24 and 24mm stepped spindles. Of course, this all comes with the typical Chris King quality we all know and love.
Chris King designs, engineers, manufactures and assembles everything at its facility in Portland, OR and is one of the eco-friendliest facilities on the planet, repurposing old industrial machines for their purposes and recycling any and all materials wherever possible. That means the seals, the outboard cups, the bearings, and even the proprietary tools to install it all hail from the same factory. And if for nothing else, CK is known for precision. The company's bearings are made in-house to standards that ensure the insane longevity of King's products, known to last through multiple bikes, or even several decades, with equal ease. With that degree of obsession built into their price, we're confident that you'll be riding your Chris King bottom bracket for many years to come.
Details
Chris King's bottom bracket for frames using the T47 standard
Precision bearings in-house ensure longevity
Thread-in ease and convenience with oversized shell stiffness
Made in the USA in an eco-friendly facility
Fits 68, 73, 83, 86, and 92mm shell widths with 30mm spindles, or 68 and 73mm shell widths with 24mm and 24mm stepped spindles (with conversion kits sold separately)
Item #CKG001U
Material

[cups] aluminum, [bearings] stainless steel

Shell Type

T47

Shell Width

68, 73, 83, 86, 92mm

Threading

English

Includes

2 Spindle Sleeve, 2 BB O-ring, 1 Non-Drive BB cup assembly, 1 Drive BB cup assembly, 1 Center Sleeve, 1 Spindle spacer 2.5mm *for T47 24i 89.5mm shell ONLY

Manufacturer Warranty

5 years