ThreadFit T47-24x Bottom Bracket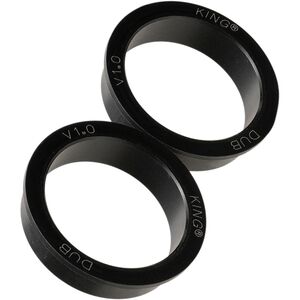 Free Gift With Purchase!
Fit Kit - Bike Build
---
ThreadFit T47-24x Bottom Bracket
If you blink, you might just miss a new bottom bracket standard that has come to market. While every new standard claim to have a strong list of pros with zero cons and will be the best thing since sliced bread, Chris King usually sits by waiting to see just what the industry does and how well the standard is accepted before they respond by crafting their best version. It took a different approach to the T47 standard. Working with custom frame builders, a new standard arose that gives the benefits of a creak free and precisely aligned threaded shell with the additional stiffness of oversized press fit shells. Another nice feature is the ability to use 24 or 30mm crank spindles with robust bearings on a threaded shell. This particular version, the T47-24x Bottom Bracket only works with frames that use the T47 standard and will accommodate any road or mountain crankset with a 24mm spindle so long as it's paired with one of CK's many BB Conversion Kits, and of course, you get CK quality along with it.
Chris King designs, engineers, manufactures and assembles everything at its facility in Portland, OR and is one of the eco-friendliest facilities on the planet, repurposing old industrial machines for their purposes and recycling any and all materials wherever possible. That means the seals, the outboard cups, the bearings, and even the proprietary tools to install it all hail from the same factory. And if for nothing else, CK is known for precision. The company's bearings are made in-house to standards that ensure the insane longevity of King's products, known to last through multiple bikes, or even decades, with equal ease. With that degree of obsession built into their price, we're confident that you'll be riding your Chris King bottom bracket for many years to come.
Details
Bottom Bracket for T47 frames and 24mm spindle cranks
Precision bearings in-house ensure longevity
Thread-in ease and convenience with oversized shell stiffness
Requires a fit kit to adapt to your individual crankset
Fit Kit 4 and 6 work with T47 24x or 24i shells and 24mm spindles
Made in the USA in an eco-friendly facility
Item #CKG001S
Material

[cups] CNC-machined aluminum, [bearings] stainless seel

Shell Type

T47

Shell Width

68, 73, 100mm

Threading

T47

Axle Type

24mm

Recommended Use

cyclocross, gravel, road cycling, triathlon

Manufacturer Warranty

5 years