This carousel displays a list of buttons that updates the main product image when a button is clicked
Wahoo Fitness
ELEMNT BOLT GPS Bike Computer
Item # WHA000L
Free Shipping on orders over $50
Item #

WHA000L
Description
The simple choice.
Wahoo's first generation of ELEMNT computers was focused on ease of interface for the user. The ELEMNT BOLT Computer expands this ethos of hitch-free operation to the realm of aerodynamics, as in: the Bolt's revised body shape reduces drag. In retrospect, this makes obvious sense. The computer is hanging off the front of your bike, effectively replacing the handlebar as the leading edge of aerodynamic drag. Despite this, drag has been a surprisingly low priority for most head unit manufacturers, and the computers have grown ever block-headier as technology like GPS, wireless metric gathering, and the myriad compatibilities we expect consume require more and more hardware space. Like it did when it made simplicity of use top priority, Wahoo is now elevating aerodynamics while simultaneously lowering the bar for entry, price-wise. Less drag, less cost, more simplicity, and virtually universal compatibility: the choice is simple.
The ELEMNT BOLT differs from its predecessor, the standard ELEMNT, in two key ways. It's smaller and more aerodynamic. These changes necessitate a smaller, less brilliant screen, but the computer's form lets you tilt it for best visibility from the saddle without compromising on aerodynamics. When set at zero degrees, the BOLT reduces drag by a claimed 50% over an unidentified competitor that we're fairly certain is a Garmin; when titled to six degrees, this number jumps up to 60%.
In terms of the complete bike, that number is relatively small (Wahoo puts it at 1.5% in net drag reduction); however, that 1.5% means that your head unit isn't effectively undoing some of the gains you made with 50mm rims, a NACA-shaped handlebar, those ever-evolving tube shapes, etc. In any system, every piece is important. This holds true for the total aerodynamic footprint of a bike, and the ELEMNT BOLT provides one of the few missing pieces towards total aero-awareness.
Of course, no aerodynamic gain is worth sacrificing any of the functions that we expect—or rather, that we now require from a head unit. By carrying over all of the user-friendly features and compatibilities of the bulkier ELEMNT, the BOLT doesn't disappoint. First, it reads your body. Power, heart rate, speed, cadence—even muscle oxygen. If you have the sensor, it can display the data. Second, it reads your drivetrain, displaying data from Shimano Di2, SRAM eTap, Campagnolo EPS, and even FSA's new WE system. Third, it reads your phone and friends, displaying text and call alerts and live tracking your friends. Fourth, it reads your ambitions, letting you custom-map data fields, training plans, and routes and live-syncing with online apps for the purposes of segment hunting.
An aerodynamic GPS head unit that privileges ease of use
Virtually universal functionality in an intuitive interface
170 customizable data fields lets you tailor your training
Transmits via both major wireless protocols and wi-fi
Compatible with all top electronic drivetrains
Syncs live with apps for real-time data and segment hunting
Live tracking and smartphone notifications keep you in touch
Rechargeable with included USB cable
Warning
California Proposition 65
Warning:
View more Cycling Computers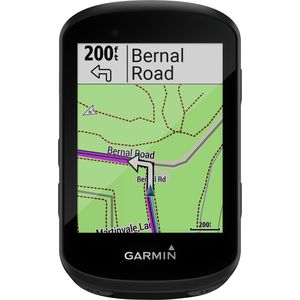 Garmin
Edge 530 Bike Computer
3.5 out of 5 stars from 7 reviews
5
7
(7)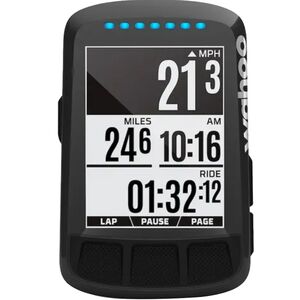 Wahoo Fitness
ELEMNT BOLT GPS Bike Computer
5 out of 5 stars from 1 reviews
5
1
(1)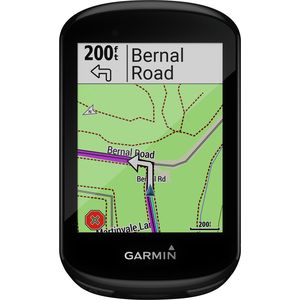 Garmin
Edge 830 Bike Computer
3.5 out of 5 stars from 4 reviews
5
4
(4)
What do you think about this product?
poor support
I got my Wahoo Bolt 5 days ago replacing a Garmin Edge 500 that stopped working - ease of set up, ease of use, big screen, etc. I have yet to set this up and ride. Won't update firmware, won't calibrate a power sensor, screen for organizing pages is wonky - it looks nothing like the UTube videos for set up I've been watching. Reloaded the companion app, cleared and restarted the unit several times. I submitted a ticket for Wahoo support 4 days ago and haven't heard from them. I've called multiple times and although they state they are available 12-5 M-F, no one answers and there is no option for leaving a message. Pretty frustrated and very disappointed. I'm about ready to return it to CC for a Garmin again. H
HERBIE O.
GPS Made Simple
Familiarity:

I've used it several times
If you are looking for a simple to use but feature rich GPS computer then you need the Wahoo Elemnt Bolt. Setup is a breeze with the Wahoo Elemnt App. Much simpler to get going out of the box compared to it's Garmin rivals. It has all the features that you'd need out of a bike computer but if you are wanting a computer for navigation I would recommend going with the Roam. The Wahoo syncs effortlessly with Strava and other riding apps. Same can be said for whatever senors you want to pair with the computer. Unless you must have a color screen or advanced mapping then the Wahoo Bolt is one of the best GPS computers on the market.
Jonathan E
>Rating: 5
October 4, 2019
LOVE IT LOVE IT LOVE IT
Familiarity:

I've used it several times
Replaced my Garmin with this and love the ease of use in conjuction with the Wahoo app. I sold my Garmin 520 and am so happy with this unit. Battery life seems to be good so far. Navigation can be a little wonky (I wish Wahoo would take the next big step and allow for re-routing when you deviate from a programmed line) but overall...WIN!
Robert S.
>Rating: 5
September 30, 2019
Very good product
I got this after years with a Garmin Edge. Very happy with it after a month or so. It's well made and works reliably. The app-based setup is as user-friendly as all the reviews indicate. Screen visibility is good. Customer support was very responsive on the few times I reached out. Best advantages over the Garmin: * Ease of setup and user-interface. * No syncing issues * More readable screen A few quibbles: * There's no status indicator on the screen when the unit is charging, so you can't see the progress toward a full charge. * Unlike the Garmin, there's no way to auto-scroll between pages while riding. You have to change the page manually. * I have my device synced to a Shimano Di2, but there's no way to show the Di2 battery level on one of the main pages, as there is with Garmin. You have to press a few buttons to find it non-intuitively. * The Garmin has a rubberized rim while the Bolt is plastic, which can scratch easily if dropped.
Rob W.
Love it.
Familiarity:

I've put it through the wringer
It's a solid device. I could go into all the comparisons vs Garmin devices but I think it's in a league of its own. Once you switch to Wahoo ELEMNT or BOLT you won't go back to anything else.
Amichai Teumim
AWESOME !!!!
I bought this because of all the Garmin complaints I heard from friends and other riders. Keep it updated and all will be well. I love it. Glad I bought it. Most problems originate from/because of your phone since it syncs with your phone for updates, routes, etc. 30 rides in since May '19 and it works great !
Thom M.
amazing piece !!!
battery life, visibility and if you preload the route, turn by turn is also on point. Wish you could also change the font on the GPS instructions. Very happy with it. used it for 9 months!
marco
Replaced, confusing synched route, buggy
Familiarity:

I've used it several times
Screen froze and left me lost in the middle of nowhere. Synched routes can't be deleted from unit, has required numerous manual resets, poor battery life, buggy navigation, etc, etc, etc. If your Garmin works, then stick with it.
Eric W.
Terrible route navigation capability
Familiarity:

I've used it once or twice and have initial impressions
I got this gps as a gift and was impressed by the ease of use of configuring screens and uploading my rides. Where this gps falls down is the maps (poor quality and impossible to navigate) and the inability for it to provide turn by turn directions on routes made in Strava. This was a deal breaker for me. I have difficulty with directions in general and certainly do not need to be staring at a poor quality map my entire ride to make sure I don't get lost. In the past, I make routes in strava and my garmin has provided sounded alerts before a turn and let me know how far away and which direction. I will be returning this and going back to Garmin.
Graham C.
So far so good
It just works. I've ridden with it for about 300 miles and it's been flawless. I see comments that gets problems a few months in so I'll update this review if I need it.
Rodrigo L.
Screen died after 8 months
I really liked my Elemnt Bolt, worked great for 8 months. I especially liked how it auto synced up with RideWithGPS. The device is feature rich unfortunately at the end of my ride today I pressed the STOP button and the screen went blank, UGH. I rebooted, no luck. I can access it from my phone and it looks good from there but can't get the screen display back. Very disappointing. See my follow up post (Wahoo is replacing my failed device)
Jeffrey C.
Jeffrey C.
March 25, 2019
Wahoo support is replacing my Wahoo Elemnt Bolt. 🙌 Given this response from Wahoo I am comfortable recommending this device. Thank you Wahoo Support.
Not Perfect but Better than Competitors
Familiarity:

I've used it several times
I own a fancy Garmin Edge 1000 and after trying the Elemnt Bolt, find I much prefer this simpler computer. Don't get me wrong, this is very fully featured, it just feels so much simpler due to the easy of setting it up and navigating menus. The big feature is you use the app on a smartphone to do most of the setup, eliminating all the fussy button pushes and scrolling through menus. The Bluetooth connectivity works great, and it's extremely simple to upload routes to the device and save rides back to the app and sync with Strava or RWGPS. I use my computer more for routes than training but all sensors paired easily with this and I'm sure it has all the training features you could desire. Another thing I like is the lack of a touch screen - the Garmin worked terribly with gloves or in the rain. The battery lasts forever compared to the 8 hours of the Garmin Edge 1000, which is necessary on those all day adventures. Although not perfect for what I do, I find routing works just as well on this computer as a Garmin, even though the Garmin is supposedly the leader in maps. The simple black and white screen does just fine and shows the route clearly, it beeps annoyingly when I miss a turn, and it starts and stops when I start and stop. However mapping could use some improvements. Mainly, not enough of the route is shown clearly at once. Sure you can zoom out to see more, but then the basemap disappears which isn't helpful. You also can't pan around to find alternate routes and see the route further ahead in detail. This makes it very hard when you have to detour off your route and find your way back further ahead, which is frequent with the gravel riding I do. All in all, I think Wahoo improved many of my complaints against Garmins and I'd choose this computer for my next.
Daniel
>Rating: 5
December 31, 2018
I love Wahoo!
Familiarity:

I've put it through the wringer
I debated on the bolt vs Elemnt due to the size and i'm very happy that i chose the bolt. I appreciate the size and versatility of the various screens. I also really enjoy the LED lights that blink and help tell you about your HR/watts/directions (when to turn). This is my first non-garmin tool and i am a believe in the wahoo products.
Joe Guttenplan
>Rating: 4
October 28, 2018
Worked great while it lasted
Familiarity:

I've used it several times

Fit:

True to size
I am not here to bash Wahoo. This was my first true computer and it was great until it stopped working. I was getting ready for a ride and paired it to my phone, I finished my coffee and went outside. It was 44 degrees outside, brisk day. I hit the button to ride and the screen went blank, I had it for about 7 weeks. Hopefully the return process will be quick and easy. I gave it 4 stars because its an electronic device and electronics go bad sometimes. Hopefully I will have better luck with the next one
William Johnson
>Rating: 5
October 16, 2018
easy and intuitive
Familiarity:

I've put it through the wringer
I couldn't really ask for more from a computer. Initial set-up, which you do on your smart phone with Wahoo's app, is incredibly easy. Drag and drop to customize what you see on the Bolt, put in some information, and you're ready to ride. I've used the Bolt in conjunction with a Quarq DZero and the pairing was seamless and I had no lapses in communcation between the two devices. Uploading to third-party apps such as Strava is also painless. I really have nothing bad to say about the Bolt and very highly recommend it. Though I found it to be adequate, some people may prefer a larger screen, in which case I suggest the Elemnt which is item number WHA000E.
Zach B
>Rating: 5
October 15, 2018
king of building materials.
Familiarity:

I've put it through the wringer
If computers were building materials, this would be a 2x4. Simple but capable. It's easy to use but does everything you need it to do. The interface is so intuitive and the interfacing with your smart phone is smooth and painless. The turn-by-turn navigation is spot on and all of the data is easy to upload to Strava.
Ryan Lee
Mike G.
November 6, 2018
I've heard some bad reviews on the navigation/GPS functionality on the Wahoo compared to a Garmin. Any feedback on that? My primary goal is to use this computer while out exploring new mountain biking trails.
>Rating: 5
October 9, 2018
very pleased
I switched to a Bolt after my 3 previous computers from a leading brand (rhymes with harmin) all failed in one way or another. I've only put 500 miles on the Bolt so I can't speak to its longterm performance, but so far it's superior to the other brand in every way. The interface is much better, screen visibility is outstanding, uploading is simple, strava live segments work and are unobtrusive / easily dismissed, GPS signal is good even on very covered terrain or in canyons. No issues with pairing and performance of HRM (scosche) and power meter (quark/sram). I'm surprised how much I like the ability to add or remove data fields on the fly, without scrolling through different pages. Sometimes you want the whole screen to show your wattage or whatever, and other times you want it show... a bunch of other stuff too. My only minor quibble is that there is no obvious battery indicator while you're riding so you need to be diligent about charging it. And I find the LEDs superfluous but others might find them useful.
Mark M.
Lonnie Maddox
March 6, 2019
One of the data fields you can add to the display is the battery percentage! You can also check the left button (settings) where it also displays the battery percentage. Finally, you can also add the phone battery percentage as well.
>Rating: 5
September 26, 2018
The best bike computer I've owned
Familiarity:

I've put it through the wringer
I've used the Garmin Edge 500, 510 and 520. I really liked the 520 but it started quitting mid-ride a few times and the software navigation on all Garmin computers is a joke. Then the 520 stopped charging. So I bought a Wahoo Elemnt Bolt. Wow, totally cool. Great interface with the Android phone app. Syncs and plays well with Strava, RideWithGPS and TrainingPeaks. I love the battery life, the easy to customize screens and the easy to read display. It works great with my HRM, power mete3r, and SRAM eTAP. Like that it does BLE, ANT+ and Wifi so syncing is a breeze. Like the ability to zoom in on the screens to show just what I want to see.
Jonathan K.
Ditch the Big G
Familiarity:

I've put it through the wringer
I've used a variety of cycling/fitness computers over the years with varying degrees of success. I have yet to come across a platform that is as easy to work with as Wahoo. Initial setup takes less than five minutes and with a few extra taps on your smartphone you can dial in your screens, pair sensors, import routes & export your ride data. The joys of Wahoo life are only more apparent on the road. The high contrast screen is easily visible in a variety of light conditions, buttons are easy to press and pleasant little beeps sound when you've gone off route. The Elemnt family is designed around user experience. If you value simplicity and consistent performance then the Bolt is for you!
Josh McAlister
Easiest Computer
Familiarity:

I've put it through the wringer
Absolutely love this computer. The setup takes a couple seconds as all you have to do is scan the computer with your phone and you are good to go. This computer has all the features you can imagine and it is very easy to manage them with the companion app on your phone. You can choose what fields you would like to appear on the unit with the ease of your phone. I would highly recommend.
Joshua Stark