Elemnt Bolt GPS Bike Computer
---
Why We Like the Wahoo Elemnt Bolt GPS Bike Computer
The Elemnt Bolt GPS Bike Computer features a streamlined design for reduced drag and an easy setup to customize our preferred data fields and metrics with the ELEMNT Companion App. 16 GB of memory for maps and route storage plus on-device navigation features help us stay on track even when our smartphone is in our pocket.
Details
Wahoo's ELEMNT BOLT for a hands-free GPS computer
Easy to set up and customize to our needs as a rider
64 Color screen for optimal visibility while we're pedaling
Turn by turn navigation prompts directions for routes
Retrace route redirects us back to our starting point
Saved locations help us find previously visited spots
Route to start finds the shortest way back in case we need to bail
Back on track deftly nudges us in the right direction if we get off route
Item #WHAC01W
Housing Material

plastic

Clock

yes

Odometer

yes

Wireless

ANT+, Bluetooth

Operating System

ANT+, Bluetooth

Backlight

yes

Water-Resistant

IPX7 rating

Battery Type

rechargeable lithium-ion

Battery Life

15hr

Low Battery Indicator

yes

Mount Type

out-front

Dimensions

77 x 46 x 21mm

Face Size

2.2in

Claimed Weight

2.4oz (68.3g)

Manufacturer Warranty

limited 1 year

Activity

cycling
Reviews
Q&A
Overall Rating
3.5 based on 18 ratings
Fits True To Size
Screen reader users: the following list provides a visual scale to illustrate the product fit. Please refer to the heading above for the fit type in text.
Runs small
True to size
Runs large
What do you think about this product?
View
Selecting an option will reload the available reviews on the page
1 out of 5 stars
August 12, 2023
Fails to connect to GPS
Familiarity:

I've used it several times

Weight:

null
I have only had the Element Bolt for one year and it no longer connects to GPS. The unit is nice from a user perspective except that the most important feature no longer works after one year. I had a Garmin unit for 9 years and it worked great the entire time. I would not recommend this product.
5 out of 5 stars
May 5, 2022
Elemnt Bolt for dummies
Familiarity:

I've put it through the wringer

Weight:

null
First time using any kind of bike computer for me, had very basic needs and the Bolt met all of them. Setup was a breeze, took maybe 10min tops. Take it out of the box, download the app, follow directions on there, so simple. Included 31.8mm bar clamp out front mount fit great no issues there. Only used it for road rides so far, but seems like it does everything you'd need it to. I went out for a couple rides just taking random turns and following the map. Map seems to show roads that are good to ride a bike on in yellow, and others in white. Not sure if this was just a coincidence? Or if there is some kind of coding for roads with a bike lane/ shoulder. But following the yellow line kept me comfortable. Maps were very detailed and accurate for my area. Flipping between the different pages was fun, I kept it on the map mostly so I was at least a little surprised on stats when my ride ended. But a more data oriented person would really benefit from all the constant tracking. That being said I did not connect it to any heart rate monitors or power meters, but poking around the app it seems like that would also be super easy to set up and view data. Strava uploading was super easy and quick. No complaints there. Screen seems kind of small? Not necessarily a bad thing you could see everything just fine but on the main data page you could probably see a bit better on a larger screen (Elemnt Roam) Also took ~30 seconds to boot up when you turn it on not instant. Not really a big deal just turn it on before you put your shoes on and you'll be ready to go. Overall, works great if you want to constantly be seeing your data while riding. Being able to keep the phone at home and still map/ track Strava is convenient too!
5 out of 5 stars
April 27, 2022
SO INSANELY HAPPY WITH THIS
Familiarity:

I've put it through the wringer

Weight:

null
So insanely happy with this purchase. Loading routes is a synch, syncing all the sensors was painless. Has great turn by turn notifications. I feel more confident checking out new routes in my area and exploring other areas as well. So happy with this purchase!
5 out of 5 stars
April 25, 2022
Wahoo Element Bolt GPS BC
Familiarity:

I've used it once or twice and have initial impressions

Weight:

null
I had heard that Wahoo was one of the most user-friendly brands out there and I have found that to be true with the Element Bolt. This seems to be a good fit whether you are a beginner, just getting into cycling or if you're a triathlete. Easy and fast set up, battery life is great, lasting about 15 hours, and charging time is fast, but my favorite feature has to be the pre-loaded maps that show your current elevation, incline and they have turn by turn direction. It's compatible with all Ant+ sensors, which means if you plan on using it inside you don't have to own a Wahoo trainer. It worked well with my Tacx Neo 2T, although, it didn't quite match up with the mileage shown on my Tacx app. One more thing that I really enjoyed was the LED lights at the top of the computer, which show you if you are on pace, behind, or ahead of your previous PR, it definitely inspires you to push a little harder to do better than your past self!

Originally reviewed on Backcountry.com
4 out of 5 stars
April 22, 2022
Easy to use
Familiarity:

I've used it once or twice and have initial impressions

Weight:

null
Had the chance to test this, but don't own one. It was really easy to set up. I don't usually record my rides, or use a computer, but now I'm tempted to buy a Wahoo computer. It was really accurate on the auto pause feature, but occasionally when I got really slow on a steep climb it did think I stopped. This is probably more me than the computer though. The LED lights are really cool. They made me want to push myself into the red zone, work a little harder than normal. Cool product would recommend.
5 out of 5 stars
April 22, 2022
Exceeds Expectations
Familiarity:

I've used it several times

Weight:

null
The Bolt was really easy to set up initially, and get riding. I do a lot of riding without tracking, or navigating, even though I have a wearable from another manufacturer. The display screen is surprisingly motivating. This computer encourages me to push the pace based on my heart rate, or prior efforts. I'm not using a power, or cadence sensor right now, but I imagine the display for those would be even more motivating. The LED lights add an awesome readable metric. I have used this to navigate as well. Zoomed in, it is very easy to maintain the correct navigation. It's also really easy to zoom out in real time, on the bike. Navigating between pages while on the bike is really easy in general. Battery life has been really good. Ease of use, and pleasant interface with the app are the biggest takeaways for me with this product. It was an enjoyable experience right out of the box. I didn't think I needed this computer, but now I love having it. This would make an excellent gift if you don't know what to buy for a cyclist.
5 out of 5 stars
April 6, 2022
It's got everything I need!
Familiarity:

I've put it through the wringer

Size Bought:

N/A

Height:

5' 8"

Weight:

148
I have had this computer for a good while now, and after trying Garmin, Bryton, and other computers, I've decided that Wahoo has the best cycling computers to offer! It has a very user-friendly interface, making it easy to connect to your phone to upload rides to mobile apps, and it gives several stats as you are riding such as riding time, speed, distance, elevation, and more. This bike computer can also connect to a heart rate monitor, cadence sensor, power meter, and even your AXS drivetrain to give you even deeper feedback of your riding. Not only that, you can upload workout plans from apps such as TrainerRoad, so that you can follow your workout right from your bike computer! Another cool feature that I love about this computer is the LED bar at the top of the computer. This can be used to tell you what HR zone, power zone, or speed range you are in, so you can get an idea of your riding with just a quick glance! The LED's will light up in different quantities and colors depending on what zone you are in, so that you don't have to look down and try to read your data while you're pedaling hard! This computer holds up against the most brutal riding weather, and I've been able to use this computer in all sorts of ride conditions. Everything from a recovery cruise around the neighborhood, to a 12+ hour day in the saddle! This computer's been able to handle it all, continuing to give me accurate live analyses and helpful feedback. This computer has been perfect for my needs, and I would recommend it to anyone looking to get a deeper understanding of their riding ability!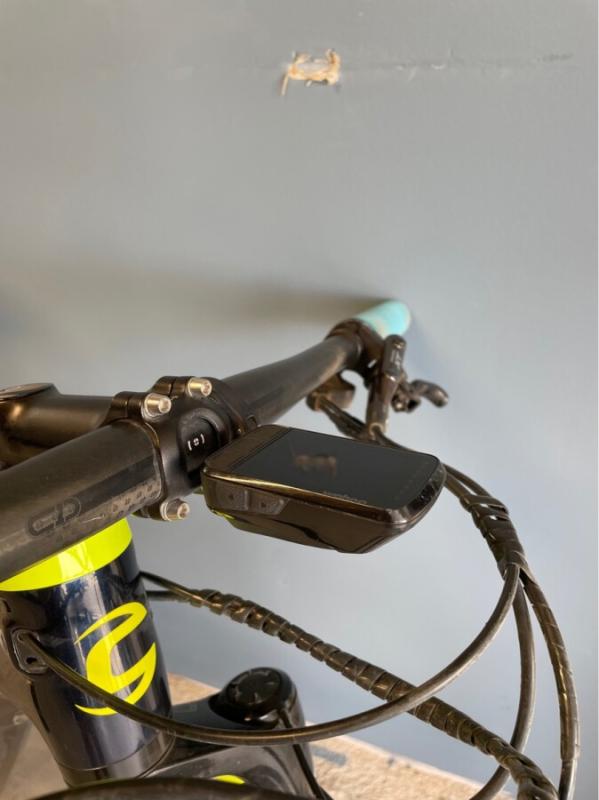 5 out of 5 stars
April 6, 2022
Best Device
Familiarity:

I've used it several times

Weight:

null
Without a doubt the best device on the market! All the data you will ever need, simple to use and easy to figure out.
1 out of 5 stars
February 21, 2022
Huge Potential, Missed!!!
Familiarity:

I've used it once or twice and have initial impressions

Weight:

null
I heavily debated between Garmin Edge 530 and this.... I went with this as it had some big pros over Garmin: #1 - USB-C... For crying out loud it is shameful to see Garmin hanging on to Micro USB in 2022! The fact Wahoo cared to include this now best standard port was huge.. #2 - Heart Rate Zone in color... I pay attention to zone when riding and nothing on the market compared to how Wahoo displayed this. #3 - LED Lights on top... Extra info indicated with these lights... Seen on any data page. #3 - Zoom in/out data fields... This is a cool way to focus on what is most important... Nothing else on the market compares. SO.... On my first and only ride with this thing (20mi): I was loving all of the above... Big time... I was thinking to myself I made the right choice... Then I noticed how SLOW this thing performs in almost every respect.... When I finished Route and went "Back to start" it was painfully slow..... Directed me down all the roads I did not want to go on and when it would recalculate back to the bike trail I was obviously trying to stick to, things got VERY slow.... I would have to patiently wait seemingly 30+ seconds after pushing the page flip button before the page would change.... When I got back to the map page it was blank for seeming eternity..... The device crashed and rebooted once on the ride, fortunately it kept the route... Painfully slow to try to pan the map..... When I pushed the buttons more than once sense there was such a long delay It asked if I wanted to end the ride and I freaked out that it was going to end my ride...... Turn ques are way off.... Like "turn in 70 ft" and its 10ft away... Then it still says you need to turn after you turned.... Finished the ride and I patiently held this thing and my phone in my hand to see if Strava would automatically upload... It did,...... Eventually..... Maybe a couple minutes or more.... Have not used Garmin Edge device yet but have tracked activities including rides with Garmin watches and Strava uploads are in the blink of an eye.. Again, Wahoo could have had an incredible product!!! If it just functioned right and reasonably quickly... This would have been the best thing ever. I am glad I am still within return period.

Originally reviewed on Backcountry.com
2 out of 5 stars
November 21, 2021
Like the old one, but with bugs
Familiarity:

I've put it through the wringer

Weight:

null
I guess it's in color now, but that seems to be the only improvement. The map is absolutely useless if you zoom out to more than a few miles or so due to the number of colors and lines that show up and other users' names on the map getting in the way. Sometimes the map doesn't load at all. Turn by turn directions also often sends me back to the start of a ride once it loses my location or if I take a wrong turn. I was a real Wahoo fan after the first generation, but now I'll be trying something else.
Need Expert Advice?
Our Gearheads Can Help
Is this V2? And what's in the box?
I have a Lezyne speed and cadence sensor on my bike already. Would the Wahoo unit be compatible?
what is the model number for the Wahoo Fitness Elemnt Bolt GPS Bike Computer, Item #WHAC01W can you give me the model number. thanks