Current price:

$203.13 - $215.99

Original price:

$269.99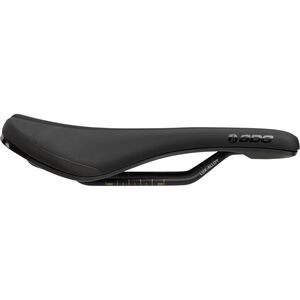 Free Gift With Purchase!
Bel-Air V3 Lux-Alloy Saddle
---
Bombproof reliability.
After two years of extensive research and development, SDG Components introduces the Tellis Dropper Seatpost to eliminate the pitfalls in reliability and complex servicing inherent to many popular dropper posts on the market. That means you'll be able to ride your Tellis Dropper without worrying about constant servicing or bleeding requirements, even in the most extreme conditions. SDG did their homework in the lab by subjecting the Tellis Dropper Seatpost to a self-contained vat of muddy grit and moisture for months on end, finding it remained clean and fully functional without moisture and dirt ingress sacrificing its ability to drop and return upright in a smooth, speedy fashion.
SDG didn't stop there, deciding it's best to bring the Tellis into real-world conditions most riders will subject this dropper to over time. Their secret shed in Kamloops, British Columbia served as the perfect location for testing a dropper seatpost, seeing Kamloops sits in an area that's prone to short cold snaps down to negative four degrees Fahrenheit (that's negative 20 degrees Celsius for you Canadians). This is a huge benefit for riders extending their season through late-autumn and early-winter months where colder temperatures usually make for sluggish dropper post performance or ill-functioning when your dropper fails to return upright.
Delving into the construction of the Tellis, the robust 3D-forged head is sleekly appointed and stronger than bonded heads found on other dropper seatposts. Inside the post, you'll find a sealed hydraulic cartridge system that's both extremely reliable and easy to service or replace down the road. Also, SDG uses an intelligent keyway system that eliminates lateral head movement, plus a wiper seal that keeps muck, grit, and moisture from seeping inside and ruining your dropper's performance. It's completed with a scratch-resistant anodized finish and laser-etched graphics for dialing in your saddle height.
Please note, the thumb actuation lever mounts on the left side of your bars and works best with 1x drivetrains (it may get in the way of older 2x/3x systems with a left shifter mounted to your bars). For installation, there's a relatively painless attachment located at the base of the Tellis Dropper, so you can quickly connect, then route your cable through the frame. Routing is internal only, meaning it won't work with older frames lacking internal dropper routing.

Details
SDG introduces a bombproof, easy-to-service dropper post
125 or 150mm travel lengths, 30.9 or 31.6mm diameters
Tested to work reliably to -4° F without being sluggish
Sealed hydraulic cartridge is reliable, easy to service
Wiper seal keeps out muck, grit, and moisture ingress
3D-forged head is stronger than bonded head designs
Intelligent keyway system eliminates lateral play
1x thumb remote included, internal routing only
Item #SDC000E
Material

7075 forged clamps

Diameter

30.9mm, 31.6mm

Length

[125mm Tellis] 390mm, [150mm Tellis] 440mm, [Tellis actuator] 27mm

Offset

0

Travel

125mm, 150mm

Dropper

cable-actuated

Claimed Weight

[30.9 x 150mm] 1lb 3.5oz (552g), [lever] 1.3oz (36g), [housing and cable] 3.1oz (87g)

Includes

1 cable, 1 houising, 1 dropper lever

Manufacturer Warranty

2 years
California Proposition 65
Cancer and Reproductive Harm - P65Warnings.ca.gov