2018 Road Bike Buyer's Guide
Category: Endurance
Wilier Cento10NDR
An advanced, adaptable, and immensely comfortable partner for all-day rides.
—
2018 Road Bike Buyer's Guide
Category: Endurance
Wilier Cento10NDR
An advanced, adaptable, and immensely comfortable partner for all-day rides.
—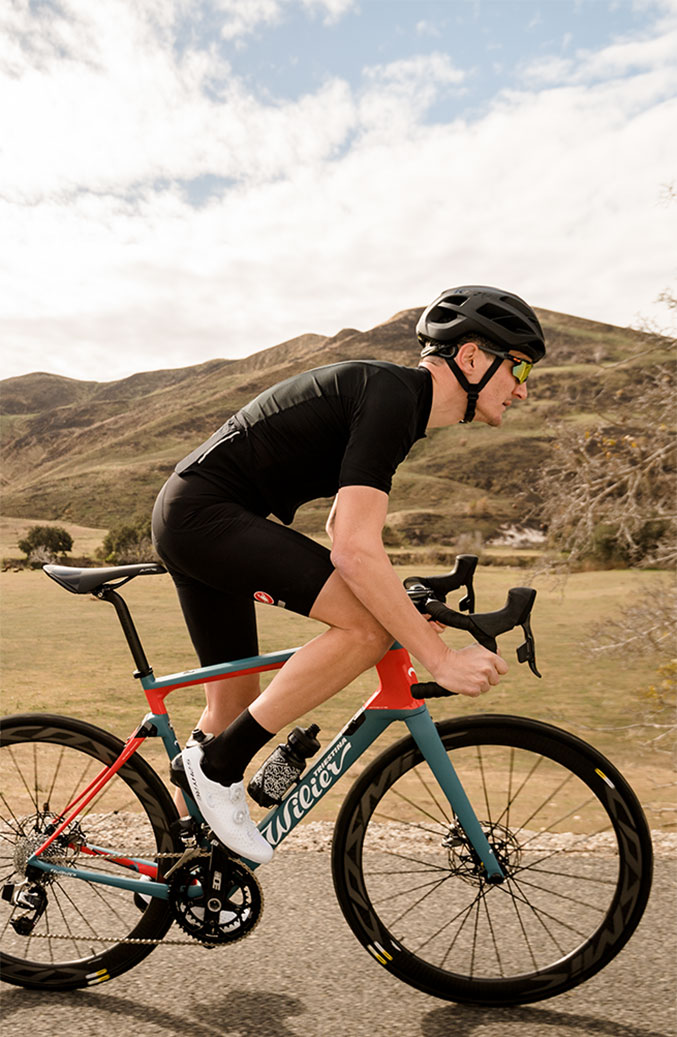 Wilier Cento10NDR
Although the aggressive feel and sharp handling of a dedicated race bike have immense appeal, the reality is that long rides call for something a bit different. Something that balances the poise and speed of our favorite race bikes with geometry and construction that's a touch more forgiving. Something that allows us to keep a few unburnt matches in store as we pass the century mark.
Such tools fall under the banner of endurance bikes, and within that realm, Wilier's Cento10NDR is a clear class leader.
It starts with geometry. By stretching the wheelbase, and in particular, the chainstays, Wilier has tamed the aggressive handling of its more race focused offerings. This lends the Cento10NDR a degree of stability that allows the rider to settle in, rather than working to stay on top of a more nervous machine. When paired with a slightly taller stack height, the result is a position that feels as natural six hours into a ride as it does in the first few minutes rolling away from home.
The key here is balance. The Cento10NDR is stable, but it's most certainly not defanged-- think twin turbocharged touring sedan, not old school land yacht. While this machine feels assuredly planted, when it comes time to turn, the traditional steering geometry maintains a familiar, lively feel at the handlebars. This character is reinforced by what is arguably the Cento10NDR's most distinctive feature, which Wilier calls Actiflex.
The Actiflex system relies on vertical flex that's been engineered into the chainstays, which ensures that no pedaling energy is wasted by unwanted movement.
If you've ever found yourself wishing for the smoothness of a full suspension bike without the weight, complexity, or inefficiency, this is precisely the solution you've been waiting for.
With such a masterful blend of speed and comfort on display, one might consider the Cento10NDR to be the ultimate machine for Gran Fondos, but in truth, that's only part of the story. It's the bike that you grab for a century, or a double. For certain racers, it will be the right choice for week long stage races. Those planning to take on old world cobbles will find this an ideal tool for the job. And for less demanding rides, it will still slip into a peloton deftly and encourage its rider to contest a sprint.
In other words, it's everything you want from an endurance bike, paired with some truly unique features that set it apart from its classmates.
Wilier Cento10NDR
When long miles and variable pavement are on the agenda, Wilier's Cento10NDR shines brightly indeed. The expert pairing of Wilier's every-so-slightly relaxed endurance geometry and the NDR's Actiflex system ensure that
rider comfort will not be compromised by road chatter or long hours.
Employing a sleek linkage with a polymer damper, the Actiflex unit allows additional vertical compliance in the rear triangle, without robbing the rider of immediate power transfer.
The upshot is that this machine is tailor-made for Gran Fondos and is equally appealing as a stage racer, especially for those preferring a more upright fit.
And the ability to build the Cento10NDR with disc brakes or rim brakes, as well as thru axles or quick releases, guarantees that your preferred setup will be easily accommodated, even if your tastes change with time.
For those desiring an advanced machine with some truly unique features, the NDR should be a top contender.
Buying a bike from Competitive Cyclist
Competitive Cyclist Gearheads are your resource for all things cycling. They're bike experts with knowledge and experience that's second to none. Whether you're thinking about your next dream build, you need advice on components, or you have questions about an existing order, don't hesitate to contact a Gearhead.
Learn More
Chat With a Gearhead