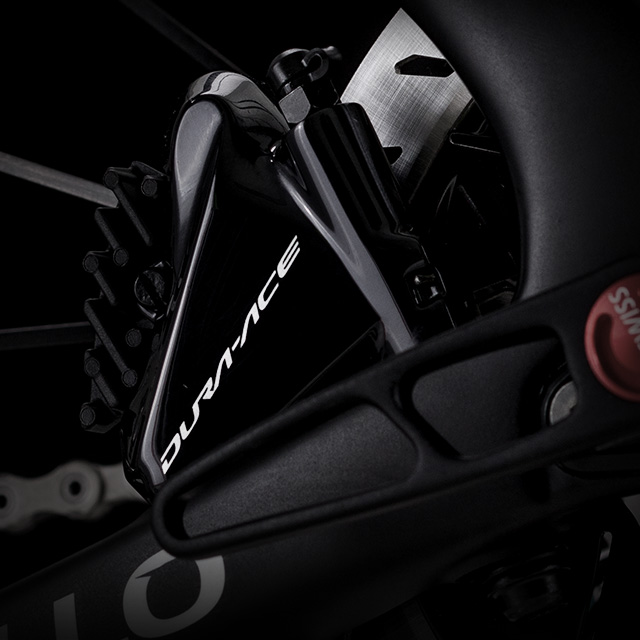 Welcome to the Top
Dura Ace 9170 is the pinnacle hydraulic disc configuration of Shimano's premier groupset.
Dura Ace 9170
Sleek, refined, and born to race, Shimano's pinnacle road groupset has been refined over generations to deliver an exceptional rider experience with unsurpassed reliability.
True Comfort
The shift levers are the centerpiece of the 9170 groupset, offering a slimmed-down hood shape that's sculpted to mesh seamlessly with your hands, and feel completely natural mile after mile.
Flawless Shifting
Third generation Di2 technology employs optional features like SyncroShift, which allows the front derailleur to shift automatically. Regardless of your preferred setup, you'll experience instant shifts under full power, every single time.
Exceptional Control
Slimmed-down flat-mount calipers are paired with Freeza rotors, which feature radiator fins to optimize heat management, ensuring powerful, yet controllable braking on the longest mountain descents.

Shop Shimano 9170
Meet our Gearheads.
Chat, email, or call us at: (888) 276-7130
Competitive Cyclist Gearheads are your resource for all things cycling. They're bike experts with knowledge and experience that's second to none. Whether you're thinking about your next dream build, you need advice on components, or you have questions about an existing order, don't hesitate to contact a Gearhead.
Chat Now
Shop Shimano