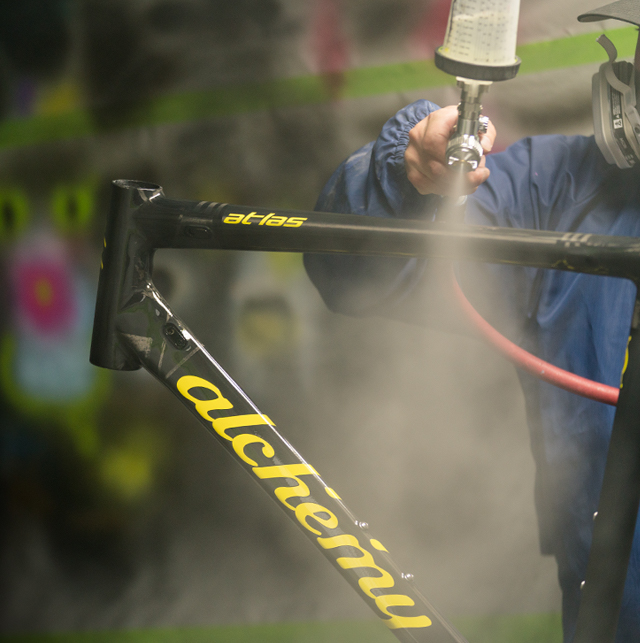 Extraordinary Machines
Handmade in Denver, Colorado USA
Since opening its doors in 2008, Alchemy has been driven by a burning
desire for perfection.
Its approach is defined by total control over every step of the manufacturing process. It wasn't enough to simply bring on welders, engineers, painters, and composites specialists with experience unrivaled in the cycling industry. Every process is continually scrutinized and refined, regardless of the cost.
Every carbon fiber tube used in an Alchemy is built in-house. The same is true of the tooling used to make those tubes. From design and engineering, to the cold forming of titanium tubesets, to the masterful application of flawless paint jobs, every step of this process happens under one roof, where control over the outcome is guaranteed.
This approach is difficult, to be sure, but difficulty is merely another hurdle when the goal is to build the world's finest bicycle frames. It's more than just a hopeful proclamation. Every Alchemy model must pass CEN and ASTM testing, but passing is just the start. They're pushed far in excess of these already strenuous standards to ensure that they will be steadfast companions for many years and countless thousands of miles.
The bicycles birthed from this process offer a blissful ride quality paired with unsurpassed durability.
Here, testing, development, and manufacturing combine to produce something far greater than the sum of these exceptional parts. This is the result of the quest for perfection. This is what it means to ride an Alchemy.

From carefully selecting the frames, to co-developing exclusive custom paint options, we worked closely with Alchemy to bring them into the Competitive Cyclist family the right way. Each frame selected represents the pinnacle of its particular genre, and makes a perfect foundation for a custom dream build tailored perfectly to your wants and needs with the assistance of a Competitive Cyclist Gearhead.
Alchemy offers frames built from carbon fiber and titanium, perhaps the two most coveted materials among cycling aficionados. Countless words have been spent describing the stiffness, the smooth ride, and the astounding strength to weight ratio of carbon fiber frames, and Alchemy's offerings maximize each of those characteristics through a development process that is truly industry leading. Alchemy's painstaking development process has similarly elevated its titanium offerings to a place where they offer a divinely-balanced blend of stiffness and comfort, along with a titanium frame's unrivaled potential to be a true lifelong partner. Accordingly, titanium has become a favorite choice for the personal steeds of Alchemy's own frame builders-- a distinction whose magnitude truly cannot be overstated.

Materials

Bikes & Framesets

Shop, Build, and Buy
Meet our Gearheads.
Chat, email, or call us at: (888) 276-7130
Competitive Cyclist Gearheads are your resource for all things cycling. They're bike experts with knowledge and experience that's second to none. Whether you're thinking about your next dream build, you need advice on components, or you have questions about an existing order, don't hesitate to contact a Gearhead.
Chat Now
Shop All Alchemy