2018 Road Bike Buyer's Guide
Category: Race Disc
Factor O2 Disc
The machine that has redefined our concept of the superbike.
—
2018 Road Bike Buyer's Guide
Category: Race Disc
Factor O2 Disc
The machine that has redefined our concept of the superbike.
—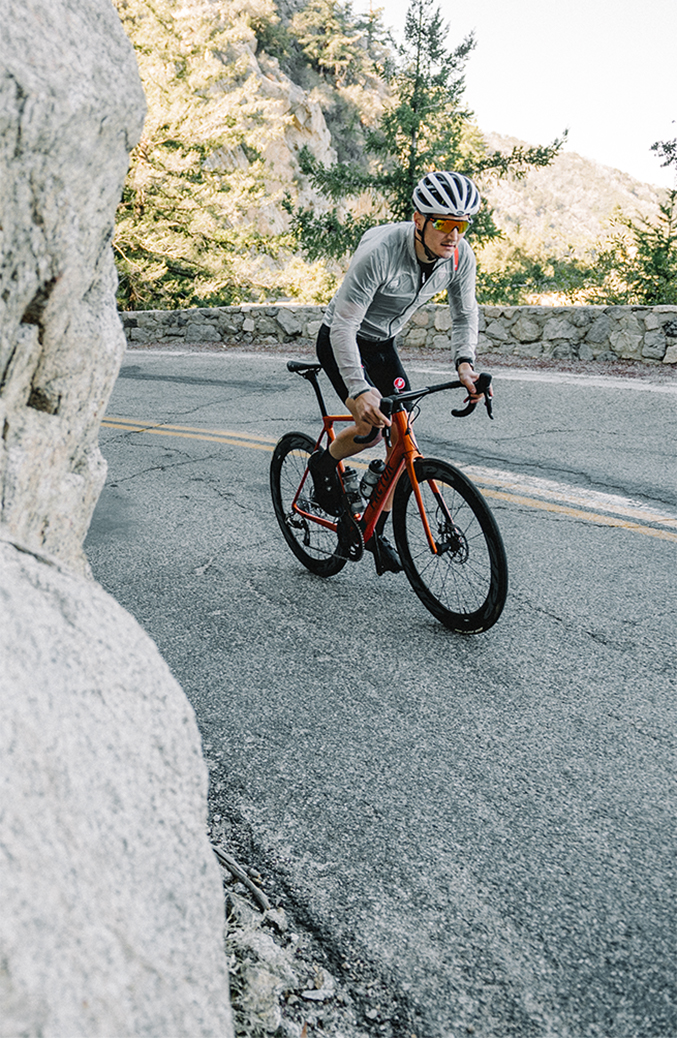 Factor O2 Disc

That relative newcomer Factor Bikes has developed such a convention-defying machine in the O2 is no accident. Born from a noted Formula 1 engineering firm and drawing inspiration from the legendary Baden Cooke and the inimitable David Millar, Factor enjoys the dual advantages of decades of professional experience and an utter disdain for conventional wisdom.
Equal parts punchy climber and spirited descender, master of the pace line and magic carpet on the cobbles,
Factor's O2 Disc is billed as a climber's bike, but the reality is so much more interesting.
That it was designed with ascending in mind is obvious in its barely-there lines, which emphatically reflect the frame's feathery weight, which comes in as low as 750g.
There should be no surprise that it so eagerly rises to its stated calling. But thanks to the massively oversized bottom bracket area and carefully profiled downtube and chainstays, it accelerates with equal aplomb when contesting a sprint.
The subtlety of its aerodynamic design could be easily overlooked by even the trained eye but make no mistake, every surface of the O2 Disc has been obsessively pored over in the pursuit of speed. While it's not a time trial specialist, it has the potential to upset plenty of dedicated aero bikes
on the flats when paired with a suitable wheelset. But the magic of its aerodynamic design is best appreciated on the descents, where its deftness in cutting through crosswinds lends composure that should simply not be possible on a dedicated climber's tool.
Its impossible poise while descending makes the O2 a natural candidate for disc brakes, where the enhanced control allows courageous descenders to brake later, take corners faster, and to do so with greater margin for error than ever before.
Of course, the addition of disc brakes provides yet another undeniable advantage. Without the need to support the braking forces imparted by a traditional caliper, Factor was able to carve every unnecessary fiber from its razor-thin seatstays, resulting in an even smoother ride than its cobble-proven, rim brake-equipped counterpart.
Until now, we've accepted that specialization is essential to achieving excellence. The O2 disc turns that belief on its head.
Never before have we experienced a bike that climbs with such gusto and yet inspires such superhuman confidence on the descents. It goes toe to toe with the best aero bikes in an echelon, while remaining calm and collected on broken tarmac and chip seal.
It does practically everything as well as the specialists, without being constrained by any of their limitations.
This machine has blown our preconceptions out of the water. This is the new benchmark against which all superbikes are measured.
Factor O2 Disc

The Factor 02 Disc is available as a frameset, which represents
a superb platform upon which to build a dream bike of the highest order.
The wireless and electronic drivetrain-compatible frameset includes Factor's carbon fiber Svelte fork, which, along with the frame's rear triangle, is equipped with a 12mm thru axle and flat mount disc brake interface, ensuring stiffness, security, and perfect alignment.
The one-piece stem and handlebar, as well as the seatpost, are supplied by Factor's own Black Inc, and have been designed with similar attention to aerodynamic efficiency. Furthermore, they offer a tuned flex that allows the rider to experience the full degree of comfort offered by the masterfully designed chassis.
The BB Right bottom bracket shell comes with a Ceramic Speed bottom bracket installed and includes adaptors for PF30 and 24mm spindles, with other adaptors available to suit your preferred crankset.
Buying a bike from Competitive Cyclist
Competitive Cyclist Gearheads are your resource for all things cycling. They're bike experts with knowledge and experience that's second to none. Whether you're thinking about your next dream build, you need advice on components, or you have questions about an existing order, don't hesitate to contact a Gearhead.
Learn More