---
Why We Like The Swing Away
Keeping things convenient, we turn our Saris hitch rack into one that swings away (duh) from the trunk and allows us to easily access our gear without removing our bikes with this accessory. Built-in carrying handles make it easy for us to maneuver and install, while the included Hitch Tightener ensures secure travels down the road.
Details
Hitch rack accessory opens up trunk access without removing bikes
Carries up to 250lbs of rack and bike weight for sturdy performance
Pivots 90-degrees and locks in open position for hatch access
Compatible with 2-inch receivers only, and most of Saris' racks
Item #SRS1WWB
Bike Capacity

[weight] 250lb

Compatibility

SuperClamp EX 2-Bike, SuperClamp HD 2-Bike, Freedom EX 2-Bike, Freedom 2-Bike, Glide EX 4-Bike, MTR 1-Bike, MTR 2-Bike

Part Number

4030

Manufacturer Warranty

lifetime

Activity

travel
Reviews
Q&A
Overall Rating
4.5 based on 7 ratings
What do you think about this product?
View
Selecting an option will reload the available reviews on the page
5 out of 5 stars
July 3, 2023
Hefty! Great quality! Made in America! 🇺🇸
I just got a Ford Bronco and knew I needed an extender bc of the rear-mounted spare tire. This adds so much more versatility that a basic hitch extender. I was dubious of the weight rating, but was pleasantly surprised at the heftiness of this accessory. Beautifully made!

Originally reviewed on saris.com
5 out of 5 stars
January 24, 2023
Clean and low profile
Lighter then other swing aways with the same weight rating. Clean low profile look.

Originally reviewed on saris.com
5 out of 5 stars
September 6, 2022
Get those bikes out of the way!
Perfect for when you need access to the rear of your vehicle. Puts the bikes completely out of the way and let's you get in and out of the car easily.

Originally reviewed on saris.com
1 out of 5 stars
October 13, 2021
Poor design on 90° lock pin
Familiarity:

I've used it once or twice and have initial impressions

Weight:

null
I've used the Saris Swing Away a couple of times and it is not designed for the rated 250 lb weight limit listed. The 90° locking mechanism bent the first week of use while the bikes were swung open. It was windy in Hood River and was fully loaded using the Yakima Hangover 4 with 2 All-Mountain bikes and 2 DH bikes (approximately 210 lbs) but well under the 250 lb weight limit. I went with this version instead of the Yakima since it is a little longer on the arms and swings further away from the truck to allow the tailgate to open or open the door on the FWC Hawk camper. Definitely don't recommend the Saris Swing Away since the hinge is undersized and the 90° locking mechanism is crap. Saris needs to redesign the hinge and 90° lock to be more durable similar to Yakima or 1UPs Rak Attach version. I know Saris doesn't recommend using this product with other brand racks but don't understand how this would hold up any better with their products since their racks have longer moment arms applied to the swing away portion of the adapter.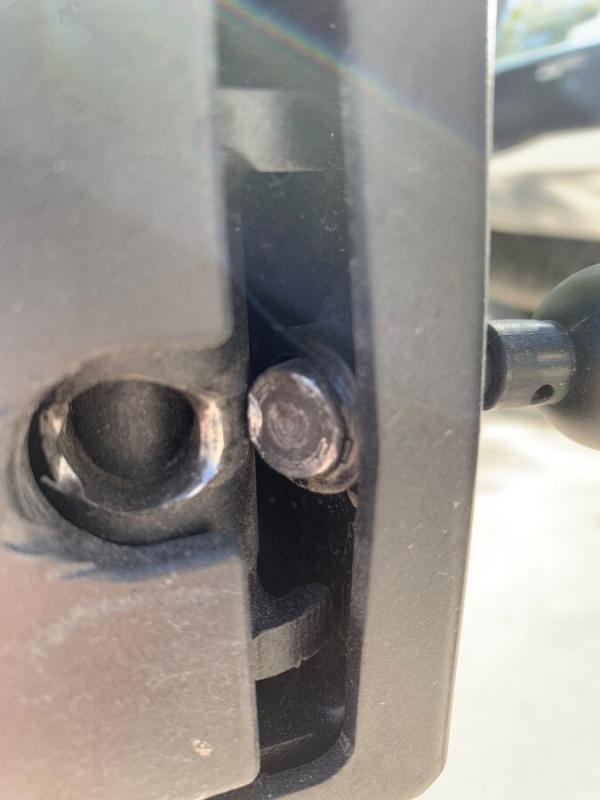 Originally reviewed on Backcountry.com
5 out of 5 stars
September 22, 2021
Just what I was looking for
I have a heavy fat ebike from QuietKat that this swing arm easily handles. I drive on a 4 wheel drive rough road regularly and the swing arm gives me access to my camper without taking off the bike, a great convenience. I could not be more pleased with this American made product, and the customer service I received. Thank You Saris

Originally reviewed on saris.com
5 out of 5 stars
September 15, 2021
Well designed
I bought this with a bit of trepidation, wondering about the weight limited on the part. As it turns out the construction is so well thought out, there no doubt it will handle the weight recommended. I really like this item. Would recommend it for anyone.'

Originally reviewed on saris.com
5 out of 5 stars
September 9, 2021
Great Swing Away
Great item for my current Saris Freedom Rack. Works great. Well made. Heavy Duty. Plus made in the USA!

Originally reviewed on saris.com
Need Expert Advice?
Our Gearheads Can Help
Can this be used on a motor home hitch?
Does this work with the Glide EX-5
What is the weight of this?
How much farther out will my bike rack sit with the arm in the clothes position?
Will the swing away accessory work with a MHS rack? What is the weight of the MHS rack if I have all four positions on it? I have four bikes that weigh 130lbs.
Swing Away Accessory - what is the distance that the arm swings away from the hitch? Does the bike rack mount portion swivel when arm assy. is in open position
Will the swing-away work with the Door County 2 bike rack? We need to be able to clear a spare tire on the back of the vehicle.
Do you have a drivers side option? I have a 2021 Ford Bronco and the tailgate swings open to the pax side.
I'm wondering what the lateral offset of this unit is when swung out so I can determine if van doors will open properly. Can you tell me the dimension from center of the hitch to center of the pivot?
Will this work on a Dodge Promaster 3500 chassis? I.e., will I be able to open the passenger-side cargo door to a 90 degree angle?