This carousel displays a list of buttons that updates the main product image when a button is clicked
Ridley
Helium
Helium SL Road Bike Frameset - 2016
Temporarily Out Of Stock
Item # RID003P
Don't get too bummed. This item is on the way and will be available for purchase as soon as it rolls into the warehouse.
Can't wait? Consider one of the other Custom Road Bikes & Frames we have in stock.
View Similar Products
Description
Fly higher.
The 2016 Ridley Helium SL Road Bike Frameset is a featherweight among giants, ready to fly up the mountains like a stage-hunting falcon. While some may express concerns about an ultralight frameset's ability to transfer power and handle descents, rest assured that this frame boasts a near-unicorn mix of minimal weight, stiff power transfer, and the ability to rail corners and bomb descents with the best. This rightly well-loved frameset is back for 2016 with classically inspired colorways to light up any ride.
Aesthetics aside, though, the Helium's main job is dropping grams. A medium SL clocks in at a claimed featherweight of 1,110g for the frame and fork, which is a staggering 800g lighter than a similarly-sized Noah FAST aerodynamic machine. This was achieved with smaller, less aerodynamic tube shaping and a strategic arrangement of 60, 40, and 30 ton high-modulus carbon fiber to create a frame that efficiently transfers power.
Ridley also incorporates an ultra-strong nano-resin into the frame's lay-up, which allows the Belgian manufacturer to use less carbon, decreasing overall weight while boosting durability and stiffness. To further reduce weight, Ridley constructs the front triangle of the SL with a monocoque design. This means that the entire front triangle (head tube, down tube, seat tube, and bottom bracket lug) is made in one piece, saving weight by eliminating the extra material needed to reinforce frame junctions in multi-part triangles.
The SL features rounded tubing emanating from the seat tube juncture, which slowly becomes box-shaped as it approaches the head tube and bottom bracket junctures. As Ridley puts it, this system creates a clean transition from stiffness to comfort. Supporting this ideology, the rear triangle has been designed with a blend of the two shapes. The asymmetric, flat chainstays provide a stiff platform for power transfer to the rear wheel, while the ultra-thin seatstays create a vertically compliant ride quality without sacrificing rigidity.
Although the Helium SL falls solidly in the lightweight climber category, Ridley claims that it's stiffer than the original Helium. Its testing shows that the SL is 8% stiffer at the bottom bracket, 4% stiffer at the head tube, with a 20% increased side stiffness in the fork — all of which is a very mathematical way of saying the SL transfers power more efficiently than the Helium for a snappy ride. To cap things off, Ridley finishes the Helium SL with internal cable routing for clean lines and compatibility with both mechanical and electronic shifting systems.
A lightweight race frame for attacking on the climbs
Traditional geometry and tube shapes made for racing
Lives up to its namesake gas with a claimed weight of 1,100g
Lighter and stiffer than the standard Helium
Thin seatstays help to dissipate road noise and bumps
Blend of carbon modulli contributes to weight loss and stiffness
Monocoque construction creates a more durable main triangle
Internal cable routing keeps frame lines clean and tidy
More Helium builds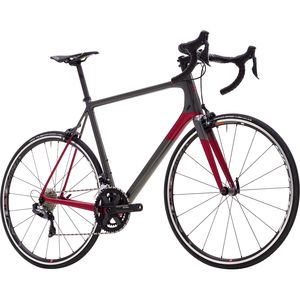 Ridley
Helium SLX Ultegra Di2 Road Bike
Current price:

$3,599.00
Original price:

$5,999.00
Sale
40%
Off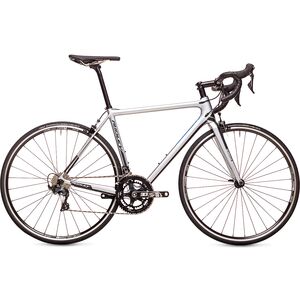 Ridley
Helium X Ultegra Road Bike - 2018
Current price:

$1,999.00
Original price:

$3,599.00
Sale
44%
Off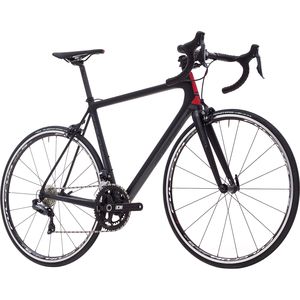 Ridley
Helium SLX Ultegra Di2 Road Bike
Current price:

$3,849.00
Original price:

$5,499.00
Sale
30%
Off
5 out of 5 stars from 1 reviews
5
1
(1)
View more Custom Road Bikes & Frames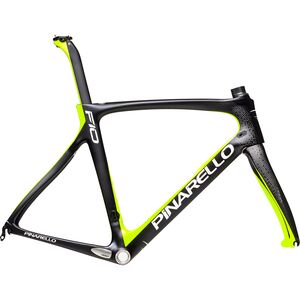 Pinarello
Dogma F10 Road Frameset
Current price:

$3,999.00
Original price:

$5,999.00
Sale
33%
Off
5 out of 5 stars from 2 reviews
5
2
(2)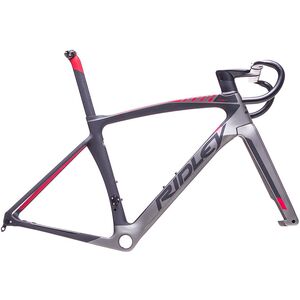 Ridley
Noah Fast Disc Road Frameset
Current price:

$3,374.00
Original price:

$4,499.00
Sale
25%
Off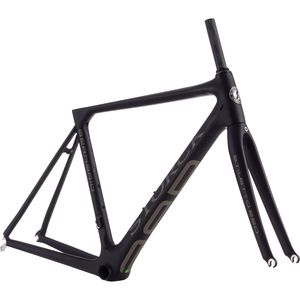 Storck
Aernario Platinum Road Bike Frameset - 2018
Current price:

$2,999.00
Original price:

$5,999.00
Sale
50%
Off
5 out of 5 stars from 3 reviews
5
3
(3)
What do you think about this product?
If I am only 6 foot will this be to big I am pretty lanky?
Trevor Corning
Helium XL
Familiarity:

I've put it through the wringer
Bought XL a couple months ago for $999 and built it out with mechanical Record 12. Fantastic ride. Responsive and secure. Fit is perfect for me at 6'2" with 34.5 inseam. Fizik 120 stem and bars. Zonda wheelset. Reach very comfortable. Climbs and corners well. All in all a great buy. If u can get it for $899 and it's the right size go for it!I
Reed Johnson
Great Deal for Kind Climber
Familiarity:

I've put it through the wringer
This version of the Helium does run somewhat large. I'm almost 5 ft 11 and went for size 'small'. With a 110mm stem, it's perfect for me. If you know your preferences re: reach/stack, as well as top tube measurements, I'd suggest going with that when choosing. Mine is 14.7 lbs, built-up with 6800 all around, swapped off of another bike. Campy Eurus wheels; carbon-braided saddle; 3T cockpit; Deda post. No reason to be put off by the pressfit BB, if that's a concern. Installation is a snap, esp. with Wheels Manufacturing's model and even a cheap press. WM PF30s are fantastic. I've clocked many miles on them, on a few bikes, without a hint of creaking, etc. This is definitely one of the best-climbing bikes I've ridden—a close second to my Pinarello F8, but the latter has carbon wheels. Descends with laser precision. But it's hot on the flats, too. As an all-rounder, I prefer the Helium (and/or the Euruses, maybe!) to the F8, since it's/they're a bit less fatiguing over the long haul. Cool graphics on 'black/silver/red' model; same as Cult Energy team bike (same frame, too) if that matters. I can't recommend this frameset highly enough, particularly at this crazy price. Why are they still available?!
Scoop
>Rating: 4
January 3, 2018
Big frame
Familiarity:

I've used it once or twice and have initial impressions
Great frame, but it does run large I purchased the medium frame after riding a 57 Bianchi siempre pro. Should have gone with the small frame. I'm 5'11 with a 33 inseam. It fits well if your looking for endurance geometry if your looking to race get the smaller frame.
Raymond V.
>Rating: 5
November 29, 2017
Greatest value lightweight race frame
Familiarity:

I've used it several times
Already said it. It's won world titles and it's affordable. Super light super stiff. Retro look receives a lot of attention as well.
Trent W.
>Rating:
September 21, 2017
Hi guys! Ready to buy this frame. Great deal. Need some help on measurements. For the XS size frame, what is the fork rake/offset and do you know the front-center (FC) measurement?
Nadim K.
>Rating:
September 1, 2017
Curious about the XS vs S. I'm 1.71 meters (5'7.5") tall. I'm all leg, very small torso. Based on effective top tube length, I'd be on an XS, but I'm concerned about seat post length. Are there limits I should be aware of? Thanks!!
Ellen Ripley
Benjamin S.
October 5, 2017
FWIW - I am 5'7.5" and have longer legs/shorter torso as well - I ride a small and it's perfect mix of openness when climbing and compression when aero.
Kyle Br
October 22, 2017
definitely XS, I am 170 cm and short torso, the S is way to big for me. Ridley's run big and usually are a size off of what other manufacturers are. I can even ride the XXS if I want a very aggressive fit.
Ridley Helium SL Review
Familiarity:

I've used it several times
I bought this to replace my Cervelo R3 with a creaky BB. I find Ridley appeals to me (you know, tough no nonsense Belgian approach) and was looking for a sporty bike that handles well and is lively for short rides. I bought the retro paint scheme version b/c it just looks so classic. I am 69 inches tall and generally ride a 53/54cm or Medium frame but Ridley's are sized on a smaller side so the Small frame fits perfectly. This is a fairly traditional looking frame with double diamonds and pretty traditional geometry except for a tall 66 BB height. I though that would make the bike fall over into turns too easily but that isn't the case. Although it's made for racing, the reach is not very long so you can get a fairly upright position as well which is nice. Mine weighs 15.8 lbs with cages and pedals which is very light for me. The finish is matte and seems less prone to scratching as with glossy finishes. In terms of performance, the initial feeling is that of stiffness and solidity. This is a racing bike and it feels best when you are cruising in the drops or accelerating/climbing out of the saddle. The frame is very stiff, I'd say only the Giant TCR is stiffer feeling, and feels very efficient. I found with Mavic Cosmic Carbone wheels, it would cause brake rub whenever I stood up to pedal. So I switched them to Novatec Jetfly's which seem to have taken care of the brake rub. So I'd recommend using a fairly stiff set of wheels since the frame doesn't seem to flex much if any at all. Like the TCR, it has a very stable handling. You can let go of the bars and it tracks straight, bumps around turns don't seem to really upset the chassis or your line. The bike handling is neutral, no over or understeer and it leans in progressively (although your tire and wheel combo choice may make a difference) . Steering is not lighting quick, bordering on twitchy like the Cervelo R3, it's a touch more gradual but definitely not slow. Once it's set into a turn it corners like it's on rails giving you a secure sense as you descend. With its secure handling, you can get a false sense that you are going slow as there is no drama at higher speeds as with some more twitchy bikes. As for comfort, the geometry is good, you are not leaned over like the Giant TCR with it's long reach, but the bike is too stiff. I am running Conti GP 4000 S II 25 mm tires (which tend to be wider than their stated size ) with about 80/90 psi front and rear and the Jetfly rims which are pretty wide for maximum comfort/bump absorption. There is a small amount of space between the fork/chainstays and the tires on my set up, so you may be able to fit narrow 28mm tires or fat 25mm tires. There is no transmitted vibration but the amount of impact harshness transmitted and the bike's personality of prodding you to ride fast in the drops and standing up to hammer wears me out after a couple of hours in the saddle. But I have more comfy bikes for longer or more relaxed rides. So if you thinking about doing gran fondos and centuries on this thing, this may not be a good choice, unless your route is free from road imperfections. If you are looking for a stiff, stable handling, and a lively bike for racing or for shorter spirited rides, this may be a good choice.
dr_yi100004717
Dave M.
September 15, 2017
this is a really helpful review. on behalf of the other bike shoppers here, thanks!
A light bicycle that feels solid
Familiarity:

I've used it several times
I've taken this bike out for a few rides now and am really impressed. Now, I had never actually ridden a Ridley before and have heard from co-workers and customers alike that have had great things to say.. but it was my chance now. This is a fantastic deal on a great riding road frame... oh and this one weighs 1100 grams frame AND fork. Sizing: I am 5'11 and fit perfectly for most brands stock 56cm frame. On this bike I fit a 'M' frame. Please reach out if you do have specific sizing questions. Looks: Well you can't be cruising around the neighborhood on something ugly now can you? Luckily this bike looks the part- nice almost classic look to it- no aerodynamic camm tail hyper fin robotic carbon dragon wings here. Heck, I'd consider getting a poster made to go next to my collection consisting of Kelly Kapowski and Jonathan Taylor Thomas. Ride: What we're all waiting for: Good. Great. Grand. Wonderful. It rides like a high quality road bike should. Super light (Helium Superlight by name) the thing rockets up the mountain. I was actually quite impressed with the descent almost more so than going up. I knew it was going to fly going up with a name like helium super light. So bombing down Guardsmans Pass (though not as fast as the Tour of Utah guys) I was stoked to see how smooth, stiff, and planted it felt. This a great base for your dream build. So many options you can have with this as your blank canvas. Give me a ring or email if you have any specific questions on my ride impressions, build options, why Sagan should still be in the tour, sizing, etc. Scott Gartman Gearhead- 801-204-4588 sgartman@competitivecyclist.com
Scott Gartman
Greg R
August 2, 2017
What is the widest wheel these can fit? Can they fit ENVE SES (26mm or 27.5 mm external width front) or HED Belgium Plus (25 mm external width)?
Jin P.
September 10, 2017
This is for Gregory R. Yes, I am using mine with Enve 3.4 (the newer version) no problem.
Roland P.
November 30, 2017
Sweet ride!
Can this frame accommodate 28c tire width?
sa_2823425
dr_yi100004717
July 15, 2017
I don't think it will unless it's a very narrow 28mm tires. It fits Continental GP 4000 S II's in 25mm which is very wide, close to a 28mm Gatorskins IMO. It can catch objects and scrape teh bottom of the fork so I'd suggest putting an electric tape under the fork, just above where the front tire is to protect the pain.
dr_yi100004717
July 15, 2017
I don't think it will unless it's a very narrow 28mm tires. Mine fits Continental GP 4000 S II's in 25mm which is very wide, close to a 28mm Gatorskins IMO, bit I don't think it will fit a Continental GP 4000 S II 28mm tires though. The 25mm GP's can catch objects and scrape the bottom of the fork so I'd suggest putting an electric tape under the fork, just above where the front tire is to protect the paint.
dr_yi100004717
July 15, 2017
Here is a photo of the space with my Conti 25mm on it.
dr_yi100004717
July 15, 2017
The chain stays tire clearance with 25mm conti gp 4000 sII
Benjamin S.
October 5, 2017
I run/race 28mm tyres on enve ses 3/4 and srame red brakes without any issues.
>Rating: 5
December 22, 2015
Classic Climber!
Lightweight and responsive,yet comfortable for distance riding. The kit calculator may not show all available options for a custom build and can be a bit tricky in configuring but if we have it on the site we can build it. Often times we have items not listed on the site as well. If you need help in configuring this bike feel free to contact me direct. I'm always happy to oblige! Wes- Account manager-Bike wbranham@competitivecyclist.com 801-736-6396 x 4074
Wesley B.