Pinarello
Shop Pinarello by category
New Arrivals
The Newest Arrivals in Gear & Clothing
View all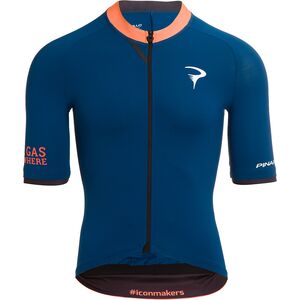 Pinarello
Elite T-Writing Jersey - Men's
Current price:
$119.95
Original price:

$149.00
Sale
19%
Off
1 out of 5 stars from 1 reviews
5
1
(1)
New Arrivals
The Newest Arrivals in Gear & Clothing
View all
About Pinarello
Pinarello frames have been ridden to victory in one-day road races like Milan-San Remo, Paris-Nice, Ghent-Wevelgem, Tour of Lombardy, and the Olympic Games. They've held their own -- to say the least -- in stage races as well, including countless stage victories, as well as overall victory, in the Giro d'Italia and the Tour de France. The list of pros who found greatness riding a Pinarello is epic: Cipollini, Indurain, Riis, Zabel, Ullrich, Petacchi, Valverde, and Pereiro top the list. But it's not the Pinarello palmares that make it the most coveted frame brand on the market. As Fausto Pinarello once wrote, "a great bicycle can be great without a great rider. A winning bicycle brings together the expert of the artisan, the latest in technological innovation, a passion for the sport, and a fanatical attention to perfection."
Pinarello has earned a reputation for mastering new tubing technology before other builders even considered experimenting with it -- first Dyna Lite and Excell steel, then SC61.10a and V107 aluminum, and in recent years AK61 magnesium and 50HM1K carbon fiber are some of the cutting edge raw materials used by Pinarello in recent times to manufacture bikes with an exquisite knack for overwhelming their owners' most optimistic expectations. Each time we take delivery on one we unbox something with equal parts artistic inspiration and technical merit. Few frames in the market can match the Dogma Carbon and Paris Carbon for their balance of beauty and ride quality. And these traits trickle down the line of Pinarello bikes, where the FPQuattro, FP3, and FP2 live up to the same standards at more affordable prices. Even if you Don't have a ProTour-caliber sprint you can still delight in Pinarello's groundbreaking designs, their hardheaded attention to detail in production, and their delicious paint and finish-work.