This carousel displays a list of buttons that updates the main product image when a button is clicked
Park Tool
INF-2 Shop Inflator
Item # PAR001Q
Free Shipping on orders over $50
Item #

PAR001Q
Description
Effortless inflation.
Redesigned to be more durable and easy to use, the Park Tool INF-2 Shop Inflator provides high-pressure inflation for day-in, day-out use in the bike shop or garage. Its 360-degree rotatable head accommodates both Presta and Schrader valves for painless inflation at any angle. The dual-sided head is set to blow compressed air from its Presta side by default, easily clearing dust and debris from your workbench and repair areas. It features a large pressure gauge that reads up to 160 PSI for precise inflation of tires and tubes, with a protective gauge boot and integrated bleed button. The inflator's body accepts any 3/8-inch NPT male threaded fitting, and it's rebuildable for years of reliable use.
An easy to use inflator to pair with your air compressor
360-degree rotatable head makes for easy use at odd angles
Dual-sided head works for both Presta and Schrader valves
Makes for quick and easy inflation of tubeless tires
Doubles as the ultimate work bench dust cleaner
Large gauge makes for simple pressure reading
View more Tool Kits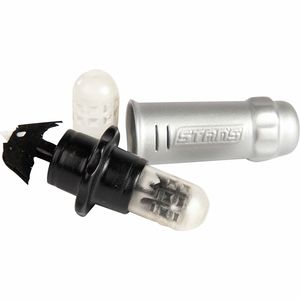 Stan's NoTubes
DART Tool
4 out of 5 stars from 5 reviews
5
5
(5)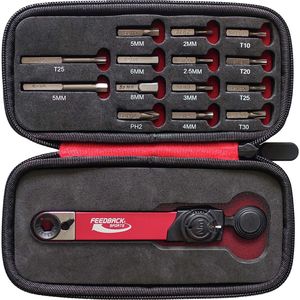 Feedback Sports
Range Torque Ratchet Combo
3.5 out of 5 stars from 3 reviews
5
3
(3)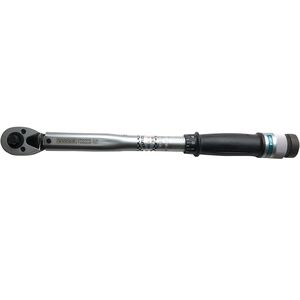 Pedro's
Grande Torque Wrench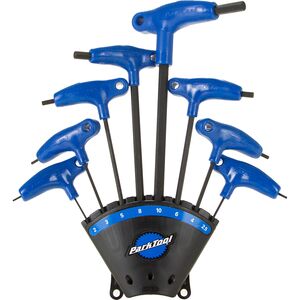 Park Tool
PH-1.2 P-Handled Hex 8pc Wrench Set + Holder
5 out of 5 stars from 2 reviews
5
2
(2)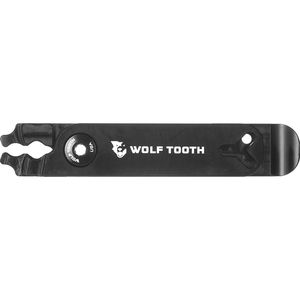 Wolf Tooth Components
Pack Pliers - Master Link Combo Pliers
4 out of 5 stars from 4 reviews
5
4
(4)
What do you think about this product?
>Rating: 5
November 2, 2019
Should I buy it?
Familiarity:

I've used it once or twice and have initial impressions
Hey. Hey you. I see you looking at the park tool inflator. It's pretty nice, huh? Schrader and Presta valves. Nice design and a clear gauge. Higher quality than those cheap ones on Amazon. You even like the blue color. It would make filling tires so easy…. But the price! Why so much money? You already have a floor pump which has worked just fine for years for at least half the cost. Let me ask you two questions: 1) do you own a compressor that can achieve ~40 psi for your MTB or ~80-90 psi for your road bike? 2) Do you ride more than once a week? If you answered yes to both of these questions, you should get it. Close your eyes at the price and buy it. It will make your life so much easier. You will smile every time you see it in the garage and forget all about the money spent. You will find pleasure in inflating tires before every ride. Still on the fence? Let me ask you another question: 3) do you ride tubeless? If yes…. By God man, buy it NOW! I looked at this inflator for years and thought the same as you. The epiphany came when I nearly blew out my elbow ligaments trying to inflate a new tubeless setup on my road bike with a floor pump. I almost spent more in doctor copays and lost bike riding time due to injury than if I just bought this inflator right away. If you are a committed bike rider, just buy it. Your body will thank you.
John H.
Timothy O.
March 15, 2020
Well, I felt like you were standing next me. You read my thoughts, in order. I'll buy, okay! Just get out of my head.
dwbrinton1222409
July 11, 2020
haha, excellent review, you should be in sales
>Rating: 5
September 11, 2019
What is $135 at this point in the game??
I don't encourage anyone to follow my decision making, you too will end up broke but have a garage full of nice toys. If you are considering this item, your garage is also well along to utopia. Yes, your bikes deserve this inflator. Yes, it works well and easily solves that Presta valve problem. Yes, the price of this item is just another drop in the bucket. Go for it, you won't be disappointed.
Bob Rogers
>Rating: 2
August 28, 2019
Awesome when it's not broken
I've been a shop mechanic for a good few decades and I've never really had any gripes about inflators, let alone Park's. But in just this past year I've had to replace two broken o-rings, and now it seems the presta/shrader head is now gone bad as it won't hold air. Not sure what to recommend, but looking at Presta Cycles stuff, as I'm about done dealing with this thing.
Om Spun
Easy to use
Familiarity:

I've used it several times
As with all Park Tools, this one is made well. No issues and it fills presta and shrader tires with ease. This also makes seating tubeless tires simple. One thing they should change is the accuracy of the gauge. It goes all the way up to 220psi which is excessive for any bike so a lower more accurate gauge would be better.
Monika G
>Rating: 5
September 5, 2018
No more floor pump!
Familiarity:

I've put it through the wringer
Is it expensive? Yes. Is it worth it? Absolutely. If you have a dedicated home shop, you will appreciate not having to fill up tires from a floor pump every time you change a tire or go for a ride.
Andrew Meehan
>Rating: 5
August 12, 2018
Shop Quality at Home
Familiarity:

I've put it through the wringer
In my years as a pro bike tech, I've used this inflator in every shop I've ever worked in. It takes the every day beating a busy shop can dish out and is completely rebuildable down to the last o-ring. It is a bit pricey, but considering you'll never buy it or anything like it ever again, it's worth it. I have used an old one w/the gauge being off almost 3 psi but the one I have for home use is spot on and with the relief button you can dial the pressure. The presta/schrader combo head makes filling my MTB tires and my daugher's 12" wheels easy as pie. You can even use the presta head to blow your bench or work floor clean. Another great park tool.
Derrick Smith
>Rating: 4
January 24, 2018
spendy but useful
Familiarity:

I've used it several times
I've built a pretty good collection of bike maintenance tools for my home shop. I even have a quality automotive inflator with pressure gauge that serves tubeless tire setup and general inflation duties pretty well. However, as my families fleet of bikes all use presta valves, I'm always needing to use the shrader/presta adapter and the nozzle on my automotive inflator is set up for working on car/truck rims. Getting a good attachment on certain bike rims can sometimes take some real effort (ie both hands dedicated to getting air into the tire)--especially when trying to get a stubborn tire to 'catch air' for its initial tubeless setup. As you would expect, this park tool inflator is dedicated to bike tire use and solves all the problems plaguing other inflators. If you're building you home mechanic tool collection, get this on your wish list. Its not a must have, but given the amount of time we seem to mess with tires, it will quickly be appreciated.
Josh R