Setups: Lost and Found Preview
For a few years now, we've had Lost and Found on our list. Held in early summer in remote Lake Davis California, this little gravel race has been steadily growing in popularity and reputation. Racers have their choice of routes that cover some of Northern California's most beautiful and remote country.
It's put on by the Sierra Buttes Trails Stewardship, the same trail building and advocacy organization that puts on Grinduro, and rumor has it that it's one of the most under appreciated races on the calendar.
For the 2019 edition of Lost and Found, we're sending two of our own to race the event, which will be held on June 1st. We'll be tackling the full length 100 miler, which serves up 6,500′ of climbing and a profile that's 65% dirt. And to prepare, we're sharing a glimpse of the planning and insight that goes into preparing our bikes for race day. After the dust has settled, we'll be following up with our notes discussing what worked, where we missed the mark, and what we'd do differently next time.
Our team is comprised of Competitive Cyclist Gearhead Ian Gonder and Garson Fields, Competitive Cyclist Marketing Writer. As riders, the two could hardly be more different.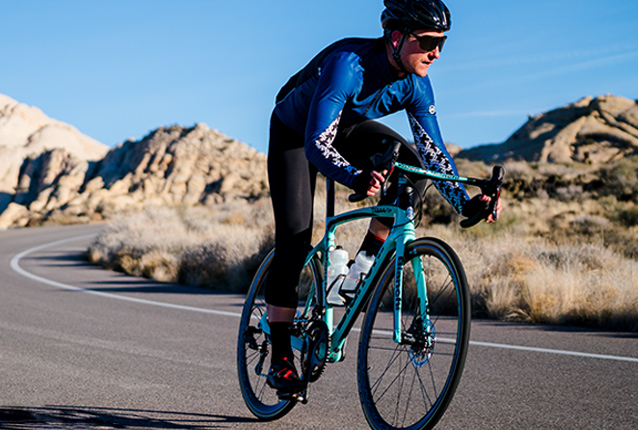 Ian joined our Gearhead team two years ago, which means that he spends his days answering phones and selling bikes for Competitive Cyclist. He races CAT 2 on the road and has a few gravel races under his belt, including this year's infamous Belgian Waffle Ride. When he thinks about Lost and Found, he wants a podium spot.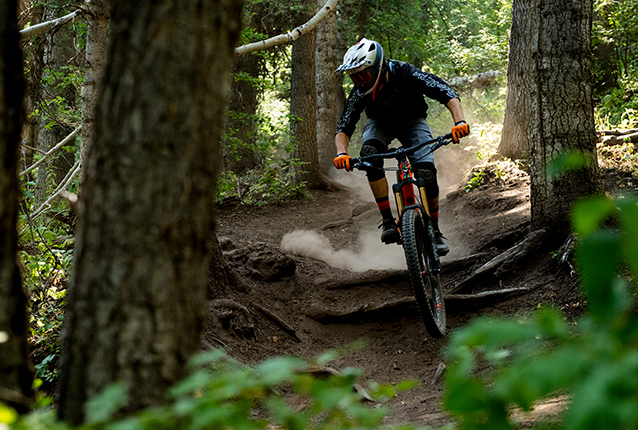 Garson has been with Competitive Cyclist for six years, and has spent most of that time as a writer. He's a seasoned CAT 1 downhill mountain bike racer who coaches an enduro team and has never raced road bikes, although he has trained on the road. When he thinks about Lost and Found, he wants an experience.
The Bikes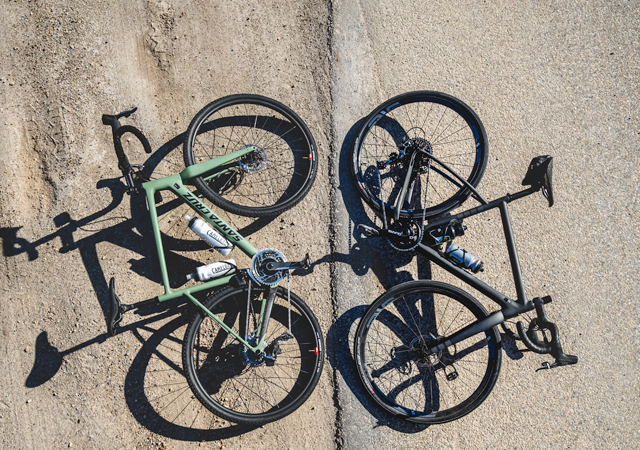 As part of the lead up to Lost and Found, Ian was tasked with building himself a custom race bike, just like he would build for one of his customers. Garson, on the other hand, was lucky enough to get a loaner from some friends. These are their race bikes.
Ian is riding a really tasteful Ibis Hakka MX. His background shows his setup, and his fit is borrowed almost entirely from his personal Ridley Fenix SLX. At just under 5'9", Ian is riding a 53, which he prefers over the 55 for the aggressiveness of its fit. He's still fine tuning the fit, hence the stack of spacers on the steerer tube, but initial impressions are that the current fit is very close to race ready.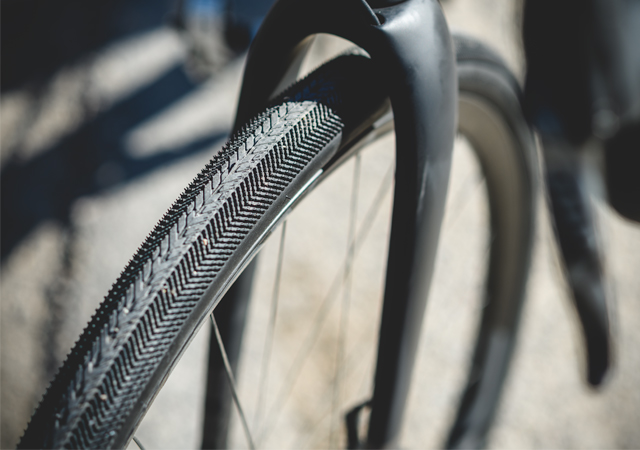 He's built it up with up with ENVE's G23 dedicated gravel wheels, setup tubeless with 700 x 40mm Donnelly Strada USH tires. The combination should roll very fast and still offer a fair bit of grip on dirt.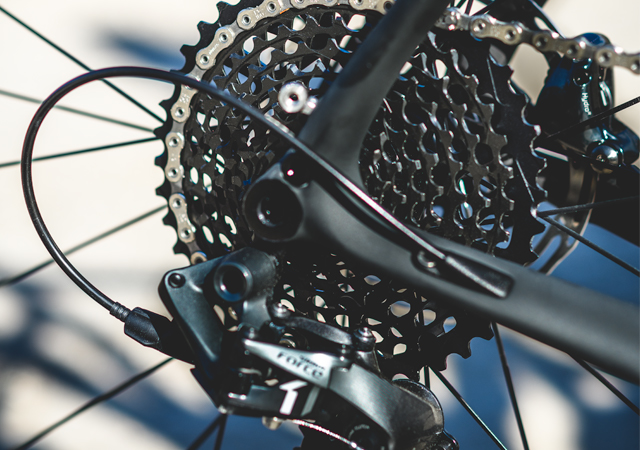 Ian opted for a SRAM Rival one-by drivetrain, which seems like an intelligent choice. The 10-42 cassette offers a 1:1 gear ratio with the 42t chainring, and offers nearly as wide a range as a standard road double. The tradeoff, of course, is the jumps between cogs, which may or may not be bothersome in practice.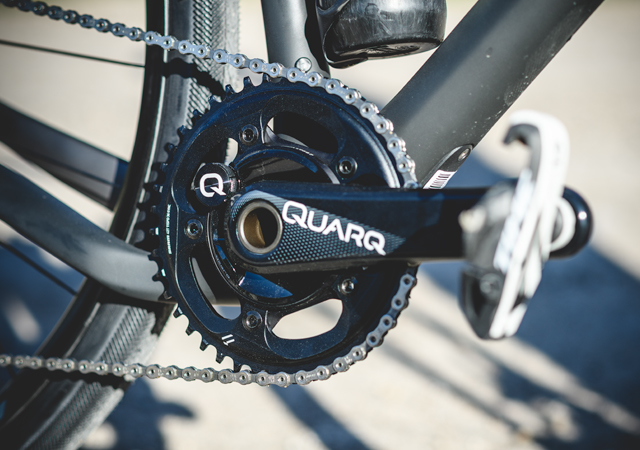 Ian's also using a Quarq power meter, which he finds useful for metering his efforts, especially early on in a race.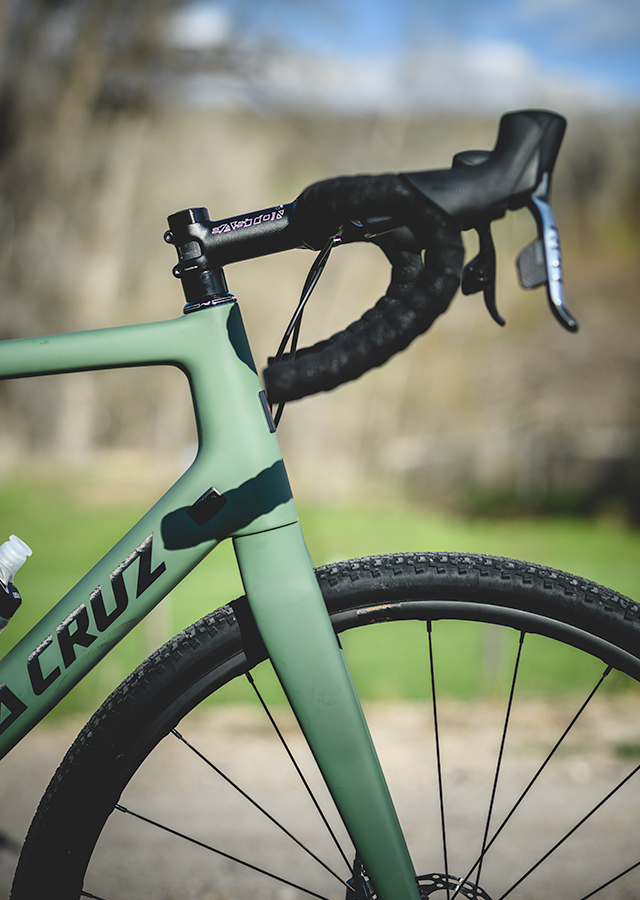 Garson is riding a new '19 Santa Cruz Stigmata. At a glance, the more upright fit is obvious. At 6'0", Garson is riding a 58, which he finds roomy and comfortable. He's currently running a 25mm spacer under the 0 degree offset stem, as well as a zero offset seatpost for a position that's more relaxed than his optimal road setup, but makes for an easier transition from his enduro bike.
It's rolling on the new Reserve 22 wheels set up tubeless with 700 x 40mm Maxxis Rambler tires. It's a bit more aggressive than Ian's setup, but still fairly fast rolling.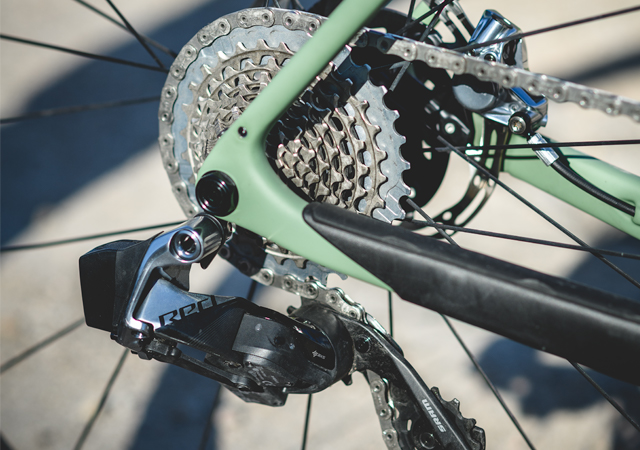 It's built the SRAM RED eTap AXS kit, which delivers a surprisingly positive shifting feel and very fast shifts. However, the 10-32 cassette matched to a 33t small front chainring means that Ian's 1x drivetrain actually offers a lower climbing gear.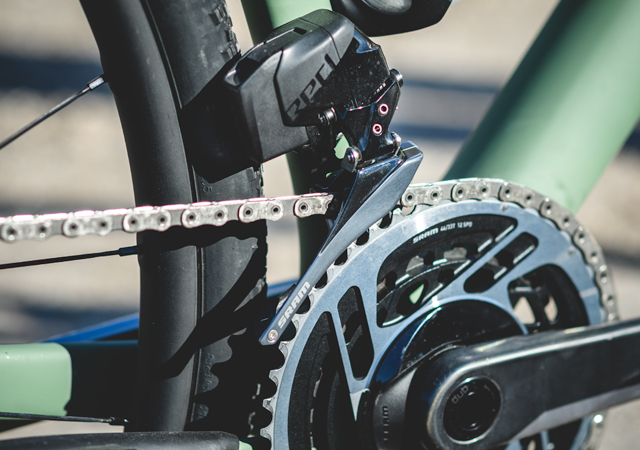 The front derailleur battery pack also seems to limit tire clearance on this bike, which looks like it could otherwise fit a 700 x 45 with room to spare.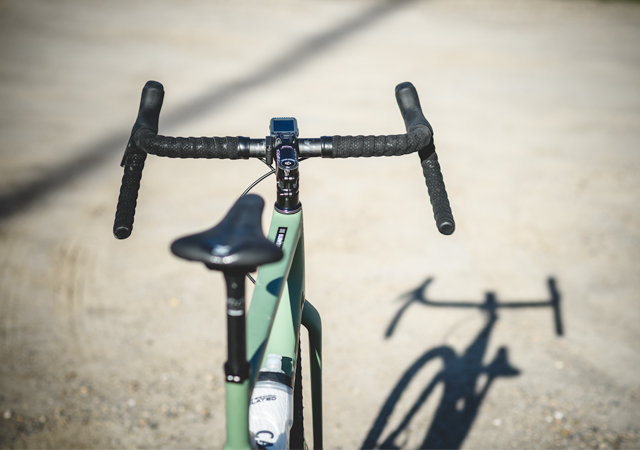 Although Garson finds the massive width of the 46cm Easton EC70 AX handlebars to be surprisingly comfortable, the flared drops will take some getting used to. If he can't acclimate to the setup, expect to see this swapped for a 44cm wide Zipp Service Course SL 70 B1 handlebars, which have a fairly standard compact shape.
Over the next few weeks, Ian and Garson will be riding, testing, and fine tuning these bikes to get them ready for Lost and Found. Check back on June 4th for the post race update, as well as a critical look at how our plans held up on race day.