How to Choose the Best Pedals
Do you ever wonder why most bicycles don't come with pedals? In addition to keeping the listed weight of the bike as low as possible, leaving off the pedals gives you the freedom to choose which set you'd like for your bike. Here's a breakdown of the different pedal systems out there, and some pointers on finding the right pair for you. 
Platform Pedals: Not Just for Enduro Tracks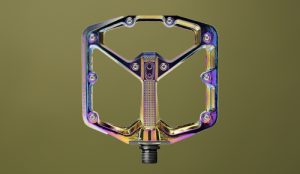 Downhill MTB riders praise the platform pedal for the range of motion and ease of bailing on hairy sections. Unlike the two and three-bolt system, you are not clipped into platform pedals—just step on and step off and zero learning curve. 
While platform pedals may be the crowd favorite for downhill or enduro, they can be used for any ride. Keep your day shoes on and use your bike for commuting or errands, learn new tricks like a wheelie or bunny hopping without being locked into your bike, or just avoid the learning curve of riding clipped-in altogether. 
If you're using platform pedals, flat-soled shoes will elevate your ride, with grippy, rubberized soles. Pins on the pedal dig into the sole to provide traction over hard-charging trails. You can also choose pedals with tall pins or no pins, depending on whether you're riding enduro lines or bike lanes. 
The benefits of the platform pedal are many, but since you're not locked in, pedaling efficiency is low, and you won't exactly fly up the climbs.
Who should ride platform pedal systems:
Anyone who doesn't want to clip into pedals
Enduro and downhill riders 
Novice riders 
Riders recovering from leg/hip surgery or injury
Here are some platform pedals we love. 
Clipless 2-Bolt Pedals: The Off-Road System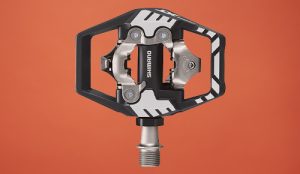 If you're riding off-road or a spin bike, or using any shoe that has a significant amount of tread on the sole, you'll likely use a two-bolt cleat and pedal system. Shimano's SPD—that's short for Shimano Pedalling Dynamic—platform is nearly synonymous with two-bolt systems, while other designs from Crank Brothers, Look, and Time use the two-bolt mount as well. 
It's not difficult to find out which cleat design your shoe has. If you look at the shoe's sole, you'll see a two-bolt mount that looks like two vertical slits right under the ball of the foot. Each slit will have one (or two vertically stacked) screw hole(s). The cleat mount is recessed into the shoe to increase walkability off the bike and help the tread dig in when you put a foot down on loose trails. 
The benefit of being clipped into the pedal—and, yes, this is ironically called a clipless system since there is no pedal cage—is to provide a stable pedaling experience on any terrain, improve climbing efficiency, and keep your feet locked in and neutrally oriented. This position reduces fatigue on long gravel roads and steep grades, while making descents on rough trails more comfortable. The disadvantage is that you are locked in unless you clip out, which does take some practice to learn. 
Just be sure to choose the correct two-bolt cleat to go with your pedals. 
Shimano mountain pedals use Shimano SPD cleats
Crank Brothers pedals use Crank Brothers cleats
Look Pedals use Look X-Track cleats
Time pedals ATAC Easy cleats
*If you're using pedals from a different brand, check with the manufacturer to get set to with the cleats that match your pedals.
Who should ride two-bolt pedal systems:
Gravel riders
Cross-country riders
Mountain bikers
Enduro and downhill riders who prefer a "locked-in" position
Spin-class Riders, who do not use a Delta pedal
Here are some two-bolt pedal systems we love. 
Clipless 3-Bolt Pedals: Take to the Road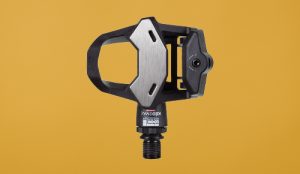 On the road, pedaling efficiency and power transfer to the pedals matter most. That's why road shoes use a three-bolt pedal system, which is easy to identify. On the sole of your shoe, if there are three holes, in a triangle configuration at the ball of the shoe, you'll need a three-bolt compatible pedal. Shimano has its SPD-SL pedal system, while Look, Garmin, and Time have their own three-bolt platforms. 
Which pedal system you choose depends on a few factors, like weight, float, and power meter compatibility. 
Keeping the weight of your pedal platforms as low as possible will boost pedaling efficiency. Look's Keo 2 Max Carbon is a lightweight option with a durable spindle and a steel plate to reduce wear. 
Garmin and Look up the ante with the addition of power meters to some of their road pedals, letting you swap pedals from bike to bike and avoid the cost of multiple power meters.
As with the two-bolt system, just be sure to choose the correct cleat to go with your pedals. 
Shimano road pedals use Shimano SPD-SL cleats
Look Keo and Garmin pedals use Look Keo cleats
Look Delta pedals use Look Delta cleats
Time pedals use Time Iclic cleats
Who should ride 3-bolt pedal systems:
Road riders
Indoor riders with Delta-style pedals
Here are some road pedals we love. 
No matter how you pedal, we hope you enjoy the ride! And if you need some new shoes to go with those new pedals, our 2021 Shoe Guide