This carousel displays a list of buttons that updates the main product image when a button is clicked
e*thirteen components
TRS Plus Dropper Seatpost
Sale
43%
Off
$159.99
$279.00
Item # ETR000N
Select options
Cancel

Select options

Black, 31.6mm/150mm Travel ($159.99)
Free Shipping on orders over $50
Item #

ETR000N
Description
TRS Plus Dropper Seatpost
Not only does the simple act of raising and lowering your saddle make riding more fun, but it's also become a crucial part of enduro racing. So, it makes sense that the three main focuses of the e*thirteen components TRS Plus Dropper Seatpost are ease of use, reliability, and then, of course, durability.
With a no fuss, no muss design, the install for the TRS Plus seatpost is quick and easy thanks to the lever-clamped cable, and a simple, fully mechanical design. Then, saving you frustration, a heat-treated, cable actuated cam reliably and consistently locks the post into one of four positions. Coil sprung means less maintenance than air sprung posts with a smooth, consistent return speed every time for the life of the post, which ultimately saves you money and aggravation. Capping off this design with a fantastic lever, the ingenious cable design seals out the elements and pivots on sealed ball bearings, and puts the cable lug at the seatpost so disconnecting the cable is a snap.
Reliable, durable, and affordable dropper seatpost leads the way
Easy installation gets you out and riding quickly
Full mechanical design locks into four positions consistently
Cable clamp is protected from elements and pivots on ball bearing
Cable lug at the seatpost disconnects easily
View more Dropper Seatposts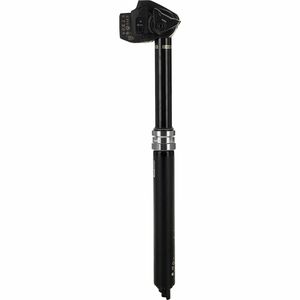 RockShox
Reverb AXS Dropper Seatpost
5 out of 5 stars from 4 reviews
5
4
(4)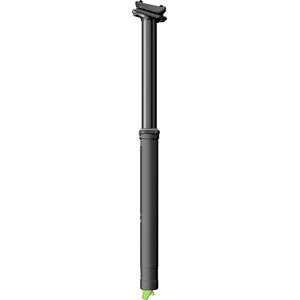 OneUp Components
V2 Dropper Post
4 out of 5 stars from 15 reviews
5
15
(15)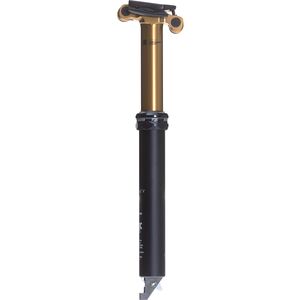 FOX Racing Shox
Transfer Factory Dropper Seatpost - Internal Routing
5 out of 5 stars from 2 reviews
5
2
(2)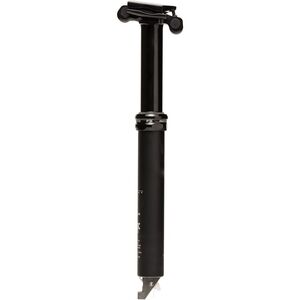 FOX Racing Shox
Transfer Performance Elite Dropper Seatpost-Internal Routing
5 out of 5 stars from 1 reviews
5
1
(1)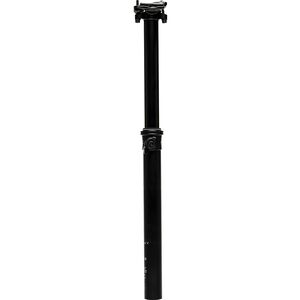 FOX Racing Shox
Transfer Performance Series Dropper CR Seatpost
3.5 out of 5 stars from 5 reviews
5
5
(5)
What do you think about this product?
>Rating: 1
October 15, 2019
Gets stuck
Familiarity:

I've put it through the wringer
This post came stock on my bike and it started getting stuck after about a month of use and there is a fair amount of rotational play with the seat. I can get to work better by tightening the spring but I have to do that every ride. It rarely makes it up to the top position and I have to pull it up with my hand, which isn't ideal. I have heard the spring can be replaced but e*thirteen service people wanted me to send the seatpost to germany, which leaves me a long time without a seat post so I think I will just be buying a different one.
Nick Harrichhausen
Great Affordable Dropper
Familiarity:

I've put it through the wringer
While there might be some better options on the market out there, this no frills e13 mechanical dropper will get the job done and get it done for an affordable price. With very easy set up and very clear instructions (with real pictures to follow along) I had this installed on my bike and functional within 30 minutes of taking it out the box. While the action is smooth, some riders might find it frustrating that there is a lack of positions to have the seat in, I personally only ever have my seat all the way slammed or all the way up, so this didn't bother me as much as I'm sure it bothers other people. My only other gripe with this dropper would be that I've found the top cap on the dropper (what the seat attaches to) keeps coming loose on me, leaving some play in the seat. I've yet to remedy this, but I'm hoping that some locktite will fix the problem.
Paul Braunstein
Want to like it more than I do
Familiarity:

I've put it through the wringer
I bought this for the fully mechanical aspect...my previous hydraulic post was just too finicky and needed too much attention. I've been riding with it for about 6 months now. Installing it was super simple. You can tune how much pressure needs to be applied to activate the post, a nice feature, but there is quite a bit of play and the action feels vague. Also, the underside of the lever is totally open and unfinished looking. Still getting used to the pre-determined 4 positions and I think I'd still prefer an infinite travel post. The way they have this set up, 3 positions would work better and the rider would able to distinguish more easily between low, middle, high. As it is, the second-to-highest position is only slightly lower than fully raised and there is no audible click once the post reaches it's highest point. That said, the other positions have very loud clicks when set, almost annoying. There is quite a bit of rotation on the seat as well, not super obvious when climbing but very apparent when taking a water break or on smoother fire roads. There was a period when I first installed it over the winter when the post wouldn't return from the down position without a good whack with the knee or something—super obnoxious in undulating terrain when trying to approach a climb. Also, aesthetically this post looks a little clunky and ugly to me...the head is blunt and unrefined. All in all I wish I would have spent a little more money for something else. I've had some other e.13 parts that have performed better. Looking for a 170mm drop now anyways and will probably be trying to sell this one.
Kyle M.
>Rating: 5
February 19, 2018
Very good
Familiarity:

I've put it through the wringer
Its a very reliable seat post, its strong, have 3 positions to ride and have a good price.
Alessandro D.
>Rating: 5
December 13, 2017
Reliable Post at a Great Price
Familiarity:

I've put it through the wringer
Been riding the TRS+ dropper for over 5 months now and it's been trouble free. I hear a few of the earlier posts had some loose head and spring issues, but heard E13 took care of those problems quickly. My post has been perfect. It was easy to install and it just works. I thought the 4 preset positions would take some getting used to but they felt natural from the first ride. The lever is also the best I've ever used hands down. Great job E13! Between this post and their cassettes I'm becoming a big fan!
Jason
>Rating: 2
December 2, 2017
Great, when it worked.
Familiarity:

I've put it through the wringer
I wish I had good things to say about this post. I was stoked to get a mechanical 150mm dropper post but this is probably the most unreliable part on my bike. The look of the remote doesn't match the documentation that comes with it. I thought maybe I had lost a piece or it was packaged incorrectly. I was told that the remote had undergone a change since the documentation was created. After initial setup I had issues with triggering the post. Friction in the cable system was the culprit. The guys at E13 responded quickly and I was able to fix it by rerouting my cable to avoid kinks. When it worked it was awesome. But after a few rides I ran into another problem. The remote wasn't returning back to its normal position, this time it wasn't an issue with friction in the cables. The spring that retracted the cable had become unseated. One great thing about this post is you can service it yourself pretty easily if you have the right tools. I was able to fix the problem. After about a month of owning it I'd spent more time disassembling and reassembling the post than riding it. Things were good for a couple more weeks before my seat would start wiggling and eventually turn freely. It was a little amusing, I imagine someone more talented would find a way to do some 360 seat trick. It turns out having a seat that rotates freely isn't very fun for general trail riding. I'm sure I'll be able to fix this new issue as well. If you're going to drop some cash on a dropper post it might not be a good thing to have more experience maintaining the post than riding it. Save up a little bit more and get a post from one of the more established brands/models. This is E13's first go at this hopefully it gets better, I generally like E13 products.
Andy M.
>Rating: 5
November 9, 2017
All Rise
Familiarity:

I gave it as a gift but have feedback to share
Solid and smooth action, durable and consistent action. Dependable
Moe Lauchert