This carousel displays a list of buttons that updates the main product image when a button is clicked
Challenge
S.C. Latex Tube
Item # CNG0027
Select options
Cancel

Select options

Red, 700x19/28 ($17.99)

Red, 700x29/38 ($19.99)
Free Shipping on orders over $50
Item #

CNG0027
Description
Your tubes just got lighter.
You may not consider the lowly inner tube when it comes time to lighten up your ride. Sure, it isn't the difference between a steel frame and a carbon frame, but if you're counting grams, a pair of Challenge S.C. Latex Tubes are one of the least expensive ways to improve your riding experience.
Challenge Latex Tubes have a couple advantages over their butyl cousins. Latex is far more elastic and puncture-resistant than butyl. Therefore latex tubes are able to be made thinner than butyl tubes. This means that they're lighter weight, are more flexible, and accordingly, have less rolling-resistance. And, just as importantly, the aforementioned equates to a significant dampening of road vibration. The slight disadvantage with latex tubes, however, is that they are porous and naturally lose air a little quicker than butyl tubes. It's not really a big deal, but something worth noting. Because of this, we generally use our latex tubes on our race-day wheels and run butyl tubes for training.
That said, we strongly recommend against using latex tubes with carbon clincher wheels—a sentiment shared by most major wheel, tube, and tire manufacturers. Since the carbon braking surface heats up more than alloy, it can cause latex tubes to burst and fail. If you're running carbon clinchers, go with butyl tubes.
Latex tube with 47.5mm Presta valve
86 to 92-gram weight (depending on size)
Warning
California Proposition 65
Warning:
View more Road Tubes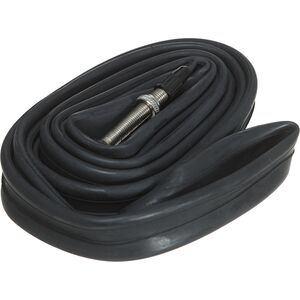 Continental
Race Tube
Current price:

$8.99
Original price:

$10.50
Sale
14%
Off
4.5 out of 5 stars from 48 reviews
5
48
(48)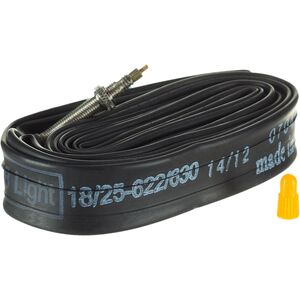 Continental
Race Light Tube
Current price:

$7.99
Original price:

$10.95
Sale
27%
Off
4 out of 5 stars from 39 reviews
5
39
(39)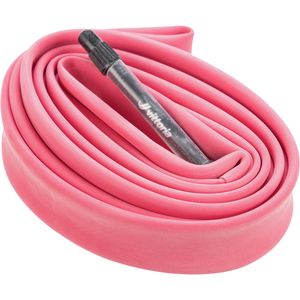 Vittoria
Competition Latex Road Tube
Current price:

$12.00
Original price:

$16.00
Sale
25%
Off
4 out of 5 stars from 1 reviews
5
1
(1)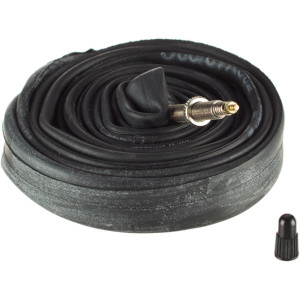 Q-Tubes
Road Bike Tube
4.5 out of 5 stars from 137 reviews
5
137
(137)
What do you think about this product?
Flawed
Familiarity:

I've used it once or twice and have initial impressions
Started by loosing like 20 psi a day even before the first ride then blew up next to the valve after 30 miles. Never again.
Bernd W.
Pretty bad
Familiarity:

I've put it through the wringer
Tried to like these, but multiple flats make it tough. I threw them in the trash, but realized I could cut them up and use the pieces for a patch kit for my awesome Vittoria Latex tubes. Now they work....as scrap material.
David V.
Puncture prone.
I've gone through six of these tubes in the last 1,000 miles. I ride 8,000 miles annually and these tubes are the most puncture-prone tubes I've used. Definitely will never purchase again.
Dan S.
>Rating: 5
November 27, 2017
Ride On.
Familiarity:

I've put it through the wringer
Latex tubes improve the ride of any bike. These tubes are perfect for CX and gravel bikes where you want to want the supple ride on an open tubular that isn't tubeless compatible. Take a little more care on the install and you will be good to go. Yes, they lose air a little quicker than butyl tubes, but don't you check tire pressure every ride?
Eric White
>Rating: 2
September 20, 2017
Road tube review
I don't recommend the road tube, its heavier and more expensive than the Vittoria latex tube. The cross tube is sorta unique in its category, so it would be a nice addition to your cross rig.
Tommy Liao
Be aware of poor tube construction/safey
Familiarity:

I've used it several times
used two challenge tubes with high hopes. visually Ok.installed without issues.pressured to 100 psi.both failed catastrophically with same failure mode within days of each other. pressure was released instantaneously after approx 50 miles of riding when the valve interface to tube body bond failed....very poor performance/bad manufacturing and safety concern for a costly tube.returned for exchange with another brand and hope they inform the manufacturer of the safety/manufacturer flaws.they should not market these with such high failure rates and defects gave us the same sinking feeling as the sudden splits failure in the michelin ultralight repeated failures we've seen
>Rating: 1
December 7, 2015
Terrible Tube
Familiarity:

I've used it once or twice and have initial impressions
I agree 100% with Timothy S. Furthermore, I question the sizing. They are suppose to be 700, but seem more like 650s. It was a royal PITA trying to install one of these tubes. It then exploded at around 80 psi when trying to inflate it. I thought perhaps that if I stretched the second tube before installing I'd have better luck. Tried doing that, but the latex is so thin in spots that huge bulges would develop before the tube would stretch. Might see about returning the second tube, but seems like such a hassle for only $18. DO NOT BUY!!
James R.
>Rating: 1
September 3, 2015
Worst latex tubes I've ever owned
Familiarity:

I've used it several times
I've been using latex tubes for a long time and have never had the issues I've had with these tubes. I thought I'd give them a try when I bought 2 sets of the Starada and Strada Bianca tires. These are the issues: 1) when slightly inflated so as to rub a little Talc powered on them and install, all of them have at least one area with very thin latex. This area bulges like a balloon. 2) When installed properly (talc powder, partially inflated when installed, twisting the tire when its seated on the rim) the tube will either explode at 60 lbs or inflate properly and explode on the road. I bought 8 of these in both the 30mm size and the 25mm size. Every single one exploded. Lastly, I'm running these with the Challenger Strada tires. I would not trust these tubes with my life. Most frustrating latex tubes I've ever owned.
Timothy S.
>Rating: 4
August 16, 2015
Tom would love these!
Familiarity:

I've put it through the wringer
Very light, no flats, actually hold pressure better than expected but pump them as a precaution before daily rides. In combination with 320 TPI tires rides lighter and better than tubulars. So far, so good.
James H.
No flats
Familiarity:

I've put it through the wringer
At Dirty Kanza 200. 50 psi. I love these. (I also just jinxed myself)
MT
>Rating: 5
September 17, 2014
Holy Lightness!!!
Familiarity:

I've used it several times
Man these tubes are light!!! Love them, no problems with flats at all, just be careful when installing them, they can pinch easily. I chalk them up before install, and it goes in just fine!! Just wish they were a little cheaper ;)
Ferd
The pic appears to show a removable valve...
The pic appears to show a removable valve core, just want to confirm this before purchasing. Thanks.
eric
Adam D
April 16, 2014
These do not include at remoeable valve core.
MT
June 9, 2015
Mine have removable valve cores. Can be a bit of a pain if you do not tighten them down before attempting to inflate.
Do you think the 19x28 would be OK with a...
Do you think the 19x28 would be OK with a 30-32mm cross tire? I would rather not carry the extra bulk of the 29-38.
steve lindsey
Clint L.
April 3, 2014
Hey Steve, Technically speaking you can run these in that tire, but its not a good idea. The more the latex stretches to cover the volume of the tire the more likely it is to pop. Additionally latex tubes are porous and leak air continually. If you stretch them further with a wider tire that becomes more of a problem. I hope this is helpful. If you'd like to talk more about other options, please feel free to give us a call.
>Rating: 5
October 15, 2013
Super smooth ride
Familiarity:

I've put it through the wringer
I switched from the Vittoria Latex tubes to these, much better. The Vittoria's are too thin, they are super light (about 50gm) vs these that are 70gm. I'll take the extra thick, but still pretty light ones - these :) I chalk them up pretty good with powder and install is easy. Yes, they loose about 30# of air overnight, but I always top off my air anyhow before every ride - just a few more pumps, and it's also good for your upper arm strength :) Make your bike ride just that much better - say 10% improvement on normal pavement. That's a pretty cheap upgrade. I do not notice any increase in punctures at all - am running Continental 4000S without any issues, other than being super awesome :)
Carter
Bobby Blue
September 10, 2017
Yup, better powder up if not blow up I go 110 psi paired with Vittoria Corsa Graphene 700x25c, yes I still have issues, by valve interface, so I slickster Bklyn kind a guy patch (4) sides of tube, correct Vittoria is thinner, ride is woof woof woof, carry extra co 2 & butyl tube, I'd like to complete my @ 200km weekly rides