---
Dual Seatbag
We've tagged along with enough PRO training rides over the years to definitively notice one trend: They might be obsessive about the cleanliness of their bikes, about the mousse in their hair, about how little they can eat, about their wine collection and the # of V's under the hoods of their cars. But one thing PROs are near-universally not obsessive about is their seat bags. As a rule they're old, tattered, and stuff is half-hanging out of them because they get used hard and who, after all, gives much thought to replacing a seat bag?
And then came Arundel...
They've been a long-time sponsor of Team Garmin-Transitions, and they spare no expense in sponsoring individual riders as well. Arundel long ago earned a place high in the pantheon of accessory companies thanks to the exposure they've earned from their well-done product placement, not to mention the effusive word-of-mouth props they get on training rides all over America from riders of all levels. Their stuff works flawlessly, it holds up over time, and it looks handsome.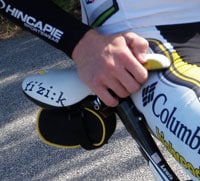 They've taken the same keen creativity they applied to their original creations -- bottle cages and bar tape -- and they've applied to that forgettable-but-essential necessity, the saddle bag. In the last year we've spied them on more-and-more PRO bikes all across the globe, and just like the guys who spend 20,000 miles per year on their bikes, this is the model you probably need, the Arundel Dual.
Arundel calls this bag the Dual because it's designed for carrying two tubes. As you may have noticed, seat bags have been shrinking over the years, as though the smaller the better. But some have gotten so small; you wonder how people can fit anything inside them.
The Dual should erase that wonder. You can fit two tubes, two CO2s and inflator, tire levers, and a thin tire boot inside the simple single cavity. Maybe even a few Allen keys if you go with light tubes.
For all that space, the Dual still has a minimal profile. There is a single Velcro strap that loops through the seat rails and around the bag. No second strap wearing through the finish of your seatpost. The bag is narrow enough to nestle in place without abrading the inside panels of your shorts. And there's a genuine leather patch stitched to the back of the bag to protect it from wear caused by rubbing the seatpost.
The Arundel Dual has 30 cubic inches of internal space and comes in black with Black piping. The dimensions are 5"x3"x2". Claimed weight is 62g.
Details
Designed to carry two tubes, two CO2 cartridges, an inflator, and tire levers
Single-strap attachment
Reinforced wear patch
Item #ARU0011
Material

nylon

Mount

seatpost

Closure

zipper

Dimensions

5.25 x 2.125 x 3.5 in

Recommended Use

cycling