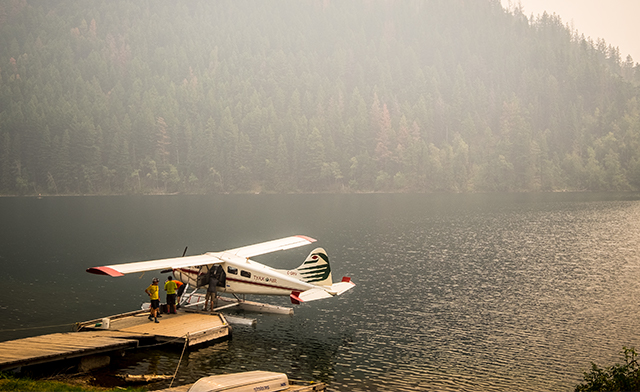 The Spoils of Victory
Read our recollections of a weekend in the Chilcotins with our 7mesh contest winners.

The Spoils of Victory
In early June, we gave away the trip of a lifetime. It was an opportunity to ride singletrack in British Columbia's South Chilcotin Range, a place so remote it must be accessed by floatplane, and where grizzly bears are a more common sight than fellow tourists. This adventure began when British Columbia-based apparel company 7mesh Industries and backcountry specialists Tyax Adventures contacted Competitive Cyclist, wanting to share a truly unique experience with our customers. In early August our contest winners, Eric and Jarold, flew from the lowlands of Chicago to Vancouver, BC to meet up with the team from 7mesh, as well as Competitive Cyclist Brand Manager Garin Fons. With the South Chilcotins ravaged by wildfires, our plans to drink in the Tyax Adventures experience were subject to change. However much we departed from our original plans, the result was a trip that we will not soon forget.
Ask Eric and Jarold where each would have spent a weekend in August and the response would have been riding circles around each other on the XC trails of Chicago's Palo Forest Preserve, or possibly, attending a preseason Bears game at Soldier Field. But cruising in a 1960's de Havilland Beaver floatplane, 500 feet above a lush boreal forest in remote British Columbia? Not a chance. Eric doesn't even like to fly. Which explains why Eric seemed unphased when he learned that wildfires had changed our plans. The massive Plateau wildfire in the north of the province shrouded much of central BC in a dense smoke, making flying into the backcountry a very dangerous proposition.
There's no sign on the front of the building, no products hanging in the window, or any obvious way to distinguish the 7mesh offices from any of the other businesses in the Sea to Sky Industrial Suites. As we walked through the entrance into the workshop-esque office arrangement, the lack of a flashy insignia seemed fitting for a brand whose ethos holds that simplicity is the path to perfection. When you're focused on making some of the most technically advanced cycling apparel in the world, a sign can wait.
Kitted up in new 7mesh gear, we set out to get a small taste of Squamish's massive trail system. CEO Tyler Jordan shuttled us to the top of Garibaldi road, and after a few minor adjustments, selfies, and group photos, we pedaled into the cool reach of the pine forest to let loose on a fast and flowing 2200' singletrack descent. This was the British Columbia trail experience we had in mind, and it was a revelation to see these trails from the saddle, rather than through a monitor, captured by a camera's lens.
A look out the window of the hotel on Saturday morning revealed all we needed to know about how we were to spend the day. With the smoke thicker than the previous day, flying was out of the question. The obvious plan B was to make tracks for the world famous Whistler bike park, and this backup plan sat well with the group. After a detour to the Goldstones' house to grab a bike and some protective gear, we were off. Aboard the Fitzsimmons lift, we passed over the Redbull Joyride course, which was in final preparation for CrankWorx the following week. We joked about riding through the tape and trying a few of the features. As big as those jumps look on TV, they are almost unimaginably massive in person. Moments later we wondered aloud how it's even possible for guys like Nyquist, Semenuk, and Johansson to do what they do. We were deflated, but to a greater extent, we were inspired, which sweetened our first runs at the spiritual home of gravity-fed riding.
Early Sunday morning, we learned that the smoke had cleared enough to fly. The caveat, however, was that we'd have to make the two hour drive to the lodge. Once there, we'd take a quick 15 minute flight to a remote cabin on Spruce Lake. If all went according to plan, we'd be in the air by mid-afternoon, arriving at camp in time for a quick afternoon ride, followed by dinner with other Tyax guests engaged in their own backcountry trips. We met up with our driver, Bobbi Douglas, loaded up the truck with our bikes and, after stopping for mini donuts and Pepsi, we were off. At this point, we were giddy with anticipation. We knew it would be a quick trip, but we were eager to claim bragging rights. We needed to get a taste of the terrain, the trails, and the Tyax experience.
When we arrived at the giant lodge on Tyaughton Lake, Tyax Adventures owner Dale Douglas greeted us with a firm handshake and a smile. He's a guy who's introduced thousands of people to the Chilcotin experience, but his warmth made us feel like we were his very first guests. It was tempting to sit on the lodge's massive deck and look out over the water, but with the plane just having landed on the lake, there was no time for chit chat. He introduced us to Geoff Playfair, our guide through the backcountry. Ushering us to the flight dock, Geoff loaded our gear and reminded us we were in for a treat. He should know. Geoff first set foot in the Chilcotins in the early 1990s and has been building trails and guiding trips ever since. Calling him a credible source of local knowledge is an understatement of the highest order.
As we pushed off the dock and taxied toward the middle of the lake, we could hardly contain our excitement. The propeller got louder and louder and we watched the dark blue water below the pontoons become bright white with spray. Moments later, it was dark blue again as we climbed gracefully above the shoreline. As we gained elevation, it became apparent just how truly wild the landscape is. We could only see about a mile, the smoke still too thick to truly witness in the enormity of the nearby mountains, or see beyond the trees below. However limited our view, we intuitively understood that we were a tiny presence in the expanse of this wild landscape.
Only a few minutes later, we touched down on the glassy surface of Spruce Lake. We glided into the dock, unloaded our gear, and made our way to the camp. Expecting a primitive set up, we were pleasantly surprised to see a true backcountry outpost with an inviting farmhouse style table, a guitar, and a camp dog. We dropped our gear into our safari tents and set out to ride. For the next two hours we hugged the shoreline of the lake, traversing through dry alpine meadows crossing snow fed creeks and stopping every once and awhile to take in the "views". Brian Goldstone pointed toward a grey expanse and described what we'd normally see. You could feel the looming presence of the snow capped mountains and winding valleys, obscured by the eerie curtain of smoke.
After we returned to camp exhausted and muddy, we made our way back to the lake for a swim. Jarold took to the water, while Geoff and first time fisherman Eric pushed off in small row boat with trout on their minds. Later that evening we joined other guests soaking in their Tyax trips; a family of four making their second voyage with Tyax, a couple of friends from Australia who would be heading to Crankworx the following week. As night fell, our buzzing chatter hung in the air while we watched an impossibly red harvest moon creep over the horizon.
The next morning, we set out for the ride for which we'd made our trek. The flowing singletrack trail passes through meadows, dense pine forests, traversing steep ridgelines and passing through remnants of the frontier life that defined the area nearly 100 years ago. It's a 10 mile ride, but we stretched out the riding as much as we could. We were in no rush to get back to camp.
As we returned to the lodge, cracked beers on the deck, and traded stories from the past four days, it felt as if the trip couldn't have gone better. The fires and the smoke made their impact on what was supposed to be a backcountry trip of a lifetime. With a different crew, it could have been a letdown. But for Eric and Jarold, this was no time for disappointment. They were relishing their taste of the Chilcotins, which had only whet their appetites. Jarold departed saying that he planned to gather his crew for a future Tyax adventure. There is simply too much to explore on one trip. Eric said they'd have to knock him out to get him back into the plane. But when the time comes to return, he's invited, and he knows that it's not a trip to be missed.
Meet our Gearheads.
Chat, email, or call us at: (888) 276-7130
Competitive Cyclist Gearheads are your resource for all things cycling. They're bike experts with knowledge and experience that's second to none. Whether you're thinking about your next dream build, you need advice on components, or you have questions about an existing order, don't hesitate to contact a Gearhead.
Chat Now
Shop 7Mesh