Sale
$149.96
- $169.96
$199.95
25%
Off
Item # LGN00IJ
Select options
Select options

Black-Red, S ($169.96)

Black-Red, M ($169.96)

Black-Red, L ($149.96)

Black-Red, XL ($169.96)

Black-Red, XXL ($169.96)

Black-Yellow, S ($169.96)

Black-Yellow, M ($169.96)

Black-Yellow, L ($149.96)

Black-Yellow, XL ($169.96)

Black-Yellow, XXL ($169.96)
Free with purchase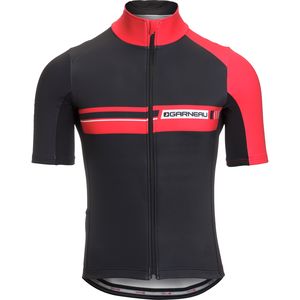 Team Shield Jersey - Men's

Louis Garneau Mondo Evo II Bib Tights - Men's $169.96
Item #

LGN00IJ
Description
Make it easy.
Designing an all-weather jacket is easy, because all the body parts your protecting tend to stay relatively static compared to what your legs are doing in the saddle. Louis Garneau's Mondo Evo II Thermal Bib Tights address the more technical difficulties of the latter by positioning different materials in different locations in order to ensure that you're protected from winter weather from the waist down. We know, because LG designed them for us.
Though this is the second generation of Mondo Evo bibs, the construction remains largely unchanged—a testament to the fact that the Canadian manufacturer knows what it's doing. The fabrics include panels of Light WindDry 2 and Light Wind Pro incorporated into a general body construction of HeatMaxx, a thermally insulating material. The lower back and front legs use Light WindDry 2, a four-way stretch material that fends off wind and water. This is interrupted at the knees with Light Wind Pro, a new material that takes advantage of Polartec Wind Pro's tight weave to block four times more wind than other fleece materials. Your knees lead into the wind, and there also the main joint involved in turning the cranks.
Since Light Wind Pro isn't a laminate, it's more breathable than typical wind-blocking materials. The Light Wind Pro knees have been given a DWR treatment, are durable, and won't pill. Though it's only a cosmetic concern, we find the last benefit especially attractive. The bib straps themselves are insulated, too, courtesy of Highlander Mesh, and they continue the general theme of wicking and moisture management found in all of the Mondo Evo Bib Tights' materials.
The tights are constructed with 11 panels of the above fabrics to ensure an anatomically appropriate fit. Flatlock seams eliminate chafing and the articulation in the knees means that you're movements in the saddle won't be restricted. Nine inch ankle zips help get the tights on and off, and ankle grips keep them from riding up once they're on. Reflective on the ankle zipper help keep you visible in low-light conditions.
The tights are finished with LG's 4 Motion chamois. It consists of the usual high-density padding in various thicknesses throughout. It also has the raised plateaus of padding where you want support and recessed valleys for areas you'd rather didn't bear any load. The real star of this insert, though, is the cutout in the back, which is bridged by vented mesh instead of foam, so it allows for exponentially more stretch and movement than a non-mesh panel. This is what recommends the 4 Motion for long hours in the saddle. It moves with you through all positions in the saddle while grinding out base miles in the cold months. The gel inserts and foam padding are perforated throughout with additional venting up front to promote breathability, and the outer skin is made with Cupron, which incorporates copper for anti-odor benefits.
Thermal tights for riding through foul weather
Strategic combination of materials for winter training
Combines wind- and water-resistance with breathable stretch
Fit and articulation designed specifically for cycling
Advanced chamois construction centers the tights around comfort
Ankle zips batten down the hatches with a slim fit
Reflective details are a bright idea for low-light rides
Tech Specs
Material:
[bibs and body panels] HeatMaxx, [front, lower back, and lower leg panels] Light WindDry 2, [back panel] Highlander Mesh, [knee panels] Light Wind Pro, [side and lower leg panels] Pro+ Lycra
Season:
fall, spring, winter
Recommended Use:
road cycling
Manufacturer Warranty:
1 year
Size Chart
Louis Garneau
Men's Apparel
3XS
XXS
XS
S
M
L
XL
XXL
3XL
Chest

32in

(81.3cm)

34in

(86.4cm)

36in

(91.4cm)

38in

(96.5cm)

40in

(101.6cm)

42in

(106.7cm)

44in

(111.8cm)

46in

(116.8cm)

48in

(121.9cm)

Waist

26in

(66cm)

28in

(71.1cm)

30in

(76.2cm)

32in

(81.3cm)

34in

(86.4cm)

36in

(91.4cm)

38in

(96.5cm)

40in

(101.6cm)

42in

(106.7cm)

Seat

32in

(81.3cm)

34in

(86.4cm)

36in

(91.4cm)

38in

(96.5cm)

40in

(101.6cm)

42in

(106.7cm)

44in

(111.8cm)

46in

(116.8cm)

48in

(121.9cm)

Leg Length

29in

(73.7cm)

29in

(73.7cm)

29in

(73.7cm)

30in

(76.2cm)

31in

(78.7cm)

32in

(81.3cm)

32in

(81.3cm)

32in

(81.3cm)

32in

(81.3cm)
How to Measure:

For best results, take measurements over your underwear.

Chest:

Measure under your arms, around the fullest part of your chest.

Natural Waist:

Measure around your natural waistline, keeping the tape a bit loose.

Seat:

Measure around the fullest part of your body at the top of your legs.