Staff Rides: Forrest's Pivot Switchblade
Name
Forrest Dalmer
What is your role at Competitive Cyclist?
Training (Gearheads) and collaborating with our amazing vendors

What made you choose this bike?
I have known for over a year now that I would buy the new Switchblade when it was released and when it came, it was more glorious than I could have imagined. Pivot's attention to detail and construction methods sold me on the brand. I am not gnarly enough or fast enough for the Firebird. I owned the Mach 5.5 and loved the DW link performance and overall handling. I thought the old Switchblade was a solid bike and enjoyed demoing it, but truth be told I thought it was ugly so I never bought one. 
I am 5'6″ and went with a Medium. Reach-wise, I should have gone small, but I have a 31″ inseam and the small ends up feeling like an XC bike with the saddle above the bars.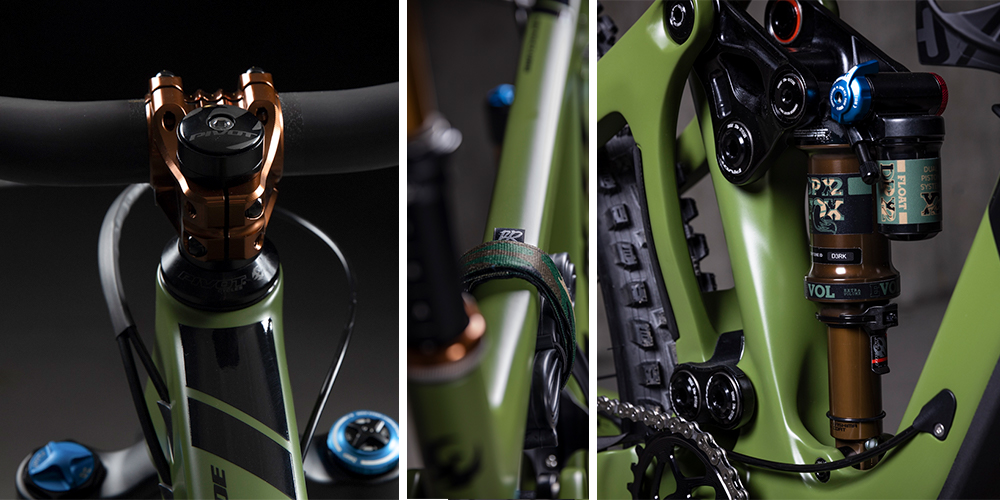 What are your highlighted specs?
I changed some things to make it mine. The WolfTooth ReMote dropper lever was a must—the new lever from RaceFace/Fox is alright, but the WolfTooth is butter.
I went with a Deity Copperhead stem in a shorter 35mm length and Deity Skyline bar. Right now, I have it at 800mm, but will cut it soon to 780mm because 800mm is just too much for me.
The Selle SMP VT30c Saddle is money. It's so comfy and I would highly recommend it for mountain biking.
Finally, my tire setup: Assegai 2.5 WT EXO+ rear and Minion DHF 2.6 WT front. I know most people are running the Assegai as a front, but it works fantastically as a rear tire and there is plenty of frame clearance for it. 
I got hooked on 2.6 tires with my Mach 5.5 and rode them on my Bronson. The extra volume means more rim protection, even with lower pressure, but if you corner extra hard or have a tendency to burp tires currently, 2.6 might not be for you. If you carve your corners instead of trying to blow them up, then you should give it a try. I run 19 psi front and 23 psi rear on my home trails and 23/27 in Moab.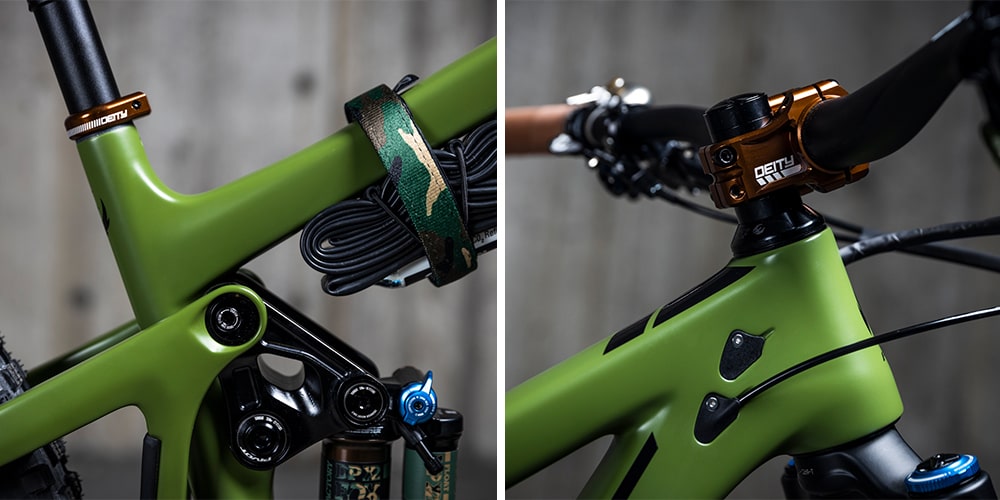 What group did you choose and why?
SRAM XO1 Eagle. I have spent plenty of time on the XT group and I like the smaller jumps between gears and how smoothly it shifts under load. BUT, I prefer how consistently smooth the lever feel of the XO1 is. From the small cog to the big cog, the lever feels exactly the same. Also, I love the modulation offered by SRAM brakes—smooth initial bite and easy to control. I figured I would just keep everything matching.

What wheels did you choose and why?
Stock wheels. The DT M1700's are just a good all-around wheel with a reliable and simple hub design. If I had more to spend, I would have gone with the ENVE M630 wheels and those lightning fast Hydra hubs.
Any other extras worth calling out?
The Spurcycle Bell is the loudest and longest ringing one you can buy. Expensive, yeah, but really nice to have on busy trail days, and beautiful on the bike.
The Elite Cannibal XC bottle cage is great for tight spaces. The design lets you pull your bottle out at an angle from either side of the bike. It's light and inexpensive and it has never lost a bottle on a ride.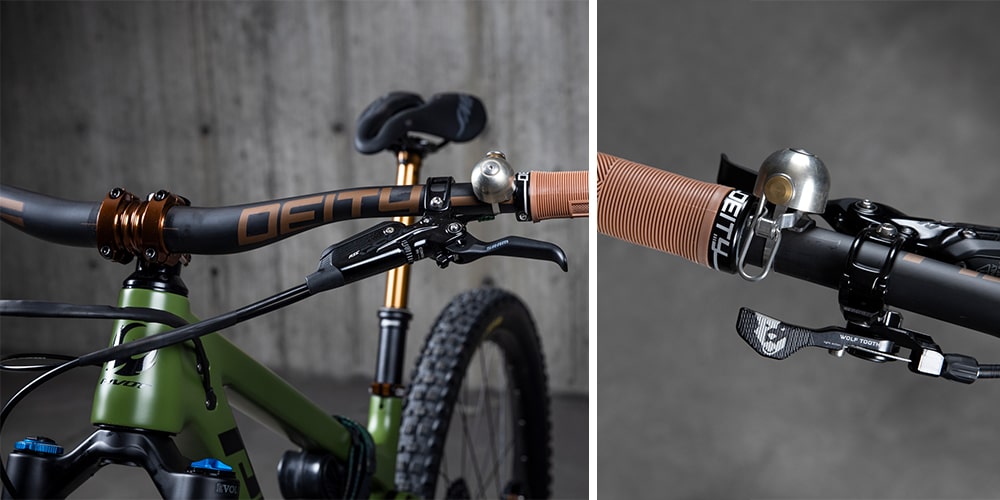 What is your favorite characteristic about your build?
The whole package. It is just a really playful bike, unlike any 29er I have ridden before. I have always been a 27.5″ guy. I prefer the way those smaller wheels ride: more playful = more fun. But I am not a good technical trails rider and for that, I prefer 29″ wheels. This is the first 29er that I have ridden that has the playful nature that I love about 27.5″ wheels, but can still bail me out like a 29er when I pick a bad line.
Where will you be riding it mostly?
I love riding in a canyon south of the Salt Lake Valley. Most people won't go there because it is "far" but it is my jam because it has everything. I don't want to say the name, because then it will get more crowded. 😉
If you could use one word to describe your bike, what would it be?
Frisky—look it up.
---
Want to build your dream bike?
Check out our Bike Builder
---

Forrest's Build

| | |
| --- | --- |
| | |
| Frame | Pivot Switchblade V2 |
| Rear Shock | Fox Factory Float DPX2 |
| Fork | Fox Factory 36 GRIP2, 160mm, 44 Offset |
| Headset | Pivot |
| Handlebar | Deity Skyline, Bronze |
| Stem | Deity Copperhead, Bronze, 35mm Length |
| Grips | Deity Knuckleduster, Gum |
| Brakes | SRAM Code RSC, 200mm Front, 180mm Rear |
| Shifters | SRAM XO1 Eagle |
| Derailleur | SRAM XO1 Eagle |
| Crankset | SRAM XO1 Eagle, 170mm   |
| Chainring | absoluteBLACK 30t Oval (3mm offset) |
| Bottom Bracket | SRAM DUB |
| Chain | SRAM XO1 Eagle |
| Cassette | GX Eagle |
| Pedals | Time Speciale 12 (Not Pictured) |
| Saddle | Selle SMP VT30c |
| Seatpost | Fox Transfer Factory 150mm |
| Dropper Lever | Wolftooth Components ReMote, Lightaction |
| Seatpost Clamp | Deity Circuit, Bronze |
| Wheelset | DT Swiss M1700 |
| Front Tire | Maxxis Assegai 2.5 EXO+ |
| Rear Tire | Minion DHF 2.6 EXO+ |
| Weight | 31.3 lbs |