L39ION Of Los Angeles' 2023 Roster
In 2019, brothers Justin & Cory Williams founded L39ION to, in Justin's words, "eliminate the boundaries we faced and promote diversity in the sport of cycling." In its short history, the team has garnered global attention for its unapologetic style and emphasis on athletes building spaces that spark authenticity, not conformity. Today, the team of 18 specializes in criterium racing. Justin describes crits as "the last, most exciting and fast hour of any road race around the world, placed in a downtown circuit for fans to watch from every corner." With every win, the bedrock of the team's mission to "change everything" is amplified. 
Justin Williams, L39GION co-founder and rider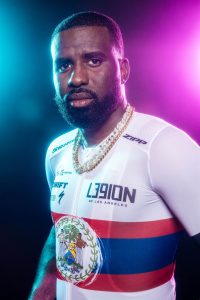 Hometown: Los Angeles, CA
Favorite places to ride: Thousand Oaks, CA and Mallorca in Spain's Balearic Islands
His Story: Growing up on 39th Street in Los Angeles, cycling wasn't the most obvious sport of choice. But Justin's Belizean family roots stemmed from a deep cycling background, and he quickly found his natural talent for two-wheels.
As quickly as he could sprint to the finish line, he began to pick up his first of many national titles. But as one of the only Black cyclists in the sport, he quickly realized how the system wasn't designed for riders who didn't look the same, act the same, and read off the same script. 
Along the way, he took mental notes on all the barriers he faced and thought of new ways to create more equitable opportunities. As his race resume grew, he took every opportunity to use newfound resources and meetings with decision-makers to reinvest into a team of his own design—one that destroyed the barriers he faced growing up. 
After recruiting his brother, Cory as his first teammate, the resumes began to pile up from athletes around the world in search of something different. Before he knew it, L39ION was born.
His tips for new riders: "Sit at the back for a couple of races. Don't overdo it, don't overextend yourself. Racing is about understanding. You can find somebody that looks like they know what to do, and follow what they do. But it's all about being patient, being very patient, and really learning the tactics of racing." 
Cory Williams, L39ION co-founder and rider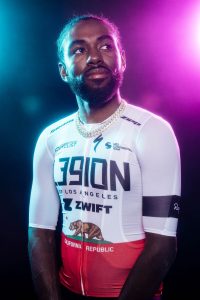 Hometown: Los Angeles, CA
Favorite place to ride: Malibu, CA
His story:  It didn't happen overnight, but through "a lot of hard work," Cory has found a place where he could stay true to himself and excel on the bike. "A lot of just putting my head down and making sure I kept going," he says. His first-hand experience echoes in his guidance for new riders. "If you're getting into racing, the best thing you can do is show up. It's hard to start something, but once you start it, you'll find your way. That's what it's all about, just finding your way and building a support system," he says.
Alec Cowan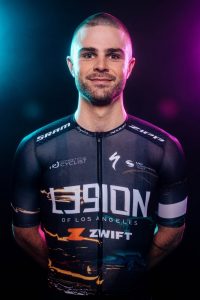 Hometown: Calgary, Alberta, Canada
Favorite place to ride: Santa Monica Mountains in CA
His story: As a junior, Alec raced road and track with the Canadian National Team before moving onto the North American continental circuit and chasing World Tour results. Striving for the upper echelon didn't come without challenges: "I had some difficulty dealing with the stress of bike racing. So I took a break and came back into the sport with a different mindset." Alec says his tenure on L39ION began when "the stars aligned."
His tips for new riders: "You don't have to fit into this cookie-cutter system. You can be yourself on the bike just like another sport. There's no judgment. It's okay to be unique and to be a cyclist, it's not just trying to fit into this perfect norm."
Alexis Ryan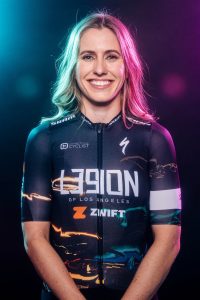 Hometown: Ventura, CA
Favorite place to ride: Santa Monica Mountains in CA
Her story: After racing in Europe for six years, Alexis began feeling the distance from her home. She decided to return to the U.S. on her own terms "because I felt like I wasn't where I wanted to be as far as contributing to my community." With L39ION, Alexis is thrilled to be teammates with her sister, Kendall, and racing on roads across the country.
Her tips for new riders: "Learn how to race before you focus on being strong, because racing is an art form, and that art form is being lost."
Her ultimate goal with L39ION: "To inspire young women to get on bikes, and people of color to get into the sport of cycling and feel welcome."
Amber Joseph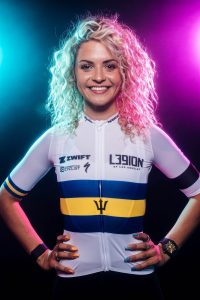 Hometown: Barbados
Favorite place to ride: Home roads of Barbados
Her story: The Barbadian National Champion puts in the work to get the pay off. "I got to this point in my cycling career after a lot of hard work, determination, and persistence, that I was no longer chasing goals, but following my dreams," she says.
Her tips for new riders: "Dream big, have fun with it. And yeah, just enjoy it as much as you can because it'll change your life."
Her ultimate goal with L39ION: "I want to inspire the younger generations. Because when I was coming through the ranks, I always looked up to other cyclists and felt like I could be one of them one day. That helped keep me motivated. I just want to inspire future generations and help girls get into sports and follow their dreams."
Eder Frayre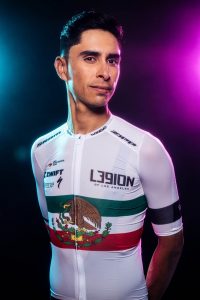 Hometown: Ensenada, California, Mexico
Favorite place to ride: San Diego, CA
His story: The Mexican National Champion and competitor at the 2021 Tokyo Games started riding when he was a kid and feels like now he's at the best point in his cycling career: "Now it's the moment to enjoy and keep working hard because it's a big responsibility being [on] this team. [I'm] proud to be here."
His ultimate goal with L39ION: "To show to people, to the world, [that] if we give opportunity to people from other countries, from other situations, we can have successful results." 
Gavin Hoover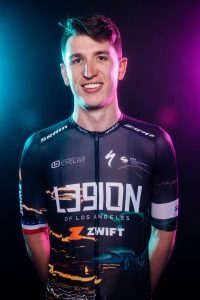 Hometown: Los Angeles, CA
Favorite place to ride: Santa Monica Mountains in CA
His story: Gavin's cycling story is all about persistence. He says he puts "one foot in front of the next." After kicking off his cycling journey at a Los Angeles velodrome youth program, Gavin gradually began racing nationally, then around the world. His persistence eventually granted him a spot at the 2021 Tokyo Games for Team USA.
His ultimate goal with L39ION: "L39ION is giving us this incredible platform to be more than just an athlete. I've spent a lot of the last two years in a high-pressure environment, focused around [medaling] and it's very myopic. Coming here and seeing all these different perspectives … it's about showing people that you don't necessarily have to fit into this really rigid box to be successful."
His tips for new riders:  "Keep it fun, just enjoy it."
Julyn Aguila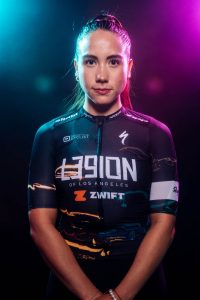 Hometown: Mexico
Favorite place to ride: The older areas found in Mexico
Her story: Coming from a big cycling family, Julyn was inspired to get into the sport by her father, who also rode. Riding continues to permeate every aspect of her life—her husband even proposed to her on a ride! She had incredibly tired legs from racing in Illinois for ten straight days, but saying "yes" at the top of a climb made it the best ride of her life.
Her tips for new riders: "Never give up. Cycling is a sport to be passionate about—just keep going."
Kendall Ryan
Hometown: Ventura, CA
Favorite place to ride: Ventura, CA
Her story: The 2021 U.S. National Criterium Champion has been racing since she was six years old. Similar to a number of her L39ION teammates, she preferred a home base in the United States over racing full-time in Europe. "It wasn't really aligning with my goals," she says, "I talked to Justin, and he was going to bring me on board and start a women's team. And here we are."
Her ultimate goal with L39ION: "This is a severely male dominated sport, and I would really like to encourage a lot more females to get into it, ride their bikes, have fun, race, and see how awesome cycling is."
Her tips for new riders:  "Surround yourself with a very supportive group of people."
Kyle Murphy
Hometown: Minneapolis, MN 
Favorite place to ride: Vermont … in any season, really 
His story: Kyle ripped around his cul de sac with the neighbor kids when he was younger, and eventually tried his luck raacing school buses to the line as well. In Portland, OR, he began to ride track bikes around town and met up with the alleycat community, which got the wheels spinning towards a racing career that would take him all the way to Europe. The U.S. National Champion is now rediscovering his passion for racing at home with L39ION. 
His ultimate goal with L39ION: "I want to reconnect with fans and races in the U.S., lead a balanced lifestyle that lets me be a good father as well as a racer, and help L39ION continue to raise the bar at the races." 
His tips for new riders: "Don't ever forget this is all about having fun. Prioritize riding with friends and people you admire. If you have a local race series or group ride, jump into it. And always remember it is when you rest that you get stronger. I have seen way too many friends burn out on the sport by thinking they need to train harder than everyone else." 
Lance Haidet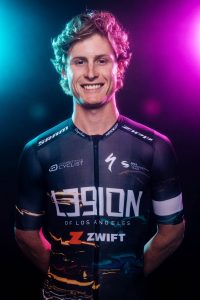 Hometown: San Luis Obispo, CA
Favorite place to ride: San Luis Obispo, CA
His story: Originally a soccer player, Lance began riding mountain bikes and cyclocross after a series of injuries. He naturally gravitated to cyclocross "because it combined his running background with bike racing." Lance went on to win the U.S. National U-23 Cyclocross Championships, followed by the U.S. National Under-23 Road Championships a few years later.
His ultimate goal with L39ION:  "We do a great job of trying to make the bicycle something that everyone can enjoy. I think the bike is just a powerful tool to show people the world around them."
His tips for new riders:  "Don't take it too seriously. It's really easy to get your head stuck in the numbers and focus on results. [But through experience] you learn how to be a better bike racer. Just enjoy the process."
Robin Carpenter
Hometown: Philadelphia, PA 
Favorite place to ride: The rolling hills of his hometown  
His story: Robin's been riding and racing road bikes since he was 10 years old. 2023 marks his 12th year of his career as a pro roadie, in which he has won races in Europe and North America. He rides because he loves it … for the thrill of competition. 
His ultimate goal with L39ION: Robin's goals as a member L39ION of Los Angeles are to help the team continue its tenure of U.S. criterium dominance and work to reinvigorate the community of bike riders and racers throughout the country. 
His tips for new riders: "Amateur racing can sometimes be hard to find and even harder to figure out once you're there. Local cycling clubs can often help you navigate these new experiences with in person events like group rides. I think every new rider should join a local club." 
Sam Boardman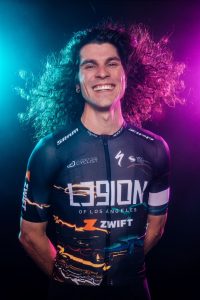 Hometown: Washington, DC
Favorite place to ride: Malibu Mountains in CA
His story: The competitive drive took hold for Sam in high school with track & field. But running—which we hope all readers here know—is a "pretty brutal sport if you're not just physically gifted for it," he says. He was drawn to cycling when he saw that there were "a variety of people who were able to be successful in the same sport." In 2020, he asked Justin and Cory if he could join L39ION and the team's cause. "Now we're here," he says.
His ultimate goal with L39ION: "Racing is not the end-all-be-all of what a cycling experience can be. Getting on a bike is largely experiential. Cycling should be [about] liberation, education, independence, and freedom."
His tips for new riders:  "Don't have any expectations for yourself. Not having expectations leads to actually having more fun and more room to develop in a healthy way rather than holding yourself to goals that you don't even really know you have until you have raced for a significant amount of time."
Samantha Schneider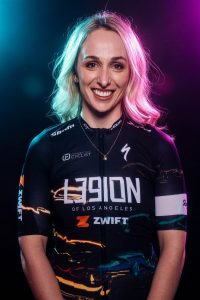 Hometown: West Allis, WI
Favorite place to ride: West Allis, WI
Her story: Sam has been at the winning end of criterium racing for years. After taking some time away to have her first child, she's teamed up with her sister Skylar and is ready to return to the podium as a L39ION rider. She's got the experience and drive to do it: "I've always worked as hard as I can and followed my gut to lead me where I want to be."
Her ultimate goal with L39ION: "I want to inspire people to reach for their dreams, whether it's on the bike or not. I just want to be that inspiration for people so they can see that no dream is unattainable."
Her tips for new riders: "Have fun and ask questions. There's no such thing as a dumb question when you're starting out. Sport and cycling can be scary so just enjoy it."
Skylar Schneider
Hometown: West Allis, WI
Favorite place to ride: West Allis, WI
Her story: Skylar, though just 23 years old, has spent nearly two decades preparing for this point in her career. After her early years shredding BMX, she transitioned to blasting road miles, eventually competing in the World Tour. Her favorite place to ride is at home though, and with L39ION, she can race across the United States and connect with fans. She says she's "really happy where I am and excited for what's to come."
Her ultimate goal with L39ION: "The biggest impact I want to have in the sport is just being someone for the little girls to look up to. Last year alone, it was really humbling how many girls came to me before races to take pictures. They found me after the race and were just so excited. So if I can help nurture that next generation, that would mean a lot."
Her tips for new riders:  "It's good to make some friends. It's kind of lonely to go out training by yourself whether you're getting into racing to be competitive or pro one day. It doesn't matter if you're just having fun, if you have people encouraging and motivating you, it makes all the difference."
Ty Magner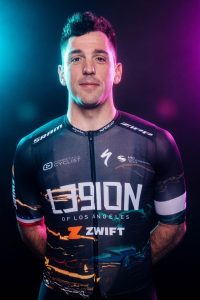 Hometown: Athens, GA
Favorite places to ride: Southeast Georgia & North Carolina
His story: Ty's picked up a thing or two in his years of racing at home and abroad. But with L39ION, he's got a real connection to the riders on the squad and is helping the team's mission of reshaping the U.S. racing scene. As the 2018 U.S. Pro Criterium Champion, Ty is one of the most tactically savvy riders in the peloton. "I've always had a real affection for racing criteriums. But I was out of a job at the end of 2020. I called Justin and said, 'Hey, man, if you have anything awesome going on next year, I'd love to be a part of it.' And here I am."
His ultimate goal with L39ION: "Give kids a future in racing in America, not necessarily just in Europe or anywhere else in the world. I'd like to go to an elementary school and say, 'You can have the dream to be a professional cyclist in America.'"
Tyler Williams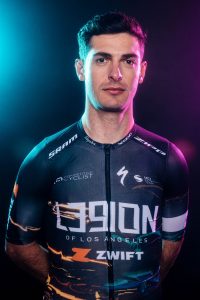 Hometown: San Francisco, CA
Favorite places to ride: Sonoma County in CA
His story: Tyler's work-ethic has earned him spots on some of the biggest stages cycling has to offer. He did two years with the junior national team, then signed with the BMC development team for three years. After one year with Axeon-Hagens Berman, he went on to Israel Cycling Academy. After some time away from the sport, he found L39ION, which he describes as "the place where I was supposed to be, finally."
His ultimate goal with L39ION: "If we could create something where it's sustainable to live your dreams as a professional cyclist in the U.S. … if I could give that opportunity to people in the future, that would be a big accomplishment."
Yarley Salazar
Hometown: Culiacán, Mexico 
Favorite place to ride: He's split between Calpe, Spain & Sinaloa, Mexico 
His story: Yarely is a massive talent on wheels who races track and road, collecting championships along the way. He's a World Cup medalist in the  Omnium, the Pan American Champion, a Vuelta Valencia stage winner, the 2021 Mexican National Road Champion, and a competitor in the Games. 
His ultimate goal with L39ION: Yarely wants to take his cycling abilities to another level as well as become a "better person and cyclist by motivating the new generations of cyclists." 
His tips for new riders:  "Discipline leads you to success." (We can't argue with that.)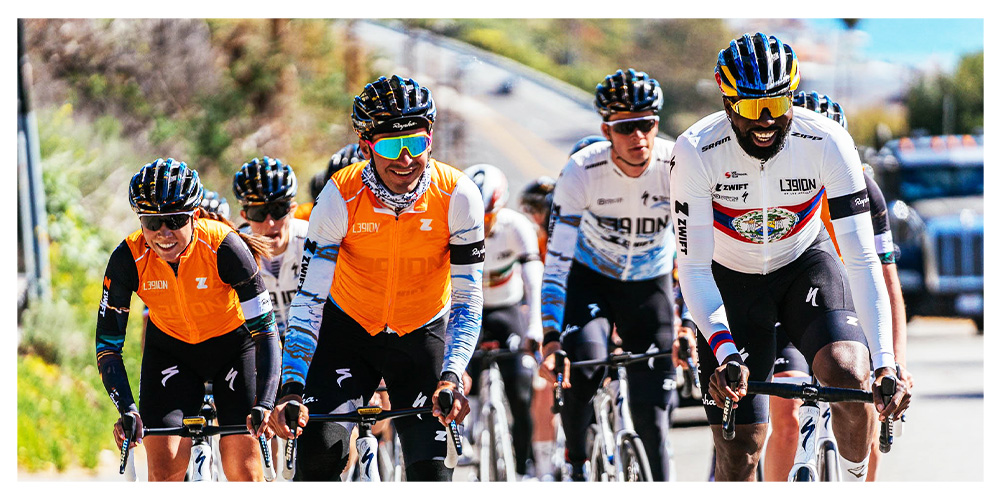 Stay in touch with L39ION news, the latest gear releases, and community stories in The Lion's Den.
Photos by Kit Karzen