How To Prepare For A Bike Race
Kendall Ryan and Ty Magner of L39ION of Los Angeles show up to crits looking for the top step of the podium weekend after weekend. And for all the racers here in the office and all of you chasing your own local podiums, we want to know how they prepare for race day. From the workouts they use to get ready to mental prep, here are L39ION's top tips. 
Priming Workouts For Racing
Chill.  
It's far too easy to go overboard thinking you're going to make noticeable fitness gains leading up to a race. Kendall recommends controlling the variables that you can and not digging yourself into a hole. "It's more about maintenance and making sure I'm well rested. I'll do some steady tempo rides in the beginning of the week, but nothing too long, and throw some sprints and a few high-intensity efforts." 
Limiting excessive metabolic loads is the key, which is why she avoids rides that are longer than 2.5 hours leading up to the race and increases her downtime and recovery to avoid overreaching. Her favorite efforts are 30 seconds on/30 seconds off, which if done sparingly, can leave you sharp come race day. 
But everyone is different, and it can take some time to dial in your ideal race preparation.  
Mental Preparation For Racing
When it's race day, Kendall and Ty recommend turning off until you need to turn it on. Keep your energy healthy and be yourself. You've done the work, there's no need to stress. But even Kendall, the multi-time crit champion, isn't immune to the pre-race jitters. "I get bad pre-race anxiety, especially in pre-race meetings with the team. It's something I constantly have to work on. Being relaxed is important," she says. 
When you're on course for recon laps, take it easy there, too. Don't waste energy. Kendall recommends staying calm and analyzing the corners, the pavement quality, the wind direction, and how the bike feels under you. 
Race Day Warmups
Ask anyone at the race whether they warm up before and you'll likely find no consensus. Physiologically, a warmup aims to mobilize fats before the race starts, which will be used as fuel, increasing endurance. Mentally, a warmup acts as a systems check and helps you get an assessment of how you're feeling before the race. Ty and Kendall don't do pre-race warmups.  
You could say it's their years of practice that help them be more efficient and approach the start line with the right mentality. And you could also argue that they are both protected sprinters, so the race itself is their warmup to prepare the legs for the last laps.  
We say if you're planning on going from the gun, getting in a warmup will likely help your chances of launching a successful start line attack. If you're nervous, a warmup should be a nice distraction and help spin out some jitters. And if you're a sprinter, like Ty and Kendall … save your legs for the end.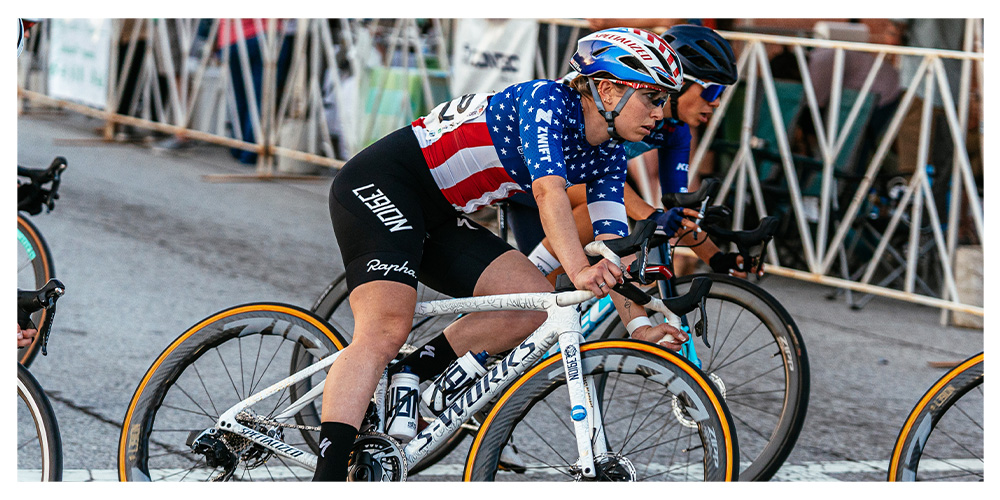 Preparing For The Next One
After the race is over, Kendall recommends grabbing some savory foods, cookies, and gummy bears. Ty gave us a surprise with his Thai food recommendation—one flavorful option we don't hear often.  
Once you've recovered, look back at your race and think about areas you can improve on for the next one, Kendall says. It's ok not to be happy with how the race went. You can always practice new skills and apply them throughout the year to chase after the win. 
Speed Round With Kendall And Ty
Best tire pressure? 
Kendall: That's personal 
Ty: 65 front/65 rear 
Best race day song?
Kendall: "Started" by Iggy Izalea 
Ty: Whatever the team is playing 
Mistake to avoid? 
Kendall: Not double-checking your equipment 
Ty: Stressing 
Nutrition during the race? 
Kendall: Energy bar 30 minutes before; drink mix in the race bottles 
Ty: Energy chews or caffeine gels 
Best wheel depth for crits? 
Kendall: 40-60mm 
Ty: 40mm 
For more about your favorite team, their race schedule, and what they're up to, head over to The Lion's Den for all things L39ION of Los Angeles.