7 Tips for Indoor Training
Gearhead Todd Anderson has been riding trainers from entry-level models to high-end machines for 11 years. Here, he shares some indoor training tips he's learned along the way to help you maximize your at-home pedaling routine.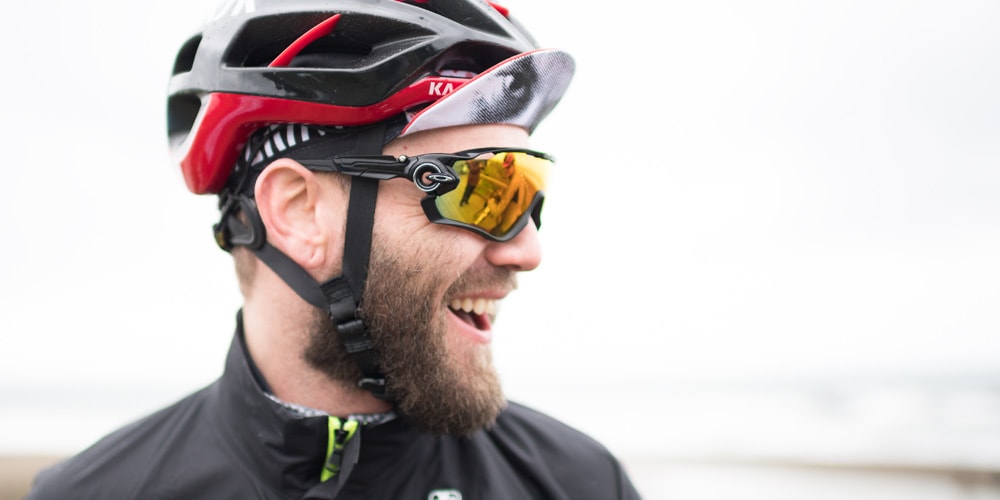 Driven inside by Utah's snowy winters in 2009, my trainer journey began as an off-season activity and expanded into a year-round program to maximize progress. 
Currently, I spend at least two days per week training indoors with an eclectic setup: a Tacx Neo2 trainer on a CycleOps mat with a Wahoo desk and Lasko fan. To help me stay on track, I use TrainerRoad planning tools and analytics. 
Whether you're a longtime inside rider or are looking to kick off an indoor training program this winter, read on for some of the tips I've picked up along the way.
1. Make Training Indoors as Easy as Possible
If you can, leave your training environment set up at all times so you can simply put on some bibs or chamois, grab some water, and hop on. The easier it is to get started, the more likely you'll be to get in a workout during a hectic day. 
2. Add Some Fun With Training Apps
Get on one of the amazing software programs available like TrainerRoad or Zwift to provide more structure and engagement—it helps pass the time, and can actually be really fun. If you're up for it, jump into a group workout with your friends on TrainerRoad, or a group ride or race on Zwift.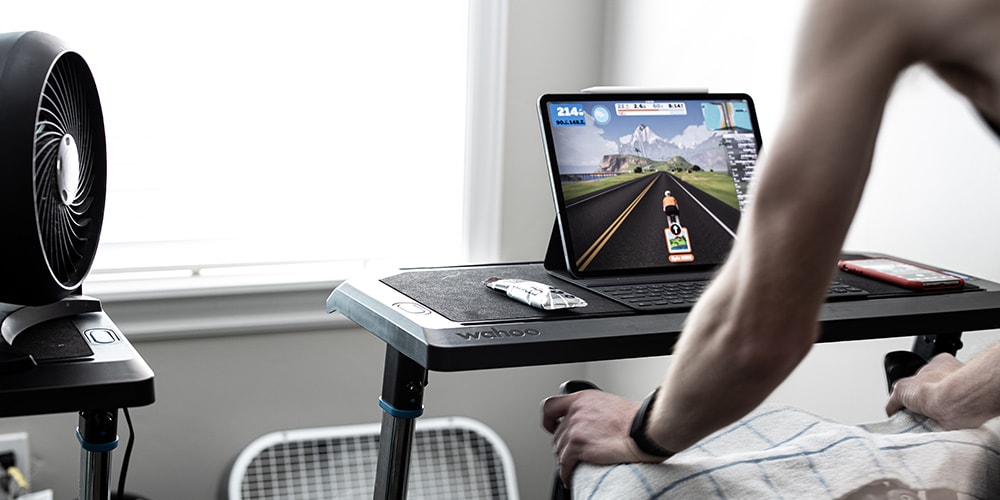 3. Maintain Your Bike
Don't forego regular tuning and maintenance just because you're riding inside. Just like riding outside, your rig needs proper drivetrain adjustments, a clean and lubricated drivetrain, and proper tire pressure to make it last. 
And don't underestimate the corrosive properties of sweat—wipe down your bars, stem, top tube, and any other areas after each ride to protect your paint from damage. A clean bike is a happy bike. 
4. Hydrate & Practice Good Nutrition 
You sweat a lot when you train, even if your room is cool and you're running a fan. Make sure you have easy access to water bottles in your cages or on a nearby desk and consider adding electrolyte powder to help you recharge. 
To get the most out of your training, you'll need to make sure you consume balanced calories and a protein source to repair your muscles. While nutrients found in whole foods are most effectively absorbed by the body, gels, chews, bars, and powders have been formulated by experts to mimic this effect and up the convenience factor.
5. Get a Quality Indoor Trainer
Luckily, there are high-quality trainers available throughout the price spectrum. Here are some tips within each price range: 
Budget-friendly: The Saris Mag was the first trainer I ever owned. I rode it for several seasons with no issues before I decided to upgrade. It's mechanically simple, relatively low price, and gets the job done.
Midrange: I recommend the Wahoo Kickr Snap here. It's a great wheel-on smart trainer for the price from a brand I trust. And it lets you join in the fun of apps and games without breaking the bank.
High-End: This one is a toss-up for me—there are some really great, direct drive, smart trainers. The Elite Direto is amazing for the value and the Wahoo Kickr is a staple of the high-end trainer market. I personally ride the Tacx Neo2T Smart and have ridden almost daily for a year without any issues. It's virtually silent, and the realistic downhill feel and cobble/gravel simulation is a nice touch. 
6. Run a Fan
A quality fan is a must—the more airflow the better when you're going hard in the pain cave of some V02 Max intervals. The Wahoo Headwind is an exceptionally good fan that can even adjust its power depending on your heart rate. Lasko also makes some great options. 
7. Cross-train 
Supplement your on-bike training with bodyweight exercises and other ways you enjoy moving. Cycling is great, but working your other muscles will help you feel balanced.