2020—Racers' Recap of an Out-of-True Year
Racing in 2020
If you're reading this, you probably had some event goals mapped out for 2020. You did the miles, registered for the races, and gathered the gear to take you toward the finish line. But when worldwide events forced a shift in expectations of what was achievable, we all dealt with how to refocus and set new goals without really knowing when we'd be at the startlines again. And we're all eager to pin on numbers and get back to some fun—in-person—racing. 
We sat down with our own racers to find out how they adapted to the altered calendar to maintain positive outlooks on their cycling experiences and set goals for, hopefully, a wide-open 2021 on two wheels. Their takes and ambitions follow below.
Expert Racer and Gearhead Megan B.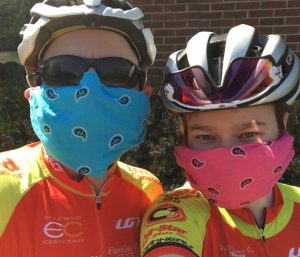 Megan is an exceptional talent on a bike—lots of bikes actually. BMX, cyclocross, track, road, MTB, downhill, and a generous side of gravel…she lives for the bike. And while 2020 took her off the startlines, she responded by making her own.
"All of my goal races were cancelled, and I only raced online this year. I was definitely targeting March for my return to racing—coming back from my last injury and racing into my way into fitness for goal races in summer." —Megan B. 
Megan was already set up to train at home with an indoor trainer, some kettlebells, and hand weights. She lives with her family, whom she also trains with on and off the bike. With their support and her equipment in-house, she was able to refocus her 2020 event goals to fun online team rides and challenges. 
"My coaching staff loves racing online and trying to get level-up rewards. And I actually just won my first virtual race a couple of weeks ago…I was so proud of myself!" —Megan B.
While she's still focused on maintaining racing fitness, she'll take any level of normal that comes in 2021. Just riding outside with friends—instead of virtually—would be exciting. 
"I am not setting expectations for this coming year. I am hoping to ride with my friends and college riding buddies in-person and not through a video screen!" —Megan B.
Expert Gravel Seeker & Racer H. Donut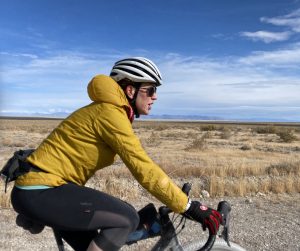 Donut knows gravel races and two-wheeled off-road exploits are always on her weekend calendar.  Powered by adventure, laughter, and the snacks stuffed into her framebags, she set her 2020 goals toward gravel events with her new team and wanted to challenge some of the hardest races around. 
"The most impactful part of my year riding happened early in the year: Team Camp for WTF BX Gravel Team. We spent a week riding hard and talking about how to create change and take up space in gravel racing, culminating in the Ruta del Jefe race by Sarah Swallow. I'm still in awe of our efforts on that day full of downpours, mechanicals, and mud, making it back to the Ranch as three of just a handful of folks who finished." —H. Donut
She thrives outside and finds it hard to train the bike inside. Fortunately, as a local to the Salt Lake area, it wasn't too hard to find proper, socially-distanced outdoor space to stay healthy and moving as COVID-19 spread.
"I rode outside more than in previous years. There were weeks when I picked a different canyon on the Salt Lake's Wasatch front each day and just rode for the joy of it."  —H. Donut
When she has to work out at home, she's definitely got a flair for old-school minimalism mixed with ingenuity. 
"My home "gym" (it is a corner of the living room) includes really minimal equipment, with which I feel like I can do whatever I need. Yoga mat, old tube as a resistance band, and a backpack filled with books as added weight for workouts."  — H. Donut
While event cancellations and missed team camps didn't make 2020 easy to get through as a racer, she stayed focused on the positives and is ready for some "Big Dumb Rides" with friends in 2021. 
"My own riding will always center on joy and having the fitness to enjoy the scenery on the biggest, dumbest, rides." —H. Donut
Expert Racer & GHX Bike Expert Kyle B.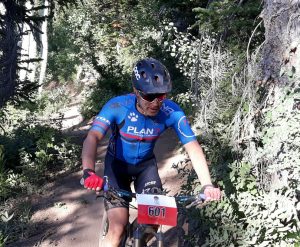 On road, dirt, and snow, there are very few places that Kyle doesn't ride his bike or explore. An experienced and competitive road cyclist, mountain biker, and triathlete, he set big race goals—IRONMAN® and the XTERRA® World Championships. COVID-19 took his 2020 expectations down a notch, but he's not holding anything back when 2021 racing resumes.
"Most of my racing events were cancelled; the biggest loss was the Ironman. My son and I had set this up for a huge year for us to celebrate my 50th birthday." —Kyle B. 
Even though his event calendar took a hit, he focused on training and staying positively engaged with his community safely outside and in the spin-studio. 
"I rode outside, mostly the mountain bike. And I teach spin classes several times a week, which makes up a lot of my indoor training. My program was fairly normal for 2020, I just trained less with people outside of my family." —Kyle B.
With the social restrictions and travel limitations, Kyle's team camp meet-ups weren't able to happen this year. He focused closer to home and put that energy into his time as a coach for a local high school MTB team. 
"I had a lot of social interaction that way, which was great. It was a different experience for the kids, coaches, parents and took a lot of adjusting." —Kyle B.
2021 presents new challenges and goals and he's anxious to make up for moments he missed out on this year.  
"I plan on making up for what I missed this past year. I have a new IRONMAN as well as a half on the schedule. And I'm excited to train with my son for XTERRA in Kona again. I'll do some road racing and some MTB. Fingers crossed for all this to work out and happen! I've missed the bonds and social interactions a lot." —Kyle B.
2020 may not have been the year for the racer. But it provided us a new perspective and helped solidify our determination to be cyclists and pedal forward. In 2021 we're ready to reunite with friends, high-five our fellow racers, and hear that startline whistle once again.