This carousel displays a list of buttons that updates the main product image when a button is clicked
Quarq
DFour91 Power Meter Alloy Crank Arms - GXP
Sale
60%
Off
$399.99
$999.00
Item # QRQ802N
Select options
Cancel

Select options

Black, 175mm/110 Asymmetric BCD ($399.99)
Free Shipping on orders over $50
Item #

QRQ802N
Description
DFour91 Power Meter Alloy Crank Arms
It can be frustrating getting on the bike in the spring, having spent countless hours spinning away staring at a screen through the winter, only to find that your pre-season goals didn't truly equip you for the riding ahead. While you could throw in a few different exercises, turn up the resistance on your trainer, and integrate weights to your workout, truly finding the areas where you can grow as a cyclists is near impossible without cold, hard data. Quarq has long been a leader in the world of power meters, which means that while packed with all of the bells and whistles you could need, the cranks were also expensive, but the DFour91 Power Meter Alloy Crank Arms changes all of that, packing in a robust alloy construction, plus all of the data you'd find in the pricier carbon version. With the exception of the difference in compatibility, the DFour91 includes all of the technology of the DZero and DFour packed into its spider, most importantly the power meter itself. The power meter saw some hefty reworking, with Quarq claiming 150 documented improvements, asserting leaps and bounds of advancement above previous models, with the most significant enhancements made to the strain gauges and measurement circuitry in the heart of the meter. All this is followed up with a new forged alloy build that drops the price, while keeping your setup reliable through challenging conditions.
As in previous models, the DFour91 incorporates five meticulously placed strain gauges throughout the spider, designed to measure how many Newton Meters you're putting out when you hammer on the pedals. And it still incorporates the same level of claimed accuracy at +/- 1.5%, keeping it 0.5% more accurate than most meters. One of our favorite features, though, is that the new design doesn't require as much correction in order to maintain accuracy through massive temperature ranges, allowing things to work smoother when the mercury drops. This means that the DFour91, like the DFour, is better at rationing battery life through changing weather, but when the battery does die out, it's still easy to change without tools or tedious procedures.
Quarq's 10K Dynamic temperature compensation technology graces us with its presence in the DFour91, alleviating us from the stress of constant mid-race zeroing when the temperatures fluctuate on long alpine climbs, or early morning to warm afternoon race days. While making corrections may seem like they come at a minuscule cost of coasting for a couple of seconds, it can make all of the difference between the podium and sidewalk come race day. Not to mention the incessant annoyance of toggling through your head until you've found the right option. Approximately 10,000 data points chart a map to create an auto-adjust schedule for the meter by collecting information on how the unit responds to temperatures from zero to 130-degrees Fahrenheit. This enables the power meter to decipher the weather for you, so you can focus on the climb ahead and your triumphant victory.
Gracing us with their presence again are Power Balance and Omnical. Power Balance records data to tell us our total output, and output for each leg individually, enabling us to better focus on a single side of the pedal stroke if needed. Omnical lets us swap rings when needed without the need for recalibration or impeding accuracy of our data. The DFour91 gives us total confidence with the use of any head unit thanks to both ANT+ and Bluetooth communication, unlike previous models that only used ANT+, meaning that its compatibility expands to pair with near any computer for seamless data transfer.
Since riding season far surpasses the days of sunshine and daisies, the DFour91 is built to not only withstand the large temperature ranges, but serious weather. Quarq takes our winter training seriously, by ensuring that its internals are protected from monsoon rains and blizzards alike. The system is completely waterproof for up to 30 minutes when submerged under a full meter of water, which hopefully you never have to test out, but gives you the peace of mind you need when the weather man's "mostly sunny" forecast takes a turn for sudden downpour.
With all of the tech that's loaded into the DFour91, its no surprise that its topped off with the bells and whistles. It includes AxCad accelerometer, which provides cadence information, sans extra magnets and sensors to make sure you're not missing out on any additional data you crave. The system is compatible with a host of training programs, like Golden Cheetah, Strava, Training Peaks, and Training Peaks WKO+. The DFour91's Bluetooth compatibility also allows you to sync up to the Qalvin BLE app, enabling easy firmware upgrades, tuning, tweaking, and setting zero offsets.
Boost your training with data that doesn't drain the bank account
Forged aluminum crank arms are reliable without breaking the bank
Provides power data for each leg individually, or together
Strain gauge system is redesigned for increased precision
Communicates with ANT+ and Bluetooth for easy pairing
Requires less correction for better data and longer battery life
Easily swaps between frames and chainrings
Battery can be changed by home mechanics without tools
View more Powermeter Cranksets - Road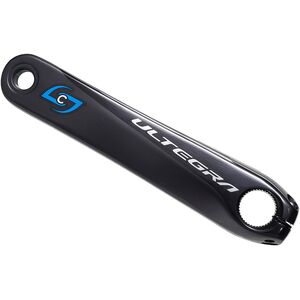 Stages Cycling
Gen 3 Shimano Ultegra R8000 Single Leg Power Meter Crank Arm
4.5 out of 5 stars from 3 reviews
5
3
(3)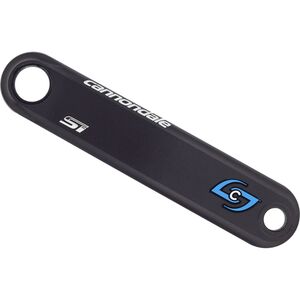 Stages Cycling
Cannondale SI L Gen 3 Power Meter Crank Arm
5 out of 5 stars from 1 reviews
5
1
(1)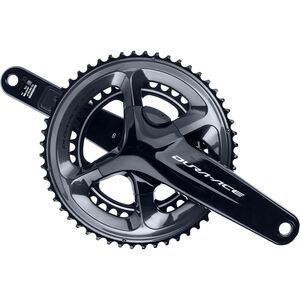 Shimano
Dura-Ace FC-R9100-P Power Meter Crankset
5 out of 5 stars from 1 reviews
5
1
(1)
What do you think about this product?