This carousel displays a list of buttons that updates the main product image when a button is clicked
Feedback Sports
Sprint Work Stand
Item # USS0026
Free Shipping on orders over $50
Item #

USS0026
Description
A work stand that works with you
While working on carbon bikes, it's a bad idea to finagle them into a traditional work stand. Integrated seatmast? Good luck. Aero seatpost? Keep trying. And while the jury is still out on even clamping carbon fiber, you're better off securing your bike how every pro-team mechanic in the world does -- by the dropout and bottom bracket. Cleaning your drivetrain, installing new parts, and adjusting derailleurs can all be done quickly and safely with the Feedback Sports Sprint Work Stand. Known to some as a 'Euro-stand', this style of work stand avoids contact with your seat post, so you never need to worry about clamping your carbon post to hard or finding a way to work around your aero mast. A great option for home repairs and race support, the Sprint Work Stand is made from lightweight, Red-anodized aluminum that won't rust after a rainy spring or fall on the service course. The bike is held by the bottom bracket and a single-point quick release mount that holds all sizes of front and rear dropouts and axle diameters up to 15mm. The stand has an adjustable work height of 30 to 48in, and it also has 360 degrees of rotation. A major perk is that the adjustable fork and bottom bracket positions guarantee that you aren't fighting the stand to get into the nooks and crannies of the bike. The tripod base provides stability on varied surfaces like dirt, gravel, or sloping pavement. The stand can hold up to 85 lbs and folds down to a 5 x 7.5 x 30in size. The Feedback Sports Sprint Work Stand comes in anodized Red only. Note: To use this stand with 20mm axles an adaptor is required. This part is sold separately.
Lightweight, red-anodized aluminum
Single-point quick-release mount fits all sizes of front and rear dropout and axle diameters up to 15mm
360 degrees of rotation
Adjustable work height of roughly 30 to 48in
View more Repair Stands & Accessories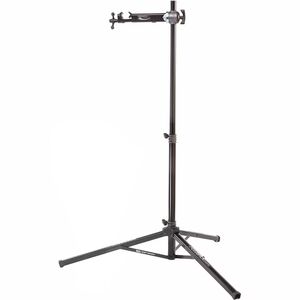 Feedback Sports
Sport Mechanic Bicycle Repair Stand
4.5 out of 5 stars from 38 reviews
5
38
(38)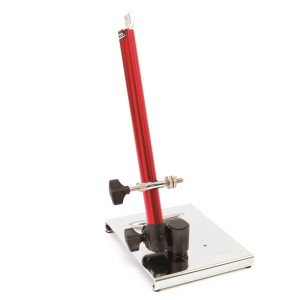 Feedback Sports
Pro Truing Stand
4 out of 5 stars from 2 reviews
5
2
(2)
What do you think about this product?
Will this stand work with 12mm thru axles?
Geoffrey G.
Jake D.
April 18, 2020
"holds all sizes of front and rear dropouts and axle diameters up to 15mm" - sounds like yes.
The Only Stand For Your Road Bike
Familiarity:

I've put it through the wringer
Having worked on the road as a team mechanic for near a decade before my current job at Competitive Cyclist, I can tell you that this is the best stand for your road bike be it rim or disc brake. With the mounts being fully adaptable, it not only houses such a wide variety of bikes, but makes it significantly more easy to wash and tune them. The platform rotates a full 360 degrees allowing washing to be a breeze, and keeping you from having to dodge a giant post holding the clamp for your seat post. This also comes in handy when overhauling a bottom bracket. The lightweight construction makes this work stand extremely pack-able, and easy to carry to your races. There is a reason I own 4 of this model alone. Feedback stands just work, and they work extremely well. If you have any questions about this product, please reach out to me at ZFoley@CompetitiveCyclist.com and I'm happy to help you compare!
Zack Foley
>Rating:
December 1, 2018
Can this stand handle a tandem, or would it be unstable with so much of the bike hanging off past the bottom bracket holder? Also, it is easy to change the stand between QR and through-axle forks?
Hal Schnee
Clayton Otto
December 4, 2018
Hi Hal, This stand would be to top heavy with a tandem. It would hang to far off the back end. It is pretty easy to change from QR to Thru-Axle. It is just a couple end caps.
>Rating: 5
November 19, 2018
Awesome workstand
Familiarity:

I've used it several times
This is by far the best workstand I've used in all my years. It's sturdy but at the same time lightweight and looks awesome. Recommended for everyone that wants to repair his own bike without leaving home.
Luis Felipe Rivera
I went to the owners manual but it did not provide the axle diameter. It is a Scott Solace 20 with disc brakes carbon fiber. The Solace is a performance bike. The axle screws out. Is an adapter required?
Terry Gosnell
Really nice stand with some caveats
Familiarity:

I've used it several times
I had a Feedback Sports stand that I loved. It was a seatpost clamp stand. It was awesome. Alas, I purchased a new road bike that has disc brakes, a seat-tube mast, and thru axels. The clamp would not work with the mast (it could easily crack if over-torqued), so I sold the old stand and purchased this. As was my old stand, it's a well engineered thing of beauty - as one would expect from Feedback Sports. It's easy to use, strong, and I love the spinning capability. Here is the downside: 1 - It takes longer to set up and break down 2 - Mounting the bike by removing the front tire is a PITA 3 - My thru axle is a 12mm, and I needed to purchase an adapter to fit (another ~$20). For a quick fix or bike wash, nothing beat the old stand. However, as more and more road bikes will have thru axles and disc brakes - it was inevitable.
gsdwnhllfst
>Rating: 5
September 13, 2016
Treat your carbon lady like a queen
Familiarity:

I've used it several times
This is actually my second Feedback Sports work stand. I purchased a Pro Elite several years ago and it continues to serve me well. Working on carbon bikes was getting to be a bit of a chore trying to find a good place to clamp with the Pro Elite stand. I saw one of those gear reviews during the 2016 TdF that featured the Sprint stand and I thought it might be time for a stand to work on the carbon bikes or bikes with odd tube shapes. Sure, pulling a wheel to get the bike in the stand seemed like a nuisance to fix something. It completely eliminates the worry of crushing some carbon piece on your bike. The adjustments on the stand make it super easy to drop any bike in and hold. Most of the time you'll probably be using the front wheel but if there is a need you can easily do the rear wheel also. The spin feature is the real darling of this stand. You can set the height where you want. Move the spin collar into place and lock it down and then release the height clamp and spin the bike to your hearts content. I never realized how many times I was walking around the bike in the stand. This feature alone is the reason to pick up a stand like this. Worry not about a heavy bike that has an odd balance point. You can set where the bike sits over the center tube of the work stand. Also, the optional tool tray fits on this stand quite easily with the included sizing collars.
Paul Holden
>Rating: 5
August 18, 2016
Great Purchase
Familiarity:

I've used it several times
Very good quality of construction. Use is well thought out and straight forward. This stand makes working on as well as washing your bike much easier and enjoyable. Money well spent.
Conrad P.
Hi. Can this stand works for old 90s rigid fork MTB? I have both road bike and rigid fork bike forcommuting. So I am not sure if this stand will fit my need.
Ewo L.
Bill S.
July 20, 2016
Ewo, it will fit it as long as the spacing is 100mm or greater.
A great stand...99% of the time.
Familiarity:

I've put it through the wringer
Like the previous posters, I've found the stand to be light, stable, and comfortable to work with. Getting the bottom bracket higher and the ability to spin the bike are some serious bonuses over a traditional stand, and washing the bikes is easier than ever. The adapter for a thru-axle works well when I have to throw a bike with discs on it. The only time I prefer a traditional stand is when I want to do a quick adjustment like adjust a rear dérailleur. Would be nice to just clamp a seat post rather than remove a wheel first. I'm fortunate enough, however, to have both kinds of stands so I use the one I want for the situation. But this one is the one that travels with me.
macweelz
Excellent investment
Familiarity:

I've used it several times
This stand was very easy to setup and even easier to break down. It is very stable and functions great as advertised. I would highly recommend this to anyone looking for a work stand.
Charles N.
Thing of beauty
Familiarity:

I've used it once or twice and have initial impressions
This stand works as nicely as it looks. Beautifully made, easy to put up or break down, holds the bike securely and is so much easier to set carbon bike up for routine mx or cleaning compared to/ with a traditional clamp stand. Perhaps doing a full build might not be as convenient on this style stand and maybe Mtb with big thru axle not so great but for everything else it's terrific. Perfect for my bike with aero integrated seat mast. Gorgeous to look at, easy to use. Great purchase.
Howard T.
Better than expected
Familiarity:

I've put it through the wringer
The Sprint comes in a surprisingly small box and is surprisingly lightweight. But, make no mistake, it is solid and keeps the bike very stable. I've used with my C-Dale Carbon Synapse 5 105 and my Giant Defy Advanced SL 1, and it holds both nice and steady. I have no problem spinning it and working aggressively on my bikes. Highly recommended.
Alvin L. M.
>Rating:
December 27, 2013
Feedback Sports Sprint Repair Stand
By Road Bike Review
Cameron
>Rating: 5
September 23, 2013
Great stand for select uses
Familiarity:

I've put it through the wringer
I purchased this repair stand a little over a year ago, and have used it on my own bikes as well as while wrenching at events as a race mechanic. The quality of the stand is excellent, and it has proven to be an excellent stand for TT/Tri Bikes. The fork mount allows you to access internal cable routing with ease. The stand is highly adjustable, allowing you to move and spin the bike as you work on it (great for cleaning/washing bikes). The reason I mentioned select uses is that it is not as great for mountain bikes. Feedback does make a mount for thru axles, but a traditional work stand (with seat post clamp) will be a much better fit for a mountain bike. For road/tt bikes it's great, but for mtb's there are perhaps better options from feedback out there.
Andrew T