This carousel displays a list of buttons that updates the main product image when a button is clicked
Factor Bike
One
Road Frameset - 2017
Sale
45%
Off
Current price:

$2,999.99
Original price:

$5,499.00
Item # FCB0001
Find your size
Note: Actual inseam is not the same as pant inseam.
Recommended Size
We recommend a size in this bike.
Our size calculator is a starting point for finding the right size for you. To get personal advice talk to one of our fit experts at 1.888.276.7130 or chat now
Select options
Cancel

Select options

Stealth, 56cm ($2,999.99)

Turquoise, 56cm ($2,999.99)
Select package
Cancel

Select package

Frame Only

Shimano Dura Ace Di2 R9150 (Direct)

Shimano Ultegra Di2 R8050 (direct)
Item #

FCB0001
Description
Novelty no more.
Factor Bikes' One Road Frameset has a long, storied pedigree that began as a twinkle in the eye of bf1systems, one of Britain's preeminent motorsport design firms. The One's predecessors, the Factor 001 and the Vis Vires, pushed the boundaries of stiff, responsive handling and aerodynamic frame shapes beyond their logical limits—so far beyond, in fact, that they weren't race-legal. Given that prohibition, we admit that we regarded them as novelties but never really considered them viable for us because, well, we like to race.
Factor's stated aim is "to be the best specialty racing bike company in the world"; with the aerodynamically advanced One, the brand may well have done it. The One combines every bit of aerodynamic technology and frame construction expertise selectively sampled by Factor's other models, the One-S and the O2. The exception to this is the One Total Integration System (OTIS) front end, which is only featured on the One and which is what elevates the brand's flagship frameset to the lofty "best specialty racing bike" ambition. The One marks Factor's transition from the un-race-able novelties the brand was formerly known for to sanctioned startlines the world over.
OTIS enjoys the obvious benefits of presenting a minimal face to the wind (it's practically two-dimensional head-on) and—with the inclusion of an external fairing that rotates with the fork and bars—disturbing the air as little as possible. These features are designed to work in cahoots with the bifurcated down tube in order to take full advantage of the peculiar design, and without both elements, the significant claims of reduction in air resistance are void. OTIS's integrated bar/stem combo also does its part, increasing stiffness, boosting the frame's aerodynamic benefits yet further, and actually managing to reduce frontal surface area when compared to the Vis Vires.
OTIS's final benefit runs contrary to everything we'd expect to see in an aerodynamic race frame: It contributes to handling that's so stable and sharp we experienced a brief adjustment period to it. The One never feels like it's going to drift off its line or twitch into a dangerous steering hiccup while arcing through sweeping descents, but it is definitely capable of diving for the inside line on a 90-degree crit corner and making tight adjustments at speed. There may very well be frames whose front ends more effectively balance stability and responsiveness, but we haven't found any. What we have found, though, is a minute amount of flex in a deep-dish front wheel that—until being mounted on the ONE—had felt unyielding during sprints and while redlining punchy Flemish walls.
We could obviously go on and on about the OTIS front end. Hell, we have gone on and on. But Factor Bikes is now a new player to the pro market under the brown and blue banner of AG2R La Mondiale, so the brand itself deserves a bit of attention. Factor's more comprehensive mission statement is largely what you'd expect from a company with the aim of going from line launch to peloton in about a year's time, and it includes all the usual suspects, word-choice-wise: passion, drive, commitment, relentless innovation—we've seen it all before. But unlike most brands who simply pay lip service to these ideas for the sake of publishing a brand statement, Factor actually means it. We didn't come to this conclusion by just reading marketing material and copy/pasting from the myriad hype articles Factor has inspired. The framesets—especially the revolutionary One—speak for themselves.
Factor benefits from an impressive list of father figures, including green jersey-winner Baden Cooke and Rob Gitelis, a carbon manufacturing guru who also happens to be the man behind the scenes of several boutique bike brands. The pair joined Factor in order to adapt the erstwhile non-race-legal technology of models like the Vis Vires and 001 into race-legal designs. To help with that transition, they've developed a strong supporting cast that includes Matt Prior, a multisport enthusiast and the head of One Pro Cycling, and David Millar, one of the cycling world's most fashion-forward rouleur and the latest heir to the Millar engine. While the latter's own father remains one of the greatest Anglophone climbers, the assembled group is far more dedicated to the pure speed of sprints and TTs. The One bears this focus out, but—despite the impressive names behind the brand—Factor didn't do it alone.
In order to achieve what it refers to as "the pinnacle of aerodynamic performance," Factor Bikes traces its lineage back to bf1ystems. Despite the implied humility of eschewing the shift key, bf1systems is a prestigious coven of engineering warlocks who constitute the brains behind the aerodynamics informing some of Europe's biggest auto-racing names. Think back to the posters on your childhood bedroom walls or the images on your grade school folders and notebooks. Chances are good those high-horsepower machines began life as a gleam in the eyes of bf1's engineering team. We'll avoid listing the entire roster here, but it's every bit as impressive as Factor's list of co-owners.
Cycling is a different beast, though, as it involves two fewer wheels and you yourself are the engine. Since every bit of drag interfering with forward momentum represents wasted effort on your part, aerodynamics in cycling are arguably more important than in motor sport—at least, that's what we think when we're pulling the group into a headwind. Based on the brand's extensive testing, the One saves around one second for every kilometer traveled at race speeds around 24-28mph. These gains are based solely on the aerodynamic features built into the frame and its accompanying handlebar/stem construction, so any details like deep rims and a dialed rider position are just icing on the aero cake.
The One's most immediately obvious "aero" feature is the tube shaping, which incorporates the rounded face and truncated tailing edge that are populating the pointy end of the peloton these days. The shape babysits airflow from the point the frame encounters it till long after it's detached and dissipated into wake. The abbreviated rear face is especially important as it reduces the negative vacuum of trailing drag that traditional tube shapes produce, but it doesn't turn into a destabilizing parachute when crosswinds and road conditions shift the yaw angle outside of a NACA profile's near-zero comfort zone. The tube shapes are accompanied by a handful of classic aerodynamic features, including fork integration, an integrated seatpost clamp, a hidden, direct-mount rear brake, and internal cable routing.
Those features are fairly standard on top-end frames these days, and Factor proudly declares that, with the One, "the aero rules just changed." The brand didn't change the rules by only focusing on the obvious, and two peculiarities in the One's construction demonstrate that fact: the OTIS front end (see our salivating paragraphs above) and the Twin Vane down tube. The down tube features a lengthwise cutout that Factor credits with a 100g reduction in air-resistance forces by gathering and managing the unruly turbulence rolling off of the fork and front wheel. While we've seen similar structures in forks, Factor is the first manufacturer we've seen import the design to the frame itself, and it serves as the perfect complement to the industry's ever more aerodynamic wheel/tire combinations.
The stiffness underwriting the OTIS fork is also general throughout the bike, with the down tube, bottom bracket, and built-up chainstays demonstrating similar efficiency. In fact, the frameset's drive spine—especially, again, the OTIS fork and head tube juncture—is so rigid that it really will expose otherwise undetectable amounts of flex in all but the stiffest carbon race wheels. Fortunately, Factor spares you the impossibility of finding an appropriately stiff stem/handlebar combination by including its own, which integrate as part of the OTIS system to further reduce drag and eliminate the possibility of a weak link anywhere in the drive spine.
Given its British heritage, it's no surprise that the One's geometry exhibits some slight variations from the current crop of top Italian models. These changes manifest as slightly lower stack, longer reach, and a steeper seat tube than the all-purpose frames used by cycling's biggest teams. These deviations demonstrate that, though many of the Continental brands privilege tradition over innovation, Factor has no qualms about building a bike that meets the needs of scrappy fastmen like Cooke, smooth rouleurs like Millar, and the current pros at AG2R La Mondiale. With Gitelis on board, Factor enjoys the freedom to continuously tweak the geometry and make unreasonable demands of the factory in order to deliver. And the brand has certainly taken advantage of it.
Ultimately, the geometry changes situate the rider forward on the bike, helping you stay on top of the pedal stroke and rolling your hips forward to increase power output. This posture isn't about endurance-ride noodles or sportive waffle rides; it's meant for hammering to keep pace in a crit peloton or sacrificing yourself on the altar of the kind of long, grueling solo moves where the frame's aerodynamics really come into play.
The system's uncompromising efficiency is equal parts tube design and carbon lay-up, with Factor pairing the former with the latter's three-modulus blend. Two of these moduli are of the quality we see in most top-tier racing frames, but the third, Pitch Fibre (oh so British), is the lightest, stiffest material that can be shaped into a bike frame. You might assume three things here: 1) Pitch Fibre is extremely difficult to work with, 2) it's very expensive, and 3) Factor jealously guards the exact details of its lay-up schedule. You'd be correct on all fronts.
The one insight Factor gives into its process is the use of a program called Fibersim, which Factor uses to "ensure that we put the waste into the garbage can and not into the frame." Fibersim helps the brand keep material to a minimum, resulting in fabric cuts and precise construction as meticulous as brand-ambassador Millar's mod-inspired wardrobe.
The wardrobe comparisons don't end there, as each One Frameset comes packaged with a donut box whose well-appointed contents would make even the fashionably accessorized Millar blush. Ascetics rejoice: this donut box is actually full of practical finishing material, so your KOM waistline is safe. The kit's star is definitely the Ceramic Speed bottom bracket, but the sum of details like a spare derailleur hanger, headset spacers, and a Garmin mount prove that there is some merit to the whole marginal gains theory—at least when it comes to frameset ancillaries. The frame's finishing details extend to everyday practicality, with internal sleeves guiding the cable routing from lever to terminal exit point and tire clearance accommodating the new standard of 25mm.
A racing frameset that pushes aerodynamics to new levels
OTIS front end multiplies responsive handling and aerodynamics
Twin Vane down tube manages airflow coming off front wheel
Modified NACA tube shapes are faster and more stable
Integrated rear brake and seatpost clamp further reduce drag
Meticulous carbon lay-up capitalizes weight loss and stiffness
Developed in partnership with a motorsport design firm
Factor Bikes is set to redefine race frames at the highest level
More One builds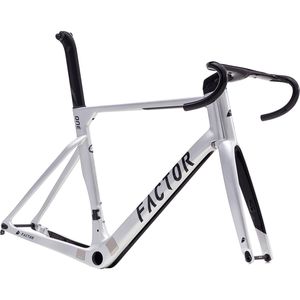 Factor Bike
ONE Disc Road Frameset
5 out of 5 stars from 1 reviews
5
1
(1)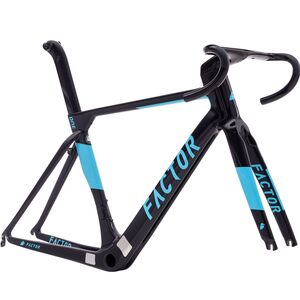 Factor Bike
ONE Road Frameset - 2019
Current price:

$3,449.00
Original price:

$5,299.00
Sale
35%
Off
4 out of 5 stars from 1 reviews
5
1
(1)
View more Custom Road Bikes & Frames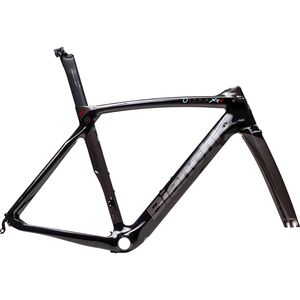 Bianchi
Oltre XR.4 Road Frameset
5 out of 5 stars from 4 reviews
5
4
(4)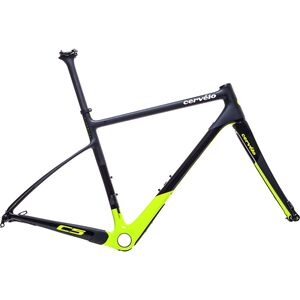 Cervelo
C5 Disc Road Frameset
Current price:

$1,750.00
Original price:

$3,500.00
Sale
50%
Off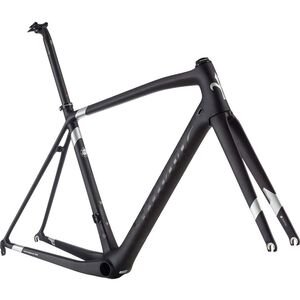 Wilier
Zero.6 Unlimited Road Frameset - 2017
Current price:

$3,269.00
Original price:

$5,449.00
Sale
40%
Off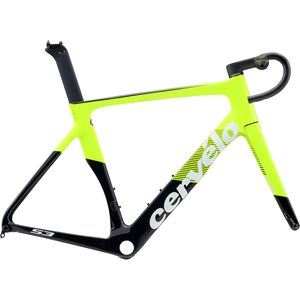 Cervelo
S3 Disc Road Frameset
Current price:

$2,899.00
Original price:

$4,200.00
Sale
31%
Off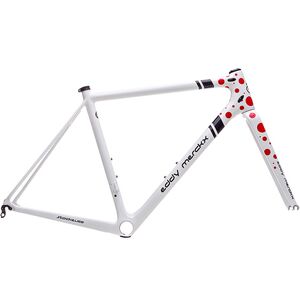 Eddy Merckx
Stockeu69 Road Frameset
Current price:

$2,799.00
Original price:

$3,499.00
Sale
20%
Off
5 out of 5 stars from 1 reviews
5
1
(1)
What do you think about this product?
1. Frame weight? 2. Zero-setback seatpost option? 3. Any drag data?
Mitch S.
>Rating: 4
September 6, 2016
geometry chart
wanted to put this on until the geometry chart is up, feel free to email me with any questions.
Kyle Br