This carousel displays a list of buttons that updates the main product image when a button is clicked
Zipp
808 NSW Carbon Road Wheel - Tubeless
Sale
20%
Off
$1,240.00
$1,550.00
Item # ZIP007E
Description
808 NSW Carbon Road Wheel
The 808 NSW Carbon Clincher Tubeless wheel's improved aerodynamics, a re-engineered brake track, and a ground-up revision of the lay-up schedule all contribute to a faster, safer, and lighter platform than the one that Kienle rode just two years ago. Not to mention, this tubeless road wheel allows you to run tubeless or traditional clinchers, which offers benefits like superior flat protection, the ability to run lower pressures, and a smoother ride with high cornering grip and low rolling resistance. The wheel also features a wider 19mm internal rim width and corresponding outer rim shape for aerodynamic optimization with 25mm tires.
Given the world championship success of the previous 808 platform—not to mention our own experiences on them—we admit to being a bit surprised by Zipp's decision to completely overhaul it; but that's exactly what the NSW model is: an overhaul of an already revolutionary design. As alluded to above, the rim's braking and aerodynamics have both seen improvements with no sacrifice to durability, and the NSW 808's refined carbon lay-up earns the set a claimed weight that's substantially lighter than the 808 Firecrest clincher.
Despite the advancements to rim, which is the element of the wheel that Zipp's tag line of "Speed Weaponry" is typically associated with, we're actually most excited about the Cognition hub. Blasphemy, we know, but the Cognition makes a strong case for itself. We'd even go so far to suggest that the NSW's Cognition rear hub may be the most exciting innovation we've seen in factory wheels since Zipp first introduced its bulging sidewalls. The hub owes its sleek look to Zipp's Axial Clutch freewheel design, which features two Metal Injection Molding (MIM) ratcheting rings—one mated to the freehub body and one mated to the hub body. The two rings are machined like a ratchet, so they ramp off of each other while freewheeling but engage each other during pedal input.
Compared to a standard pawl design, which actually resembles a drum brake and engages from the inside out, the Axial Clutch's MIM rings engage laterally to reduce friction, so the engagement mechanism itself doesn't tax as many watts from your efforts. We're familiar with this model, as we've seen similar mechanisms on the designer hubs featured in top-end custom builds for years now, but Zipp is the first to replace the usual tensioning agent, steel springs, with magnets. This substitution further reduces friction between the ratcheting rings, making for what may be the smoothest freewheel on any mass-produced wheel. It also carries the added bonus of sounding really, really cool. The Cognition's Axial Clutch system emits an aggressive, ominous growl compared to the typical Zzzzzz of pawls. It's a design that we suspect will eventually be the norm, but—once again—Zipp is leading the charge.
Shiny new hubs aside, we'll get back to the subject you probably (and rightfully) expected to be the headline for a new Zipp wheel: the rim. The brand's signature Aerodynamic Boundary Layer Control (ABLC) dimpling returns with a new designation. It's called SawTooth Technology, and it consists of ABLC dimples applied in a single pattern repeated in 12 discrete swathes (or "nodes") across the rim's surface, looking much like the strokes of a paint brush. Zipp's description of SawTooth's effect is a bit erudite, with the company claiming a 34% reduction in side wind forces compared to the previous ABLC pattern. It achieves these gains by "reducing the laminar bubble effect on the aerodynamically shielded side of the rim's profile." Translated into saddle speak, that means while rolling at 20mph and above, the rim's dimpling is designed to dispel the negative, drag-inducing force on the rim's non-wind side.
SawTooth's premise stems from 42 computational fluid dynamics studies and testing that spilled out of the wind tunnel onto—gasp!—actual roads. In actual wind. You know, the conditions that we actual cyclists face every time we throw a leg over the top tube either side of trainer season. To help understand how SawTooth works, consider an aerodynamic NACA shape in the pristine wind tunnel conditions of zero-degrees yaw. When air resistance is perfectly head-on, drag only exists in a parallel plane with an object, so a teardrop NACA cross section reduces drag to its absolute minimum by reducing the wake. Turn the yaw angle upwards of 15 or 20 degrees, though, and a true NACA shape begins to experience drag from the side opposite cross wind pressure as well. This lateral drag is Zipp's "laminar bubble," and it's the phenomenon responsible for the violent instability that leaves us wrestling with our bikes on gusty days.
Though Zipp was one of the shape's early adopters, the industry is now replete with rounded, bullet-shaped rim designs that aim to lessen destabilizing drag from cross wind forces; however, if Zipp's numbers are any indication, the SawTooth nodes take that reduction to a whole new level by better controlling cross winds as they detach from the rim's opposite face. While deep rims will always be more vulnerable to lateral forces than shallow box clinchers, the Firecrest DSW's rim shape and SawTooth Technology contribute to a ride that requires less correction in windy conditions, and the corrections themselves are more subtle and intuitive than with yesterday's NACA profiles.
The improvements in aerodynamics even extend to the wheel's graphics. The rims are finished with Zipp's ImPress graphical treatment, which involves directly printing the aesthetic embellishments onto the rim rather than applying decals. This leaves the SawTooth nodes of ABLC dimpling uninterrupted and unimpeded.
It's only appropriate that we end the way every good ride does: with the brakes. The rims are equipped with an updated version of Zipp's Showstopper brake tracks. Showstopper enjoyed an impressive debut on the recently released Firestrike line (which was limited to the 404 platform), but it's already been improved for the 808 NSW. It's still imbued with the same silicon carbide particles, but the direction-specific grooves have increased in number and feature an altered depth. The original Showstopper netted some pretty impressive stopping across all conditions, and Zipp assures us that the new design is even better. The upshot is you can hold speed longer while approaching a corner, braking later and gaining tiny increments of time with each bend or switchback.
Carbon wheel with low-drag performance and stable handling
Re-worked ABLC dimpling further reduces drag
Tubeless construction increases comfort and supple feel
Rounded rim shape cross section stability in cross winds
Second generation Showstopper brake track is even show-stoppier
Ratcheting freehub resembles boutique hubs on custom wheels
Magnetic tension reduces friction while freewheeling
Zipp remains one step ahead of the industry standards in aerodynamics and braking
View more Tubeless Wheels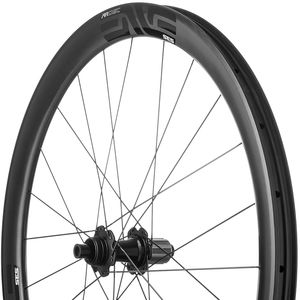 ENVE
SES 3.4 AR Disc Brake Wheelset - Tubeless
4 out of 5 stars from 2 reviews
5
2
(2)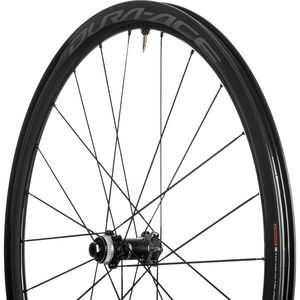 Shimano
Dura-Ace 9170 C40 Carbon Disc Brake Road Wheelset - Tubeless
Current price:

$1,499.99
Original price:

$1,966.99
Sale
24%
Off
4.5 out of 5 stars from 3 reviews
5
3
(3)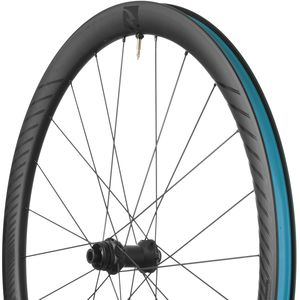 Reynolds
AR41x Carbon Disc Wheelset - Tubeless
Current price:

$1,239.99
Original price:

$1,549.00
Sale
20%
Off
4 out of 5 stars from 1 reviews
5
1
(1)
What do you think about this product?