Item # UNR0008
Free with purchase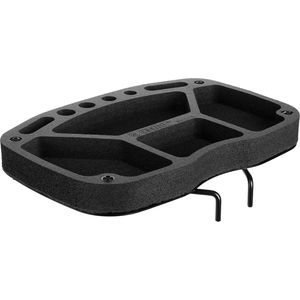 Unior Gator Portable Repair Stand $309.99
Item #

UNR0008
Description
Simple maintenance to suspension overhauls.
Give your favorite road steed or fat tire bruiser the love it needs with some help from the Unior Gator Bike Stand. This sturdy repair stand is easy to both assemble and collapse, accommodating home use, race support, and trailside repairs alike. Constructed from precision aluminum and steel, the Gator Bike Stand supports bikes weighing up to 66 pounds. The Jaw mount and rotation system conveniently clamp to both top tubes and seatposts for maximum versatility when you're working on different bikes in your stable.
Precision aluminum and steel ensure robust durability
Easy to assemble and collapse for home use and travel
Jaw mount with rotation clamps securely with minimal hassle
Supports a wide variety of bikes, up to 66 pounds in weight
Tech Specs
Clamp Opening:
24 mm 40 mm
Clamp Height:
980 - 1550 mm
Base Diameter:
870 x 665 mm
Load Capacity:
66 lbs 2.2 oz
Recommended Use:
bike maintenance
Manufacturer Warranty:
1 year
Weight
Weight
Claimed Weight
Claimed weights are provided by the vendor.
Have questions? Chat with a Gearhead