This carousel displays a list of buttons that updates the main product image when a button is clicked
Storck
Aernario
Platinum Road Bike Frameset - 2018
Sale
50%
Off
$2,999.00
$5,999.00
Item # STK0009
Find your size
Note: Actual inseam is not the same as pant inseam.
Recommended Size
We recommend a size in this bike.
Our size calculator is a starting point for finding the right size for you. To get personal advice talk to one of our fit experts at 1.888.276.7130 or chat now
Description
Just try to match it.
It's been hailed as the 'best frame ever.' Its handling has been described as 'unsurpassed.' Its weight has been likened to 'a dream.' If you haven't guessed, we're talking about the Storck Aernario Platinum Road Bike Frame. Simply put, no other frame achieves a similar balance between weight, stiffness, handling, and comfort. We know, we thought that the standard Aernario would come close, but with optimized carbon tubing and an overall weight that's 160 grams lighter, the Platinum commits fratricide upon the Aernario, claiming the top spot all for itself.
If you're familiar with 'aero-frames,' you probably don't own one because you either loathe the aesthetic or find that watts that you save in drag reduction are tacked back on by poor power transfer and handling. To alleviate this problematic syndrome, Storck created what it calls 'sectional aerodynamic shaping.' However, it helps to think of this as an aerodynamic profile on the horizontal plane. By this, we mean that the Aernario's teardrop profile (NACA if you're savvy) takes shape horizontally rather than vertically. So, when viewing the frame from the side, it looks like a traditional road frame. However, if you were to take a cross-section, its aero-shape would become strikingly evident. In addition to the tube profile, Storck also improved aerodynamics and comfort by cleverly hiding the seatpost bolt under the top tube. By doing this, the tube shape is further streamlined, while shortening the seatpost increases comfort. Accordingly, the Aernario sees nothing but gains on all fronts.
As for the carbon fiber, itself, the Aernario was constructed from Storck's own CFR/UD Optimized carbon fiber, with the UD designating 'uni-directional' and the 'Optimized' meaning even better than what's found on the 'conventional' Aernario. Why uni-directional? Well, compared to a woven carbon fabric, uni-directional carbon is oriented as it sounds, with one direction, or on one axis. And while this makes the production process incredibly more complicated in regards to load path and force direction determination, the payout is worth it to Storck. You see, compared to woven layups, uni-directional fibers tend to better stiffen frames, while also improving the characteristic of vibration dampening. And incredibly, this is achieved at a much lower overall weight. However, Storck was far from finished in any of these regards.
Let's approach the Storck layup process in a short series of steps. First off, Storck begins the design with 3D CAD imaging. This digital process provides Storck with the precise data and dimensions necessary for the development of the mold. From there, the CFR/UD fibers are soaked in resin and hand-placed into the computer-generated mold. Once placed in the mold, the fibers are heated and pressed into place with an air channeling tool. Afterwards, the fibers are smoothed over by hand, ensuring an unprecedented level of preciseness and detail to the layup.
It's worth noting that the Aernario is, in fact, molded in a monocoque. This means that the Aernario is comprised of specific modulus carbon fibers throughout the frame, or in other words, it features a one-piece molded construction. This eliminates excess weight by requiring less carbon and resin application at the tube junctures of the frame. As a result, at around 790 grams, is actually 100 grams lighter than the standard Aernario, and is nearly dead even with the halo weight category of the BH Ultralight and Ridley Helium SL.
Moving into frame specifics, you'll find a massive, oversized PressFit BB86 bottom bracket juncture that efficiently transfers power to the rear triangle. And not surprisingly, we see the reoccurring theme at work again of increased weight reduction coming as a result of increased power transfer. At the seatstays, Storck gracefully originates them from a box-section above the brake caliper. And again, this results in increased comfort via vertical compliance, however, it also directly equates to a higher level of lateral rigidity. Additionally, you'll find that the Aernario is painstakingly one of the most rider-tuned frames on the market. This is due, in part, to Storck's proportional tubing concept, where every frame size uses adapted dimensions, wall thickness, tube diameter, and tapering to ensure the exactly intended ride quality regardless of size. Rounding out the construction is electronic-specific internal cable routing.
For the fork, Storck incorporated its latest iteration of the trend-setting and award winning Stiletto, the Stiletto 280. The first version of the Stiletto was introduced in 1999, and was widely hailed as the lightest fork on the planet. Now, the Stiletto 280 tips the scales at the same 280 gram weight of the original Stiletto, which is actually 60 grams lighter than the Stiletto 340 found on the standard Aernario. The 280 features a tapered design that's been mated to a carbon reinforced heat tube and a 1-1/8 - 1-1/4 inch integrated headset.
Altogether, these technologies, paired with an unrelenting dedication to hand-built perfection, create a frame that's balanced, lightweight, compliant, and most importantly, fast.
The Storck Aernario Platinum Road Bike Frame is available in the color Black and in six odd sizes from 47 to 63cm. Please note that this frame uses a PressFit bottom bracket and a replaceable CNC-machined aluminum derailleur hanger. Additionally, despite being electronic-driven, the frame routing is also compatible with mechanical shift systems. Also, it requires a 31.6mm seatpost.
Unidirectional carbon fiber
Molded monocoque frame designed with 3D CAD imaging
Oversized PressFit BB86 bottom bracket
Stiletto 280gram fork
Compatible with SRAM, Shimano, and Campagnolo electric or mechanical components
More Aernario builds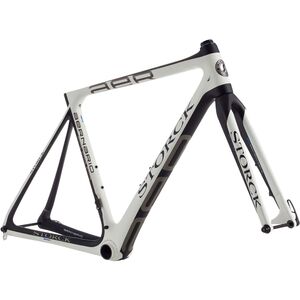 Storck
Aernario Disc Road Bike Frameset - 2017
Current price:

$1,999.00
Original price:

$4,599.00
Sale
57%
Off
5 out of 5 stars from 4 reviews
5
4
(4)
View more Custom Road Bikes & Frames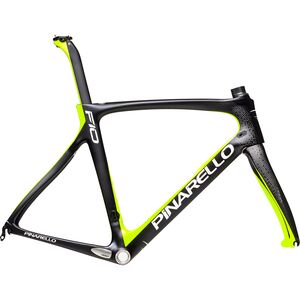 Pinarello
Dogma F10 Road Frameset
Current price:

$3,999.00
Original price:

$5,999.00
Sale
33%
Off
5 out of 5 stars from 2 reviews
5
2
(2)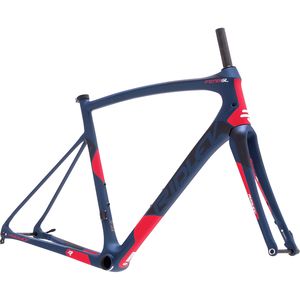 Ridley
Fenix SL Disc Road Bike Frameset
Current price:

$1,179.00
Original price:

$2,149.00
Sale
45%
Off
5 out of 5 stars from 2 reviews
5
2
(2)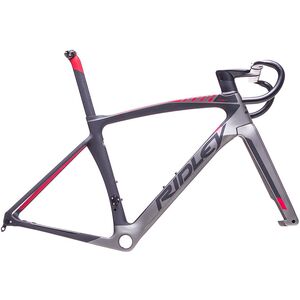 Ridley
Noah Fast Disc Road Frameset
Current price:

$3,374.00
Original price:

$4,499.00
Sale
25%
Off
What do you think about this product?
Great Race Bike!
Familiarity:

I've put it through the wringer
I almost bought the new S-Works Tarmac, but was turned off big time by the squeaky BB30 bottom bracket and wanted a bike with more panache. I believe this was a good choice, but there are a few things you should know: 1) The geometry is long and low and you need to ride this bike in a long and low position (or buy a smaller size) for it to perform as intended - which is awesome. If your bars are too high or stem too short, the front wheel will not feel locked in when cornering at high speeds. It is a purpose built bike and needs to be ridden as designed. 2) I really did not want a squeaky bottom bracket and thought the BB86 was a good choice, although I almost went for a Pinarello with the threaded bottom bracket just to make sure. Sadly the bike developed a squeak that drove me crazy with under 500 miles. I could not believe it, but it was only due to the front hub interface with the aluminum drop outs. I was using a very good Dura-Ace skewer - the problem was that Chris King Hub caps are smooth, not toothed and don't grip the smooth aluminum dropouts well. Don't build this bike with Chris King or other non-toothed hubs and you will be fine. Other than that, this bike really does ride as reviewed - one of the absolute best. It is stiff, light, smooth, responsive, and world class build quality. It is also a real head turner.
Alan H.
>Rating:
February 22, 2019
Will this frame accommodate 25mm tires? I have a G2 and just to tight for 25mm on both the front and back, regardless of pressure or wheel. Thanks.
Scott F.
No better bike!
Familiarity:

I've put it through the wringer
There is not a better bike Over a 3 month period I set out to ride every bike I could to help make a decision on which bike to build over the winter. Some of what I rode included the Pinarello dogma F8, Specialized Tarmac, Colnago C60, Scott addict sl, Merlin Empire, Boardman SLR, wilier Cento1, and a few more but you get the idea. I wanted the best, at my age after doing this a while I will admit becoming a bike snob. I can honestly say that without a doubt the Storck Aernario Platinum was the clear winner, on a side note the Merlin empire was the runner up. I had to wait a while over the winter to get my size but when I did and finally got it built I was absolutely thrilled from the first few km's of my ride. It climbs with a no holds barred feeling, as if every bit I put into it I am getting out of it, and I definitely need everything out of a bike I can get. Within getting it set up 2 of my first rides were actually races which was a worry since I had only had a week of riding the bike. Both races mid 70 mile range. I was worried about such a stiff responsive frame beating me up after 50-60 as some stiffer frames do but absolutely no problem at all (that that was with an aluminum stem). Standing to sprint feel as secure as I ever have, descending I was completely confident and solid at any speed, cornering I was able to push to the absolute limits. The frame is fairly aggressive in nature so keep that in mind, it's race bred. Overall the bike is incredibly light and extremely reactive to every watt you pedal into it. Marcus Storck is a fantastic frame builder, no regrets at all on this bike, I don't know where to go from here next year! Likely the same bike. I found the size chart on Storck's site to not be the best so don't hesitate to ask me about sizing, at 5'7" I took the 47. I can also recommend builds and help with anything on this bike. kylebrown@backcountry.com 801-736-6396 ext. 4417
Kyle Br
Rodrigo A.
November 27, 2017
Couldn't agree more being an Aernario 20th Anniversary edition fitted with DI and LW wheels myself. I came from another dream ride - the Cervelo RCa (stil have it actually), and thought it would be impossible to find a better climbing bike. I was wrong on all counts, and not only the Aernario climbs just like the RCA, but it beats it hands down on the flats, rolls and descents. Incredible bike, and I also keep wondering where will I go from here... Also 5'7
tadaias
July 18, 2018
Your review is not helping my cause and quite possibly my bank account.
Bernd W.
July 19, 2020
Hi, I am 6'1" and picked and was recommended the 58 or Large. Thoughts?
>Rating: 5
November 5, 2013
Das ist WUNDERBAR
Familiarity:

I've put it through the wringer
I have owned my Storck AP for almost six months now and every time I ride her I am reminded of the brilliant engineering that has gone into this beauty. Markus Storck has found a way to manufacture a bike that is the stiffest, fastest, sharpest handling, and most comfortable exotic race bike I have ever experienced. This bike should be at the top of everyone's list!