This carousel displays a list of buttons that updates the main product image when a button is clicked
SRAM
Guide RS (B1) Disc Brake
Temporarily Out Of Stock
Item # SRM00B1
Don't get too bummed. This item is on the way and will be available for purchase as soon as it rolls into the warehouse.
Can't wait? Consider one of the other Mountain Bike Brakes we have in stock.
View Similar Products
Description
A trusty trail guide.
When dropping into your favorite flowy run, it's nice to know you've got SRAM Guide RS (B1) Disc Brakes along for the ride in the event of an unexpected mid-trail moose sighting or the perfect #autumncolors photo op. The Guide RS utilizes SRAM's Timing Port Closure, with a sliding cup seal and port mechanism that provides immediate actuation with a light pull action. The Swinglink lever facilitates powerful modulation, with a proprietary cam shape that's claimed to eliminate the jarring on/off feeling found in other disc brake systems so you won't get thrown over the bars when you mash on the brakes in front of that moose. As an extra bonus, the lever features Reach Adjust to quickly personalize your setup.
These brakes feature SRAM's new S4 caliper with Bleeding Edge design that updates the fluid and bleed routing for easier brake maintenance, with a bleed adapter plug that seals off the system from air and dust. The new caliper also boasts SRAM's Heat Shield technology, which consists of stainless steel shields that buffer the connection between the pad and caliper body to reduce head transfer to the hydraulic fluid and reduce its temperature by a claimed 20-degrees Celcius under heavy use.
Note that the Guide RS Disc Brake comes in either front/left or rear/right variants, with included lever and caliper configuration. It's compatible with SRAM's Centerline Rotors (sold separately) and uses DOT 5.1 fluid. Additionally, the Guide R is Matchmaker and Matchmaker X compatible, meaning you can run multiple controls off one lever clamp for a more streamlined set-up.
4-piston, dual-diameter S4 caliper with Heat Shield technology
Swinglink lever design offers exceptional modulation
Includes SRAM's steel-backed organic brake pads
Timing Port Closure with sliding cup seal and port mechanism
PiggyBack Reservoir uses DOT 5.1 fluid (brakes come pre-bled)
Includes either front/left or rear/right lever and caliper configuration
Compatible with SRAM Centerline Rotors (not included)
Matchmaker and Matchmaker X compatible
View more Mountain Bike Brakes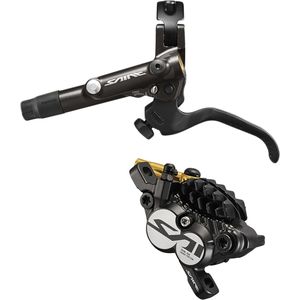 Shimano
Saint M820 Disc Brakes
5 out of 5 stars from 6 reviews
5
6
(6)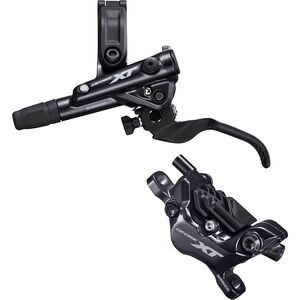 Shimano
XT BR-M8120 Disc Brake
3 out of 5 stars from 2 reviews
5
2
(2)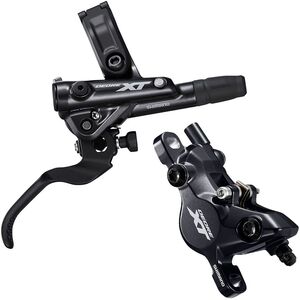 Shimano
XT BR-M8100 Disc Brake
5 out of 5 stars from 2 reviews
5
2
(2)
What do you think about this product?
>Rating: 1
September 18, 2018
Great if you like trips over your bars
Familiarity:

I've used it several times
Spent about 10 days of daily commuting and easy weekend rides really enjoying the feel and power of these. Yesterday morning on the commute, I was coasting downhill into an intersection, eased on my lever, and the front brake totally locked down. It had been only 5 minutes since I left home on a cool Seattle morning, so it's hard for me to believe heat was an issue. Luckily I was only going about 10mph, but I went over my bars hard, fast enough that I couldn't get my hands down. Cracked my helmet and probably got a concussion, and had plenty of road rash. To add insult to [literal] injury, the brake stayed locked so I had to carry the bike a mile or so home, blood dripping down my shins. SRAM should be ashamed to continue selling brakes with the well-documented piston-sticking issue (just do a google search). I'd ask for a replacement, but I'll never trust SRAM brakes again, so instead just spent a bit more for some Hope brakes. If I were Backcountry I'd stop selling these. I suppose I'd refer to the Fight Club clip about automotive recalls as the reasoning.
zac.s
Nothing But Problems...
Familiarity:

I've put it through the wringer
I've had nothing but problems with these brakes. Unbalanced pistons, non-uniform braking power and feel between front and rear, and I have not been able to get them to center using both the level squeeze and manual method. The pads always rub the rotors. I switched to Shimano Zees and I am now problem free. Don't waste your time.
Bryan K.
Impressive stopping power
Familiarity:

I've put it through the wringer
Over the years I have run many different brakes from Shimano, TRP, and SRAM. All of these companies offer great brakes and you really can't go wrong with any of them. As of late I find myself using SRAM brakes on all my bikes and this mainly comes down to modulation. Though Shimano tends to offer more impressive stopping power SRAM offers similar power but in a more controlled manner. With better modulation on offer I find I can control my braking more precisely which enables me to approach a corner with more confidence. SRAM quality wasn't always the best but the last two generations of the Guide brakes have been great. This is the 5th pair of Guide brakes I have owned and I haven't had any issues so far.
Dan Be
When they work, they are awesome.
Familiarity:

I've used it several times
But when they work is the big issue. I have had the same issues that others have talked about with the master cylinder sticking. The plus side is that Sram sent me out a new set of levers so hopefully that fixes the issues.
BJ Platte
Sticky pistons, caliper retraction issue
Familiarity:

I've put it through the wringer
Got these on my stock Niner Jet 9, and have been problematic since. Stuck calipers and levers, the piston never retracts, especially when it warms up outside. It is a known issue for these brakes (did an extensive search online for problems regarding the Guide RS), bled them twice, and just two days ago, the brake levers jammed up and wouldn't retract. Better shift to Shimano's for the reliability factor.
Sid
Doug U.
May 22, 2018
I'm having the same issues. Front Guide RS had a sticky piston straight out of the box (well, on a new bike build). Fast forward 4.5 months and now the rear has the same issue. Just performed two bleeds (1 week and a few rides apart) without resolving the issue. Seriously considering Shimano now...
Inconsistent and Spongy
Familiarity:

I've used it several times
These brakes came stock on a Santa Cruz Bronson CC I brought from Competitive Cyclist in February, 2018. After around 20 hours of use, I've already needed to have them bled once, and have completely lost braking ability while on a trail ride. Since they're over 30 days old Competitive Cyclist will not accept a return, and Sram won't stand behind their product. After I bought and installed Shimano brakes, Sram will only consider a warranty if I reinstall the Guides and send a video. This is especially frustrating because the braking is inconsistent; it works fine sometimes, but is spongy or even non-existent at other times. Above anything else, I want to know what my brakes will do every time I pull the lever. With these brakes, I have to keep pumping them the whole way down a descent to make sure they will work. This is unacceptable. I highly recommend sticking with Shimano brakes, even the 2-piston XTs are much better and consistent than these. Very disappointing.
Timothy S.
Good brakes for most
Familiarity:

I've used it several times
I like these brakes, however, I also like my brakes extremely sensitive and these are not, so if you like super touchy brakes I would go for a different brand.
Keith K.
>Rating: 5
October 2, 2017
Love em
Familiarity:

I've put it through the wringer
From spinning laps at deer valley to blasting through chunder in southern Utah, these things will stop you, fast. Love em.
Sunn Kim
>Rating: 5
September 15, 2017
Trusty and reliable
Familiarity:

I've put it through the wringer
I run these in Utah in the summer, in 100+ conditions. Haven't suffered any sluggishness or failure. They brake solid. I pull, I stop. That's what i am looking for in a braking system.
Courtney Dean
>Rating: 3
August 21, 2017
Work fantastic, just not in high heat
Familiarity:

I've put it through the wringer
The Guide RS brakes install and setup very easily. While at first it may not feel as if there is much power on tap, there definitely is plenty. The brakes offer great modulation with a slightly softer bight point that allows for you to really control how much brake you are using and prevents you from skidding down the trail. The only issue I have run into is that on long rides in very hot temperatures, the brake seems to lose a lot of the modulation that makes these brakes so good.
BJ Platte
How to Bleed Sram Guide [b1] Brakes
Connor Johnson
Packs A Punch
Familiarity:

I've put it through the wringer
I've run Guides on my past 3 bikes and absolutely love them. I think both Shimano and Sram make quality brakes and think that Guides have qualities that I prefer over XT or other Shimano brakes. First of all, the dual caliper / 4 piston design packs a punch. They're powerful brakes. No question using them on hefty downhill trails. I like the modulation of the brakes - meaning they gradually give more and more breaking power when you pull the lever more and more. Shimano has a more off/on feel and because of this, I like the Sram Guides. Easy to bleed. Item number SRM005W and easy to follow along video, even someone not hugely mechanically inclined can follow along! If you're looking for an upgrade to your brakes, you should absolutely consider Guides as a possibility. There are several levels of Guides and I'd be happy to help find the best ones for you - you can call my direct line 801.204.4547 or email me at cojohnson@backcountry.com.
Connor Johnson
Stop on a dime
Familiarity:

I've put it through the wringer
3 years ago I never would have run a Sram brake on my bike. I was skeptical when Sram introduced the Guide line. After riding several bikes with Sram Guide R, RS, and RSC brakes I was converted. The stopping power on the RS is equivalent to that of a Shimano XT brake but it provides better modulation compared to a Shimano. With modulation you can ensure that you stop when you need to and that you don't just lock your brakes up. For the money these are probably the best stoppers on the market.
Dan Be
Good brakes and easy to install
Familiarity:

I've used it several times
I've only had them a couple weeks now but so far they've been great
Kristin T.
Eric Watford
July 31, 2017
Thanks for the review Kristin! Super helpful to get this feedback out to the community.