S-Works Recon Mountain Bike Shoe
---
Why We Like The S-Works Recon Mountain Bike Shoe
The S-Works series consists of the most advanced biking gear from Specialized, and the S-Works Recon Mountain Bike Shoe achieves the level of mountain performance that cross-country racers demand. As a premier bike shoe, the S-Works Recon's carbon plate is the lightest, stiffest option that Specialized makes, and it's fine-tuned for transferring all your power to the pedal. The upper is made out of Dyneema mesh bonded between layers of four-way stretch and TPU for malleability in key areas and a formed fit. Extra room in the toebox provides better connectivity and overall comfort, while the PadLock heel counter locks your foot in place for a slip-proof feel.
Specialized also employed its scientifically tested Body Geometry to align your hip, knees, and feet for boosted power and reduced chance of injury. The footbed reduces hot spots by putting less pressure on nerves and arteries. A wedge underneath the footbed offers greater arch support, too. And for a little fashion with your function, Specialized added its custom S3 Boa dials; their CNC'd alloy dials add panache, precise micro-adjustments, and long-lasting durability. The titanium alloy cleat nuts rotate to position pedals and cleats with 5mm rearward.
Details
Trail-tackling race shoe perfected for cross-country
Carbon plate is the lightest, stiffest plate from Specialized
Dyneema mesh upper bonded between layers of mesh and tough TPU
PadLock heel ensures a slip-proof fit for increased acceleration
Body Geometry aligns hip, knees, and feet for boosted power
Boa dials designed for on-the-fly micro-adjustments
SlipNot rubber toe and heel with 2-bolt cleat compatibility
Item #SCQ000A
Upper Material

Dyneema Mesh [heel] PadLock

Closure

Boa S3-Snap (CNC'd alloy)

Midsole

Body Geometry

Sole

carbon plate [heel, toe] SlipNot rubber [cleat nut] titanium alloy

Cleat Compatibility

2-bolt

Claimed Weight

9.5oz

Manufacturer Warranty

2 years

Activity

cross-country, trail
Reviews
Q&A
Overall Rating
3.5 based on 13 ratings
Fits True To Size
Screen reader users: the following list provides a visual scale to illustrate the product fit. Please refer to the heading above for the fit type in text.
Runs small
True to size
Runs large
What do you think about this product?
View
Selecting an option will reload the available reviews on the page
2 out of 5 stars
May 9, 2022
Lack Durability
Familiarity:

I've used it several times

Weight:

null
I give the shoes a rating of 2 because they are light and fit well. I do not rate them higher because they lack durability and the fabric tears if it is brushed up against anything. I have had several previous versions of this shoe and they were very durable, these are not. Also, if they do tear, Specialized will not stand by their product except for a small discount on a new pair. I would recommend using your money to buy a more durable product that is supported by their manufacturer.
3 out of 5 stars
February 6, 2022
Just okay
Familiarity:

I've put it through the wringer

Size Bought:

44.5

Height:

5' 10"

Weight:

172
So I've got about 1500 miles on these give or take. Observations: They cut into my ankles. Got thicker insoles and that helped. The padding was bunched up at the left ankle so bad a had to cut a small hole in the material and dig it out with a paper clip because it was killing me. The material just above the top Boa I had to cut off because it was cutting into the top of my foot (top Boa dial needs moved down). The material they're made of is not very pliable. They really never "broke in" and are pretty rigid. Heels are nice and slim and good toe room. Conclusion: The fit and finish is what I would expect on a pair of $99 Chinese shoes to be honest. I bought a pair of Sidi and there's no comparison in the fit and quality. Sidi for me.
2 out of 5 stars
November 24, 2021
The Rubber Pads Disintegrated in 1 Month
Familiarity:

I've put it through the wringer

Weight:

null
I love the fit, performance and look of this shoe. It really does pedal like their s-works 7 road shoe which I also own. That shoe to me has nothing wrong with it and is almost perfect. This shoe on the other hand... well, it had a very serious imperfection. The two rubber pads to the left and to the right of where you place your cleat did not slowly disintegrate - it was like the ocean washing over sand any time you'd walk in them... it was gone just like that. MTB shoes you say? Well, try walking on gravel 20 feet to a port-a-potty... the soft rubber didn't like that. After 1 month I was walking on my cleats. And for good measure, no, I didn't race in them nor hike in them AT ALL. It really was unacceptable. Fortunately, the place I bought them from refunded me. They said I could try another pair. As much as I wanted to give them another shot, I couldn't stomach risking that again and I switched to Shimano which have been great. In mountain biking or gravel biking, it's really important to be able to dismount your bike and walk on your shoes. That's why they are built different from road shoes. I have read that this same thing has happened to multiple people and I am not alone. However, it was the first report of such an incident from the place I bought mine here in Portland. They are great fitting shoes. I love the BOA system, the carbon platform is incredible. The materials used on the shoe are superior to most. I used the shoe in the mud and pouring rain and they were good - but with that rubber issue I could not recommend them. It's an absolute gamble given the pair you receive. Ultimately, it sounds like a manufacturing issue. it's so important for Specialized to get this issue resolved because without those pads, you are walking on metal cleats which is not safe or durable. For the love of god, that is what these shoes are designed for. Give them a shot at your own risk.

Originally reviewed on Backcountry.com
5 out of 5 stars
September 18, 2021
Great shoe for me!
Familiarity:

I've used it several times

Size Bought:

45 reg

Height:

5' 10"

Weight:

180
After reading the reviews, I was hesitant to give these a try. Owned the past few versions and have been happy with them. They sure dont seem to work for some. I guess finding the right shoe is a bit like finding the right saddle. Love the fit, boa dials and looks! No issues!
2 out of 5 stars
September 6, 2021
Poor closure placement
Familiarity:

I've used it several times

Size Bought:

41

Height:

5' 10"

Weight:

150
This is a great fitting shoe with, wider toe box and normal heel. However, the first BOA closure is placed too close to the ankle as others here have said. Also, the first BOA lace is not over any cushioning foam as are the other BOA laces. Most of the shoe tongue has some type of foam in it protecting your foot from direct lace pressure. That is except for the portion of the tongue closest to the ankle. Without anything to keep the first lace over the tongue foam the lace slides above the protective foam and onto the thinnest portion of the tongue that does little to distribute lace pressure (see picture). If you crank the BOA down with adequate pressure to keep your foot secure both the first BOA real and first lace cut into your foot/ankle. The longer you ride the more it hurts. Simple design mistake that should have been discovered in development.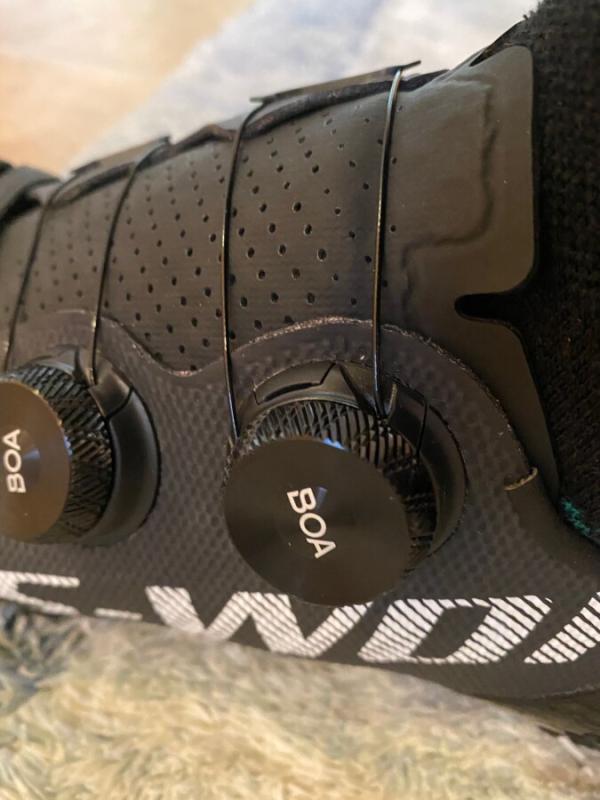 4 out of 5 stars
August 25, 2021
Very Comfortable...But...
Familiarity:

I've used it once or twice and have initial impressions

Weight:

null
These are super comfortable out of the box if you have a wide forefoot and narrow heel, which I have. I went on a 45mile gravel ride after they arrived and am happy to report they were stiff on climbs and I had no slippage in the heel cup which has historically been a problem. If you're like me and hate breaking in new shoes, then I think you'll be happy. But... The problem with the upper on the Boa latch side is real. I ended up cutting the 1/8" or so strip of material which helped some. I didn't notice anything under normal riding conditions, but did feel it when walking. For my gravel shoes they are great, but if you wanted an MTB shoe that was comfy off of the bike then I'd look elsewhere.

Originally reviewed on Backcountry.com
5 out of 5 stars
July 2, 2021
Size is everything
Familiarity:

I've put it through the wringer

Size Bought:

46.0

Height:

6' 2"

Weight:

175
I have Ares in size 46.5, so naturally I got these in 46.5. They felt great at first, although they looked a little "clownish". After a couple of weeks on my left foot I developed a rather nasty blister on that tibialis anterior tendon referred to in another comment. I'd used the shoes quite a lot and figured I was stuck with them. Not much else in my size to choose from either. I had a reason to be close enough to make a visit to the actual store and brought the shoes in with me. I was given the opportunity to trade for the same shoe in 46.0. That half size in reduction made all the difference in the world! Recently had one "disaster" where I blew the tire off the rim of my gravel bike and didn't have a tube so I had to walk it out. Never thought about my feet. Just what's going in the saddle bag for every ride going forward. These are well made shoes as you'd expect in an S-Works. The dials are super smooth. Stiff enough to transfer every bit of power you put in, yet pliable enough to walk through the C-store or restaurant. All without yelling "Look At ME!"
4 out of 5 stars
May 9, 2021
Don't Overtighten
Familiarity:

I've used it several times

Weight:

null
Let's get this out of the way; these things are super stiff and really do feel like they are transferring every little bit of power you put down directly into the cranks. The width seems to perfectly suit my particular feet which is nice but your mileage may vary. Let's get to the caveat...The top of the shoe near the front of the ankle can bite hard where the top boa hook is. It's clearly set too far back as evident from other reviewers running to the same issue as I am with that spot biting into the ankle if you flex your ankle forward too much, which will definitely happen if you hop off the bike for any amount of hike-a-bike or even stairs. You can alleviate most of this problem by leaving the boa dials a bit looser, and cross-lacing...not ideal but a workable solution. I'm on the fence for bringing these things bikepacking, but they would perform admirably in a single day race.

Originally reviewed on Backcountry.com
2 out of 5 stars
April 19, 2021
Look great but blistering my ankles
Familiarity:

I've used it several times

Size Bought:

47

Height:

6' 3"

Weight:

185
They look and perform awesome but the top boa is positioned too high and dig into the front of my ankle causing blisters. The outside edge of the shoe also digs into the bottom of my ankle bone. Trying to get them to break in but am doubtful they will ever work for me.
3 out of 5 stars
April 12, 2021
Well made but didn't work for me
Familiarity:

I've used it once or twice and have initial impressions

Weight:

null
Light and stiff. Stiff may have been the issue that made me return them though. The heel cup on the outside of the right shoe put too much pressure on the smaller bones below my ankle. I tried putting them in the sun to soften them up and did 2-3 rides on them but they never broke in. Never had this problem with S-works or other Specialized shoes. Returned them on warranty.
Need Expert Advice?
Our Gearheads Can Help