This carousel displays a list of buttons that updates the main product image when a button is clicked
Specialized
S-Works 7 Cycling Shoe
Item # SCQ000J
Select options
Cancel

Select options

Basics, 39.0 ($400.00)

Basics, 40.0 ($400.00)

Basics, 41.0 ($400.00)

Basics, 41.5 ($400.00)

Basics, 44.0 ($400.00)

Basics, 45.0 ($400.00)

Basics, 45.5 ($400.00)

Basics, 46.0 ($400.00)

Basics, 46.5 ($400.00)

Basics, 47.0 ($400.00)

Black, 39.0 ($400.00)

Black, 40.0 ($400.00)

Black, 40.5 ($400.00)

Black, 41.0 ($400.00)

Black, 42.0 ($400.00)

Black, 42.5 ($400.00)

Black, 43.0 ($400.00)

Black, 43.5 ($400.00)

Black, 44.0 ($400.00)

Black, 45.0 ($400.00)

Black, 45.5 ($400.00)

Black, 46.0 ($400.00)

Black, 46.5 ($400.00)

Black, 47.0 ($400.00)

Black, 48.0 ($400.00)

Black/Rocket Red, 39.0 ($400.00)

Black/Rocket Red, 39.5 ($400.00)

Black/Rocket Red, 40.0 ($400.00)

Black/Rocket Red, 40.5 ($400.00)

Black/Rocket Red, 41.0 ($400.00)

Black/Rocket Red, 41.5 ($400.00)

Black/Rocket Red, 42.0 ($400.00)

Black/Rocket Red, 42.5 ($400.00)

Black/Rocket Red, 43.0 ($400.00)

Black/Rocket Red, 43.5 ($400.00)

Black/Rocket Red, 44.0 ($400.00)

Black/Rocket Red, 44.5 ($400.00)

Black/Rocket Red, 45.0 ($400.00)

Black/Rocket Red, 45.5 ($400.00)

Black/Rocket Red, 46.0 ($400.00)

Black/Rocket Red, 46.5 ($400.00)

Black/Rocket Red, 47.0 ($400.00)

Black/Rocket Red, 48.0 ($400.00)

Hyper, 39.0 ($400.00)

Hyper, 40.0 ($400.00)

Hyper, 41.0 ($400.00)

Hyper, 42.0 ($400.00)

Hyper, 44.0 ($400.00)

Hyper, 45.0 ($400.00)

Hyper, 45.5 ($400.00)

Hyper, 46.0 ($400.00)

Hyper, 46.5 ($400.00)

Hyper, 48.0 ($400.00)

White, 39.0 ($400.00)

White, 42.0 ($400.00)

White, 42.5 ($400.00)

White, 43.0 ($400.00)

White, 44.5 ($400.00)

White, 45.0 ($400.00)

White, 46.0 ($400.00)

White, 48.0 ($400.00)
Free Shipping on orders over $50
Item #

SCQ000J
Description
S-Works 7 Cycling Shoe
The S-Works 7 series includes the most advanced cycling gear from Specialized, and the Men's S-Works 7 Cycling Shoe strives for perfect road performance without compromising comfort. Made of ply-by-ply carbon originally developed for racing, Powerline is the stiffest, lightest sole from Specialized, and it's fine-tuned for transferring all the power you push down on those pedals with. The upper is made out of Dyneema Mesh trapped between layers of four-way stretch and TPU for malleability in key areas and a formed fit. To provide better connectivity and overall comfort, there's extra room in the toebox, while the PadLock heel counter locks your foot in place for a slip-proof feel.
To align your hip, knee, and foot for a boost in power, Specialized employs scientifically tested Body Geometry. The footbed reduces hot spots by putting less pressure on nerves and arteries. A wedge underneath the footbed offers greater arch support, too. And for a little fashion with your function, Specialized added its custom S3 Boa dials; their CNC'd alloy dials add panache, precise micro-adjustments, and long-lasting durability. The titanium alloy cleat nuts rotate to position pedals and cleats with 5mm rearward.
Road cycling shoe Specialized for perfection
Powerline carbon is the lightest, stiffest sole from Specialized
Dyneema mesh upper with PadLock heel counter for slip-proof comfort
Body Geometry gives arch support and hot spot elimination
Boa Dials customized with CNC'd alloy for long-lasting durability
View more Men's Road Bike Shoes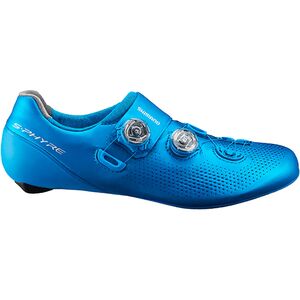 Shimano
SH-RC9 S-PHYRE Cycling Shoe - Men's
4.5 out of 5 stars from 15 reviews
5
15
(15)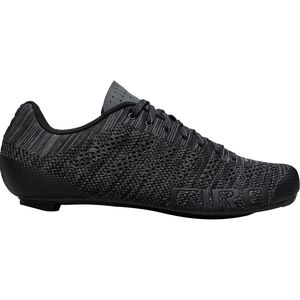 Giro
Empire E70 Knit Cycling Shoe - Men's
5 out of 5 stars from 15 reviews
5
15
(15)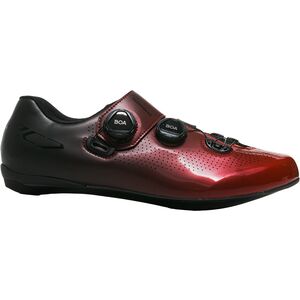 Shimano
SH-RC7 Limited Edition Wide Cycling Shoe - Men's
5 out of 5 stars from 5 reviews
5
5
(5)
What do you think about this product?