This carousel displays a list of buttons that updates the main product image when a button is clicked
Shimano
XT BL-M8000 Disc Brake
Temporarily Out Of Stock
Item # SHI008F
Don't get too bummed. This item is on the way and will be available for purchase as soon as it rolls into the warehouse.
Can't wait? Consider one of the other Mountain Bike Brakes we have in stock.
View Similar Products
Description
Ergo-licious.
Shimano's new Deore XT Disc Brake is part of Shimano's sexy new M8000 gruppo. The new brake offers a few subtle refinements for a reduction in weight and a sleeker look. The redesigned brake features a new lever with an integrated master cylinder and, of course, a menacing black ano finish. It frees up a bit of real estate on your dashboard with a narrower clamp, and its compatibility with the latest generation of Shimano's I-Spec design, I-Spec II, means that it can also anchor I-Spec II shift levers, saving even more space by attaching both the shift and brake levers with one clamp.
In addition to the excellent power and modulation, the XT Brakes provide easy adjustment to keep your fingers happy and intuitively in control. There's also a tool-free reach adjustment that you're able to dial on-the-fly, along with a free stroke adjustment that lets you determine lever-blade-to-travel before pads make contact with the rotor.
Also, Shimano reworked pivot location so that the arc of the lever mimics the natural movement of fingers for enhanced power. Servo Wave technology comes into play here in order to adjust piston travel relative to lever travel. As you squeeze on the brakes, the gap to the rotor quickly closes, then slows to permit predictable modulation. This allows the pads to sit further from the rotors at rest for less chance of drag. The calipers house a 22mm ceramic piston for inspiring stopping power, and Shimano uses a banjo fitting for the hose attachment at the caliper. The calipers also employ Shimano's Radiator Pads that have integrated fins in order to dissipate heat and to reduce fade on long, hot descents.
The Shimano XT BL-M8000 Hydraulic Disc Brake has hinged, split clamps for easy mounting. It comes as a pre-bled lever/caliper/hose assembly and it's complete for each end of the bike—except for rotors (sold separately). Shimano XT Brakes will work equally well with XT Ice Tech Rotors or standard XT rotors. Please note that this brake is sold separately as either Left/Front or Right/Rear.
The most popular brake for self-sponsored racers
Predictable modulation empowers precise braking
Ceramic pistons reduce heat accumulation
Finned pads further contribute to cooling
Compatible with I-Spec II lever systems
Pre-bled lever/caliper/hose assembly includes everything you need
View more Mountain Bike Brakes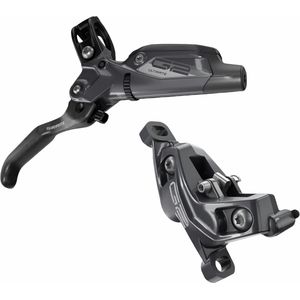 SRAM
G2 Ultimate Disc Brake
5 out of 5 stars from 2 reviews
5
2
(2)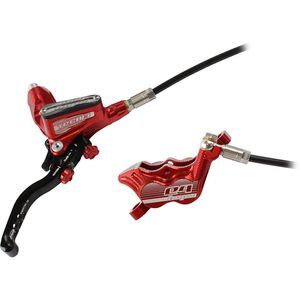 Hope
Tech 3 E4 Disc Brake
5 out of 5 stars from 3 reviews
5
3
(3)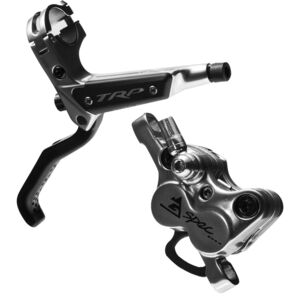 TRP
G-Spec DH Disc Brake
5 out of 5 stars from 1 reviews
5
1
(1)
What do you think about this product?
>Rating:
November 18, 2019
Will these brakes, paired with sm86 ice tech rotors, be able to handle downhill and jumping? Or will the fade be too much? I'm not one to brake a lot, but i do tend to ride dirt jumps and moderate downhill most. Thank You!
Kyle K.
Kaylee
November 19, 2019
Hey Kyle, Great question, thank you for asking. The Shimano XT Brakes will pair seamlessly with the SM-RT86 XT Ice Tech Rotors. In fact, because of their technology they will cool faster, theoretically causing less fade as you use them and heat the brakes up more. They would be a solid pairing option for someone with riding styles as your describing for yourself! If you have any more questions, feel free to shoot me a direct email at krakowski@competitivecyclist.com. Cheers!
>Rating: 5
September 11, 2019
Great upgrade
Familiarity:

I've put it through the wringer
This was a great upgrade for my Diamond Back glad I switched to hydraulic disk brakes wished I had done it sooner. This is a great company to deal and I would highly recommend them and I will be buying there products again
Gerald B.
Do these brakes squeak? Good for XC riding and racing?
mike akin
Edwin L.
August 29, 2019
Mine don't seem to squeak at all. I use the for XC and they are great.
Gerald B.
September 11, 2019
They do not squeak and I have ridden them hard in all conditions
Shimano XT's
Familiarity:

I've put it through the wringer
Upgraded my mountain bike from guide r's to shimano xt's. these brakes are a huge upgrade from sram brakes. Much more stopping power and easier to bleed.
Joseph
Only the best
Familiarity:

I've put it through the wringer
I've been running Shimano brakes for years. I've ridden SRAM and TRP as well but I keep coming back to the XTs. I have these on my SC Chameleon SE+ and the 4 piston version on my Ripmo. Couldn't be happier.
Jordan Porter
Still the best
Familiarity:

I've put it through the wringer
I've used lots of BRAKES to stop my bikes. Shimano XTs are my go-to. Weight is reasonable, lever feel is consistent with my riding style - Yes, if you pump them, there is a chance fluid will get on the other side of the piston and change your lever feel - if you find yourself in that situation, take a look in the mirror, and say, "Even and consistent braking pressure up to the corner, release and send to the next."
Travis Northway
Inconsistent Bite Point
Not sure why no one has mentioned, but the m8000s have a very inconsistent bite point. The first lever pull comes close to the bar, but then quick repetitive lever pulls fall much further from the bar. This is much more noticeable in colder temperatures. It sounds like the new XTR brake has similar issues. I've bled, re-bled and have others bleed my brakes, I even purchased a second pair of these breaks and they all have an inconsistent bite point. I'm in the market for a new brake.
Matixsnow
Eddie D.
May 24, 2019
Try the Maguras. Great brake.
stephen
April 26, 2020
That is indicative of a poor bleed or air getting into your system. The first few lever pulls are soft due to air in the lines. As the air clears up into the lever, the lever firms up. In this case a simple bleed with the bleed funnel should be enough to get it in top form. If not, you are likely looking at a leak in the system. Check for any obvious oil leaks first and give each of the connections a once over.
These are #1
Familiarity:

I've put it through the wringer
I've ridden SRAM and Shimano and I really love the XTs, I love how they grab, they feel AMAZING! Bleeding is also super easy, mineral oil is amazing!
Jordan Porter
BEST BRAKES!!!
Just order a pair. They are the best brakes out there right now for an all around brake. XC/Trail.. unless you like BB7's more these are the best brakes around.
DJ Redundant II
>Rating: 5
December 22, 2018
Tried and True, can't go wrong
Familiarity:

I've put it through the wringer
For super long descents at pro speeds, yeah these will over heat. But for desert riding and basically normal mortal riding, these are bombproof, feel great, easy to engage, and - most importantly - super easy to bleed and maintain and service. SRAM brakes are awful for servicing. If you pay a shop to do your work, then this is irrelevant to you, but it is pretty important for stubborn but not mechanically-inclined people like me.
Jennifer C
>Rating: 5
December 2, 2018
Stop! Collaborate and listen.
Familiarity:

I've put it through the wringer
Love these brakes. Great stopping power in a fairly lightweight package. Parts are easy to find and bleeding them is a very straight forward process. Combine that with the price and these are hard to beat.
Jamie McLoughlin
mike akin
August 26, 2019
Hey, ever have any problems with these brakes squealing or squeaking?
>Rating: 4
November 29, 2018
Good. Better than some. Not the Best.
Familiarity:

I've used it several times
Good brake but I still haven't found what I'm looking for. I have ridden RSCs Ultimates Zees and these. These require less maintenance and tinkering than the Sram brakes but there is quite a bit of fade or irregularities in lever pull on longer descents when they are used more frequently. Would I buy them again? Yes. Are they my favorite? No. Perfect on a XC or Trail bike. I may use brakes more than most, and given that I am 180lbs I like brakes that put down the power. I prefer Zees or Ultimates to XTs when weight is not an issue and when I'm going to be riding more downhill/enduro than trail/xc.
Ryan J.
>Rating: 5
November 16, 2018
Awesome stopping power
Familiarity:

I've put it through the wringer
These brakes have awesome stopping power and exceptional modulation. Shimano brakes are legendary for a reason and these are no exception. The mineral oil is also easy to bleed and work with if you are into bleeding your own brakes.
nathanael mackay
>Rating: 4
November 12, 2018
Brake Time
Familiarity:

I've used it several times
Grate Brakes
Jarquette
>Rating: 5
October 29, 2018
best choice
Familiarity:

I've put it through the wringer
Of all the brakes out there right now, this has got to be the most consistently reliable brake. Great pull and consistent feel. Durable, lastable... able to last.
DJ Redundant II
>Rating: 5
August 24, 2018
Best value stoppers for the price
Familiarity:

I've used it several times
I recently bought these a pair of these stoppers for my santa cruz hightower LT and I love them! Coming from sram's top of the line guide brakes on my old bike, I actually preferred the XT's over the guides. The squeeze actuation on these are similar to an all or nothing type of feeling when braking. Its hard to explain but basically you get 100% braking force at one given point on the stroke and it has a good feel to it. Unlike the guide's, where you get a gradual hard stroke all the way through. Would highly recommend these brakes to a buddy of mine or anyone looking for the best brakes that won't break the bank!
Wyatt Maxwell
Works like a light switch
Familiarity:

I've put it through the wringer
Bought this after getting fed up with issues with my Sram Guide brakes. XT's are more powerful, levers have less free stroke (you don't have to pull the lever an inch before the pistons start touching the rotor), maintenance is predictable and consistent, but modularity is bad. 4 piston brakes offer a lot better modularity, lockup happens more frequently with these brakes. Long story short if you don't care about upkeep and want something to work the same every time get these brakes. If you want the ultimate performance go Sram.
Nick G.
Tremendous Customer Service
Familiarity:

I've put it through the wringer
Rear brake failed after 22 months of use. Had some issues off and on with it after the first 6 months, with some softness and a few trips to the shop to get it working properly. The front brake version of this still works fine. The 4 stars is for the folks at Competitive Cyclist who worked with me to replace it and ship it out a new one right away. That impressed me and I will remember that when I need more gear and components.
John K.
Yup, Another 5 Star Review
Familiarity:

I've put it through the wringer
These brakes work first time, every time.
Kyle Hickey
LOVE THEM
Familiarity:

I've put it through the wringer
One of the best mtn bike brakes I've used that is a two piston set up, and not to mention Shimano is the most reliable mtn bike brake manufacture. These brakes have awesome modulation that is like a dimming light switch- not just an on or off switch. Paired with the ice tech rotors that help dissipate heat under extreme braking conditions, these XT's will give you the confidence on any bike trail. For the price, it's a worthwhile upgrade over the Shimano Deore or Shimano SLX brakes- especially to customize brake lever position
Christopher Siepmann