This carousel displays a list of buttons that updates the main product image when a button is clicked
Shimano
Ultegra Di2 ST-6870 11-Speed Shifters
Temporarily Out Of Stock
Item # SHI0659
Don't get too bummed. This item is on the way and will be available for purchase as soon as it rolls into the warehouse.
Can't wait? Consider one of the other Brake Levers & Integrated Shifters we have in stock.
View Similar Products
Description
Following in Dura-Ace's footsteps.
The second iteration of electronic Ultegra has officially arrived, and this time around the innovative system brings forth many notable Dura-Ace-esque refinements. Aside from the bump to 11-speed, updates to the shifters themselves include a slimmer profile that's more reminiscent of its Dura-Ace sibling, as well as reworked shift levers that are now positioned for easier access from the hoods. The surface texture is also more pronounced, which, in addition to the reworked paddle shapes, provides a more tactile feel for positive shifts from a variety of hand positions. And not to be left behind in the programmability department, the new shifters are also fully customizable through Shimano's E-tube software, meaning that various aspects of shifting are easily tuned to your preferences. It's safe to say the new Ultegra has learned a thing or two from its popular older brother.
The hoods of the Di2 6870 shifters now feature a smaller and slimmer shape compared to the Ultegra Di2 ST-6770 edition. Made from a dual-compound rubber composite, the low-volume hood design retains the slight perforated form of the originals, and makes lever accessibility easy. The lever blades and paddles have also received a sleek redesign. Their outward curve and feel is slightly more pronounced than in the prior generation, and make for a more positive interaction from either the hoods or drops. In terms of the shift buttons, Shimano has widened them and added more contrast in texture, creating an easily navigable shift interface. And when you're buried in the drops on long descents, you'll be happy to know that Shimano has continued to include 10mm of reach adjustment for the levers.
The shifting itself is where 6870 shines the brightest — this is where Shimano's "Rider-Tuned" philosophy really makes itself known. This is the title given to Shimano's campaign of providing you the best rider-experience of your life. The 6870 now enjoys the same fully programmable shifting experience as Dura-Ace 9070, which was only available as a firmware upgrade with the original 6770. This standard feature now enables you to select five different shifting speeds to the rear derailleur. And while this isn't a function that can't be performed on-the-fly, the option still creates a customizable ride quality that's specific to your riding style and requirements. Additionally, these shifters present the distinct ability for something that we've always been waiting for from Shimano — the ability to dump through the entire cassette with one shift movement. That's right, once programmed through the E-Tube software, one sustained motion will take you all of the way up or down the cassette.
Similar to 9070, Ultegra 6870 has eased your shifting options through the incorporation of cleaner, more minimal single-wire E-Tube connections. This way, the positioning of satellite shifters is wide open for either the drops or the top of the bars.
The Shimano Ultegra Di2 ST-6870 11-Speed Shifters are available in one size and in the color Grey. Each pair comes in at a claimed weight of 295g.
Low-profile hoods
Sleek, redesigned lever blades and paddles
Wider shift buttons
10mm of reach
E-Tube technology
View more Brake Levers & Integrated Shifters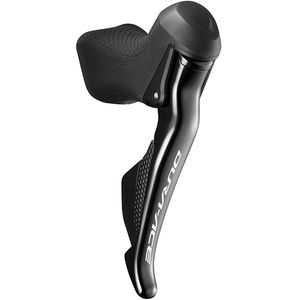 Shimano
Dura-Ace ST-R9170 Di2 Hydraulic STI Lever Set
$488.00

-

$498.00
Sale
25%
Off
5 out of 5 stars from 1 reviews
5
1
(1)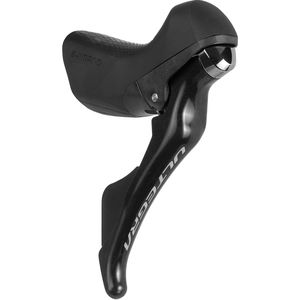 Shimano
Ultegra ST-R8000 STI Shifters
Current price:

$299.99
Original price:

$349.99
Sale
14%
Off
5 out of 5 stars from 5 reviews
5
5
(5)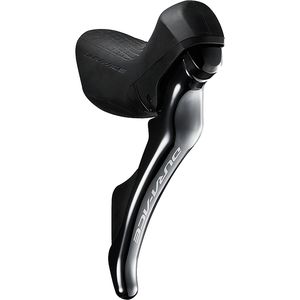 Shimano
Dura-Ace ST-R9100 11-Speed STI Shifters
Current price:

$398.00
Original price:

$549.99
Sale
28%
Off
4.5 out of 5 stars from 9 reviews
5
9
(9)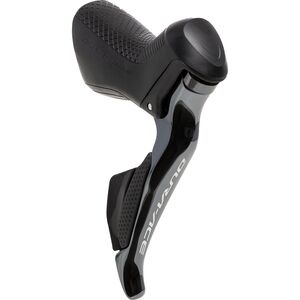 Shimano
Dura-Ace Di2 ST-R9150 11-Speed Shifters
Current price:

$429.99
Original price:

$685.99
Sale
37%
Off
5 out of 5 stars from 3 reviews
5
3
(3)
What do you think about this product?
Can these levers be programmed for 10 speed?
ric3252722
>Rating:
November 19, 2019
Is it a pair?
qa2106016428-0
Kaylee
November 19, 2019
Hey QA2106016428-0, Thank you for your question. Yes, this is a pair, and at a great price might i add! Please let me know if you have additional questions by emailing me directly at krakowski@competitivecyclist.com. Thank You!
Is this 1 or 2 shifters?
Samuel Garver
>Rating:
September 22, 2019
Are these for hydraulic brakes?
ry.p446396
#1 Headband
February 7, 2020
They are cable actuated brakes.
Easy Install
Familiarity:

I've put it through the wringer
I bought these to replace shifters that broke during a recent crash. Everybody knows how cool and awesome Di2 is, so I'll spare you on that detail. I just wanted to chime in and say that this installation is definitely something you can do yourself if you have any mechanical skills at all. Be sure to order new bar tape but everything else, including brake cables is included...
Nathan W.
>Rating: 4
December 24, 2016
Robot Bike
Familiarity:

I've put it through the wringer
Whiiiiiiir Zip Beep Boop Beep It occurred to me how crazy Di2 is, as I was running a firmware update on my bicycle. When Skynet takes over we Electronic Shifting cyclists are in trouble. All Jokes aside though. 1600 miles on this drivetrain and not a single issue or adjustment needed. Every shift has been flawless, and barring any unforseen circumstances, like a crash or some good old fashioned garage or transportation mishap, I fully expect go 6000+ miles with no issues. The only drawback I can find, and this is totally a personal preference, but I sort of miss the mechanical drivetrain for no reason other than the simplicity of pushing a lever which pulls a cable which moves a derailleur. I would argue that the Di2 lacks tactile feedback when shifting, but that is just me nitpicking. I rode the battery until it completely died just to see what would happen. At about 1300 miles (this includes plenty of playing with the new group, shifting just to hear the sounds and show off the auto trim) The battery died on my 18 mile commute to work one morning, first the front derailleur refused to shift, after a few more shift button clicks it did shift down into the small ring, and I had about 30+ shifts of the rear derailleur before the system became unresponsive. So 1300 miles, I think it is safe to say a rider would need to be quite negligent to run out of power on accident. Gathering all of the parts to get this system going is quite different. Typically for a road bike with the two standard shifters (no climbing or sprint shifters installed) you need 5 eTube wires 2 - 350mm Wires for the Shifters 1 - 500mm Wire for the battery 1 - 500mm Wire for the Front Derailleur 1 - 700mm Wire for the Rear Derailleur and 1 - 1000mm wire for the downtube http://www.competitivecyclist.com/shimano-ultegra-di2-wire Aside from the wiring you will need the upper and lower junction boxes 3 port for a normal road setup, 5 port for a Tri bike, or if you want to add a climbing shifter or Sprint shifters to your build Upper - http://www.competitivecyclist.com/shimano-e-tube-cockpit-junction-box Lower is either external or internal - http://www.competitivecyclist.com/shimano-ultegra-di2-junction-box The Internal Battery - http://www.competitivecyclist.com/shimano-bt-dn110-di2-battery Plus the needed mounting hardware depending on the internal mounting location. or The External Battery - http://www.competitivecyclist.com/shimano-bm-dn100-di2-battery-mount Be sure not to forget the appropriate battery charger as well because the battery does not ship with one. Then the shifters - http://www.competitivecyclist.com/shimano-ultegra-6870-sti-shifters and the Derailleurs Front - http://www.competitivecyclist.com/shimano-ultegra-6870-front-derailleur Rear - http://www.competitivecyclist.com/shimano-ultegra-6870-rear-derailleur Finally, if you want to incorporate the Bluetooth communication so you can firmware update and change shifting settings with your iPad, you will need an additional 150mm eTube wire, and the Di2 Wireless unit - http://www.competitivecyclist.com/shimano-ew-wu101-di2-wireless-unit
Forrest
Forrest
December 24, 2016
*** Those wire lengths are not set in stone, and will vary for certain bikes, and larger or smaller sizes. I would call in if you have any questions about the specific wire lengths for your bike.
>Rating: 5
November 7, 2016
Jumping on the Di2 Train
Familiarity:

I've used it several times
In the world of shift levers, Shimano is doing some of the finest work around. The Di2 version of their venerable Ultegra groupset is no exception and retains their near bulletproof reliability and top-notch ergonomics. The hood and lever design just straight up feels great in the hands in a variety of positions. Levers are easy to reach from the drops and the hoods are a solid touch point when you need to get out of the saddle. Shifts are precise and fast when you engage the controls. The buttons are maybe a touch hard to feel if you have thick gloves on, but this is nitpicking at most.
Ben Kuhns
Comfort & Precision!
Familiarity:

I've put it through the wringer
The Ultegra Di2 shifters have been fantatstic. The hoods are comfortable, and the shifts are precise every time. It's also worth mentioning that you can dial in the speed of your shifts (faster or slower from stock setting) to your liking with the help of your shop.
Hap Seliga
Reliable
Familiarity:

I've put it through the wringer
I purchased a bike with Ultegra Di2 about a year ago. It was my first foray into electronic shifting and it's just flat out reliable. The batteries last forever and you get quality dependable shifting. In the year that I've had it, I have had zero hickups.
Shawn Craig
>Rating:
February 23, 2016
Is the shape of the hoods any different than the previous version? I currently have the ST-6770, and I'm wondering if the 6870 will be more comfortable on my hands.
Adam K.
>Rating: 5
February 10, 2016
Sticking with it!
Familiarity:

I've put it through the wringer
Building a new bike is always exciting and it's always tempting to try new things. The drivetrain decision was particularly easy this time however, after my previous experience with Ultegra Di2. The light weight and sexy lines of the Dura Ace Di2 group are indeed tempting, but for the cost you can't go wrong with the Ultegra. I have had exactly :::zero::: issues with my previous group other than problems I have inflicted (read: derailleurs are not-crash-proof). This also makes the Ultegra a great option if you race, where close quarters and periodic pavement sampling are a fact of life.
Ed Kilbourn
Do the 6870 shifters come with Di2 and...
Do the 6870 shifters come with Di2 and brake cables?
Eric Rigel
Matt F
August 19, 2014
The 6870 shifters will come with brake cables and brake housing. You will need to purchase 2 e-tube cables to run to the junction A box.