This carousel displays a list of buttons that updates the main product image when a button is clicked
Selle SMP
Drakon Saddle - Men's
Sale
8%
Off
$248.40
- $259.00
Item # SLL000Z
Select options
Cancel

Select options

Black, 138mm ($248.40)

Green Celeste, 138mm ($259.00)

Light Blue, 138mm ($259.00)

Red, 138mm ($259.00)

White, 138mm ($259.00)

Yellow Fluo, 138mm ($259.00)
Free Shipping on orders over $50
Item #

SLL000Z
Description
Drakon Saddle
Selle SMP saddles have a distinctive look that's focused on making your ride as comfortable as possible. The model here, the Drakon, is one of its most popular, and like the rest of the brand's lineup, goes about eliminating the all-too-common discomfort issue of excessive pressure at the perineum region and the surrounding soft tissue. It possesses all of Selle SMP's innovative designs yielding pressure-free support in the saddle which ultimately leads to more comfort over longer rides, This Drakon Saddle uses stainless steel rails to save a chunk of change of the pricier carbon version.
The Drakon is best suited for cyclists with medium-width sit bones, who find their pant size between 33 to 37-inches at the waist and favor a fairly minimal amount of padding. At the front of the saddle is the characteristic "beak" shape designed to promote a flat base while seated, without excessive pressure. The other signature SMP feature is its pronounced central channel which further reduces pressure on the pudendal nerve and surrounding soft tissue. Moving to the back of the saddle, it receives a pronounced rocker for support on climbs and helps divide body weight between the rear and lower part of the ischial tuberosity region, also known as the sit bones. This shape also helps reduce overall pressure on the coccyx, or tailbone, while riding over rough surfaces.
The saddle's foam elastomer padding is wrapped in soft, genuine leather and sits atop a durable nylon/carbon composite shell riding on carbon fiber rails, ensuring a comfortable perch that'll hold up for road, tri and mountain applications.
The Selle SMP Drakon is available in one size, 276 x 138mm, is handmade in Italy and has a claimed weight of 315 grams.
A unique cycling saddle that adds comfort on any ride
The saddle's shape and profile fits average width sit bones
Minimal padding provides a better feel for the road
The dropped nose and central channel alleviate pressure
A raised tail provides a platform on the climbs
The leather cover is soft and hard-wearing
Steel rails and composite body ensure durability while dropping weight
View more Men's Road Bike Saddles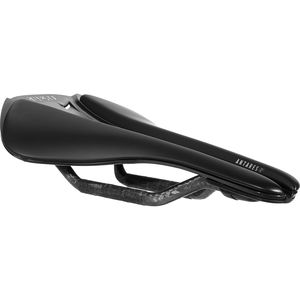 Fi'zi:k
Antares R1 Versus EVO Saddle
Current price:

$150.00
Original price:

$200.00
Sale
25%
Off
5 out of 5 stars from 2 reviews
5
2
(2)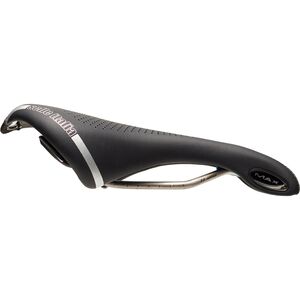 Selle Italia
Max Flite Gel Superflow Saddle
Current price:

$132.99
Original price:

$189.95
Sale
30%
Off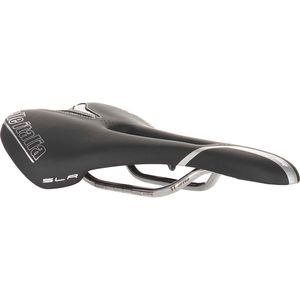 Selle Italia
SLR Flow L Saddle
Current price:

$149.99
Original price:

$224.99
Sale
33%
Off
3.5 out of 5 stars from 2 reviews
5
2
(2)
What do you think about this product?
Best Saddle Ever
Familiarity:

I've put it through the wringer
I've complete 3 century rides in under 5 weeks. After getting this saddle dialed in with the correct tilt and fore/aft it has proved to be the most comfortable saddle I've ever ridden. It just fits like a glove. Some quick background, I've struggled greatly from hip surgery the past three years and the Specialized BG Romin 143mm that once worked well for me just never worked since my surgery. After 30 miles I'd just start squirming around uncomfortable and often in pain on the Specialed. Once dialed in the Selle SMP Drakon just fits like a glove and has virtually removed all my pain and discomfort. Just awesome and I'm ready to drop another $250 for my other bike.
mic101583567
>Rating: 5
February 29, 2020
Todd Frein's Review
Familiarity:

I've put it through the wringer
I would sum my review up by referring you to his. I would write the exact same thing. I've ridden in my oldest and cheapest bibs to eliminate the possibility that good shorts got rid of my pain and numbness. My issues were so severe, I'd considered going to a urologist. After dialing it in, you'll only be left smiling, and repeatedly saying "Wow!!"
Jeffery D
New To Selle SMP?
Familiarity:

I've used it several times
Are you new to Selle SMP product? Are you tired of trying saddle after saddle trying to find one that fits well, is comfortable ride after ride after ride, and doesnt ruin the look of your bike? Look no further fam. Youve found it! This saddle is probably the most comfortable saddle Ive ever ridden. At first I was hesitant, due to never having a selle saddle before and i have a pretty delicate rear end due to multiple injuries (Thats a story for later). From the first ride, I was hooked. The channel cut down all the nerve pain and pinching I used to get on regular saddles, the lip in the back provides comfy support on climbs, and the nose of the saddle gives you a good position when youre in attack mode. After using it time after time, it has only gotten more comfortable and my tailbone has really appreciated it. This is a great saddle for anyone looking for their last saddle ever. Works great on road, gravel or mountain bikes! Really is a one saddle quiver and the workmanship is excellent. 100% handmade in Italy. They are truly dedicated to the product they make and stand by it even more so. It is still family owned and operated and youll be hard pressed to find better quality for the price. Get out there and sit on one and you will understand why!
Tod
One Saddle, Every Bike
Familiarity:

I've used it several times
I've experience no numbness or discomfort when riding this saddle. Whether I'm climbing for hours in mountains, or just out for quick lap on the local trails after work, I hop on this saddle and I forget it's there. The lip in the back is great for feeling secure on steep in the saddle efforts, and the channel removes all the pressure points.
Grant Johannes
Saddle Up, Partner!
Familiarity:

I've put it through the wringer
After trying a few of Selle SMP saddles I settled on the Drakon as the perfect one for me. I think the Drakon is one of the most versatile saddles out there. As far as Selle SMP lineup goes the Drakon falls right between the Lite 209 and Dynamic with the Lite 209 having slightly more padding and the Dynamic slightly less. This means the padding on the Drakon is great while not being too bulky. For me the shape of the saddle is also right on par. My riding position feels firm and securely planted in the saddle. The raised rear on the Drakon doesn't leave me perched on the rear edge of the saddle when sitting and grinding up a steep climb. Rather, it provides a solid platform to push against. Similarly when in the drops, I can remain firmly in place while getting a steady power output. The saddle may look curvy, but it has a nice flat section in the middle that allows you to settle in and move fore and aft with ease. The Drakon knows how to deliver the comfort for everyday riding so give it a try if you think it may work well for you too. If you have any questions at all, feel free to reach out to me.
Todd Frein
Positive Prognosis
Torn labrum, subchondral bone sclerosis, and facet joint arthritis is not a good news to hear from your doctor, especially after having had the hip in question operated on. I have spent a number of years finding myself uncomfortable on every saddle I tried and also uncomfortable on saddles that I use to get along well with. I swear I could feel a mashed up pea under a dozen mattresses my hip was so bad for wear. I was especially sensitive to my saddle selection and position on the bike. Enter in the SMP Drakon. After learning a bit about the company's storied pass, 100% made in Italy designation, unique 1 piece saddle rail construction(longest rails on the market for fore aft adjustability) paired with some feedback from some trusted riding partners I found myself on the Drakon. I was immediately impressed with the over all feel of this saddle and after tweaking the tilt and fore aft position of the saddle after a couple of rides, it was straight up love. I've been able to extend my ride time and continue with my upward trajectory of healing and I'd like to think the Selle SMP Drakon has had a lot to do with it. I often find myself switching this saddle between bikes I've become so smitten with it.
John Schott
Really comfortable!!
Familiarity:

I've used it several times
This is the most comfortable saddle I've ever been on! I'm running it on my Yeti SB130 mountain bike and for that purpose it would be nice to have a little more padding but it is still a super comfy seat even for long 20+ mile single track rides. The long rails give the ability to fine-tune your position which I've found to be more useful than I expected.
Jesse Gus Allen
>Rating: 5
January 31, 2019
I bought a second one
Familiarity:

I've put it through the wringer
Selle SMP makes a lot of saddles with a similar form but with varying l=widths and levels of padding. I have found the Drakon to be the best for my larger frame and medium length and frequency rides. The profile is unusual, but the comfort is exceptional. Smaller cutouts offer some pressure relief, but the full length cutout and dropped nose prevent all undesired contact with sensitive areas. The Drakon is not a saddle for the weight obsessed, but it is accptably light, and is built by hand in Italy with materials that are made to last. I particularly appreciate the natural leather cover and how carefully it is stretched and molded across the complex shape of the saddle. I anticipate riding the Drakon for many years.
Mike Nelson