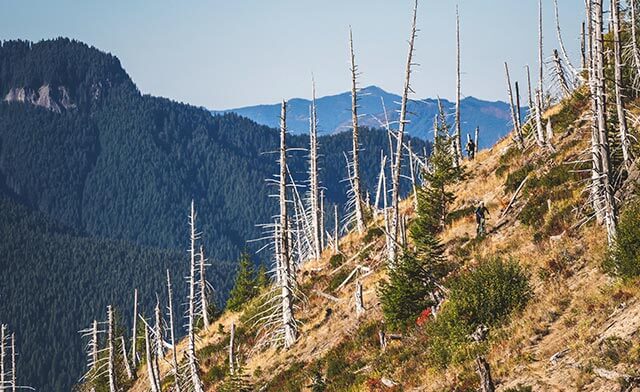 MISADVENTURES IN THE WASHINGTON WILDERNESS
Author: Libby Ludlow
"Confirm your name." Jake Dudek must have looked confused, because the photographer repeated, "please state your name." Still in a haze, this time Jake, running a 26 on his number plate, identified himself by name. The photographer sounded relieved when he shouted over his shoulder, "yep, found him! I think I got him!"
It was only the first of four days of one of the most challenging, and most beautiful enduro races in the world, and Jake Dudek's race had already come off the rails. Within the very first mile, he dropped his saddle only to find that his dropper post had failed. A return to basecamp yielded no spares or hope of repair. Although this would pose no issue for the upcoming 27,000 feet of descending, there was still the matter of getting to the start of each of the 14 stages that comprise the timed portion of Trans Cascadia. So, facing 90 miles and 19,000 vertical feet of climbing over the next four days, and with no hope of sorting out his newly dysfunctional dropper, Jake decided to press on. He certainly wasn't going to quit now.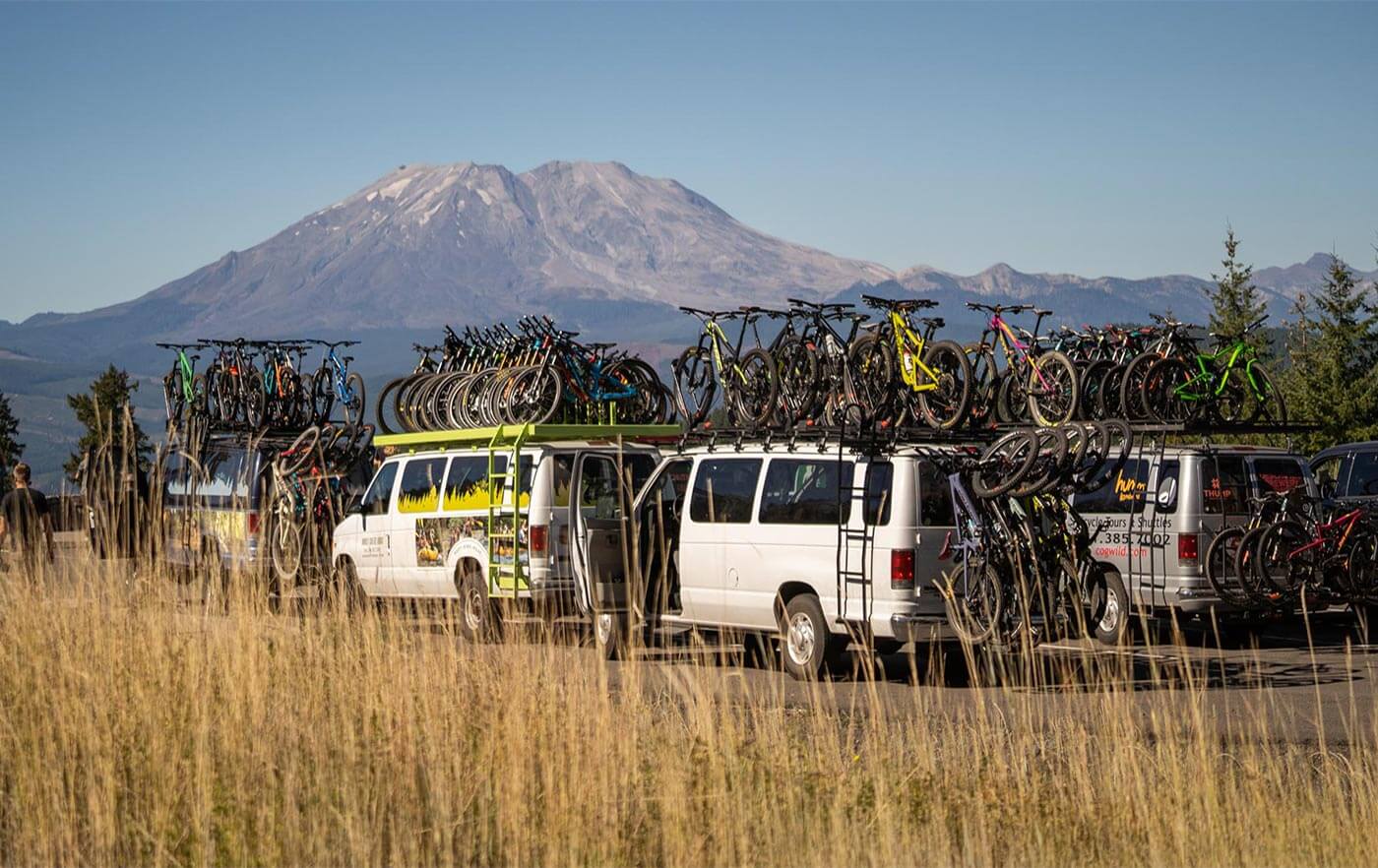 Jake Dudek is a pretty regular guy with a pretty regular life. He has a wife, a kid, a black lab, a mortgage, and a desk job. He also oversees bike merchandising for Competitive Cyclist and the Backcountry Group. A former collegiate alpine ski racer turned avid mountain biker, Dudek, like so many riders, has found a new competitive outlet in enduro racing. He explains, "I love the opportunity to experience new environments, the physical effort involved, and the pure technical challenge of it all. Enduro is like ski racing if you had to backcountry tour to get up to the start."
Trans-Cascadia's reputation had earned it a spot at the top of Jake's bucket list. So, when Shimano offered him a race entry to the 2018 edition, there was no way he could say no.
Trans-Cascadia is known as "the party in the woods." By all accounts, it's an apt characterization.
Since its inception in 2015, the four day, blind format backcountry enduro bike race has built a reputation as a true pinnacle mountain biking experience. Riders from around the world not only race on epic, never-before ridden single track—trails reclaimed specifically for the event—but they end their days at a plush camp with gourmet meals, an open bar, and a whole bunch of people who like riding bikes. It's equal parts partying and racing, all in the breathtaking mountain biking mecca of the Pacific Northwest.
Dudek had no idea what to expect when he arrived for the Trans-Cascadia. With a giant duffle bag slung over his shoulder and roller bike bag in tow, he navigated Portland's buses and trains to a friend's house for the night. Between his Santa Cruz Hightower LT, every possible clothing combination the Northwest could require, a small collection of bike parts and tools he hoped he wouldn't need, and a sleeping bag, he wasn't exactly traveling light.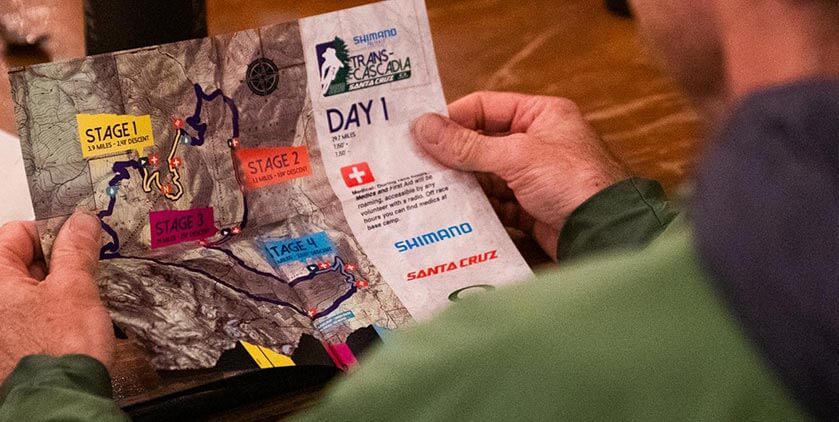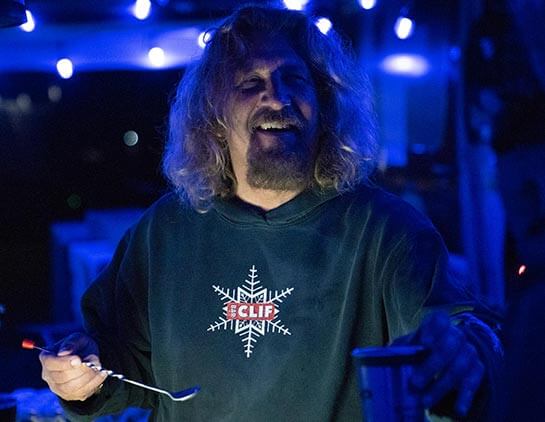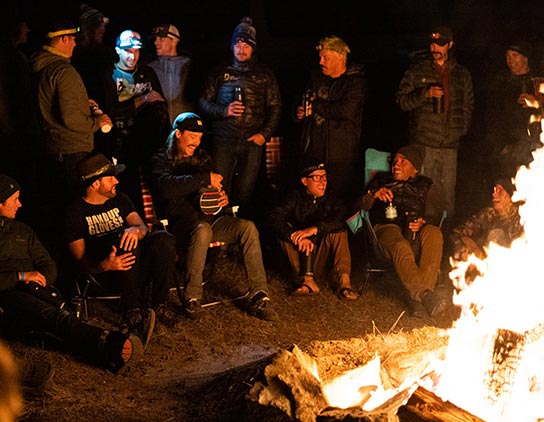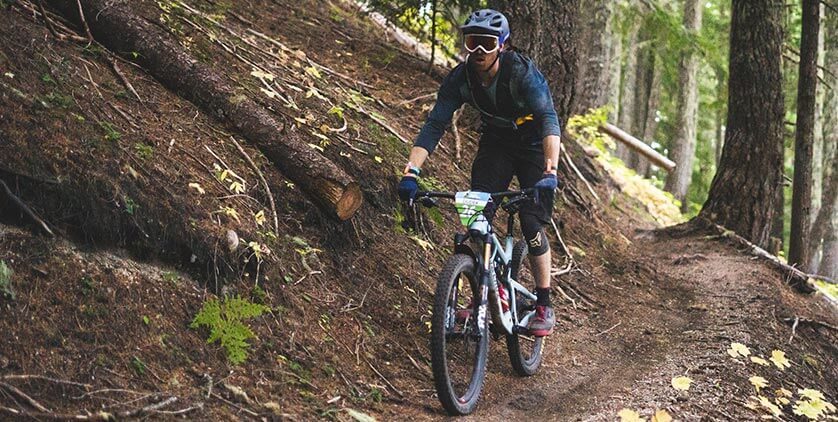 The next morning, Jake was the last to arrive at the designated meeting spot, an obscure farm outside of Portland. He glanced at the hundred bikes crammed onto trailers and racks as he stepped onto a school bus packed with eager racers. When the caravan pulled away, Dudek asked the bus driver where they were going. The driver shrugged. He didn't know.
In a truly blind format, racers don't learn where they'll be riding until the evening before the race begins. Aside from the handful of volunteer trail-workers, the brand new trails have literally never been ridden before. Though it's easily overlooked, the purpose behind the Trans-Cascadia is not to throw a big party, but to build trails, then make them available to the public after the race concludes. In a way, the Trans-Cascadia is really just a raucous celebration of the hundreds of hours volunteers have spent delivering world-class trails to future users.
When he arrived at camp, Jake was introduced to the amenities he'd enjoy for his entire stay. "Everything was beautifully organized," said Dudek. "There were hot showers and premium bathrooms, a tent with massage therapists, a WD40 bike wash station, a huge cook area with rotating chefs, a bonfire that was almost always going, tents with mattress pads, an open bar with a bartender who looked like (The Dude from ) The Big Lebowski, and Shimano was there to help with mechanical problems."
After he finished dinner, a gourmet meal prepared by a renowned Portland chef, racers finally learned where they were headed for the next four days— the mossy and mountainous Gifford Pinchot National Forest in Washington state. Surrounded on three sides by the powerful trifecta of Mount Rainier, Mount Adams, and Mount St. Helens, it was obvious that the racers were in for something special.
The next morning, Dudek woke up to the sound of hushed chatter as racers started to emerge from their tents. After he ate breakfast and gave his bike one last once-over, he corralled with the rest of the riders to begin the 4-mile, 2,500-foot climb to the start of Stage 1. With the entire Santa Cruz Syndicate team in attendance—as well as veterans Josh "Ratboy" Bryceland, Steve Peat, and Greg 'the G.O.A.T.' Minnaar—the pro field was impressive. "You see these guys on TV and on Pinkbike, not out on the trail," Jake explained. "It's not every day you wake up and head out for a ride with World Cup downhill guys like Luca Shaw, Loris Vergier, and Greg Minnaar." Feeling chilled by the damp air and unsure how he'd stack up, Dudek was eager to get moving.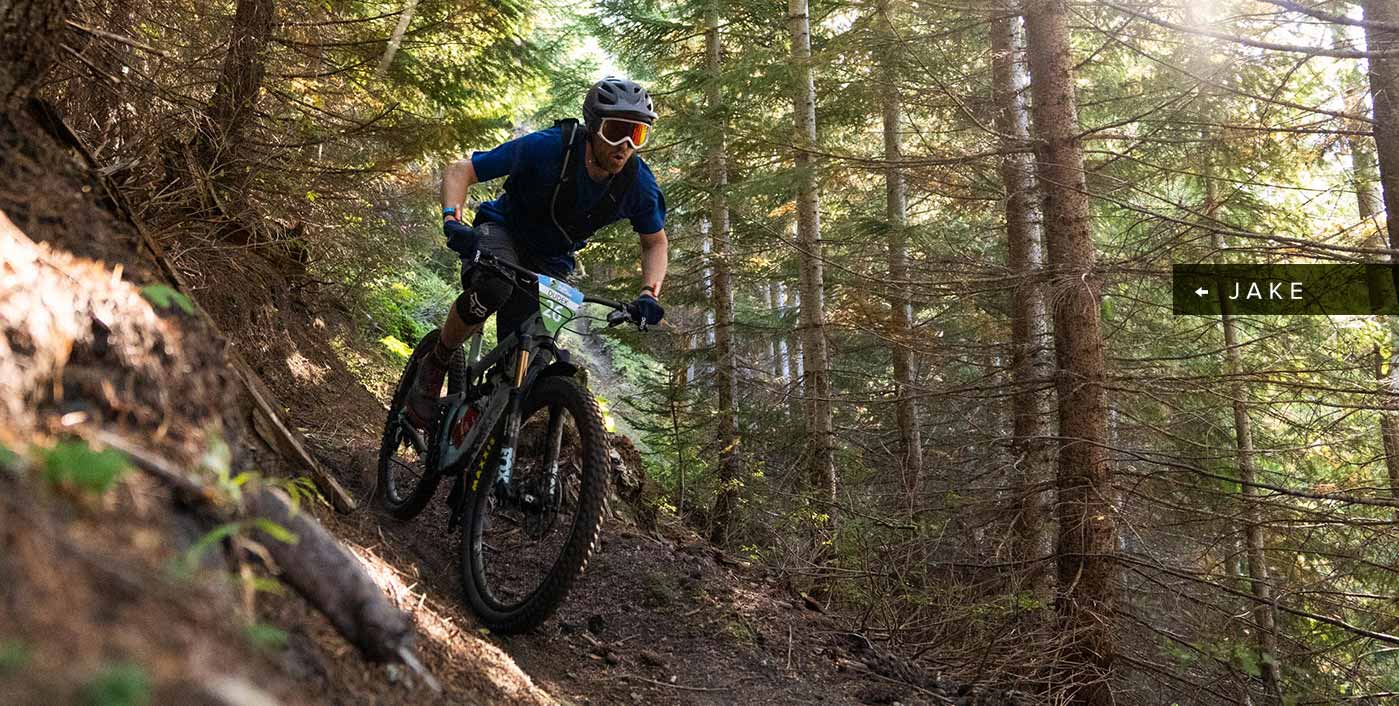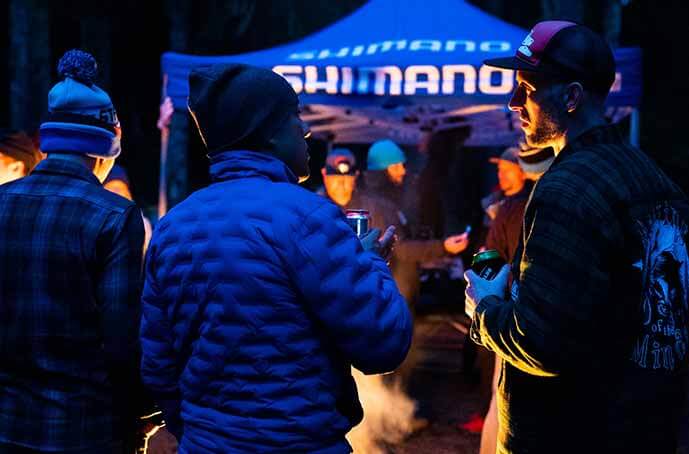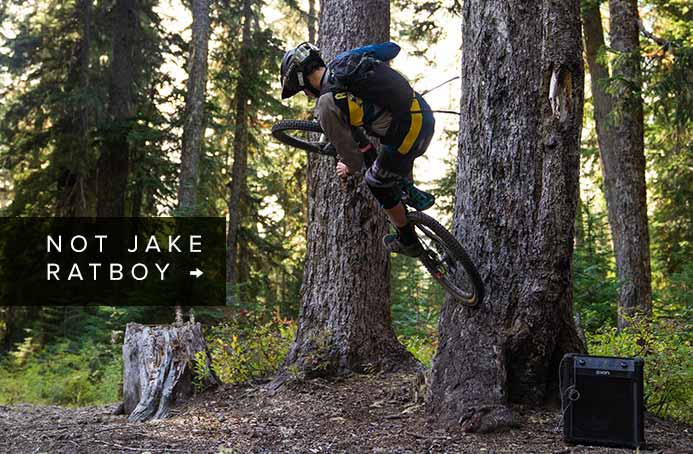 Less than a mile in, Jake dropped his seat down for a moment but it wouldn't return. His Rockshox Reverb dropper post was stuck down and oil was leaking from the lever. As riders rode by him one by one, Jake tinkered at the trailside for 15 minutes to no avail. Discouraged, he rode back to camp, hoping that he'd find the tools or parts he needed there. No such luck. Without a dropper bleed kit, zero cell service, and the nearest bike shop about a hundred miles away, he realized with a sinking feeling that there was no way he could fix or replace his dropper post. As he recounts, "I immediately thought, 'this whole week is fucked.' I thought I wouldn't be able to race."
Feeling hopeless, Dudek weighed his options and seriously considered throwing in the towel. Not only would it be a struggle to keep up, but he was skeptical he'd even make it through the entire four-day race without a functioning dropper post. He imagined hunkering down with a beer at camp to numb the disappointment. "I was sulking by the campfire," explained Dudek, "and then I saw Josh Bryceland light up a joint (keep in mind marijuana is legal in Washington state) and I thought to myself, 'if this guy is going to crank out 7K of climbing today, I can do it with a busted Reverb.'" So, Jake hesitantly got back on his bike and pedaled out of camp for a second time. His seat post was a good 5" lower than it should have been and he was the last person to leave camp. Needless to say, he had some catching up to do.
Riding alone in the forest, Dudek came upon two of the race photographers. Notoriously some of the hardest working people at the race, the media guys cover more ground than the racers do. Once they get action shots from one location, they sprint to get back ahead of the field to capture more. Dudek was surprised to see them so far behind the main field.
"Confirm your name," the photographer said to Jake, "please state your name." When he told them, the photographer shouted over his shoulder, "yep, found him! I think I got him!" Although the photographers were there to cover the pros, not amateurs like Dudek, they'd been tasked by Shimano with getting a few shots of Dudek. When they couldn't locate this hard-to-find "everyday guy Jake Dudek," they took to calling him Private Ryan. The joke fit, and the name stuck for the rest of the race.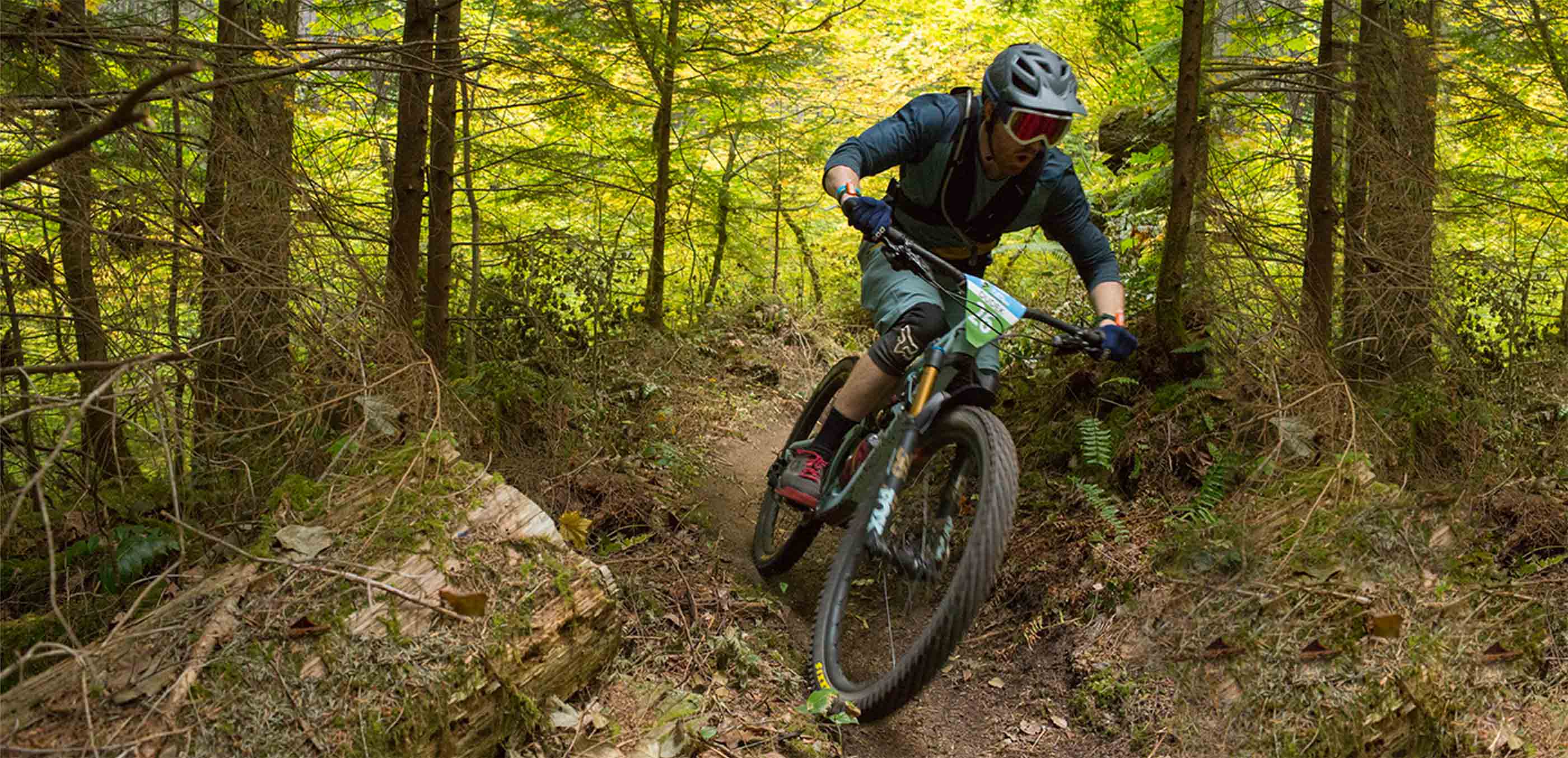 Although his progress was slow, Jake gradually started to gain ground on the field ahead of him. Toward the top of the first climb, the terrain was far too steep to ride. Dudek slogged up the hill and saw a shirtless guy casually pushing his bike one step at a time. As he got closer, he noticed a baguette taped to the top tube of the guy's bike and realized it was Loris Vergier, the 22 year-old World Cup standout. "I walked behind him for a little bit and then we came around a corner. There were two guys sitting under a tree taking a break. One of them looked at Loris and said, 'Look at this cat! Loris, you're so French.'" It was Greg Minnaar hanging out with Eliot Jackson.
Jake's mood began to lift as he caught up with more riders. He was already grateful that he'd decided to carry on, and his spirits lifted as he noticed an ironic twist— saddle height doesn't matter when you're hiking.
Dudek arrived to the start of Stage 1 toward the back of the pack, which meant that he would race the first timed segment amongst the pros. He'd signed up for the amateur category for good reason, but the opportunity to ride with pros was intriguing. Since race organizers were allowing "party trains"—small groups of riders who start the stage all at once— Jake jumped at the chance to join a party train of pros.
For the entire descent, Dudek managed to keep the riders ahead of him in sight. "The party trains were actually a phenomenal learning tool," Dudek explained. "The terrain out there is fast and rowdy. You don't have a sense for what pushing it really means in that terrain unless you see it first-hand. All you are trying to do is to not get gapped, and through that, you find more speed." By the end of the stage, Dudek had a new sense of pace and intensity. It was a different gear than he had ever explored before.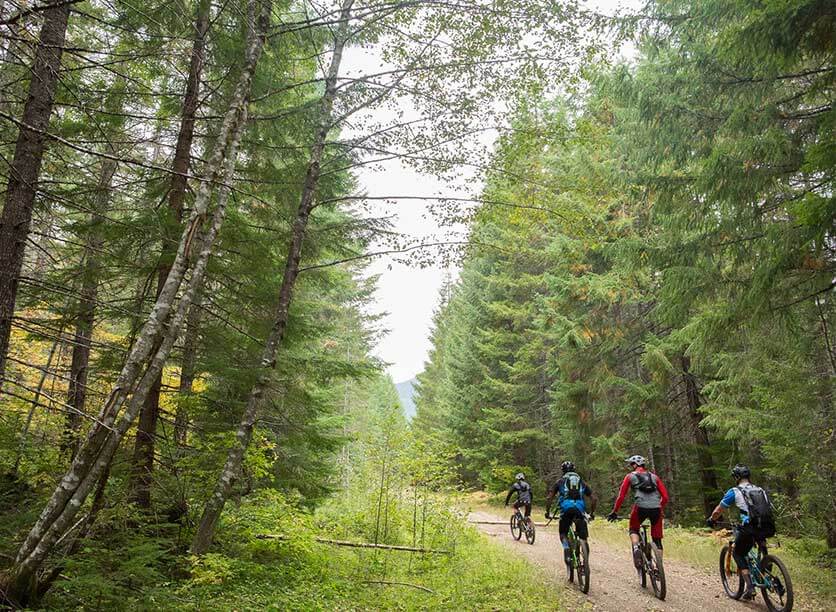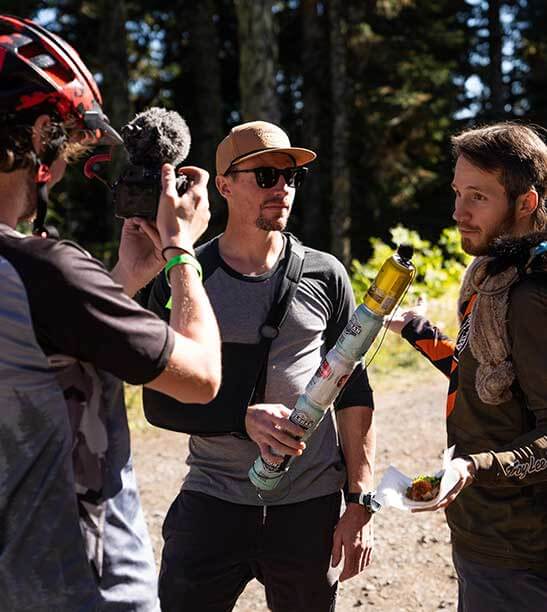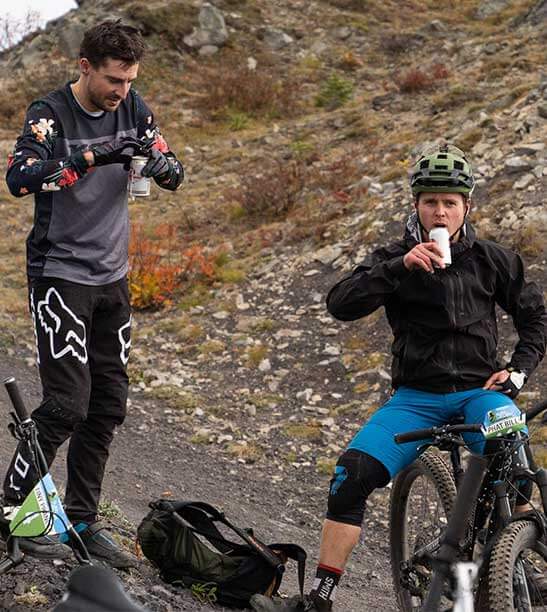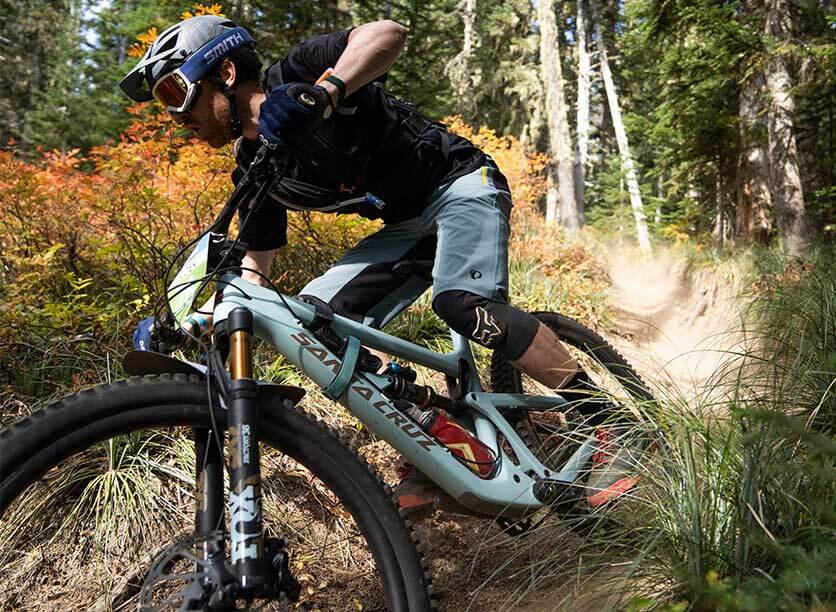 On the fourth and final stage of day one, Jake blew through a switchback and crashed hard. Flying over his handlebars, he continued to tumble down a steep, loose embankment. By the time he collected himself, his bike, and got back on the trail, he'd lost heaps of time. Reviewing results that evening, Dudek was pleased to discover that, despite the crash, he was in fourth place for the amateur class. "I saw that I had gotten first place for non-pros on Stage 1 when I jumped onto the party train. It helped me understand how the degrees of pace and intensity were matching with results. I realized that if I kept the intensity high, but continued to ride within myself, maybe I could get on the podium."
Day two offered riders a welcome reprieve after climbing more than 7,000 feet the day before. Three shuttles up to the ridgeline meant 8,000 feet of descending from just 2,000 feet of climbing. Despite all of the descending, a long, pedally section in the middle of Stage 7 left Dudek feeling discouraged. "It was the first stage where I felt the broken dropper was really a handicap," he explained. "There was a steep, loose climb to get out of a ditch. My legs were tired and I couldn't put my seat up. I thought, 'this is really a disadvantage now.'" Because he had to manually drop his saddle completely for each stage, and couldn't move it once it was there, Dudek was out of his saddle for every timed section of the race. In some stages this setback mattered more than others, but for the ones where it did matter, the disadvantage was undeniable.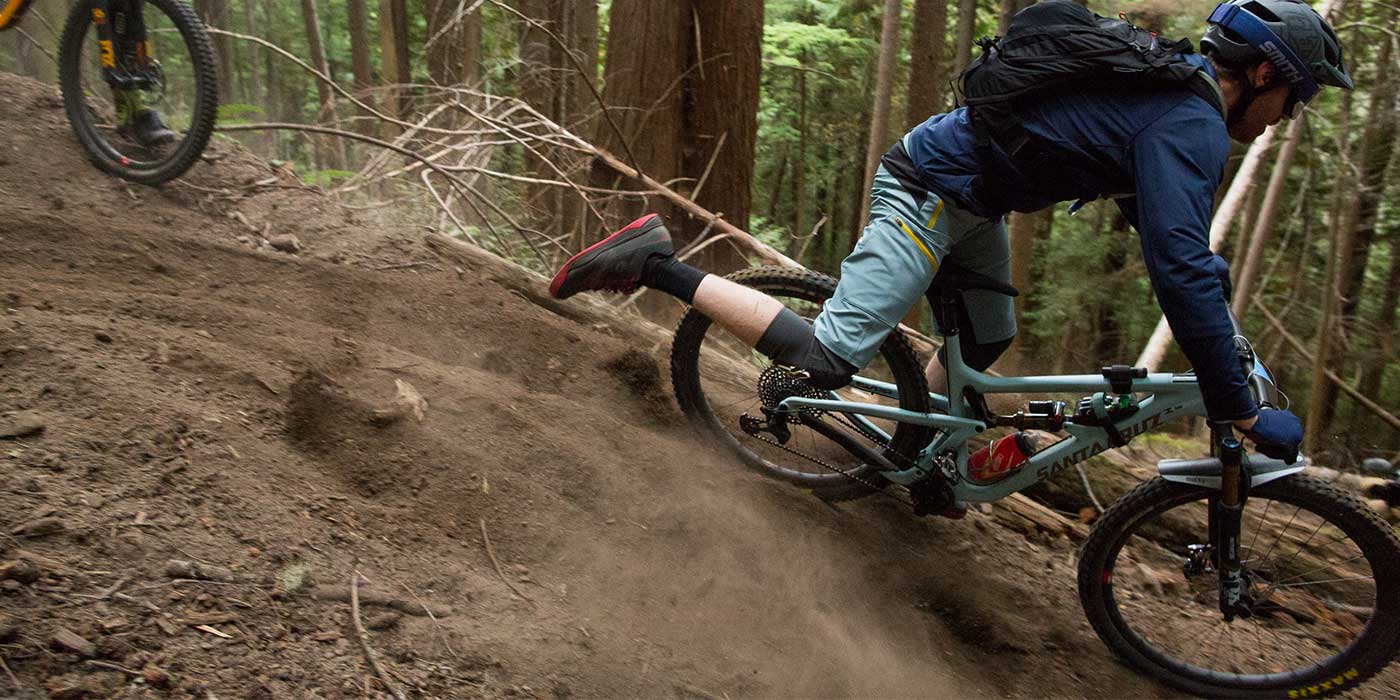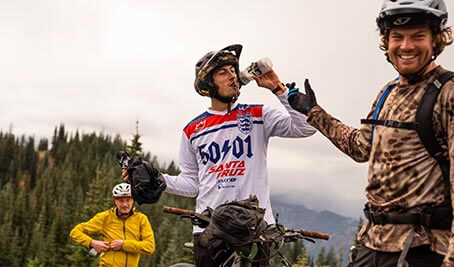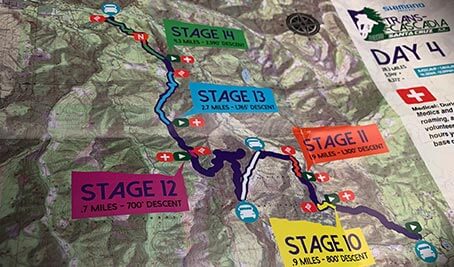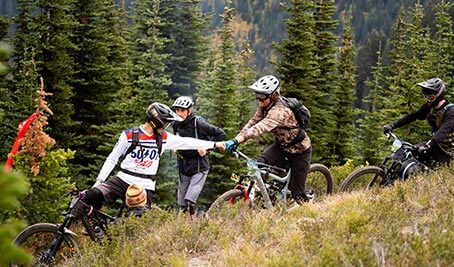 By all accounts, the highlight of the second day was Stage 6. At 6.9 miles and 3,400 feet of descending, every racer finished the stage on a high. "It felt like surfing on dirt the whole way," said Dudek. "The trail was so fall line, and gravity just took you." Riders couldn't stop raving about the stage—the quality of dirt and the flow of the trail. You know if you hear a Syndicate rider say "that is one of the best descents I've ever ridden," it must be something special.
Riding prime single track with world-class riders was eye opening, and to Jake, it felt remarkably similar to his past life as a ski racer competing against some of the best in the sport. "Racing is racing," said Dudek. "There are a lot of similarities and cross-over, especially between alpine ski racing and mountain biking. What fascinates me is figuring out how to capitalize on gravity—the same constant that everyone else gets. You need to figure out how to squeeze more out of it than the guy next to you. Pedaling is a healthy part of gravity racing, but it's easy to get better at pedaling— just go pedal more."
Stage 9 was Jake's favorite of the race. It was day three, and the trails had gotten more gnarly, rooty, and technical. "After some physically taxing stages, flipping to steep, techy mode was refreshing for me," said Dudek. Maintaining the gear he found on day one, Jake applied the same pace and intensity to the more technical bike handling that the trail required. "By day three, I was starting to get a better sense for where my riding would put me in the mix. I could finish a stage and have a decent idea of whether I was fast or not." That evening, Dudek stood on the podium—he'd moved up to 3rd place for amateurs.
On day four, riders learned that a washed-out road made one of their shuttle routes impassable. Forced to climb 2,000 more feet than originally planned, riders pedaled a grueling grand total of 7,500 vertical feet on their final day. By the 14th and final stage of the race, Dudek's mental fatigue was almost as great as his physical fatigue, and shortly into the stage, he started to lose focus. "I almost went OTB into the trees a handful of times," said Dudek. "I was gassed, but I told myself to get it together and I managed to get my head back in it for the final stage."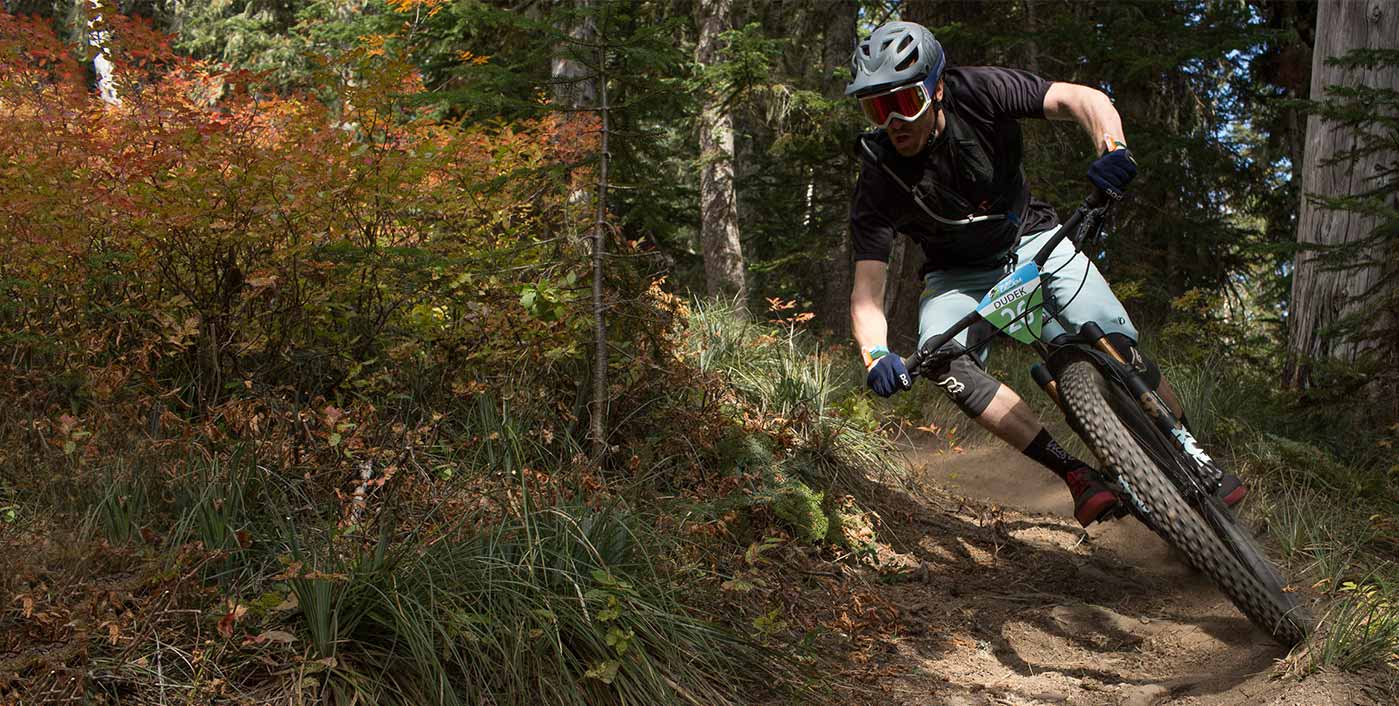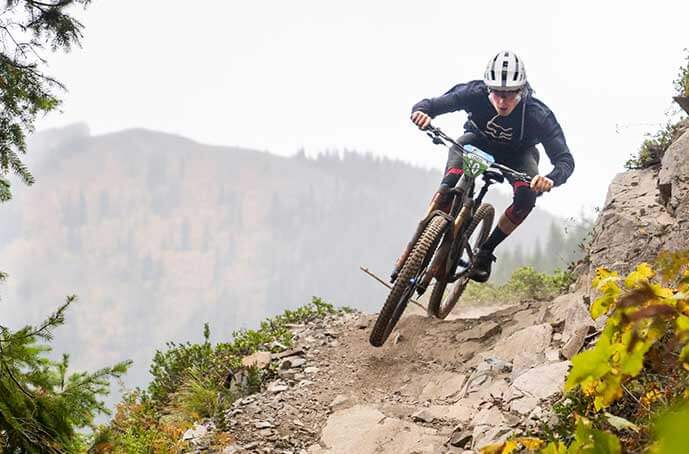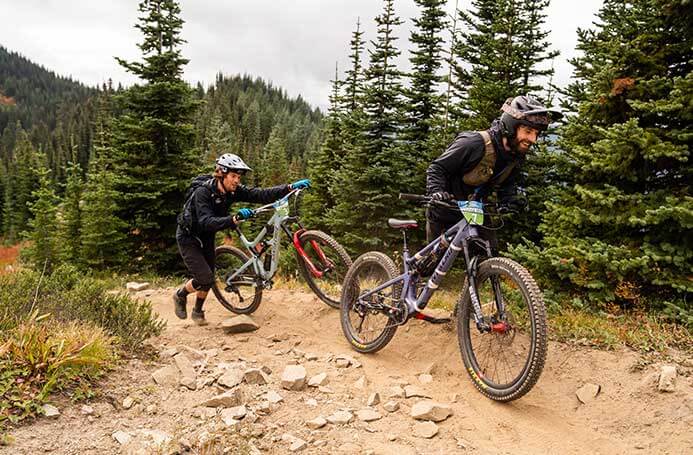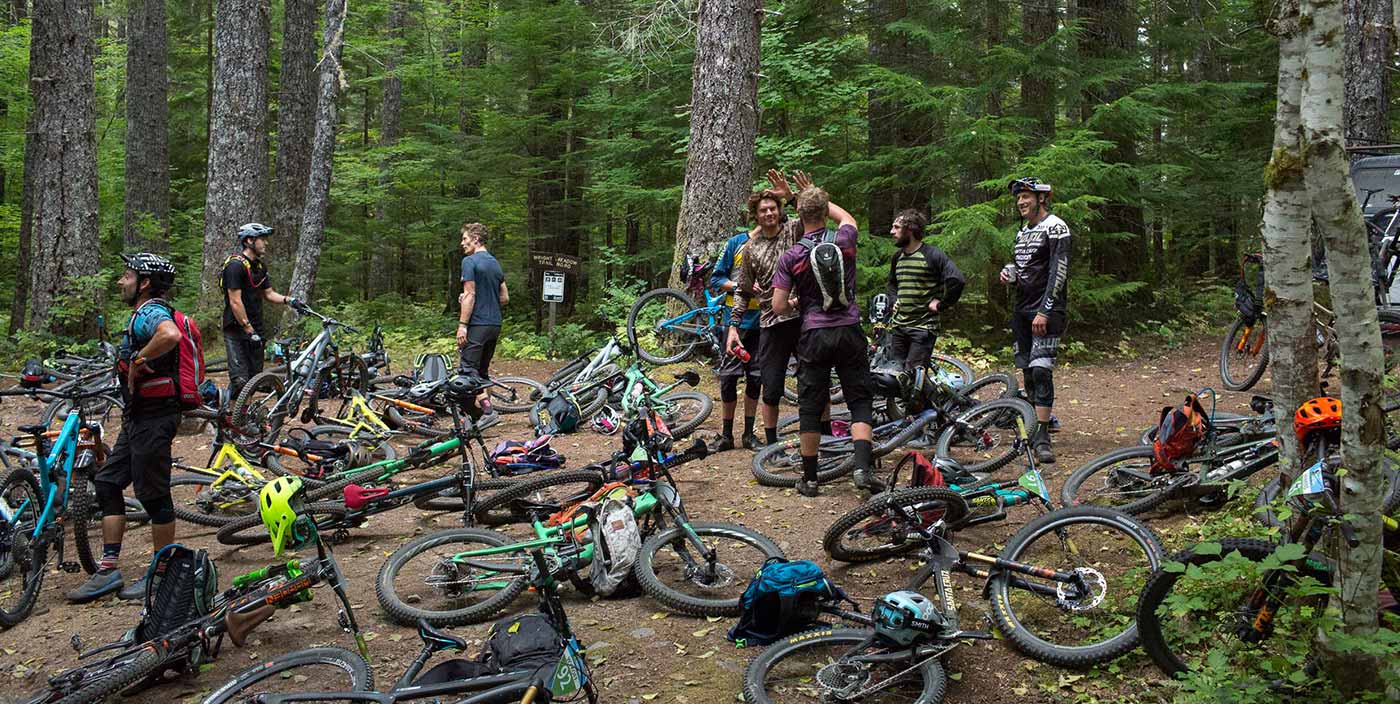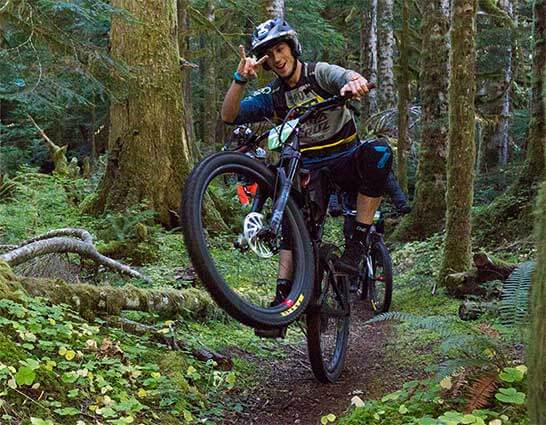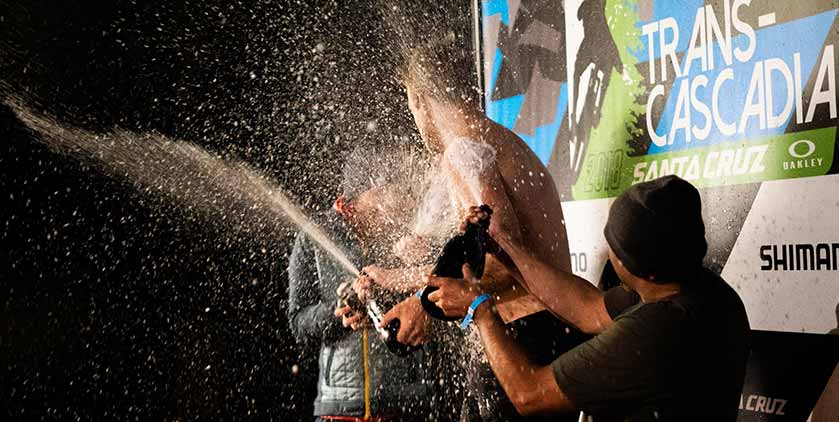 After 90 total miles traveled, 19,000 vertical feet of climbing, and 27,000 vertical feet of descending, Jake Dudek officially crossed the finish line and skidded to a stop next to two primed kegs. As he caught his breath, he felt an overwhelming sense of elation and relief. "The best thing about that event is you don't even need to see results," he said. "You're winning at life by just being out there." The race was over. It was time for a beer.
Despite the tremendous effort put forth over the four days of racing, energy was high at camp that night. "Everyone was mingling and chatting,'" Jake explained. "Old guys were talking to Loris and Greg, and I was asking Luca Shaw, 'how did you handle that awkward uphill ditch on Stage 7?' We didn't feel like strangers at that point anymore." They had commiserated over mistakes, picked each other up from crashes, loaned each other bike parts, and laughed over beers. They'd been through an experience together, and the disparate group that had convened just five days prior now felt deeply connected.
According to Jake Dudek, "The Trans-Cascadia is a party in the woods, with people riding bikes insanely fast in between parties." And it was, in his mind, the ultimate vacation— the opportunity to test what he was made of, and to find a new gear.
Champagne bottles popped as everyone collected for one last awards celebration. Loris Vergier took the top step for pros, and Dudek—finishing second place for amateurs—walked away with a hand-carved wood trophy of his own. Broken dropper post and all, the Saving Private Ryan guy triumphed in the end. "It felt good knowing that the time I put in this summer was worth it," said Dudek. "I wasn't puzzling for nothing."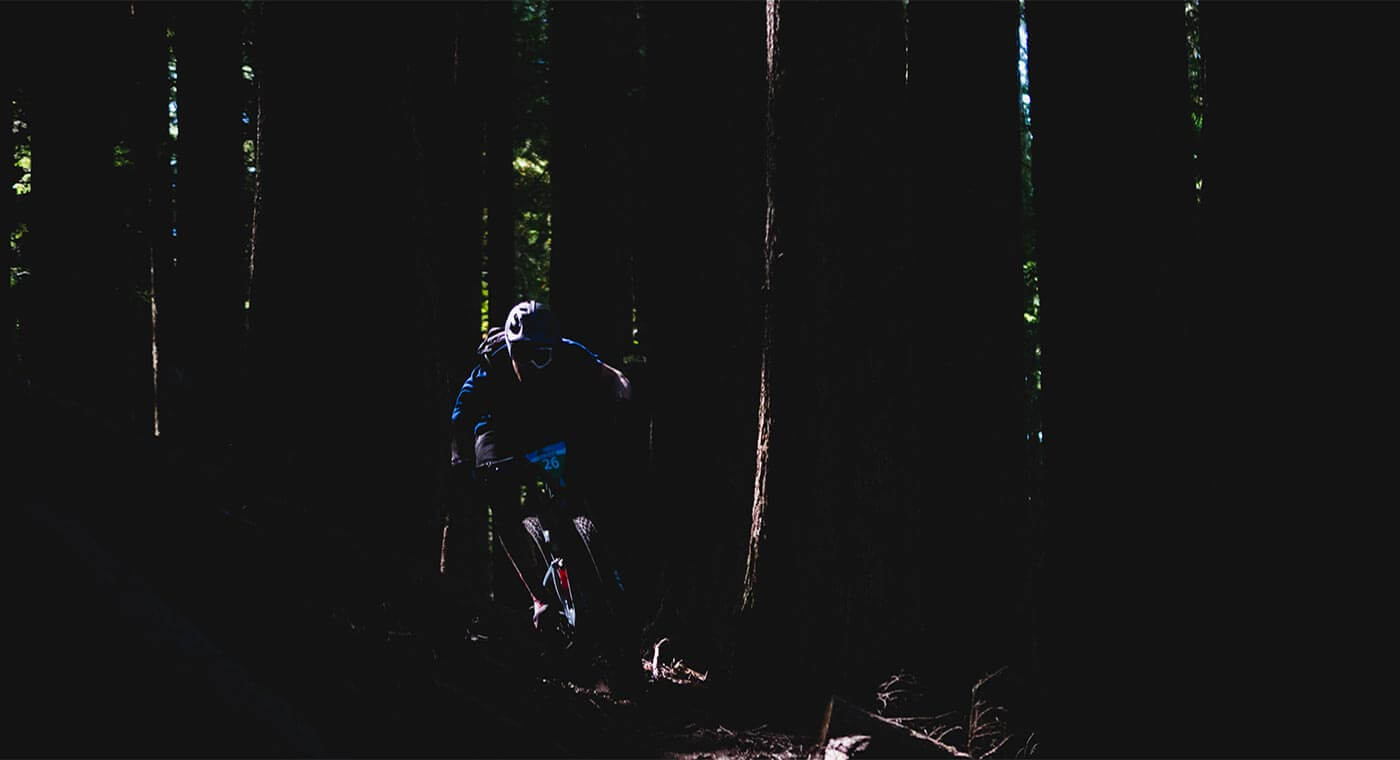 Meet our Gearheads.
Chat, email, or call us at: (888) 276-7130
Competitive Cyclist Gearheads are your resource for all things cycling. They're bike experts with knowledge and experience that's second to none. Whether you're thinking about your next dream build, you need advice on components, or you have questions about an existing order, don't hesitate to contact a Gearhead.
Chat Now
Shop Jakes Setup