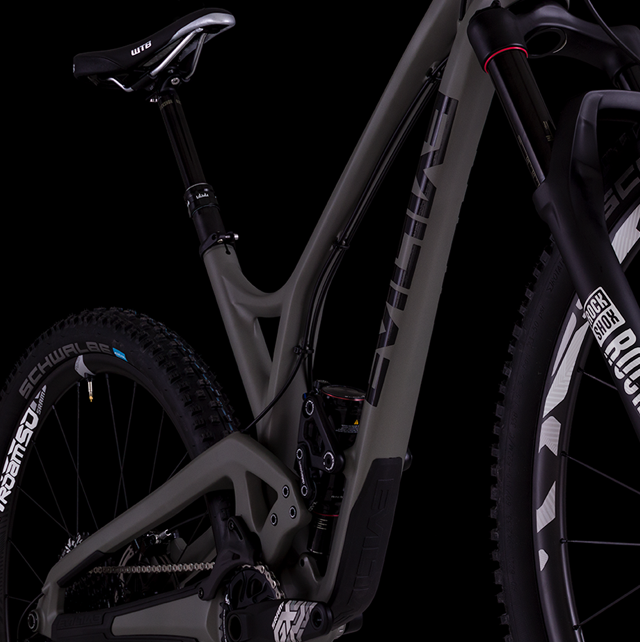 The Following Returns
Evil's big-wheeled trail monster has made a massive evolutionary leap.
Shop the Following MB
The Following MB
The current trend towards aggressively inclined, short travel 29ers can be traced back almost singularly to the original Following. Its playfulness, mated to impressive technical aptitude, effectively rewrote the book on how a trail bike should handle. The update of this pivotal machine takes everything we love about the original formula and tailors it even more precisely to the needs of the modern mountain biker.
To accommodate evolving tastes, the reach measurement has been lengthened, ensuring a truly new-school fit. The rear triangle is now more robust, a reflection of the thrill-seeking spirit that the Following tends to instill in its rider. This change has made the new Following compatible only with one-by drivetrains, and has made room for a refined version of Evil's integrated chain guide. Of course, these changes come alongside updated component standards, notably the clearance-enhancing Boost rear spacing, which allows for 27.5 Plus compatibility, and a trunnion-mount Metric rear linkage, which is paired with a supple yet remarkably efficient RockShox Super Deluxe RCT rear shock.
Although much has changed, the latest evolution of the Following's geometry retains the strongest attributes of its predecessor. The head angle, chainstay length, and bottom bracket height remain the same, preserving the snappy handling and cornering ability that made the Following an instant classic. The 120mm travel figure carries over as well, offering a perfect balance of efficiency and energy return, with enough left in reserve to handle harrowing moments in unforgiving terrain. The result is a refined version of one of the most compelling trail bikes available today.

Meet our Gearheads.
Chat, email, or call us at: (888) 276-7130
Competitive Cyclist Gearheads are your resource for all things cycling. They're bike experts with knowledge and experience that's second to none. Whether you're thinking about your next dream build, you need advice on components, or you have questions about an existing order, don't hesitate to contact a Gearhead.
Chat Now
Shop the Following MB