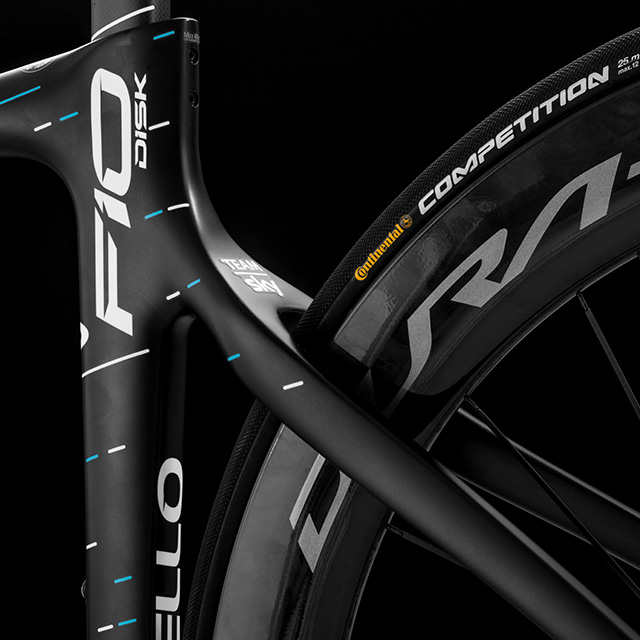 Return of the King
The Dogma F10 Disk adds superior braking to the Grand Tour dominating superbike.
Shop Pinarello F10
Return of the King
The Dogma F10 Disk represents the latest chapter in a story defined by the utter domination of cycling's Grand Tours. Bearing the hallmark asymmetric design of the Dogma series, the F10 Disk makes full use of Pinarello's expertise in both structural design and aerodynamics. The result is a machine that's startlingly fast and, unlike so many of its aero competitors, tracks tarmac with a silky smoothness that must be experienced to be truly appreciated.
As befits a machine this advanced, it will accommodate your preferred drivetrain-- mechanical, electronic, or wireless. In adding disc brakes to the equation, Pinarello has brought the F10 to new heights, promising control that's unaffected by weather conditions, and allowing for late braking into corners when closing the distance to a breakaway mid-descent, or perhaps, extending your lead even further.

Shop Pinarello F10
Meet our Gearheads.
Chat, email, or call us at: (888) 276-7130
Competitive Cyclist Gearheads are your resource for all things cycling. They're bike experts with knowledge and experience that's second to none. Whether you're thinking about your next dream build, you need advice on components, or you have questions about an existing order, don't hesitate to contact a Gearhead.
Chat Now
Shop Pinarello