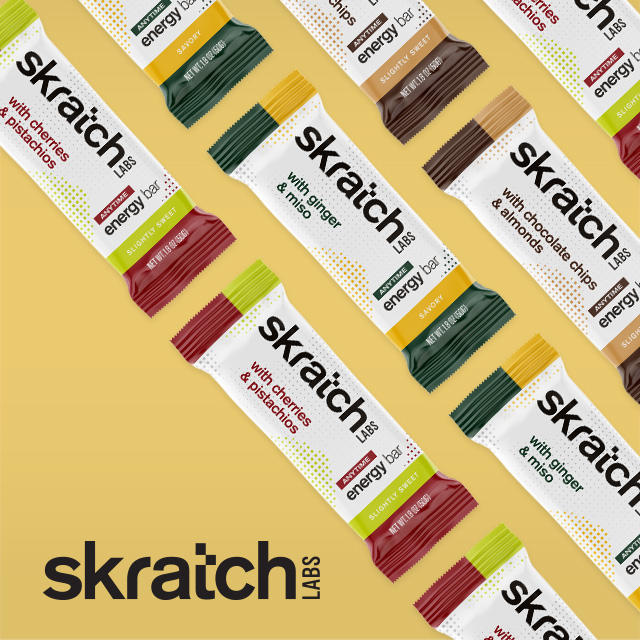 New From Skratch
Skratch Labs has earned a devout following for its simple, great tasting, nutritionally sound ride fuel. So naturally we're excited about the arrival of the new Anytime line, which was developed specifically for daily use. The upshot is that the refreshing tastes and nutritional benefits of Skratch are now available for the time between rides and training sessions.

Hydrate
Drink mix that's developed to replenish essential nutrients lost to sweat.
Made with real fruit, free of artificial ingredients
40% less sugar than typical sports drinks
Developed to be gentle on your stomach
Hydrates faster and more effectively than water alone
Anytime mixes contain less salt for regular use
Fuel
Bars and gummies made with natural ingredients and nothing unnecessary.
Made with real fruit, nuts, and quinoa
No artificial ingredients
Two types of simple sugar for sustained energy
Less sugar than typical energy bars
Anytime bars are suitable for riding and daily use
Chocolate Chips & Almonds
Build
Drink mix with added protein and key nutrients to help you recover faster.
Made with complete milk protein
More amino acids than whey or casein protein
Lactase aids in the digestion of milk proteins
Probiotic cultures aid digestion and absorption
4:1 ratio of macronutrients for fastest recovery

Shop All New Skratch Labs
Meet our Gearheads.
Chat, email, or call us at: (888) 276-7130
Competitive Cyclist Gearheads are your resource for all things cycling. They're bike experts with knowledge and experience that's second to none. Whether you're thinking about your next dream build, you need advice on components, or you have questions about an existing order, don't hesitate to contact a Gearhead.
Chat Now
Shop All Skratch