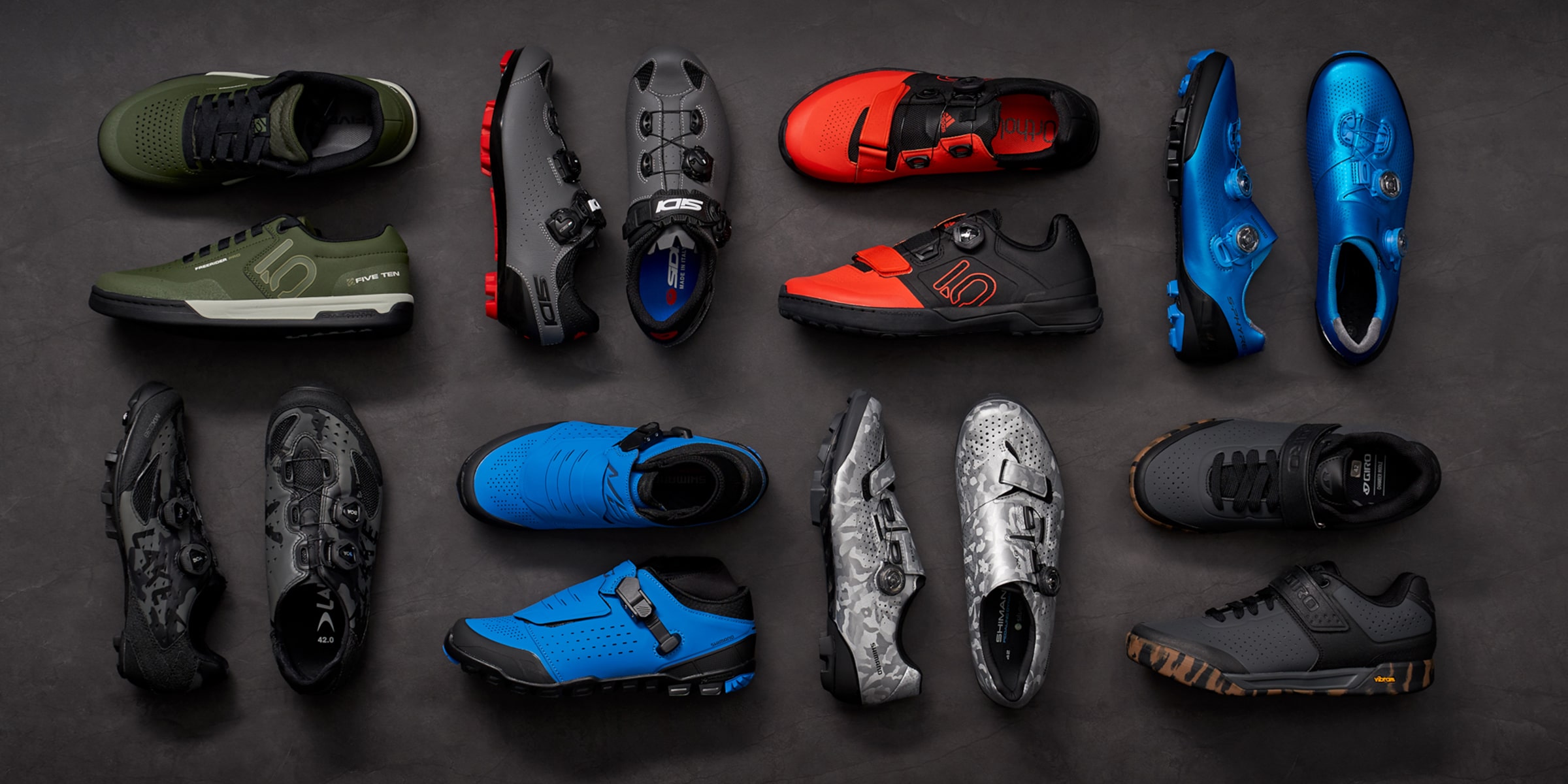 The Mountain Footwear Guide
Choosing the right shoe is easy, but it's not simple. This guide outlines what you need to know to zero in on your best options, then presents a few of our picks for this year's standouts.
How do you ride?
Cross Country
Cross Country racers likely want a dedicated race shoe that's extremely stiff for maximum power transfer, with a lightweight stripped-down upper.
Trail
Most riders are best served by what we'd consider a Trail shoe with lightweight construction, moderate protection, and a fairly stiff, yet walkable sole.
Gravity
Enduro racers and bike park regulars appreciate added protection and a more flexible midsole for comfort.
And for the flat pedal aficionados among us, skip the "hybrid" clipless compatible shoes and opt for dedicated flat pedal shoes, which deliver superior grip and pedal feel.
Gravel
Gravel riders now enjoy a range of choices aimed specifically at their chosen pursuit, offering the minimalist upper of a cross country race shoe with concessions for all-day comfort.

Sizing and Fit
Knowing whether you have a particularly narrow or wide foot will steer you towards a brand best suited to your needs. Keep in mind that many brands known for narrow fit, like Sidi and Giro, also offer dedicated wide versions of their most popular shoes.
You're aiming for a fit that's snug, but not tight. It also pays to consider that pressure points will quickly turn into hot spots. Leather uppers are more forgiving than synthetic uppers, and will break in with just a few hours of ride time.

Sole Construction
Cross Country & Gravel
Cross country racers seek the stiffest soles for maximum power transfer. Everyone else should seek to balance stiffness against flex that ensures comfort on long rides.
Trail & Gravity
Trail-focused shoes typically have softer rubber covering the whole sole, making the shoe more walkable should the need arise.
Flat Pedals
For riders who prefer platform pedals, rubber compound is everything. Some riders like maximum grip for secure foot placement, while others prefer a less grippy shoe that allows for adjustments on the pedal.

Technical Details
Dial
If you need on-the-fly adjustability, go for a shoe with a Dial retention system. Many shoes use the BOA system, while Sidi uses its proprietary Tecno 3 Dial System, both of which allow you to easily tweak your shoes while in the saddle.
Traditional Laces
Traditional Laces have made a comeback over the past few years in equal parts for the unsurpassed comfort and nostalgia that they offer, even if they're less secure than other options.
Ratcheting Buckle with Hook-and-Loop Straps
If you want maximum reliability reliability, it's hard to beat a Ratcheting Buckle with Hook-and-Loop Straps at the forefoot, which have proven to be both durable and comfortable.
There are tons of options, which is why we've selected just a handful of our favorite shoes below.