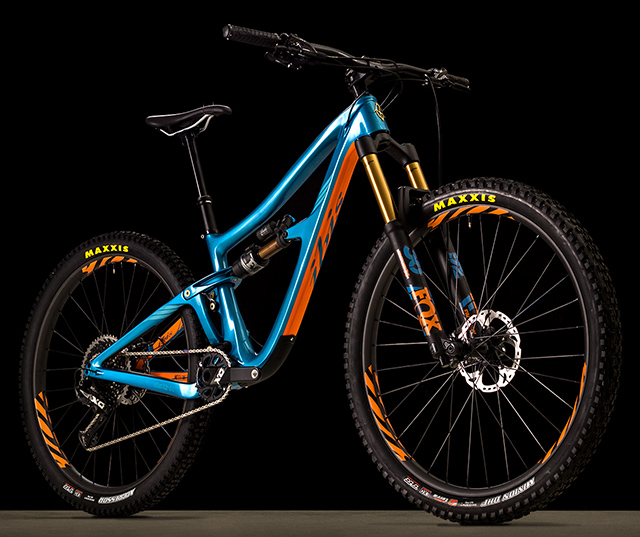 Introducing the RipMo
Ibis's newest trail bike is at once aggressively modern and utterly refined.
The constant push for ever-more-capable trail bikes has led to longer wheelbases, slacker head angles, and a newfound focus on enduro racing as the ultimate proving ground. However, even the most aggressive riders among us value climbing prowess, responsiveness, and handling that is inspiring on trails of a more moderate nature. This duality of purpose is finally being addressed with a thorough rethinking of mountain bike geometry, and the RipMo represents the bleeding edge of this balance-driven approach.
Welcome to the Future
With a wheelbase that would have been unimaginably long only a few years ago, and a relaxed head angle once considered unrideable on 29 inch wheels, one would be forgiven for thinking the RipMo might be a handful to ride. And yet, the reality is that this machine is remarkably responsive and far more versatile than you'd expect. The two keys that enable this balance are reduced fork offset and a steeper seat angle. The shorter fork offset results in a higher trail measurement, which moderates the tendency of the front wheel to wander at low speeds. Furthermore, that increased trail enhances stability at higher speeds. And to keep the rider from feeling like a passenger, the seat angle has been steepened dramatically, placing more weight on the front wheel for a quicker, livelier cornering feel … an added benefit of providing a more natural climbing position on steeper trails. The upshot is that for experts and relative newbies alike, this geometry is easier to ride fast or slow, up or down, than the class leaders from just a few years ago.
Ready To Rip
It's only fitting that the RipMo is built around the latest components. Taking advantage of the extra room enabled by the obligatory Boost spacing, the RipMo is built to clear tires up to 29 x 2.6 inches. Whether you prefer to try this emerging tire size or stick with the tried and true 29 x 2.3 is up to you. The seat tube length has been dramatically reduced, allowing shorter riders to run 150mm dropper posts, and taller riders to experience the freedom provided by the emerging class of 170mm+ droppers. Its 210 x 55mm rear shock broadens your options for utilizing the latest units and delivers 145mm of travel, along with the efficiency and trail-smoothing properties we've come to expect from DW Link. It's paired with a 160mm fork, which takes the edge off even the roughest trails. The sum of these parts is a progressive steed that works beautifully in the dirt and is ready to push as hard as you like.
Shop Ibis RipMo
Meet our Gearheads.
Chat, email, or call us at: (888) 276-7130
Competitive Cyclist Gearheads are your resource for all things cycling. They're bike experts with knowledge and experience that's second to none. Whether you're thinking about your next dream build, you need advice on components, or you have questions about an existing order, don't hesitate to contact a Gearhead.
Chat Now
Shop Ibis